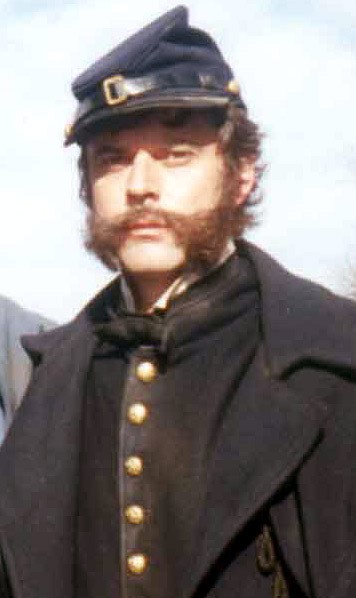 C. Thomas Howell
Birth name:
Christopher Thomas Howell
Born:
December 7, 1966
Age:
56
Birthplace:
Los Angeles, California, U.S.
Popularity:

Please login to contact C. Thomas Howell...
Biography
Christopher Thomas Howell (born December 7, 1966),[1] known as C. Thomas Howell, is an American actor and director. He has starred in the films Soul Man, The Hitcher, Grandview U.S.A., Red Dawn, Secret Admirer, and The Outsiders; he has also appeared in Gettysburg as Lt. Thomas Chamberlain, E.T. the Extra-Terrestrial, The Amazing Spider-Man, Justice League: The Flashpoint Paradox, and Suicide Squad: Hell to Pay.
Howell was born in Van Nuys, Los Angeles to Christopher N. and Candace Howell. He has two sisters, Stacy and Candi, and a brother, John.[2]
His father worked as a stunt coordinator and rodeo performer. As a young boy, Howell wanted to be a stuntman and was a child stunt performer. He began acting at the age of four, when he was cast in the Brian Keith Show episode, "The Little People".
When Howell was young, his parents divorced,[3] leaving his mother with both of her sons and daughter Stacy, and his father took little Candi with him to raise on his own.[4] Howell shared his time with each parent and started his career through his father's job. When he was 12, he became a rodeo champion at the California Junior Rodeo Association and was named "All-Around Cowboy" in August 1979. While growing up, he also spent time golfing with his grandfather (he earned his nickname "CT" as that was how his name was recorded on the screen boards).[citation needed] Howell graduated from Saugus High School in 1984. Howell attended The National Conservatory for Drama Arts.
Read more...
Career
Howell's showbiz debut was acting in The Brian Keith Show episode "The Little People" as a little boy whose ears are being checked out by a doctor. When he got older, he tried stunt acting like his father and worked on commercials for a while.[5]
He tried rodeo riding for a few years. In 1982, he made his film debut as Tyler in Steven Spielberg's E.T. the Extra-Terrestrial. Afterward, he was cast as the lead role Ponyboy Curtis in Francis Ford Coppola's The Outsiders, which earned him a Young Artist Award.
Following The Outsiders, he became a teen idol, appearing in teen magazines like Tiger Beat and 16 Magazine, which referred to him as "Tommy" and "Tom".
1980s
In 1984 he and Outsiders co-star, Patrick Swayze, reunited for Grandview, U.S.A., also with Jamie Lee Curtis, and Red Dawn, with Charlie Sheen and Lea Thompson. Howell also had a pivotal role in Tank, with James Garner and Jenilee Harrison. In 1985 he again starred in the lead role in Secret Admirer, opposite Lori Loughlin and Kelly Preston.
Howell was one of two final actors in the running to play Marty McFly in Back to the Future the other being Eric Stoltz, who was eventually selected.[citation needed] Michael J. Fox would later go on to replace Stoltz after filming had begun.
In 1986, he played a hitchhiker's target in the film The Hitcher. The sequel, in which he also starred, was released in 2003. He starred as a white student who pretends to be black to receive a scholarship in the poorly received Soul Man, which currently holds an aggregated score of 14% at Rotten Tomatoes.[6]
Howell has since stated that he does not regret playing the main character in blackface and that Soul Man was "an important part of life" and "an important film" for racial relations in the United States.[7]
In 1988, aged 21, Howell played Arturo Toscanini in the story of the world-renowned conductor in Franco Zeffirelli's Giovane Toscanini with Irma Capece Minutolo and Elizabeth Taylor, one of his very first straight-to-video releases. Howell and Kelly Preston reunited as lovers in A Tiger's Tale.[citation needed]
1990s
At the end of the 1980s and beginning of the 1990s, Howell appeared in The Return of the Musketeers and Side Out. In 1993, he starred with Linda Fiorentino and Nancy Allen in the campy thriller Acting on Impulse.
After several straight-to-video features and a starring role in That Night, he achieved success again in the film Gettysburg, which was popular with history buffs and history classrooms. He starred as Mike, a motorcycle courier in Mad Dogs and Englishmen (U.S. title: Shameless) with Elizabeth Hurley.
His made-for-television film credits include Suspect Device, Sealed with a Kiss and Dead Fire. He starred in Dads, an unsold pilot. He also appeared in the short-lived TV series Kindred: The Embraced.
He started an interest in crime-thrillers after starring in Payback and playing gangster Baby Face Nelson in a film of the same name. He went on to direct and star in the 1996 direct-to-video release, Pure Danger, featuring alongside Teri Ann Linn and prop comic, Carrot Top.
2000s
Howell returned to acting in the 2000s in films such as Asylum Days, the Gods and Generals prequel to Gettysburg, and The Hillside Strangler, in which he played serial killer Kenneth Bianchi.
In 2006, Howell starred in Hoboken Hollow. He also became a supporter of the production company The Asylum, which produced his straight-to-DVD films.[citation needed]
In 2005, he starred in H. G. Wells' War of the Worlds, one of three 2005 adaptations of the novel The War of the Worlds by H. G. Wells. Howell directed and starred in a straight-to-DVD sequel War of the Worlds 2: The Next Wave in 2008.[citation needed]
In 2005, he reunited with his Secret Admirer co-star Lori Loughlin, when he had a recurring role on her television show Summerland as Zac Efron's father. After War of the Worlds, he spent time directing straight to-DVD films.[citation needed]
Also in 2008, he directed and starred in The Day the Earth Stopped, a mockbuster intended to capitalize on The Day the Earth Stood Still. For these reasons, 20th Century Fox have threatened legal action against The Asylum, but no action has yet been taken.[citation needed]
He appeared as a doctor in The Poseidon Adventure, an adaptation of the 1972 film of the same name. His father's first stunt co-ordination was for the original film,[8] albeit uncredited. He briefly hosted a show on KLSX later that year.[citation needed]
2010s
Howell appeared in the 2012 film The Amazing Spider-Man.[9]
Television work
After filming The Outsiders, Howell co-starred in his own television series, Two Marriages, which ended after four episodes, but letters of support got it back on air. He later expressed disappointment in the series,[10] but eventually found it more satisfying.
After Two Marriages, Howell made guest appearances in shows like Moonlighting and The Hitchhiker. In 2000, Howell played a doctor stranded on a deserted island after a plane crash in Amazon.
He initially turned down a guest role in ER after missing out on a role he wanted, but his wife signed him up after yet another offer. Following ER, he guest appeared in 24. He guest starred in five episodes of Criminal Minds on CBS as serial killer George Foyet (The Boston Reaper), a recurring villain based on the Zodiac Killer.[citation needed]
Howell has played the role of Officer Bill 'Dewey' Dudek, a wild, loudmouth, but efficient police officer recovering from alcoholism, in the L.A. police drama Southland since 2009.[citation needed] He appeared in Seasons 1, 2, 3, and 4 and was promoted to a series regular for Season 5, which began in February 2013. The series was cancelled on May 10, 2013.[citation needed]
In 2011, he guest starred on The Glades and in Torchwood: Miracle Day.[11]
Starting in 2015, Howell has had a recurring role as Dr. Daniel Stinger in the Freeform show Stitchers. In 2017, he had a recurring role as Ash Spenser, a retired Navy SEAL, in the CBS show SEAL Team.
Off-screen
Howell has worked with Francis Ford Coppola many times and in other areas of making motion pictures including writing, producing, and directing. In 1995, he wrote and directed Hourglass, in which he starred with Sofia Shinas. The following year, he helped produce The Big Fall and Pure Danger.[citation needed]
Howell did not write or direct another film until 2004. He and his father co-wrote the made-for-television film Hope Ranch, which Howell produced. Howell went on to write and produce Blind Injustice the next year. Two years later he produced The Stolen Moments of September.[citation needed]
Filmography
Film
| Year | Title | Role | Notes |
| --- | --- | --- | --- |
| 1982 | E.T. the Extra-Terrestrial | Tyler | Credited as Tom Howell |
| 1983 | The Outsiders | Ponyboy Curtis | |
| 1984 | Grandview, U.S.A. | Tim Pearson | |
| 1984 | Tank | William "Billy" Carey | |
| 1984 | Red Dawn | Robert Morris | |
| 1985 | Secret Admirer | Michael Ryan | |
| 1986 | The Hitcher | Jim Halsey | |
| 1986 | Soul Man | Mark Watson | |
| 1988 | A Tiger's Tale | Bubber Drums | |
| 1988 | Young Toscanini | Arturo Toscanini | |
| 1989 | The Return of the Musketeers | Raoul | |
| 1990 | Far Out Man | Himself | |
| 1990 | Side Out | Monoroe Clark | |
| 1990 | Kid | The Kid | |
| 1992 | Nickel & Dime | Jack Stone | |
| 1992 | To Protect and Serve | Egan | |
| 1992 | Breaking the Rules | Gene Michaels | |
| 1992 | That Night | Rick | |
| 1993 | Gettysburg | Thomas Chamberlain | |
| 1994 | Jailbait | Sgt. Lee Teffler | |
| 1994 | Dangerous Indiscretion | Jim Lomax | |
| 1994 | Teresa's Tattoo | Carl | |
| 1994 | Treacherous | Micky Stewert | |
| 1995 | Payback | Oscar Bonsetter | |
| 1995 | Baby Face Nelson | Baby Face Nelson | |
| 1995 | Hourglass | Michael Jardine | |
| 1995 | Mad Dogs and Englishmen | Mike | Also known as Shameless |
| 1996 | The Big Fall | Blaise Rybeck | |
| 1996 | The Sweeper | Mark Goddard | |
| 1996 | Pure Danger | Jonnie Dean | |
| 1997 | Matter of Trust | Michael D'Angelo | Also known as The Surgeon |
| 1997 | Laws of Deception | Evan Marino | |
| 1997 | Dilemma | Detective Thomas Quinlan | |
| 1997 | Last Lives | Aaron | |
| 1998 | Fatal Affair | Malcolm Maddox | Also known as Stalker |
| 1998 | Sleeping Dogs | Sanchez Boon | |
| 1998 | Charades | Evan | Also known as Felons |
| 1999 | The Crimson Code | J.B. Gaines | Also known as Red Team |
| 1999 | Hot Boyz | Roberts | |
| 1999 | Enemy Action | John Reed | |
| 1999 | The Shepherd | Boris Dakota | Also known as Cyber City |
| 1999 | The Glass Jar | Lanois | |
| 1999 | Avalanche | Jack | Also known as Escape from Alaska |
| 1999 | Hitman's Run | Tom Holly | |
| 1999 | The Prince and the Surfer | Dean | |
| 2000 | The Million Dollar Kid | Valentino | |
| 2001 | Separate Ways | Tom Milton | |
| 2001 | Asylum Days | Nathan Devine | |
| 2001 | WillFull | Nat Wolff | |
| 2001 | XCU: Extreme Close Up | Geoffrey Liddy | |
| 2001 | Askari | Joss McKinley | |
| 2003 | Net Games | Adam Vance | Also known as Deadly Web |
| 2003 | Gods and Generals | Thomas Chamberlain | |
| 2003 | The Hitcher II: I've Been Waiting | Jim Halsey | |
| 2004 | The Lost Angel | Kuratha | |
| 2004 | Hidalgo | Preston Webb | |
| 2004 | The Hillside Strangler | Kenneth Bianchi | |
| 2004 | A Killer Within | Addison Terrill | |
| 2005 | The Keeper: The Legend of Omar Khayyam | Coach Fielding | |
| 2005 | H. G. Wells' War of the Worlds | George Herbert | |
| 2005 | Glass Trap | Curtis | |
| 2005 | Nursie | Zack | |
| 2006 | The Da Vinci Treasure | Michael Archer | |
| 2006 | Hoboken Hollow | Clayton Connelly | |
| 2006 | The Far Side of Jericho | Little Jimmy Thorton | |
| 2007 | Dead Letters | KC | |
| 2007 | The Haunting of Marsten Manor | Captain Williams | |
| 2007 | Fighting Words | David Settles | Also known as Street Poet |
| 2007 | The Stolen Moments of September | Sisner | |
| 2008 | Mutant Vampire Zombies from the 'Hood! | David | |
| 2008 | House of Fallen | Thomas | |
| 2008 | Big Game | Cody "Sully" Sullivan | |
| 2008 | Toxic | Joe | |
| 2008 | The Grind | Luke | |
| 2008 | The Thirst: Blood War | Jed | |
| 2008 | War of the Worlds 2: The Next Wave | George Herbert | Director |
| 2008 | The Day the Earth Stopped | Josh Myron | Director |
| 2009 | The Land That Time Forgot | Frost Michaels | Director |
| 2009 | Razor | Virgil | |
| 2009 | Fuel | Shane | |
| 2009 | Camouflage | Stanley | |
| 2009 | Secret at Arrow Lake | Daniel Williams | Also known as Mia's Father |
| 2009 | American Pie Presents: The Book of Love | Alumnus Guy #2 | |
| 2009 | The Jailhouse | Seth Delray | |
| 2010 | Cupid's Arrow | Professor Grimes | |
| 2010 | The Terror Experiment | Chief Grasso | Also known as Fight or Flight |
| 2010 | Flatline | Mr. Thomas | |
| 2011 | Restitution | John Youngstown | |
| 2012 | Wedding Day | Russ | |
| 2012 | Commander and Chief | Shrub | |
| 2012 | The Amazing Spider-Man | Troy "Crane Dad" | |
| 2012 | Chilly Christmas | Patrick Cole | |
| 2012 | MoniKa | Double | |
| 2012 | Escape | Paul Jordan | |
| 2013 | Don't Pass Me By | Jack | |
| 2013 | The Devil's Dozen | Tom | |
| 2013 | Lost on Purpose | Delbert Ferguson | |
| 2013 | Justice League: The Flashpoint Paradox | Eobard Thawne/Professor Zoom | Voice |
| 2013 | Storm Rider | Mitch | |
| 2014 | Confessions of a Womanizer | Tony | Also known as Confessions of a Sex Addict |
| 2014 | Bigfoot Wars | Zeke | |
| 2014 | A Magic Christmas | Jack Carter | |
| 2014 | Borrowed Moments | Jack | Also known as Sleight of Hand |
| 2015 | Spirit Riders | Keith | |
| 2015 | Rivers 9 | Sheriff Quentin | |
| 2015 | Justice League: Gods and Monsters | Dr. Will Magnus | Voice |
| 2015 | Woodlawn | Coach George "Shorty" White | |
| 2015 | A Christmas Eve Miracle | Jack Carter | |
| 2015 | Magic Hour | Tom Worthy | |
| 2015 | Lazarus Rising | Silent Cal | |
| 2016 | Blood Lust | Ryan | Also known as Siren Song |
| 2016 | Attack of the Killer Donuts | Officer Roberts | |
| 2016 | LBJ | Walter Jenkins | |
| 2017 | My B.F.F. | Ben Wilkins | |
| 2017 | The Shadow People | Kaine | |
| 2017 | Rich Boy, Rich Girl | Blake | |
| 2017 | Blue Weekend | Robert Crawford | |
| 2017 | A Question of Faith | John Danielson | |
| 2017 | The Rack Pack | Ted | |
| 2017 | Beast Mode | Breen Nash | |
| 2017 | Sick People | Dr. Sam Zimmerman | Completed; also known as Intensive Care |
| 2017 | Mac Daddy's Vegas Adventure | Alfieri Conti | Completed |
| 2018 | Suicide Squad: Hell to Pay | Eobard Thawne/Professor Zoom | Voice |
| 2018 | Dirty Dealing | Carter | |
Television
Year
Title
Role
Notes
1983
Two Marriages
Scott Morgan
Episode: "Relativity"
1985/1986
Moonlighting (TV series)
Waiter / Postal Worker
Episodes: "Lady in the Iron Mask" "Yours, Very Deadly"
1989
Nightmare Classics
Jenner Brading
Episode: "The Eyes of the Panther"
1990
Curiosity Kills
Cat Thomas
TV film
1992
Tattle Tale
Bernard Sprat
TV film
1993
Acting on Impulse
Paul Stevens
TV film
1994
Natural Selection
Ben Braden / Alex Connelly
TV film
1995
Suspect Device
Dan Jerico
TV film
1996
Kindred: The Embraced
Frank Kohanek
8 episodes
1997
Dead Fire
Tucker
TV film
1998
Sealed with a Kiss
Detective Mick Cullen
TV film
1998
The Outer Limits
Captain Miles Davidlow
Episode: "The Joining"
1998
V.I.P
Phil Sherman
Episode: "Val Got Game"
1998
The Love Boat: The Next Wave
John
Episode: "Affairs to Remember"
1999
Dead Man's Gun
Henry Hubble
Episode: "The Phrenologist"
1999-2000
Amazon
Dr. Alex Kennedy
22 episodes
2000
Twice in a Lifetime
Tony
Episode: "The Escaped Artist"
2000
Lawless: Dead Evidence
Dean Riley
TV film
2002
Son of the Beach
Jason Dudikoff
Episode: "In the Line of Booty"
2002
Night of the Wolf
Sheriff Wade Messer
TV film
2002
Killer Bees!
Sheriff Lyndon Harris
TV film
2004
The District
Chris Gunner
Episode: "On Guard"
2004
Zolar
Hedion
TV film
2004-2005
Summerland
Kyle Bale
2 episodes
2005
Crimson Force
Captain Baskin
TV film
2005
Ordinary Miracles
Jim Powell
TV film
2005
The Poseidon Adventure
Doctor Matthew Ballard
TV film
2005
ER
Vincent Janeson
Episode: "The Human Shield"
2006
24
Barry Landes
2 episodes
2008
Celebracadabra
Himself (contestant)
Crowned "Best Celebrity Magician"
2008
Xenophobia
Stone
TV film
2008
A Gunfighter's Pledge
Horn
TV film
2009-2013
Criminal Minds
George Foyet / The Boston Reaper
5 episodes
2009-2013
Southland
Bill "Dewey" Dudek
27 episodes
2010
Psych
Agent Camden Driggs
Episode: "One, Maybe Two, Ways Out"
2011
The Glades
Peyton Robinson
Episode: "Second Skin"
2011
Torchwood: Miracle Day
The Gentleman
Episode: "Escape to L.A."
2011
CHAOS
Carson Simms
Episode: "Proof of Life"
2011
Camel Spiders
Sheriff Beaumont
TV film
2012
Alphas
Eli Aquino
Episode: "The Quick and the Dead"
2012
Revolution
Bounty Hunter
Episode: "Chained Heat"
2012
Castle
John Campbell
Episode: "Swan Song"
2012
Longmire
Ray Stewart
Episode: "A Damn Shame"
2012
Hawaii Five-0
Martin Cordova
Episode: "Death Wish"
2012
Home Invasion
Ray
TV film
2013
Horror Haiku
John Asher
Episode: "I Know What You Know"
2013
Sons Of Anarchy
Agent Frank Eagan
Episode: "One One Six"
2013
Blue Bloods
Alex Polanski
Episode: "Justice Served"
2013
An Amish Murder
Nathan Detrick
TV film
2013
Christmas Belle
Rex Everhart
TV film; also known as A Fairytale Christmas
2014
Grimm
Agent Weston Steward
5 episodes
2014
Category 5
Charlie DuPuis
TV film
2014-2015
Girlfriends' Guide to Divorce
Nate
4 episodes
2015-2017
Stitchers
Daniel Stinger
7 episodes
2015
Motive
Joe Hillis
Episode: "Reversal of Fortune"
2015
Stitchers
Daniel Stinger
3 episodes
2015
Ties That Bind
Mr. Witherspoon
Episode: "Controlled Substance"
2015
Sleepy Hollow
Agent Mick Granger
Episode: "I, Witness"
2016, 2018
Animal Kingdom
Paul Belmont
9 episodes
2016
Advance & Retreat
Nathan Shapiro
TV film
2017
Ray Donovan
Dr. Brogan
4 episodes
2017
Outcast
Simon Barnes
3 episodes
2017
SEAL Team
Ash Spenser
2 episodes
2017
The Punisher
Carson Wolf
3 episode
2018
The Blacklist
Earl Fagen
2 episodes
2018
MacGyver
Vasil
Episode: "Guts + Fuel + Hope"
2018
Dynasty
Max
2 episodes

Video Games

| Year | Title | Role | Notes |
| --- | --- | --- | --- |
| 2017 | Injustice 2 | Leonard Snart/Captain Cold | |
| 2018 | Lego DC Super-Villains | Eobard Thawne/Reverse-Flash | |

[ Source: Wikipedia ]