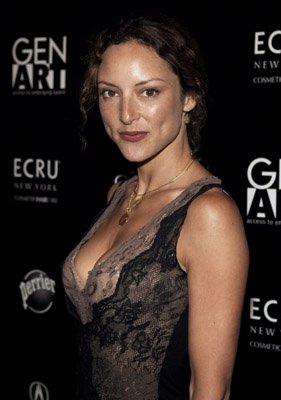 Lola Glaudini
Birth name:
Lola Luna Glaudini
Born:
November 24, 1971
Age:
51
Birthplace:
Manhattan, New York, United States
Popularity:

Please login to contact Lola Glaudini...
Biography
Lola Luna Glaudini (born November 24, 1971) is an American actress. She is best known for her portrayal of Elle Greenaway on CBS's Criminal Minds, and for her role as Deborah Ciccerone-Waldrup on HBO's The Sopranos.
Glaudini was born November 24, 1971, in Manhattan, New York, New York. She is of Sicilian Italian and of Russian Jewish and Ukrainian Jewish descent.[1] She is the daughter of playwright Robert Glaudini, in whose play
The Poison Tree
she appeared at the Mark Taper Forum in Los Angeles. She also starred in the drama
Demonology
at the Mark Taper Forum, for which she won a Drama-Logue Award as Best Actress. Her mother Nina Diane Kapler, remarried Rosen, is a writer and college instructor in California. She attended Bard College.
Read more...
Career
Between 2001 and 2004 she had a recurring role on the HBO series The Sopranos as Federal Agent Deborah Ciccerone-Waldrup. In 2005 she was a regular on the CBS series Criminal Minds as Elle Greenaway, but left the show early in the second season. Before those roles she appeared on NYPD Blue as Dolores Mayo, a heroin-addicted office assistant. She has guest starred in The Good Guys, The King of Queens, Andy Richter Controls the Universe, Boomtown, Special Unit 2, Law and Order: Criminal Intent, Las Vegas, Monk, and ER. Glaudini also appeared briefly in the Neil LaBute film, Your Friends & Neighbors.
In the 2006 film Invincible, she had a brief role as the first wife of Vince Papale, played by Mark Wahlberg, where she is seen berating Papale's career failures and informs him of divorce. She played Kat Damatto on the NBC mini-series Persons Unknown in 2010. She costarred with Mark Harmon in the 2011 USA original movie Certain Prey, based on the bestselling book of the same name by John Sandford.[2]
Personal life
Glaudini lives in Brooklyn with her husband, Stuart England, and two sons.
Filmography
Film

| Year | Title | Role | Notes |
| --- | --- | --- | --- |
| 1996 | Without a Map | Anna | |
| 1998 | Your Friends & Neighbors | Jerry's Student | |
| 2000 | Dave's Blind Date | Wife | Short film |
| 2000 | Down to You | Parolee | |
| 2000 | Groove | Leyla | |
| 2001 | Blow | Rada | |
| 2003 | 7 Songs | Josie | |
| 2003 | Consequence | Eva Cruz | |
| 2006 | Invincible | Sharon Papale | |
| 2007 | The Diviner | The Woman | Short film |
| 2007 | Drive-Thru | Brenda Chase | |
| 2010 | Jack Goes Boating | Italian Woman | |
| 2014 | That Awkward Moment | Sharon | |
| 2018 | She's in Portland | Ellen | Post-producing |
Television
Year
Title
Role
Notes
1996
NYPD Blue
Karen Thanos / Patty Bell
Episodes: "He's Not Guilty" and "Dead Man Talking"
1997-99
Dolores Mayo
Recurring role (Season 5-6)
1997
The Visitor
Young Constance MacArthur
Episodes: "The Devil's Rainbow" and "Reunion"
1999
The Magnificent Seven
Maria
Episodes: "The New Law" and "Obsession"
2000
Secret Agent Man
Charlotte Devane
Episode: "The Breach"
2000
G vs E
Charlotte Devane
Episode: "Underworld"
2001
Special Unit 2
Isabelle
Episode: "The Years"
2001-04
The Sopranos
Danielle Ciccolella / Deborah Ciccerone
Recurring role (Season 3-5)
2002
The Random Years
Margot
Episode: "Men Behaving Sadly"
2002
The King of Queens
Margy Coletti
Episode: "Flame Resistant"
2003
Andy Richter Controls the Universe
Irina
Episode: "The Maid Man"
2003
Boomtown
Dominatrix
Episode: "Home Invasion"
2003
Monk
Ariana Dakkar
Episode: "Mr. Monk Goes to the Circus"
2003-04
The Handler
Heather
Main role
2004
Las Vegas
A.J. Laveau
Episode: "New Orleans"
2004
Taste
Giselle
Television film
2005
Crossing Jordan
Pamela Bragman / Samantha Rae
Episode: "A Stranger Among Us"
2005
Medical Investigation
Meredith Beck
Episode: "Survivor"
2005
ER
Captain Jen Whitley
Episode: "Here and There"
2005-06
Criminal Minds
Elle Greenaway
Main role (Season 1-2)
2007
Law & Order: Criminal Intent
Leanne Baker
Episode: "Lonelyville"
2010
The Good Guys
US Marshall Justine Moreno
Episode: "Don't Tase Me, Bro"
2010
Persons Unknown
Kat Damatto
Main role
2011
Blue Bloods
Anna Waiakowski
Episode: "Family Ties"
2011
Certain Prey
Carmel Loan
Television film
2012
Law & Order: Special Victims Unit
Virginia Pell
Episode: "Official Story"
2012
White Collar
Rebecca Ryan
Episode: "Neighborhood Watch"
2012
Person of Interest
Detective Sherri Lablanca
Episode: "Flesh and Blood"
2013
Killer Reality
Barbara Gordon
Television film
2014
Castle
Marilyn Sutton
Episode: "Limelight"
2014
Unforgettable
Gwen Stein
Episode: "True Identity"
2014-15
Revenge
Susan Lake
Episodes: "Meteor" and "Bait"
2014
Franklin & Bash
Freddie Silmas
Episode: "Spirits in the Material World"
2014
A Christmas Kiss II
Mia
Television film
2015-16
The Expanse
Captain Shaddid
Recurring role (Season 1)
2016-18
Agents of S.H.I.E.L.D.
Polly Hinton
Episode "Spacetime", "Ascension", "Rewind" and "Inside Voices"
2018
The Brave
French Ambassador
Episode: "Desperate Measures"
[ Source: Wikipedia ]