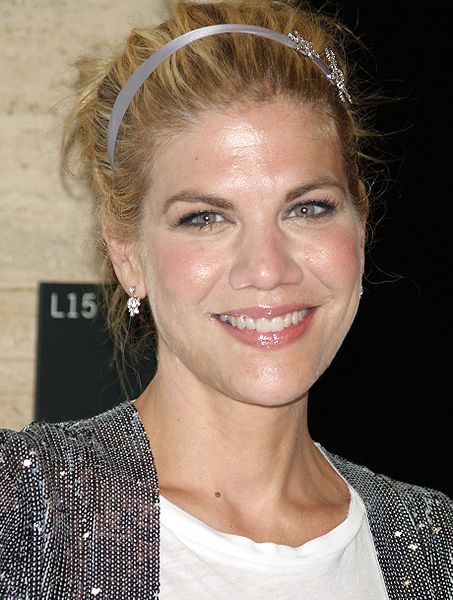 Kristen Johnston
Birth name:
Kristen Angela Johnston
Born:
September 20, 1967
Age:
56
Birthplace:
Washington, D.C., U.S.
Popularity:

Please login to contact Kristen Johnston...
Biography
Kristen Angela Johnston (born September 20, 1967)[2] is an American actress. She is known for her role as Sally Solomon in the television series 3rd Rock from the Sun. She also starred as Wilma Flintstone in The Flintstones in Viva Rock Vegas and as Holly Franklin in the sitcom The Exes.
Johnston was born in Washington, D.C.,[2] but was raised mostly in Fox Point, Wisconsin, a suburb of Milwaukee, where she attended St. Eugene's Catholic Grade School and Whitefish Bay High School. She spent some of her teen years in Sweden and in South America and earned a Bachelor of Fine Arts degree in drama at New York University.
Read more...
Career
Johnston made her professional stage debut with New York's Atlantic Theater Company, which was founded by playwright David Mamet. During her association with that company, she appeared in such productions as As You Like It, Girl's Talk, Stage Door, Author's Voice, Portrait of a Woman, and Rosemary for Remembrance.
She has performed with the Naked Angels Theater Company in The Stand-In and Hot Keys, and with New York Stage and Film in Kim's Sister, with David Strathairn and Jane Adams. For her performance in The Lights at Lincoln Center Theater, Johnston was nominated for a Drama Desk Award as Best Supporting Actress. The show brought her to the attention of a Carsey-Werner television executive. After numerous auditions in 1996 for the TV series 3rd Rock from the Sun, she won the role of Sally Solomon. She starred in the series from 1996 to 2001 along with John Lithgow, Jane Curtin, French Stewart, and Joseph Gordon-Levitt, and the role earned her two Emmy Awards for best supporting actress in a comedy series.
Kristen Johnston Speaks with the Media - 2014 Voice Awards
Johnston made her feature film debut in The Debt, winner of Best Short at the 1993 Cannes Film Festival. In 1995, she played Kate in Backfire! She played Esmeralda, a sea hag in "Thrill Ride", a family friendly film to be released in 2016. Other television credits include guest-starring roles on the series Chicago Hope, Hearts Afire, and The 5 Mrs. Buchanans. She was also the narrator in Microscopic Milton on the Disney Channel. Her significant roles in commercially successful movies included Austin Powers: The Spy Who Shagged Me in 1999, Ice Age, and Music and Lyrics in 2007.
In 1998, she was a spokesmodel for the Clairol company, as well as appearing on Bad Religion's No Substance album cover.[3]
Johnston appeared in the sixth and final season of Sex and the City. In the episode entitled "Splat!", her character, Lexi Featherston, an aging party girl, accidentally falls out of a window and dies (after saying, "I'm so bored I could die."), prompting Carrie Bradshaw (played by Sarah Jessica Parker) to re-examine her life. In 2005, Johnston was featured in six episodes of NBC's ER. She was cast as Patsy in a proposed American remake of the British TV show Absolutely Fabulous, but the series was never picked up by a network. She appeared in a recurring role in the 2009 season of Ugly Betty and had a single-episode appearance as a dominatrix in the second season opener of Bored to Death.
She starred in the TV Land sitcom The Exes, which ran for four seasons between November 30, 2011, and September 16, 2015. As of 2018, she has a recurring role in Mom (TV series)
Personal life
Her father is former Wisconsin Republican state senator Rod Johnston.[4]
In her autobiography, Guts: The Endless Follies and Tiny Triumphs of a Giant Disaster, Johnston discusses an addiction to alcohol and pills that began when she was in high school. She mentioned that at the height of her addiction she drank on average 2 bottles of wine per evening. She stated in the 2012 book that she had been sober for five years. Through her charity SLAM, NYC (Sobriety, Learning and Motivation), she mentors high school girls from New York City with addiction and self-esteem issues[5] and has been crusading for the city to build a recovery high school.[6]
Johnston said she was diagnosed in November 2013 with lupus myelitis, which caused her to miss filming for some episodes of her series The Exes. A character played by Leah Remini was introduced in season three to cover Johnston's absence.[7][8]
Filmography
Film
| Year | Title | Role | Notes |
| --- | --- | --- | --- |
| 1985 | The Orkly Kid | Unknown | Short film |
| 1992 | Amazonia | Unknown | Short film |
| 1993 | The Debt | Alice Kosnick | Short film |
| 1995 | Backfire! | Kate | |
| 1999 | Austin Powers: The Spy Who Shagged Me | Ivana Humpalot | |
| 2000 | The Flintstones in Viva Rock Vegas | Wilma Slaghoople | |
| 2002 | Ice Age | Sylvia (voice) | Deleted scene |
| 2002 | Austin Powers in Goldmember | Dancer | Uncredited |
| 2007 | Music and Lyrics | Rhonda | |
| 2009 | Bride Wars | Deb | |
| 2009 | Finding Bliss | Irene Fox | |
| 2011 | Life Happens | Francesca | |
| 2012 | Vamps | Mrs. Van Helsing | |
| 2012 | Bad Parents | Tracy | |
| 2014 | Lovesick | Katherine | |
| 2016 | Thrill Ride | Esmeralda | |
| 2018 | Hurricane Bianca 2: From Russia with Hate | Roksana | |
Television
Year
Title
Role
Notes
1994
Chicago Hope
Dr. Wendy Smythe
Episode: "Genevieve and Fat Boy"
1994
The 5 Mrs. Buchanans
Zena
Episode: "Bad News Bert: There's Peanuts in the Peanut Butter"
1995
Hearts Afire
Margot
Episode: "John and Georgie's Not-So-Excellent Adventure"
1996
London Suite
Grace Chapman
Television film
1996-2001
3rd Rock from the Sun
Sally Solomon
139 episodes
Primetime Emmy Award for Outstanding Supporting Actress in a Comedy Series
Nominated—Primetime Emmy Award for Outstanding Supporting Actress in a Comedy Series
Nominated—Golden Globe Award for Best Supporting Actress - Series, Miniseries, or TV Film
Nominated—Screen Actors Guild Award for Outstanding Performance by a Female Actor in a Comedy Series
Nominated—Screen Actors Guild Award for Outstanding Performance by an Ensemble in a Comedy Series
1997
Microscopic Milton
Narrator
Television film
2004
Sex and the City
Lexi Featherston
Episode: "Splat!"
2004
ER
Head Nurse Eve Peyton
6 episodes
2005
Strangers with Candy
Coach Divers
Television film
2007
Kim Possible
Warmonga
3 episodes
2009
The New Adventures of Old Christine
Francie
Episode: "Too Close for Christine"
2009-2010
Ugly Betty
Helen
3 episodes
2010
Bored to Death
Mistress Florence
Episode: "Escape from the Dungeon!"
2011-2015
The Exes
Holly Franklin
64 episodes
2013
RuPaul's Drag Race
Herself
2 episodes
2014
Kirstie
Waitress Maddie
Episode: "Maddie vs. Maddie"
2014
Modern Family
Brenda
Episode: "Strangers in the Night"
2015
Getting On
Marla Pounder
Episode: "Please Partake of a Memorial Orange"
2017
Daytime Divas
Anna Crouse
6 episodes
2018-present
Mom
Tammy Diffendorf
Recurring role
Stage
| Year | Title | Role | Notes |
| --- | --- | --- | --- |
| 1993 | The Lights | Rose | Nominated—Drama Desk Award for Outstanding Featured Actress in a Play |
| 2001-2002 | The Women | Sylvia | |
| 2004 | Aunt Dan and Lemon | Aunt Dan | |
| 2004 | The Baltimore Waltz | Anna | |
| 2004 | Much Ado About Nothing | Beatrice | |
| 2004 | The Skin of Our Teeth | Sabina | |
| 2007 | Scarcity | Martha | |
| 2006-2007 | Love Song | Unknown | |
| 2007-2009 | So Help Me God | Lily Darnley | Nominated—Drama Desk Award for Outstanding Actress in a Play |
| 2008 | The Understudy | Theresea Rebeck | |
Autobiography
2012: Guts: The Endless Follies and Tiny Triumphs of a Giant Disaster., Gallery Books, ISBN 978-1451635065[9]
[ Source: Wikipedia ]