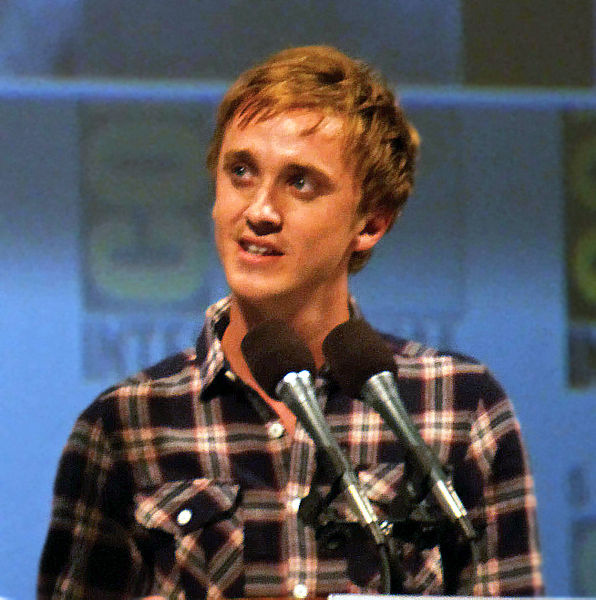 Tom Felton
Birth name:
Thomas Andrew Felton
Born:
September 22, 1987
Age:
36
Birthplace:
Epsom, Surrey, England
Popularity:

Please login to contact Tom Felton...
Biography
Thomas Andrew Felton[1] (born 22 September 1987)[2] is an English actor and musician. Felton began appearing in commercials when he was eight years old for companies such as Commercial Union and Barclaycard. He made his screen debut in the role of Peagreen Clock in The Borrowers (1997) and he portrayed Louis T. Leonowens in Anna and the King (1999). He rose to prominence for his role as Draco Malfoy in the film adaptions of the best-selling Harry Potter fantasy novels by J.K. Rowling. His performances in Harry Potter and the Half-Blood Prince and Harry Potter and the Deathly Hallows - Part 1 won him two consecutive MTV Movie Awards for Best Villain in 2010 and 2011.
Following the conclusion of the series in 2011, Felton appeared in the 2011 film Rise of the Planet of the Apes, a reboot of the Planet of the Apes series.[3] He had roles in the minor films From the Rough (2011) and The Apparition (2012), starred as James Ashford in the critically acclaimed period drama film Belle (2013), followed by roles in In Secret (2014) and Against the Sun (2014). Felton's 2016 films include the epic biblical drama Risen, alongside Joseph Fiennes, and the period biopic A United Kingdom, alongside David Oyelowo and Rosamund Pike. He portrayed Julian Albert on The Flash.
Felton was born in Epsom, the son of Sharon and Peter Felton. He was educated at West Horsley's Cranmore School until the age of thirteen, after which time he attended The Howard of Effingham School. Felton is a singer and was part of a choir at the age of seven. He was a member of four school choirs and was given the chance to be part of the Guildford Cathedral Choir. He has three older brothers; Ashley, Jonathan and Chris.[4]
Read more...
Career
Early career
Felton began acting in adverts for companies such as Commercial Union[5] and Barclaycard.[2] In 1998, he performed the voice of James in the television series Bugs and landed his first feature film role in 1997 when he played the role of Peagreen Clock in Peter Hewitt's film The Borrowers.[6][7] Felton played witness Thomas Ingham opposite Clive Owen in Second Sight in 1999.[6][8] Felton's role of Louis T. Leonowens in the film Anna and the King, starring Jodie Foster, was also filmed in 1999 in Malaysia.[2] Felton made an appearance in the episode "Hide and Seek" of Second Sight 2 followed in 2000.[9] The Guildford Cathedral Choir also offered him a position.[10]
2000-present
Tom Felton at the Comic-Con Day 3 2010
On 11 November 2005, he and Rupert Grint presented Liz Carnell with the Daily Mirror's Pride of Britain Award for all of her work to raise awareness of the dangers of bullying.[11][12] Felton worked on Harry Potter and the Order of the Phoenix throughout 2006. Having read more of the Harry Potter books, Felton reflected: "I have had input into Draco. If they give me a line and I do not think it is something he would say, I suggest changing it. They do listen to you and you do feel a part of it."[13]
In July 2007, Felton visited Children's Hospital in Denver, Colorado in a pre-screening charitable event of Harry Potter and the Order of the Phoenix.[14] He was also present at Leicester Square for the premiere of Harry Potter and the Order of the Phoenix on 3 July 2007.[15][16]
Felton in 2012
On 12 November 2008, Felton appeared alongside Jack Osbourne on Adrenaline Junkie as he participated in various challenges in South Africa, including a 200ft bungee jump on Bloukrans Bridge, took a ride in a helicopter, followed by a parachute freefall and came face-to-face with Great White sharks.
Felton also appeared in Harry Potter and the Half-Blood Prince, the sixth film of the series.
[17] When asked whether he was looking forward to playing a good guy in the future he answered: "No. Well, I don't know. I suppose for now I'm happy with sticking to what he is. But after the Potter legacy is over I look forward to playing a good guy, or someone different anyway; someone not so spiteful."[18] Felton also played the character Simon in the 2009 horror/thriller movie The Disappeared.[19]
Felton posted three music videos on YouTube under an account called "Feltbeats", in which he performs fragments of original songs. Nine songs have been re-recorded and are now available on iTunes: "Time Well Spent," "Time Isn't Healing", "One of These Days", "Under Stars," "Right Place, Right Time," "In My Arms," "All I Need," and "I Will Be There" join the instrumental "Silhouettes in Sunsets." He also recorded an album titled In Good Hands. It includes the six songs "If You Could Be Anywhere", "We Belong", "When Angels Come", "Convinced", "Father of Mine", and "If That's Alright with You".
In 2010, Felton released his original song "Hawaii" on Six String Productions[20] - an independent record label run by Felton, David Proffitt and Philip Haydn-Slater promoting creative independence and ownership of artists' material and musical talent.
In November 2010, the film White Other, which Tom played the main character, Ray Marsden, was released. Tom's character Ray is a troubled youth in the "ends" of England and Imelda Staunton, who played Dolores Umbridge in Harry Potter and the Order of the Phoenix and Harry Potter and the Deathly Hallows - Part 1, also makes an appearance as one of the other main roles in the film.[21]
Felton had a cameo role in Get Him to the Greek, released on 4 June 2010.[22] He portrayed the human character Dodge Landon in the 2011 science-fiction film Rise of the Planet of the Apes,[3] and played a paranormal investigator in the thriller film The Apparition (2012).[23]
On 18 March 2011, Felton appeared in a comedy sketch on Red Nose Day 2011 alongside James Corden, Rupert Grint, George Michael, Justin Bieber, Paul McCartney, Ringo Starr, Gordon Brown MP, Professor Robert Winston and Keira Knightley.[24]
In 2016 and 2017, Felton appeared as CSI Julian Albert / Doctor Alchemy on the third season of The Flash.[25]
Personal life
In 2003, Felton and his brother Chris worked with Joe Babbitt, the St. Lawrence County Angler's Association, the New York State Department of Environmental Conservation Region 6, the Chamber of Commerce, and a diverse group of other organisations to form the World Junior Carp Tournament,[18][26] which involves competitive fishing for ages 11 to 18.[27]
Filmography
Films
Year
Title
Role
Notes
1997
The Borrowers
Peagreen Clock
1999
Anna and the King
Louis T. Leonowens
2001
Harry Potter and the Philosopher's Stone
Draco Malfoy
Released as Harry Potter and the Sorcerer's Stone in the US
2002
Harry Potter and the Chamber of Secrets
2004
Harry Potter and the Prisoner of Azkaban
2005
Harry Potter and the Goblet of Fire
2007
Harry Potter and the Order of the Phoenix
2008
The Disappeared
Simon Pryor
2009
Harry Potter and the Half-Blood Prince
Draco Malfoy
2010
Harry Potter and the Deathly Hallows - Part 1
2010
White Other
Ray Marsden
Short Film
2010
Get Him to the Greek
Himself
Cameo
2010
13Hrs
Gary Ashby
2011
Harry Potter and the Deathly Hallows - Part 2
Draco Malfoy
2011
Rise of the Planet of the Apes
Dodge Landon
2012
The Apparition
Patrick
2012
From the Rough
Edward
2013
Belle
James Ashford
2013
In Secret
Camille Raquin
2014
Against the Sun
Tony Pastula
2016
Risen
Lucius
2016
Message from the King
Frankie
2016
A United Kingdom
Rufus Lancaster
2016
Sheep and Wolves
Grey (voice)
English dub
2017
Megan Leavey
Andrew Dean
2017
Feed
Matt Grey
2017
Stratton
Cummings
2018
Ophelia
Laertes
TBA
Whaling
Brandon
Post-production
Television
| Year | Title | Role | Notes |
| --- | --- | --- | --- |
| 1998 | Bugs | James | Episode: "Pandoras' Box" |
| 1999 | Second Sight | Thomas Ingham | Television film |
| 2000 | Second Sight 2: Hide and Seek | Thomas Ingham | Television film |
| 2005 | Home Farm Twins | Adam Baker | unknown episodes |
| 2013 | Labyrinth | Viscount Trencavel | Television miniseries |
| 2013 | Full Circle | Tim | Television miniseries |
| 2014 | Murder in the First | Erich Blunt | Main role (season 1) |
| 2015 | Tom Felton Meets The Superfans | Interviewer | Directorial debut |
| 2016-2017 | The Flash | Julian Albert / Alchemy | Recurring role (season 3) |
| 2018 | Origin | Logan Maine | In post-production - Main role (10 episodes) |
Music video
| Year | Title | Artist |
| --- | --- | --- |
| 2018 | "Empty Space" | James Arthur |
Discography
EPs
Time Well Spent (2008)
All I Need (2008)
In Good Hands (2009)
Hawaii (2011)
Singles
"Silhouettes in Sunsets" (2008)
"If You Could Be Anywhere" (2010)
"Time Isn't Healing" (2008)
Awards and nominations
Year
Work
Award
Category
Result
Refs
2001
Harry Potter and the Philosopher's Stone
Young Artist Award
Best Ensemble in a Feature Film
Nominated
Best Performance in a Feature Film: Supporting Young Actor
Nominated
2009
Harry Potter and the Half-Blood Prince
MTV Movie Award
Best Villain
Won
Scream Award
Best Ensemble
Won
2010
Harry Potter and the Deathly Hallows - Part 1
MTV Movie Award
Best Villain
Won
Teen Choice Award
Choice Movie Villain
Won
2011
Harry Potter and the Deathly Hallows - Part 2
MTV Movie Award
Best Cast
Won
Scream Award
Best Ensemble
Nominated
2015
Himself
Giffoni Film Festival
Giffoni Experience Award
Won
[28]
[ Source: Wikipedia ]