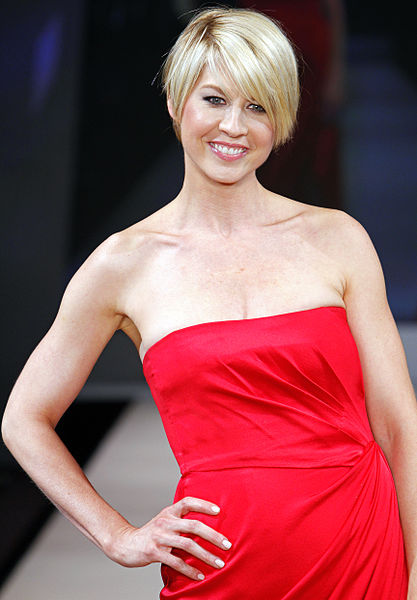 Jenna Elfman
Born:
September 30, 1971
Age:
51
Birthplace:
Los Angeles, California, U.S.
Popularity:

Please login to contact Jenna Elfman...
Biography
Jennifer Mary "Jenna" Elfman (née Butala; born September 30, 1971) is an American actress, best known for her performances in television comedies. Her first leading role was in the short-lived ABC sitcom Townies in 1996, before making her film debut in the 1997 comedy Grosse Pointe Blank.
Elfman is best known for her leading role as Dharma on the ABC sitcom Dharma & Greg (1997-2002), for which she won Golden Globe Award for Best Actress - Television Series Musical or Comedy in 1999, and was nominated for three Primetime Emmy Award for Outstanding Lead Actress in a Comedy Series. Later, she went to star in the comedy films Krippendorf's Tribe (1998), EDtv (1999), Keeping the Faith (2000), and Looney Tunes: Back in Action (2003).
Elfman made her return to series television with a leading role in the CBS sitcom Courting Alex in 2006, it was cancelled after one season. She went on to star in sitcoms Accidentally on Purpose (2009-10), 1600 Penn (2012-13), Growing Up Fisher (2014), and Imaginary Mary (2017), all were cancelled after single seasons. She had a recurring role in the FX legal drama Damages in 2012, and in 2018 is a series regular on the AMC horror drama Fear the Walking Dead.[1]
Elfman was born Jennifer Mary Butala in Los Angeles, California. She was the youngest of three children born to homemaker Sue (Grace) Butala and Richard Butala, a Hughes Aircraft executive.[2] Her father's younger brother is
Tony Butala
, lead singer since 1958 of the American vocal trio
The Lettermen
. She is of Croatian ancestry on her father's side[3] and was raised Roman Catholic.[4]
Elfman attended high school at the Los Angeles County High School for the Arts and then attended college at California State University, Northridge (CSUN).[5] She trained in ballet from age five, but later when the tendon came off her bone, she gave it up.[citation needed] She studied at the Westside School of Ballet, receiving a full scholarship.
Read more...
Career
Elfman posing during a break from filming
The Six Wives of Henry Lefay
in New Milford, Connecticut, October 15, 2007
Elfman began her professional career as a dancer, appearing in the music videos for Depeche Mode ("Halo" in 1990), Anthrax (1993's song "Black Lodge"), Chris Isaak (1995's "Somebody's Crying") and toured with the rock band ZZ Top on their 1994 tour as a "Legs Girl". After appearing in television commercials, Elfman was cast in the short-lived 1996 American sitcom entitled Townies on ABC. In 1997 Elfman was cast in Dharma & Greg on ABC, as Dharma Freedom Finkelstein Montgomery. The show ran for five seasons until its cancellation in 2002.
In 2012, Elfman and her husband Bodhi started their podcast, Kicking and Screaming by Jenna and Bodhi Elfman.[6]
In 2013, Elfman appeared in two NBC comedy series (1600 Penn, and Growing Up Fisher) which were cancelled after a single season.[7]
In 2016, Elfman was cast in the ABC comedy series Imaginary Mary. Like 1600 Penn and Growing Up Fisher, the series was cancelled after its first season.[8]
Personal life
Elfman met her husband, actor Bodhi Elfman, at a Sprite commercial audition in February 1991. They married on February 18, 1995. Their first son, Story Elias, was born in Los Angeles on July 23, 2007.[9] Their second son, Easton Quinn Monroe, arrived on March 2, 2010.[10]
Scientology
Elfman is a member of the Church of Scientology. Has been seen at the Scientology museum.[11][12]
In 2005, Elfman appeared at the Scientology-backed Citizens Commission on Human Rights' "Psychiatry: An Industry of Death"[13] museum grand opening and she and husband Bodhi are listed on the organization's website as members of the board of advisers from the arts, entertainment and media community.[14]
On May 24, 2006, she was the keynote speaker at the Human Rights Hero Award event in participation with the Scientology-affiliated groups Youth for Human Rights International and Artists for Human Rights (AFHR), an organization formed with the purpose of bringing artists together with the common cause of raising awareness of human rights around the world.
On March 27, 2008, Elfman and Charlie Sheen co-hosted the Scientology-affiliated New York Rescue Workers Detoxification Project Charity Event at Geisha House in Hollywood.[15]
Fundraising activities
Elfman has participated in a number of fundraising activities, including: donating an hour of her time for auction;[16] donating a print of her lips;[17] participating in a telethon fundraiser;[18] hosting a comedy show;[19] and, asking for charity donations instead of birthday presents.[20]
Elfman has also participated in awareness-raising initiatives including: modelling for a fashion show;[21] reading to schoolchildren as part of the National Education Association Read Across America program; and, hosting a party at her house to raise awareness for a number of causes headed by the Environmental Working Group.
Elfman is on the Board of Directors of the Dizzy Feet Foundation.[22]
Filmography
Film
Year
Title
Role
Notes
1997
Grosse Pointe Blank
Tanya
1998
Dr. Dolittle
Owl
Voice
Can't Hardly Wait
The Angel
Uncredited
Krippendorf's Tribe
Prof. Veronica Micelli
1999
EDtv
Shari
Venus
Venus
2000
The Tangerine Bear
Lorelei
Voice
CyberWorld
Phig
Voice
Keeping the Faith
Anna Riley
Nominated—Blockbuster Entertainment Award for Favorite Actress - Comedy/Romance
Nominated—Satellite Award for Best Actress - Motion Picture Musical or Comedy
2001
Town & Country
Auburn
2003
Looney Tunes: Back in Action
Kate
2004
Clifford's Really Big Movie
Dorothy
Voice
2005
Touched
Angela Martin
Executive producer
What's Hip, Doc?
Supermodel
Voice
2008
Struck
Pregnant date
Short film
2009
The Six Wives of Henry Lefay
Ophelia
Love Hurts
Darlene
2011
Friends with Benefits
Annie
2014
Big Stone Gap
Miss Iva Lou Wade
2016
Barry
Kathy Baughman
Television
Year
Title
Role
Notes
1992
Murder, She Wrote
Ballet Dancer in background
Uncredited; Episode: "Dance Diabolique"
1994
The George Carlin Show
Psychedelic girl
As Jenna Butala; Episode: "George Does A Bad Thing"
1995
The Monroes
Lily
Episode: "Bottoms, Up"
1995
Roseanne
Garland
Episode: "The Getaway, Almost"
1996
Townies
Shannon Canotis
Main cast; 15 episodes
1996
Murder One
Angela Scalese
Episode: "Chapter Seventeen"
1996
Almost Perfect
Becky Toll
Episode: "Being Fired Means Never Having to Say You're Sorry"
1996
NYPD Blue
Patty Snow
Episode: "The Nutty Confessor"
1997
The Single Guy
Jordan
Episode: "Just Friends?"
1997-2002
Dharma & Greg
Dharma Freedom Finkelstein Montgomery
Main cast; 119 episodes
Golden Globe Award for Best Actress - Television Series Musical or Comedy
TV Guide Award for Favorite Actress in a Comedy
Nominated—American Comedy Award for Funniest Female Performer in a TV Series (Leading Role) Network, Cable or Syndication
Nominated—Primetime Emmy Award for Outstanding Lead Actress in a Comedy Series
Nominated—Golden Globe Award for Best Actress - Television Series Musical or Comedy
Nominated—Satellite Award for Best Actress - Television Series Musical or Comedy
Nominated—TV Guide Award for Favorite Actress in a Comedy
2002
Obsessed
Ellena Roberts
Television film
2004
Two and a Half Men
Frankie
2 episodes
2006
Courting Alex
Alex Rose
Main cast; 13 episodes
2007
Brothers & Sisters
Lizzie Jones-Baker
Episode: "Game Night"
2008
My Name Is Earl
Kimmi Himmler
Episode: "We've Got Spirit"
2009-2010
Accidentally on Purpose
Billie
Main cast; 18 episodes
2011
Two and a Half Men
Dharma Montgomery
Episode: "Nice to Meet You, Walden Schmidt"
2012
Shameless
Jill
Episode: "Fiona Interrupted"
2012
Damages
Naomi Walling
7 episodes
2012-2013
1600 Penn
Emily Nash Gilchrist
Main cast; 13 episodes
2013
Royal Pains
Lacy
Episode: "Open Invitation"
2014
Growing Up Fisher
Joyce Fisher
Main cast; 13 episodes
2014
So You Think You Can Dance
Herself
Guest judge[23]
2015
The Perfect Stanleys
Ellen
Television film
2017
Imaginary Mary
Alice
Main cast; 9 episodes
2018-present
Fear the Walking Dead
Naomi / Laura / June
Main cast; 12 episodes
Charities
Jenna Elfman supports the following charitable causes: Animals, Children.
[ Source: Wikipedia ]