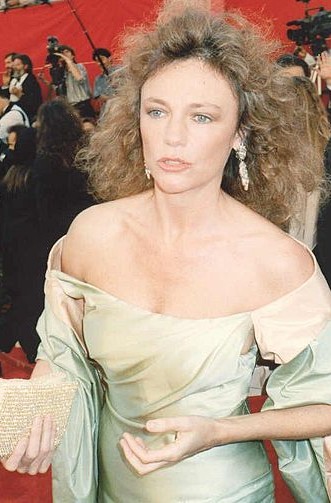 Jacqueline Bisset
Birth name:
Winifred Jacqueline Fraser Bisset
Born:
September 13, 1944
Age:
79
Birthplace:
Weybridge, Surrey, England
Popularity:

Please login to contact Jacqueline Bisset...
Biography
Winifred Jacqueline Fraser Bisset (/ˈbɪsɪt/ BISS-it; born 13 September 1944) is an English actress. She began her film career in 1965, first coming to prominence in 1968 with roles in The Detective, Bullitt, and The Sweet Ride, for which she received a most promising newcomer Golden Globe nomination. In the 1970s, she starred in Airport (1970), Day for Night (1973) which won the Academy Award for Best Foreign Language Film, Murder on the Orient Express (1974), The Deep (1977), and Who Is Killing the Great Chefs of Europe? (1978), which earned her a Golden Globe nomination as Best Actress in a Comedy.
Her other film and TV credits include Rich and Famous (1981), Class (1983), her Golden Globe-nominated role in Under the Volcano (1984), her Cesar-nominated role in La Cérémonie (1995), her Emmy-nominated role in the miniseries Joan of Arc (1999) and the BBC miniseries Dancing on the Edge (2013), for which she won a Golden Globe Award for Best Supporting Actress (television).
She received France's highest honour, the Légion d'honneur, in 2010. Jacqueline speaks English, French and Italian.
Bisset was born Winifred Jacqueline Fraser Bisset[1] in Weybridge, Surrey, England, the daughter of Max Fraser Bisset, a general practitioner, and Arlette Alexander, a lawyer-turned-housewife.[2] Her mother was of French and English descent and her father was of Scottish descent;[3][4] Bisset's mother cycled from Paris and boarded a British troop transport in order to escape the Germans during the Second World War.[5]
Bisset grew up in Tilehurst, near Reading in Berkshire, in a 17th-century country cottage, where she now lives part of the year[6][7] She has a brother, Max. Her mother taught her to speak French fluently, and she was educated at the Lycée Français in London. She had taken ballet lessons as a child, and began taking acting lessons while working as a fashion model to pay for them. When Bisset was a teenager, her mother was diagnosed with disseminating sclerosis.[8]
Bisset's parents divorced in 1968, after 28 years of marriage.[5] Her father died of a brain tumour in 1982, aged 71. Her mother died in 1999.[9]
Read more...
Career
Early roles
Bisset first appeared uncredited as a prospective model in the 1965 film The Knack ...and How to Get It, directed by Richard Lester.
She made her official debut the following year in Roman Polanski's Cul-de-sac (1966), credited as "Jackie Bisset". She had a tiny part as a dancer in Drop Dead Darling (1966).
In 1967, Bisset had her first noticeable part in the Albert Finney/Audrey Hepburn vehicle Two for the Road, as a woman in whom Finney's character is romantically interested. It was made by 20th Century Fox.
Bisset had a more sizeable role in the James Bond satire, Casino Royale, as Miss Goodthighs.
Rise to fame
Bisset in 1969
Fox then cast Bisset in her first lead part in The Cape Town Affair, opposite James Brolin, filmed in South Africa.
She gained mainstream recognition in 1968 when she replaced Mia Farrow for the role of Norma MacIver in The Detective, opposite Frank Sinatra. The film was made at Fox, whose executives had been impressed by Bisset's performance in Two for the Road.
In the same year, she co-starred with Michael Sarrazin in Fox's The Sweet Ride, which brought her a Golden Globe nomination for Most Promising Newcomer. She capped her year as Steve McQueen's girlfriend in the police drama Bullitt, which was among the top five highest-grossing films of the year.
Stardom
In 1969, Bisset had the star role in the sex comedy The First Time. In the same year she appeared in Secret World.
She was one of the many stars in the 1970 disaster film Airport; her role was that of a pregnant stewardess carrying Dean Martin's love child. It was a huge hit.
She had another starring part in The Grasshopper (1970), which was little seen, and was in The Mephisto Waltz (1971) with Alan Alda.
Bisset had the lead in a comedy Stand Up and Be Counted (1972). More popular was The Life and Times of Judge Roy Bean (1972), where she played the daughter of Paul Newman's title character.
She played the female lead in The Thief Who Came to Dinner (1973) with Ryan O'Neal, stepping in for a pregnant Charlotte Rampling.
Europe
Bisset went to France to appear in François Truffaut's Day for Night (1973), where she earned the respect of European critics and moviegoers as a serious actress. She stayed in that country to make Le Magnifique (1973) with Jean-Paul Belmondo, a hit in France but little seen in English-speaking countries.
Bisset was one of many stars in the British whodunnit Murder on the Orient Express (1974), an enormous success. In Britain she starred in the remake of The Spiral Staircase (1975).
Bisset went to Germany for End of the Game (1975) directed by Maximillian Schell. In Italy, she co-starred with Marcello Mastroianni in Luigi Comencini's The Sunday Woman in 1975.
Bisset returned to Hollywood to support Charles Bronson in St. Ives (1976).
The Deep and career peak
In 1977, Bisset gained wide publicity in America with her movie The Deep. Swimming underwater wearing only a T-shirt for a top helped make the film a box office success, leading producer Peter Guber to quip, "That T-shirt made me a rich man!"[10] and led many to credit her with popularising the wet T-shirt contest.[11] At the time, Newsweek declared her "the most beautiful film actress of all time". In 1978, a UK production titled Secrets Bisset had made in 1971 was released in the United States. The movie featured the only extensive nude scenes of Bisset's career and the producers cashed in on her fame.
Bisset at the 1989 Academy Awards
By 1978, she was a household name. In that year she earned a Golden Globe nomination for Best Actress (Comedy) for her performance in Who Is Killing the Great Chefs of Europe?, and starred opposite Anthony Quinn in The Greek Tycoon, playing a role based on Jackie Onassis.
After making Together? (1979) in Italy, she appeared in some all-star films, When Time Ran Out (1980), with Paul Newman, among others, and Inchon (1980) with Laurence Olivier. Both were big flops.
More popular was George Cukor's Rich and Famous (1981) with Candice Bergen, where Bisset also served as co-producer.
One of her well-known roles was in Class (1983), where she played Rob Lowe's attractive mother who has an affair with her son's prep school roommate (Andrew McCarthy).
She earned another Golden Globe nomination for her role in John Huston's Under the Volcano (1984) opposite Albert Finney.
Bisset made a wartime drama Forbidden (1984). For TV she played the title role in Anna Karenina (1985) and did an abortion drama, Choices (1986).
Bisset had the lead in some comedies: High Season (1987) and Scenes from the Class Struggle in Beverly Hills (1989), playing a lascivious suburban widow in the latter. She was Carré Otis' employer/educator in the controversial erotic thriller Wild Orchid (1990) with Mickey Rourke.
Later career
Bisset has appeared in many made-for-TV movies since the mid-1980s, starting with the cable adaptation of Anna Karenina with Christopher Reeve in 1985. One of her later TV movies, in 2003, was America's Prince: The John F. Kennedy Jr. Story, in which she portrayed Jacqueline Bouvier Kennedy Onassis. Bisset's other television work includes the Biblical epics Jesus (1999) and In the Beginning (2000), and the miniseries Joan of Arc, which earned her an Emmy nomination for Best Supporting Actress.
In 1996, Bisset was nominated for a César Award for her role in the French film La Cérémonie. She appeared in the 16th-century period drama Dangerous Beauty (1998) as Catherine McCormack's mother, a retired Venetian courtesan, and had the leading role in the 2001 independent feature The Sleepy Time Gal, which premiered on the Sundance Channel and was cited by the Village Voice in its annual survey of the year's best undistributed films. In 2005, she was seen in the Domino Harvey biographical film Domino with Keira Knightley, directed by Tony Scott, in which Bisset played a fictionalized version of Paulene Stone (renamed "Sophie Wynn") whom she actually knew from her time as a model in London.
Bisset at the 2017 Cannes Film Festival
In 2006, Bisset had a recurring role on the TV series Nip/Tuck as the ruthless extortionist James. She starred in the lead role of Boaz Yakin's Death in Love which premiered at the 2008 Sundance Film Festival. Later that year, she starred in the Hallmark television film An Old Fashioned Thanksgiving. She finished filming The Last Film Festival in 2010, which was the final screen appearance of Dennis Hopper.
In 2010, Bisset was awarded the Légion d'honneur insignia, with French President Nicolas Sarkozy calling her "a movie icon".[12]
She returned to the UK to film Stephen Poliakoff's 1930s jazz drama series, Dancing on the Edge, which started on BBC2 in 2013.[13] For her work, she won the Golden Globe for Golden Globe Award for Best Supporting Actress - Series, Miniseries or Television Film. In 2015, she co-starred with Drew Barrymore and Toni Collette in the film Miss You Already.
In 2017, she played a recurring role in the TV series Counterpart.[14]
Personal life
Bisset has never married, though she has had lengthy romances with French-Canadian actor Michael Sarrazin,[15] Moroccan real estate magnate Victor Drai,[16] Russian dancer/actor Alexander Godunov,[16] Swiss actor Vincent Pérez,[17] and Turkish martial arts instructor Emin Boztepe.[18] "There are so many misunderstandings in life. I once caused a scandal by saying I lived with two men. I didn't mean it in a sexual sense. We were just like any people sharing an apartment."[19]
Boztepe and Perez were 18 and 20 years her junior, respectively. Bisset has said,
I remember reading an article that referred to Emin as a "toy boy" and thinking "What on earth is that?" That phrase is one of the most insulting things - it's so rude and comes from pure jealousy I think. He was younger than me, but he was so much a man that calling him a toy boy was ludicrous! And I was so embarrassed for him because it was highly inappropriate. It's also disrespectful to talk about women as cougars. It's very derogatory and silly and all part of this negative kind of thinking that I try very hard to ignore. But they do say that sexually, a man is at his height at 18 and a woman at 35, so that's nature's way. I just think that people are attracted to what they want and need for however long it works.[20]
Bisset is godmother to actress Angelina Jolie.[21]
Filmography
Film
Year
Title
Role
Notes
1965
The Knack ...and How to Get It
Model
Uncredited
1966
Cul-de-sac
Jacqueline
1966
Drop Dead Darling
Dancer
AKA Arrivederci, Baby!
1967
Casino Royale
Giovanna Goodthighs
1967
Two for the Road
Jackie
1967
The Cape Town Affair
Candy
1968
The Sweet Ride
Vickie Cartwright
Nominated—Golden Globe Award for New Star of the Year - Actress
1968
The Detective
Norma Maclver
1968
Bullitt
Cathy
Laurel Award for Female New Face (2nd place)
1969
The First Time
Anna
1969
Secret World (fr)
Wendy Sinclair
Original titles: L'échelle blanche AKA La Promesse
1970
Airport
Gwen Meighen
1970
The Grasshopper
Christine Adams
Nominated—Laurel Award for Best Female Dramatic Performance
1971
The Mephisto Waltz
Paula Clarkson
1971
Secrets
Jenny
1972
Stand Up and Be Counted
Sheila Hammond
1972
The Life and Times of Judge Roy Bean
Rose Bean
1973
The Thief Who Came to Dinner
Laura Keaton
1973
Day for Night
Julie Baker
Original title: La nuit américaine
1973
Le Magnifique
Tatiana/Christine
AKA How to Destroy the Reputation of the Greatest Secret Agent...
1974
Murder on the Orient Express
Countess Elena Andrenyi/Helena Arden
1975
The Spiral Staircase
Helen Mallory
1975
End of the Game
Anna Crawley
Original title: Der Richter und sein Henker
1975
The Sunday Woman
Anna Carla Dosio
Original title: La donna della domenica
1976
St. Ives
Janet Whistler
1977
The Deep
Gail Berke
1978
The Greek Tycoon
Liz Cassidy
1978
Who Is Killing the Great Chefs of Europe?
Natasha O'Brien
Nominated—Golden Globe Award for Best Actress - Motion Picture Comedy or Musical
1979
Together?
Louise
1980
When Time Ran Out
Kay Kirby
1981
Inchon
Barbara Hallsworth
1981
Rich and Famous
Liz Hamilton
1983
Class
Ellen Burroughs
1984
Under the Volcano
Yvonne Firmin
Nominated—Golden Globe Award for Best Supporting Actress - Motion Picture
1984
Forbidden
Nina von Halder
Nominated—CableACE Award for Actress in a Movie or Miniseries
1985
Anna Karenina
Anna Karenina
Television movie
1986
Choices
Marisa Granger
Television movie
1987
High Season
Katherine Shaw
1988
La maison de Jade
Jane Lambert
1989
Scenes from the Class Struggle in Beverly Hills
Clare Lipkin
1990
Wild Orchid
Claudia Dennis
1991
The Maid
Nicole Chantrelle
Television movie
1991
Rossini! Rossini!
Isabella Colbran
1993
Corrupt Justice
Holly McPhee
AKA CrimeBroker
1993
Les marmottes
Frédérique
1995
La Cérémonie
Catherine Lelievre
Nominated—César Award for Best Supporting Actress
1996
September
Pandora
Television movie
1996
Once You Meet a Stranger
Sheila Gaines
Television movie
1997
End of Summer
Christine Van Buren
Television movie
1998
Dangerous Beauty
Paola Franco
1999
Let the Devil Wear Black
Helen Lyne
1999
Witch Hunt
Barbara Thomas
Television movie
1999
Jesus
Mary
Television movie
2000
Britannic
Lady Lewis
Television movie
2000
Les gens qui s'aiment
Angie
2000
Sex & Mrs. X
Madame Simone
Television movie
2000
In the Beginning
Sarah
Television movie
2001
The Sleepy Time Gal
Frances
2001
New Years Day
Geraldine
2002
Dancing at the Harvest Moon
Maggie Webber
Television movie
2003
America's Prince: The John F. Kennedy Jr. Story
Jacqueline Bouvier Kennedy Onassis
Television movie
2003
Latter Days
Lila Montagne
2003
Swing
Christine / Mrs. DeLuca
2004
The Survivors Club
Carol Rosen
Television movie
2004
Fascination
Maureen Doherty
2005
The Fine Art of Love: Mine Ha-Ha'
Headmistress
2005
Domino
Sophie Wynn
2005
Summer Solstice
Alexia White
Television movie
2006
Save the Last Dance 2
Monique Delacroix
2007
Carolina Moon
Margaret Lavelle
Television movie
2008
Death in Love
Mother
2008
Nick Nolte: No Exit
Herself
Documentary
2008
An Old Fashioned Thanksgiving
Isabella
Television movie
Nominated—Satellite Award for Best Actress - Miniseries or Television Film
2010
An Old Fashioned Christmas
Isabella
Television movie
2012
Two Jacks
Diana
2014
Welcome to New York
Simone Devereaux
2015
Miss You Already
Miranda
2016
The Last Film Festival
Claudia Benvenuti
2017
L'Amant Double
2017
9/11
Diane
2018
Backstabbing for Beginners
Filming - Releasing January 18, 2018 in Denmark
TBA
Honey in the Head
Filming
Television
Year
Title
Role
Notes
1987
Napoleon and Josephine: A Love Story
Josephine de Beauharnais
3 episodes
1999
Joan of Arc
Isabelle d'Arc
2 episodes
Nominated—Golden Globe Award for Best Supporting Actress - Series, Miniseries or Television Film
Nominated—Primetime Emmy Award for Outstanding Supporting Actress in a Miniseries or a Movie
1999
Hey Arnold!
Madame Parvenu
Episode: "Grudge Match/Polishing Rhonda"
2001-2002
Ally McBeal
Frances Shaw
2 episodes
2003
Law & Order: Special Victims Unit
Juliet Barclay
Episode: "Control"
2006
Nip/Tuck
James LeBeau
7 episodes
2009
The Eastmans
Emma Eastman
Unsold TV pilot
2011-2012
Rizzoli & Isles
Constance Isles
3 episodes
2013
Dancing on the Edge
Lady Lavinia Cremone
4 episodes
Golden Globe Award for Best Supporting Actress - Series, Miniseries or Television Film
[ Source: Wikipedia ]