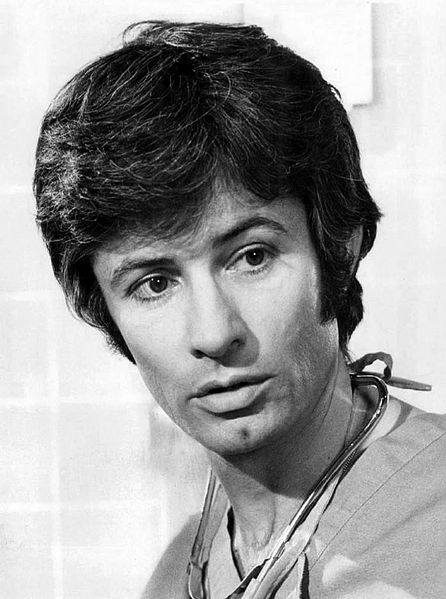 George Chakiris
Born:
September 16, 1934
Age:
89
Birthplace:
Norwood, Ohio, U.S.
Popularity:

Please login to contact George Chakiris...
Biography
George Chakiris (born September 16, 1934) is an American dancer, singer and actor. He is best known for his appearance in the film version of West Side Story as Bernardo, the leader of the Sharks gang, for which he won both the Academy Award for Best Supporting Actor and the Golden Globe Award for Best Supporting Actor - Motion Picture.
Chakiris was born in Norwood, Ohio, to Steven and Zoe (née Anastasiadou) Chakiris,[1] immigrants from Greece. He attended high school in Tucson, Arizona and Long Beach.[2][3]
Chakiris did one year of college but he wanted to dance so he dropped out and moved to Hollywood. He worked in the advertising branch of a department store and began to study dancing at night.[2]
Read more...
Early Films
Chakiris made his film debut in 1947, in the chorus of Song of Love.
For several years he appeared in small roles, usually as a dancer or a member of the chorus in various musical films, including The Great Caruso (1951), Stars and Stripes Forever (1952), Call Me Madam (1953), Second Chance (1953) and The 5,000 Fingers of Dr. T. (1953).
He was one of the dancers in Marilyn Monroe's "Diamonds Are a Girl's Best Friend" number in Gentlemen Prefer Blondes (1953), and was also in Give a Girl a Break (1953).
He can be seen in the funeral dance in the MGM musical film Brigadoon (1954) and was in There's No Business Like Show Business' (1954).
Paramount
Chakiris appeared as a dancer in White Christmas (1954). A publicity photo of Chakiris with Rosemary Clooney from her "Love, You Didn't Do Right By Me" scene generated fan mail, and Paramount signed him to a movie contract. "I got lucky with the close-up with Rosemary," said Chakiris[4][5]
Chakiris was in The Country Girl (1954), and The Girl Rush (1955), dancing with Rosalind Russell in the latter. He received a positive notice from Hedda Hopper.[6]
MGM borrowed him for Meet Me in Las Vegas (1956) and he did dancing in Las Vegas.[7]
Chakiris had a small non-dancing part in Under Fire (1957).
West Side Story
Frustrated with the progress of his career, Chakiris left Hollywood for New York. West Side Story had been running for a year on Broadway, and Chakiris auditioned for Jerome Robbins. He was cast in the London production as "Riff", leader of the Jets. The musical launched on the West End in late 1958 and Chakiris received excellent reviews, playing it for almost 22 months.[8]
The Mirisch Brothers brought the film rights to West Side Story and tested Chakiris. They ended up feeling his dark complexion made him more ideal for the role of Bernardo, leader of the Sharks, and cast Russ Tamblyn as Riff. Filming took seven months.[9] [2]
The film of West Side Story (1961) was hugely successful and Chakiris won the Academy Award for Best Supporting Actor for his performance. This led him to be contracted by the Mirisch Company to a long-term contract.[10]
Chakiris played the lead role in a British film, Two and Two Make Six (1962), directed by Freddie Francis. He was announced for Day of the Damned with Montgomery Clift but it was not made.[11]
He starred as a doctor in the film Diamond Head (1963) opposite Charlton Heston and Yvette Mimieux, which was popular.[12]
In the early 1960s, he embarked on a career as a pop singer, resulting in a couple of minor hit songs. In 1960, he recorded one single with noted producer Joe Meek.
3-Picture Deal with Mirisch Brothers
Chakiris' fee around this time was a reported $100,000 per movie.[13] His first new film for the Mirishes was Flight from Ashiya (1964), shot in Japan with Yul Brynner and Richard Widmark.
The Mirisches announced him for Young Lucifer with Tuesday Weld directed by Irving Kershner but it was not made.[14] Neither was a film version of Carnival! which Arthur Freed wanted to make with Chakiris, Yvette Mimieux and Robert Goulet.[15]
Instead the Mirsches reunited Chakiris with Brynner in Kings of the Sun (1963), an epic about the Mayans which was a box office flop. Chakiris went to Italy to make Bebo's Girl (1964) with Claudia Cardinale.
He did 633 Squadron (1964), a popular war movie with Cliff Robertson, the last movie he made for the Mirisches. Chakiris later said he made a mistake with his Hollywood films but looking at the "potential" of them instead of the quality of the roles.[16]
Europe
Chakiris played a Greek terrorist in Cyprus in a British filmThe High Bright Sun (1965) with Dirk Bogarde for which he was paid $100,000. He went to Italy for The Mona Lisa Has Been Stolen (1965) and France for Is Paris Burning? (1966).[17]
He acted along with Catherine Deneuve and Gene Kelly in Jacques Demy's French musical Les Demoiselles de Rochefort (1967). Around this time his manager cancelled his contract with Capital Records.[18] However he enjoyed his time in Europe saying he had time to "experiment and refine my craft."[16] He also did a nightclub act at Cesar's Palace in Las Vegas, his first stage work since West Side Story.
The show was successful and led to Chakiris receiving an offer to appear alongside Jose Ferrer in a TV production of Kismet (1967). He did The Day the Hot Line Got Hot (1968) in France and The Big Cube (1969) with Lana Turner in America. He made Sharon vestida de rojo (1970) in Spain.[19]
1970s and 1980s
In 1969 Chakiris did a stage production of The Corn is Green in Chicago with Eileen Herlie. He enjoyed the experience and it revived his confidence as an actor. He said all the films he made after West Side Story had been "a waste of time... it was difficult to take them seriously... It was my fault and no one else's".[20]
Chakiris accepted a dramatic role on Medical Center to change his image.[20]
He starred in the first national tour of the Stephen Sondheim musical, Company, touring as Bobby in 1971-72.
Chakiris worked heavily on TV in the 1970s and 1980s in Britain and America, guest starring on shows like Hawaii Five-O, Police Surgeon, Thriller, Notorious Woman, Wonder Woman, Fantasy Island, CHiPs, Matt Houston, Scarecrow and Mrs. King, Poor Little Rich Girls, Hell Town and Murder, She Wrote.
He appeared in the final episode of The Partridge Family as an old high school boyfriend to Shirley Partridge (Shirley Jones, also a musical theater veteran and the person who just happened to have presented him with his Academy Award). Their kiss goodbye was the final scene in the program's run. He also starred in a film Why Not Stay for Breakfast? (1979).
Chakris appeared in several episodes of Dallas and had an arc on Santa Barbara.
Later Career
Chakiris had a recurring role on the TV show Superboy as Professor Peterson during the first two seasons from 1988-1990.
He was top billed in the film Pale Blood (1990) and guest starred on Human Target and The Girls of Lido. He played The King And I on stage in 1995 in Los Angeles.
Chakiris' last role to date was in a 1996 episode of the British sitcom Last of the Summer Wine.
He has given occasional television interviews since then, but is mostly retired. His hobby of making sterling silver jewelry has turned into a new occupation,[21] working as a jewelry designer for his own brand, George Chakiris Collections, consisting of handmade original sterling silver jewelry.
A vegetarian himself, in 2012 he presented a musical about veganism titled Loving the Silent Tears.[22][23]
Filmography
Year
Title
Role
Notes
1947
Song of Love
Choir boy
as George Kerris
1951
The Great Caruso
Dancer
Uncredited
1952
Stars and Stripes Forever
Ballroom dancer
Uncredited
1953
Call Me Madam
Dancer in 'The Ocarina' Number
The 5,000 Fingers of Dr. T
Dancer
as George Kerris
Gentlemen Prefer Blondes
Dancer (Diamonds Are A Girl's Best Friend")
Uncredited
Second Chance
Background Observer in Dance Sequence
Uncredited
Give a Girl a Break
Dancer
Uncredited
1954
Brigadoon
Specialty dancer
Uncredited
White Christmas
Dancer in 'Mandy' and 'Love' numbers
Uncredited
The Country Girl
Dancer with pick
Uncredited
There's No Business Like Show Business
Dancer
Uncredited
1955
The Girl Rush
Chorus boy, 'Hillbilly Heart' number
Uncredited
1956
Meet Me in Las Vegas
Young groom
as George Kerris
1957
Under Fire
Pvt. Steiner
Uncredited
1961
West Side Story
Bernardo Nuñez
Academy Award for Best Supporting Actor
Golden Globe Award for Best Supporting Actor - Motion Picture
1962
Two and Two Make Six
Larry Curado
Diamond Head
Dr. Dean Kahanna
1963
Kings of the Sun
Balam
1964
La ragazza di Bube
Bebo
Flight from Ashiya
2nd Lt. John Gregg
633 Squadron
Lt. Erik Bergman
1965
The High Bright Sun
Haghios
1966
On a volé la Joconde (fr)
Vincent
Is Paris Burning?
GI in tank
1967
Les Demoiselles de Rochefort
Étienne
1968
Le Rouble à deux faces
Eric Ericson
1969
The Big Cube
Johnny Allen
Sharon vestida de rojo
Robert Bowman
1979
Why Not Stay for Breakfast?
George Clark
1982
Jekyll and Hyde... Together Again
Himself
1990
Pale Blood
Michael Fury
Selected television appearances
Year
Film
Role
Other notes
1956
Ford Star Jubilee
episode - "You're the Top"
1968
The Carol Burnett Show
show #020 - Jan. 22, 1968
1969
The Jackie Gleason Show
episode - "Mousey the Dip"
1970-1975
Medical Center
Alex Solkin
3 episodes
1972
Hawaii Five-O
Chris Lahani
1 episode
1974
The Partridge Family
Capt. Chuck 'Cuddles' Corwin
episode - "Anchors Aweigh"
Thriller
Robert Stone
episode - "Kiss Me and Die"
Notorious Woman
Frédéric Chopin
TV mini-series
1978
Wonder Woman
Carlo Indrezzano
episode - "Death in Disguise"
Return to Fantasy Island
Pierre
1982
Fantasy Island
Captain Claude Dumont
episode - "The Magic Camera/Mata Hari/Valerie"
1983
CHiPs
Bernard DeJardine Fox Trap
TV episode
Matt Houston
Brett Cole
episode - The Showgirl Murders
1984
Matt Houston
Clark Sawyer
episode - "Waltz of Death"
One Life to Live
unknown episodes
Poor Little Rich Girls
Prince Rudolph
episode - "The Gentleman Caller"
Nihon no omokage
Lafcadio Hearn
mini-series
Scarecrow and Mrs. King
Angelo Spinelli
episode - "Lost and Found"
1985
Hell Town
Ric Montenez
episode - "Let My Jennie Go"
1986
Dallas
Nicholas
14 episodes.
1988
Santa Barbara
Daniel Espinoza
1989
Murder, She Wrote
Eric Bowman
episode - "Weave a Tangled Web"
1989-1990
Superboy
Professor Peterson
9 episodes
1992
Human Target
Robillard
episode - "Chances Are"
1995
Les Filles du Lido
Saskia
mini-series
1996
Last of the Summer Wine
Max Bernard
episode - "Extra! Extra!"
[ Source: Wikipedia ]