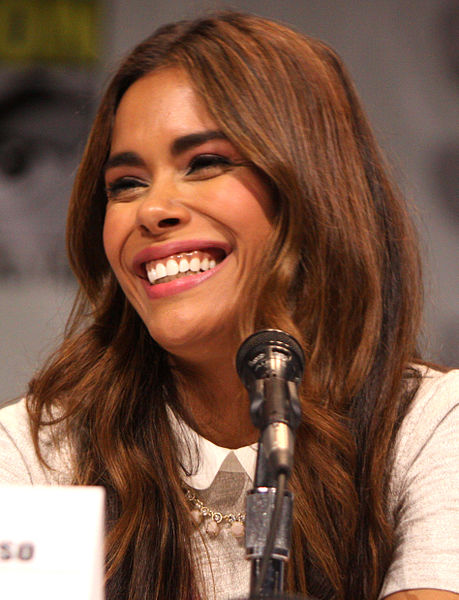 Daniella Alonso
Born:
September 22, 1978
Age:
45
Birthplace:
New York City, U.S.
Popularity:

Please login to contact Daniella Alonso...
Biography
Daniella Alonso (born September 22, 1978) is an American actress and fashion model known for her roles on the NBC shows Revolution as Nora Clayton and Friday Night Lights as Carlotta Alonso. She is also known for her guest appearances as Anna Taggaro on The WB television series One Tree Hill and her lead roles in movies The Hills Have Eyes 2 and Wrong Turn 2: Dead End. Alonso starred in the first season of another NBC series The Night Shift as Dr. Landry de la Cruz.
Alonso was born in New York City. Her mother is Puerto Rican, and her father is Peruvian, of native and Japanese descent.[1] She has a brother. She has participated in karate, in which she holds a fourth level green belt. She loves animals and supports PETA,[2] most recently posing in an ad campaign that asked consumers to wear synthetic leather.[3]
Discovered by the Ford Modeling Agency, Alonso began booking jobs for teen magazines like Seventeen, YM, and Teen, which led to her booking commercials for Clairol, Cover girl, Clean and Clear, Kmart, Target, Footlocker, Volkswagen, and others. She has done over thirty national commercials and approximately 20-plus Spanish market advertisements, as well.[4]
Read more...
Filmography
Film
| Year | Title | Role | Notes |
| --- | --- | --- | --- |
| 1997 | Academy Boyz | Lisa | |
| 2001 | Black Knight | June | |
| 2003 | Rhythm of the Saints | Rena | |
| 2006 | The Last Romantic | | |
| 2006 | All You've Got | Rada Kincaid | |
| 2006 | Hood of Horror | Posie | |
| 2007 | The Hills Have Eyes 2 | Missy | |
| 2007 | Wrong Turn 2: Dead End | Amber | |
| 2007 | A Poor Kid's Guide to Success | Nicole | |
| 2009 | Love 10 to 1 | Cali | |
| 2009 | Love Song | Cali | Short film |
| 2009 | We Were Once a Fairytale | Sofa Girl | Short film |
| 2009 | The Collector | Lisa | |
| 2013 | The Mulberry Tree | Maria Ramirez | |
| 2015 | Re-Kill | Matthews | |
| 2015 | Paul Blart: Mall Cop 2 | Divina Martinez | |
| 2016 | Lawless Range | Claudia Donnelly | |
Television
| Year | Title | Role | Notes |
| --- | --- | --- | --- |
| 2001 | Law & Order: Criminal Intent | Angie Suarez | Episode: "Jones" |
| 2003 | Law & Order | Maddi Donlou | Episode: "Mother's Day" |
| 2004 | As the World Turns | Pilar Domingo | TV series |
| 2004-05 | One Tree Hill | Anna Taggaro | Recurring role (12 episodes) |
| 2006 | CSI: NY | Jenny Rodriguez | Episode: "Cool Hunter" |
| 2007 | CSI: Miami | Alexis Dawson | Episode: "Born to Kill" |
| 2007 | Saving Grace | Lily Blackbird | Episode: "Yeehaw, Geepaw" |
| 2007-08 | Friday Night Lights | Carlotta Alonso | Recurring role (10 episodes) |
| 2008 | Stargate: Atlantis | Katana Labrea | Episode: "The Lost Tribe" |
| 2008 | Without a Trace | Dr. Erica Loza | Episode: "Push Comes to Shove" |
| 2009 | Knight Rider | Lynn | Episode: "Exit Light, Enter Knight" |
| 2009 | CSI: Crime Scene Investigation | Liz Martin / Rosa Gonzales | Episode: "Deep Fried and Minty Fresh" |
| 2009 | Medium | Elizabeth Torres | Episode: "Baby Fever" |
| 2010 | My Generation | Brenda Serrano | Main role (8 episodes) |
| 2011 | Metro | Daniela Diaz | Unsold TV pilot; aka. S.I.L.A. |
| 2011 | Mad Love | Nurse | Episode: "Friends and Other Obstacles" |
| 2011 | In Plain Sight | Sue Shears / Sue Stills | Episode: "Provo-Cation" |
| 2012 | Private Practice | Reyna Reyes | Episode: "True Colors" |
| 2012 | Rizzoli & Isles | Riley Cooper | Episodes: "Cuts Like a Knife", "Melt My Heart to Stone" |
| 2012 | Covert Affairs | Therapist | Episodes: "This Is Not America", "Hello Stranger" |
| 2012 | Upgrade | Santiago Twin 1 | TV film |
| 2012-14 | Revolution | Nora Clayton | Main role (season 1, 20 episodes); guest role (season 2, 1 episode) |
| 2014 | The Night Shift | Dr. Landry de la Cruz | Main role (season 1) |
| 2015 | Being Mary Jane | Marisol | Recurring role (6 episodes) |
| 2015 | Major Crimes | Lori Weber | Season 4 Episode 17: "FindKaylaWeber" |
| 2016 | iZombie | Alyssa Tramall | Episode: "Fifty Shades of Grey Matter" |
| 2016 | Animal Kingdom | Catherine | Main role (Season 1, 8 episodes) |
| 2017 | Lethal Weapon | Maria Navar | Episode: "A Problem Like Maria" |
| 2017 | MacGyver | Alejandra Rosa | Episode: "Duct Tape + Jack" |
| 2018 | SEAL Team | Leigh Wheeler | Episode "Containment" |
| 2018-present | Criminal Minds | Lisa Douglas | Recurring role (3 episodes) |
[ Source: Wikipedia ]