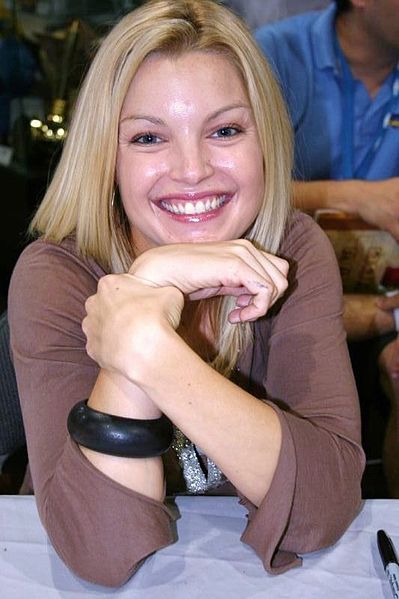 Clare Kramer
Birth name:
Clare Elizabeth Kramer
Born:
September 3, 1974
Age:
49
Birthplace:
Atlanta, Georgia, U.S.
Popularity:

Please login to contact Clare Kramer...
Biography
Clare Elizabeth Kramer (born September 3, 1974) is an American actress best known for her starring role of Glory on Buffy the Vampire Slayer and for her role as Courtney in Bring It On. She is a co-founder of GeekNation and hosts the podcast Take Five with Clare Kramer.
Clare Elizabeth Kramer was born in Atlanta, Georgia, to a kindergarten teacher mother and a petroleum geologist father.[1] and spent most of her childhood in Delaware, Ohio. She is of British and German descent. She has a younger sister named Callie; their parents are Terry and Sandy. After graduating from high school, she attended New York University and received a BFA from NYU's Tisch School of the Arts.[2] She moved to Los Angeles in December 1999.
Kramer married producer Brian Keathley in October 29, 2005. They have four children: daughters Gavin (born 2008) and River Marie (born 2010) and sons Hart (born 2012) and Sky Lynlee (born 2013).[3][4]
Read more...
Career
Kramer speaking at WonderCon 2017.
As a child, she was a spokesman and mascot for Wendy's, donning the trademark pigtails accentuated in the company logo.[5]
Kramer's film roles include: The Thirst (as a vampire, this time a former drug-addict); The Skulls III (as a competitive swimmer who follows in her brother's footsteps by joining the title organization); Roger Avary's adaptation of the Bret Easton Ellis novel The Rules of Attraction; and Jessica Bendinger's cheerleading comedy Bring It On. The latter co-starred real-life former cheerleader Kirsten Dunst, and fellow Buffy alumna Eliza Dushku.
Kramer has appeared in guest roles in theater and TV shows, including Tru Calling, which starred Eliza Dushku, and Sabrina, the Teenage Witch, in which she portrayed fictional movie star and shoplifter Babette Storm.
On June 28, 2012, Kramer participated in a Reddit ask me anything (or AMA) in the Buffy the Vampire Slayer subreddit,[6] with most of the questions centered around her time on the show and her role on the show.
Kramer won the 2012 Pollygrind Underground Film Festival's Best Actress award for her portrayal of spree killer, "Caitlin Shattuck", in the rock fantasy feature, Road To Hell.[7]
Filmography
Film
| Year | Title | Role | Notes |
| --- | --- | --- | --- |
| 1997 | In & Out | Student | |
| 2000 | Ropewalk | Liza | |
| 2000 | Bring It On | Courtney | |
| 2002 | The Mallory Effect | Robin | |
| 2002 | The Rules of Attraction | Candice | |
| 2003 | D.E.B.S. | Lucy in the Sky / Lucinda Reynolds | Short film |
| 2004 | The Scare Hole | Sarah | |
| 2004 | The Skulls III | Taylor Brooks | Video |
| 2004 | L.A. D.J. | Flyer Girl | |
| 2005 | Guy in Row Five | Rose | |
| 2006 | The Gravedancers | Allison Mitchell | |
| 2006 | The Thirst | Lisa | |
| 2008 | The Grift | Grace Armstrong | |
| 2008 | Road to Hell | Caitlin | |
| 2010 | Endure | Daphne Mayton | |
| 2011 | The Dead Ones | Ms. Persephone | |
| 2011 | Hard Love | Kelly | |
| 2013 | Big Ass Spider! | Lt. Karly Brant | |
| 2015 | Tales of Halloween | Lt. Brandt-Mathis | Segment: "Sweet Tooth" |
| 2015 | The Lost Tree | Emma | |
| 2017 | Zer0-Tolerance | Patrica Spencer | Filming |
| TBA | The Griddle House | Francis | Post-production |
Television
| Year | Title | Role | Notes |
| --- | --- | --- | --- |
| 1998 | Vig | Heather | TV film |
| 1999 | Outreach | Casey Shaw | TV series |
| 1999 | Dodge's City | Witch | TV film |
| 2000-2002 | Buffy the Vampire Slayer | Glory | Recurring role, 13 episodes |
| 2002 | The Random Years | Melissa | "Don't Make Me Have Sex in the Hamptons" |
| 2002 | Sabrina, the Teenage Witch | Babette Storm | "Free Sabrina" |
| 2004 | Tru Calling | Alex Reynolds | "Drop Dead Gorgeous" |
| 2006 | House | Caren Krause | "Meaning" |
| 2011 | Goodnight Burbank | Terri Blake | Recurring role |
| 2012-2015 | Film Pigs | Herself / Various | Recurring role |
| 2014 | Monster School Animation | Clare Kramer | TV series |
| 2016 | Strange Ones | Det. Karen Barnes | TV series, pre-production |
| 2016 | The Wrong House | Rebecca Lassiter | TV film |
Web series
| Year | Title | Role | Notes |
| --- | --- | --- | --- |
| 2016 | Star Trek Continues | Commander Diana Garrett | Web series |
[ Source: Wikipedia ]