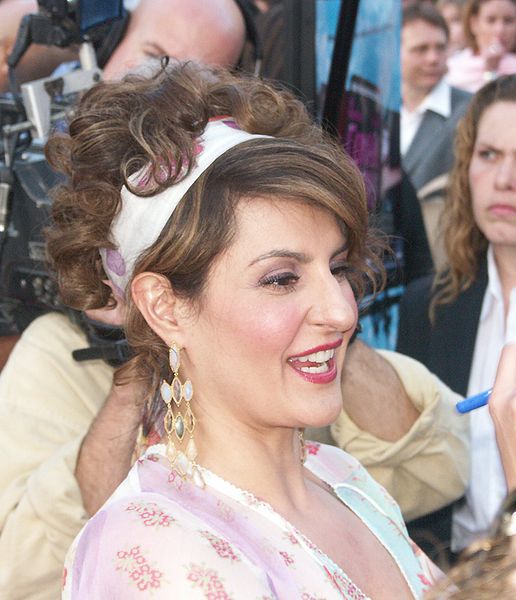 Nia Vardalos
Born:
September 24, 1962
Age:
61
Birthplace:
Winnipeg, Manitoba, Canada
Popularity:

Please login to contact Nia Vardalos...
Biography
Antonia Eugenia "Nia" Vardalos (born September 24, 1962; Greek: Νία Βαρντάλος) is a Canadian-American actress, screenwriter, and producer of Greek descent. Her most notable work is the 2002 film My Big Fat Greek Wedding, which was based on a one-woman stage play she dramatized and in which she starred.
Vardalos was born in Winnipeg, Manitoba on September 24, 1962. She is the daughter of Greek Canadian parents Doreen Christakis, a bookkeeper and homemaker, and Constantine "Gus" Vardalos, a land developer.[1][2][3] She attended St. George School and Shaftesbury High School in Winnipeg and Ryerson University[4] in Toronto. She married American actor
Ian Gomez
on September 5, 1993. Gomez converted to Greek Orthodoxy prior to marrying her. She became a U.S. citizen in 1999. In 2008, they adopted a daughter whom they named Ilaria. She posted an advice column about the adoption process at
The Huffington Post.
[5] But it was announced on July 3, 2018 that Vardalos had filed for divorce from Gomez, after 23 years of marriage, due to irreconcilable differences.[6]
Read more...
Career
Vardalos at the
Connie and Carla
premiere on the Universal City Walk, Los Angeles, April 2004
An alumna of the Chicago-based Second City comedy repertory company, Vardalos had many small roles in television shows such as The Drew Carey Show and Two Guys and a Girl; in addition, she provided voices for the 1996 radio adaptation of Star Wars: Return of the Jedi which Brian Daley had written for National Public Radio.
She gained fame with her movie about a woman's struggle to find love in My Big Fat Greek Wedding, which was based on a one-woman show which Vardalos had previously written for the theater, basing it on her own personal experiences, and starred in onstage. The film was a huge critical and commercial success. The film earned Vardalos an Academy Award Nomination for Best Writing, a Golden Globe Nomination for Best Actress in a Motion Picture Musical or Comedy and a Screen Actors Guild Award Nomination.[citation needed]
The sleeper hit, which quickly became one of the highest-grossing independent films of all time, led to the unsuccessful CBS spin-off series, My Big Fat Greek Life. The show was cancelled after seven episodes and featured the entire cast from the film, aside from John Corbett.[7]
Her next film, released in 2004, was Connie and Carla, a musical about two women pretending to be drag queens.[7]
Vardalos made her directorial debut in 2009 with the independent feature I Hate Valentine's Day. The film, about a florist finding romance, received only a limited release and grossed $1,985,260 at the international box-office. This was followed by My Life in Ruins, about a misguided tour-guide travelling around Greece and featuring Academy Award winner Richard Dreyfuss. The film was the first American production given permission to film at the Acropolis; Vardalos sought the approval from the Greek government. The film was a moderate success at both the international box-office and DVD sales.[7]
In 2011, Vardalos collaborated with Tom Hanks to write the romantic comedy film Larry Crowne for the screen. The film received moderate reviews and was a commercial success, grossing $59.8 million; Vardalos also voiced the character Map Genie in the film. As of 2013, Vardalos was slated to star in the upcoming films Talk of the Town (2012) and A Wilderness of Monkeys (2013).[7]
Vardalos with husband Ian Gomez in 2012
Vardalos joined many celebrities helping to produce The 1 Second Film art project; she herself was featured in The Dialogue, an interview series. In this 90 minute interview with producer Mike DeLuca, Vardalos talked about how her experiences in The Second City comedy troupe helped her as an actress and a screenwriter, and how the unofficial "tell-the-Greek" word-of-mouth program had a hand in catapulting her movie to such great heights. She performed The Beatles song "Golden Slumbers" on the 2006 charity album Unexpected Dreams - Songs from the Stars. Vardalos's struggle to become a mother, which ultimately led her and then husband Ian Gomez to adopt after thirteen distinct in vitro fertilization attempts had failed, made its way into a book she wrote, Instant Mom, which was published in 2014.
Vardalos likewise starred in and co-wrote the sleeper hit My Big Fat Greek Wedding 2, which was released in March 2016.[8] It was less successful than the original had been; however, it earned over $60 million from an $18 million budget.
Beginning in 2015, Vardalos and Gomez co-presented The Great American Baking Show, formerly known as The Great Holiday Baking Show, for ABC-TV.[9] But with the failure of the Gomez-Vardalos marriage, it was not known, as of the first week of October of 2018, whether they would continue to do so.
Filmography
Film
Year
Title
Role
Notes
1996
No Experience Necessary
Sheila
1997
Men Seeking Women
Iris
1999
Meet Prince Charming
Jennifer
2002
My Big Fat Greek Wedding
Toula Portokalos
As Writer
American Screenwriters Association Award - Discover Screenwriting Award
Washington D.C. Area Film Critics Association Award for Best Original Screenplay
Nominated — Academy Award for Best Original Screenplay
Nominated — Broadcast Film Critics Association Award for Best Writer
Nominated — London Film Critics' Circle Award for Screenwriter of the Year
Nominated — Phoenix Film Critics Society Award for Best Original Screenplay
Nominated — Satellite Award for Best Adapted Screenplay
Nominated — Writers Guild of America Award for Best Original Screenplay
As Actress
Independent Spirit Award for Best Debut Performance
Phoenix Film Critics Society Award for Best Newcomer
Nominated — Golden Globe Award for Best Actress - Motion Picture Comedy or Musical
Nominated — Online Film Critics Society Award for Best Breakthrough Performance
Nominated — Satellite Award for Best Actress - Motion Picture Musical or Comedy
Nominated — MTV Movie Award for Female Breakthrough Performance
Nominated — Screen Actors Guild Award for Outstanding Performance by a Cast in a Motion Picture
2004
Connie and Carla
Connie
also writer
2006
Greece: Secrets of the Past
Narrator
2009
My Life in Ruins
Georgia Yanokoupolis
2009
I Hate Valentine's Day[10]
Genevieve
also writer and director
2011
Larry Crowne
Map Genie (voice)
also joint screenwriter with Tom Hanks
2012
For a Good Time, Call...
Rachel Rodman
2012
An American Girl: McKenna Shoots for the Stars
Mrs. Brooks
2013
Dealin' with Idiots
Ava Morris
2015
Helicopter Mom
Maggie
2015
Car Dogs
Sharon
2015
Forget Me Not
Catherine
2016
My Big Fat Greek Wedding 2
Toula Portokalos
also writer
Television
Year
Title
Role
Notes
1996
High Incident
Uncredited
Episode: "Father Knows Best"
1996
Common Law
uncredited
Episode: "In the Matter of, Acceptance"
1997
The Drew Carey Show
Grace Almada
Episode: "Strange Bedfellows"
1997-98
Team Knight Rider
Domino (voice)
22 episodes
1998-99
Boy Meets World
Uncredited
2 episodes
1999
It's Like, You Know...
Mindy
Episode: "Memories of Me"
1999
Two Guys and a Girl
Evelyn
Episode: "Career Day"
2000
Curb Your Enthusiasm
Larry's Lawyer
Episode: "Interior Decorator"
2002
Saturday Night Live
Host
Episode: "Nia Vardalos/Eve"
2003
My Big Fat Greek Life
Fotoula "Toula" Portokalos
Writer and executive producer; 7 episodes
2008
My Boys
Jo
3 episodes
2009
Drop Dead Diva
Lisa Shane
Episode: "What If?"
2010
The Good Guys
Eileen
Pilot episode
2011
Cougar Town[11]
Angela Torres
Episode: "Damaged by Love"
2012
Grey's Anatomy
Karen
Episode: "Hope for the Hopeless"
2013-14
Law & Order: Special Victims Unit
Attorney Minonna Efron
3 episodes
2015
Marry Me
Pam
Episode: "Mom Me"
2015
Star vs. the Forces of Evil
Angie Diaz
Voice role; 10 episodes
2015
Jane the Virgin
Barbara Stanbrook
Episode: "Chapter Nineteen"
2015
The Great Holiday Baking Show
Co-presenter
Baking competition
2016
The Catch
Leah Wells
3 episodes
2016
Graves
Annie Spiro
7 episodes
2016
The Great American Baking Show
Co-presenter (with husband Ian Gomez)
Baking competition
2017
Dr. Ken
Tiffany
Episode: "Ken's Big Audition"
2018
DuckTales
Selene
Voice role
Episode: "The Spear of Selene"
Charities
Nia Vardalos supports the following charitable causes: Cancer, Breast Cancer.
[ Source: Wikipedia ]