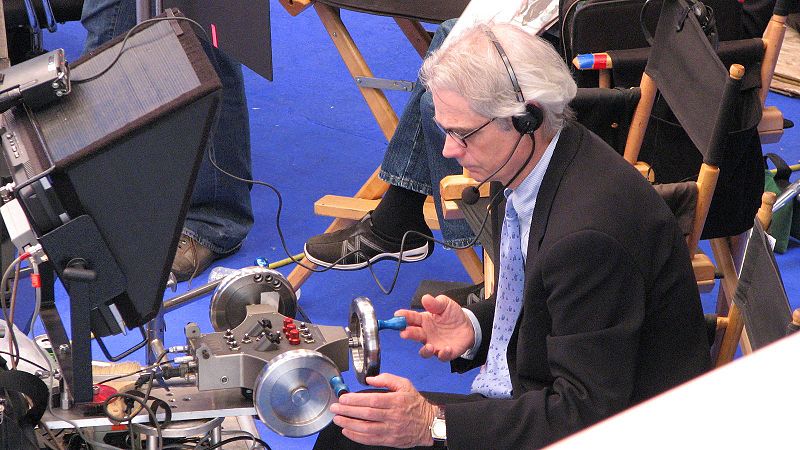 Caleb Deschanel
Birth name:
Joseph Caleb Deschanel
Born:
September 21, 1944
Age:
79
Birthplace:
Philadelphia, Pennsylvania, United States
Popularity:

Please login to contact Caleb Deschanel...
Biography
Joseph Caleb Deschanel, ASC (born September 21, 1944)[1] is an American cinematographer and director of film and television.[2] He has been nominated for the Academy Award for Best Cinematography five times.[3] He is a member of the National Film Preservation Board of the Library of Congress, representing the American Society of Cinematographers.[4] He has been married to actress Mary Jo Deschanel since 1972, with whom he has two daughters, actresses Emily and Zooey Deschanel.
Deschanel was born in Philadelphia, Pennsylvania, the son of Ann Ward (née Orr) and Paul Jules Deschanel. His father was French, from Oullins, Rhône, and his mother was U.S.-born.[5] Deschanel was raised in his mother's Quaker religion.[6]
He enrolled[when?] in Severn School for his high school years. He attended Johns Hopkins University from 1962 to 1966, where he met Walter Murch, with whom he staged "happenings," including one in which Murch simply sat down and ate an apple for an audience.[citation needed] Murch graduated a year ahead of him and encouraged Deschanel to follow him to the University of Southern California School of Cinematic Arts, where he graduated in 1968. During this time, Deschanel was a member of a band of film students called "The Dirty Dozen;" this group attracted attention from the Hollywood system. Following his graduation, he attended the American Film Institute (AFI) Conservatory and graduated in 1969 as a member of its first class.[7]
Read more...
Career
Deschanel joined the American Society of Cinematographers, or A.S.C., in 1969, the year of his graduation from the AFI Conservatory. In 1972, three years later, he married the former Mary Jo Weir. The older of their two daughters, Emily, was born in 1976; their younger daughter, Zooey, was born in 1980.
Filmography
As director
The Escape Artist (1982)
Crusoe (1989)
Twin Peaks (1990-91) - 3 episodes
Rhythm of My Heart (1991) - Music video
Law & Order: Trial by Jury (2005) - 3 episodes
Conviction (2006) - 2 episodes
Bones (2007) - 1 episode
As cinematographer
Key

| | |
| --- | --- |
| | Denotes films that have not yet been released |
Year
Title
Director
Notes
1979
Being There
Hal Ashby
National Society of Film Critics Award for Best Cinematography
More American Graffiti
Bill L. Norton
The Black Stallion
Carroll Ballard
National Society of Film Critics Award for Best Cinematography
Nominated - BAFTA Award for Best Cinematography
1983
The Right Stuff
Philip Kaufman
Nominated - Academy Award for Best Cinematography
1984
The Natural
Barry Levinson
1985
The Slugger's Wife
Hal Ashby
1994
It Could Happen to You
Andrew Bergman
1996
Fly Away Home
Carroll Ballard
Nominated - Academy Award for Best Cinematography
Nominated - American Society of Cinematographers Award for Outstanding Achievement in Cinematography in Theatrical Releases
1998
Hope Floats
Forest Whitaker
1999
Anna and the King
Andy Tennant
Nominated - Satellite Award for Best Cinematography
Message in a Bottle
Luis Mandoki
2000
The Patriot
Roland Emmerich
American Society of Cinematographers Award for Outstanding Achievement in Cinematography in Theatrical Releases
Nominated - Academy Award for Best Cinematography
2003
The Hunted
William Friedkin
Timeline
Richard Donner
2004
National Treasure
Jon Turteltaub
The Passion of the Christ
Mel Gibson
Nominated - Academy Award for Best Cinematography
Nominated - American Society of Cinematographers Award for Outstanding Achievement in Cinematography in Theatrical Releases
2006
Ask the Dust
Robert Towne
2008
Killshot
John Madden
The Spiderwick Chronicles
Mark Waters
2009
My Sister's Keeper
Nick Cassavetes
2011
Dream House
Jim Sheridan
Killer Joe
William Friedkin
2012
Abraham Lincoln: Vampire Hunter
Timur Bekmambetov
Jack Reacher
Christopher McQuarrie
2014
Winter's Tale
Akiva Goldsman
2016
Rules Don't Apply
Warren Beatty
2017
Unforgettable
Denise Di Novi
2018
Never Look Away
Florian Henckel von Donnersmarck
2019
The Lion King
Jon Favreau
Filming
[ Source: Wikipedia ]