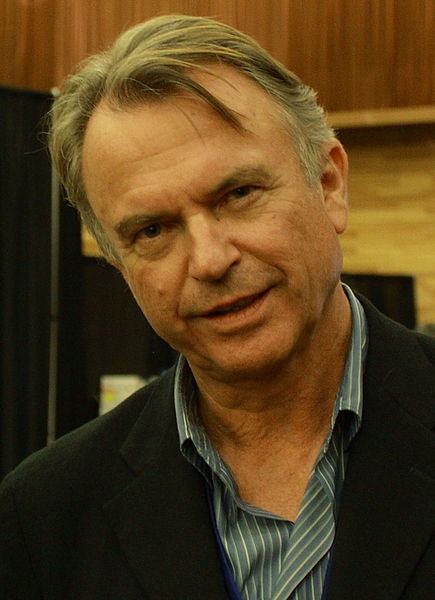 Sam Neill
Birth name:
Nigel John Dermot Neill
Born:
September 14, 1947
Age:
76
Birthplace:
Omagh, Northern Ireland
Popularity:

Please login to contact Sam Neill...
Biography
Nigel John Dermot Neill DCNZM OBE (born 14 September 1947), known professionally as Sam Neill, is a New Zealand actor, writer, producer, director, and vineyard owner. Born in Omagh, Northern Ireland, he moved to Christchurch with his family in 1954.[1] Neill first achieved recognition with his appearance in the 1977 film Sleeping Dogs, which he followed with leading roles in My Brilliant Career (1979), Omen III, Possession (both 1981), A Cry in the Dark (1988), Dead Calm (1989), and The Piano (1993). He came to international prominence with his portrayal of Dr. Alan Grant in Jurassic Park (1993), reprising the role in 2001's Jurassic Park III.
Neill's other notable films include The Hunt for Red October (1990), Sirens; In the Mouth of Madness; The Jungle Book (all 1994), Snow White: A Tale of Terror, Event Horizon (both 1997), The Horse Whisperer (1998), Bicentennial Man (1999), The Dish (2000), Yes, Wimbledon (both 2004), Daybreakers (2009), Legend of the Guardians: The Owls of Ga'Hoole (2010), The Hunter (2011), The Vow (2012), Escape Plan (2013), The Daughter (2015), Hunt for the Wilderpeople (2016), Thor: Ragnarok (2017), The Commuter, and Peter Rabbit (both 2018).
Outside of film, Neill has appeared in numerous television series, such as Reilly, Ace of Spies (1983), Merlin (1998), The Tudors (2007), Crusoe (2008-10), Happy Town (2010), Alcatraz (2012), and Peaky Blinders (2013-14). He has also presented and narrated several documentaries.
Neill is the recipient of a New Zealand Film Award and a Logie Award, as well as three Golden Globe and two Primetime Emmy Award nominations.[2] He lives in Queenstown and has three children and one stepchild.
Neill was born in 1947 in Omagh, County Tyrone, Northern Ireland, to Priscilla Beatrice (born Ingham) and Dermot Neill. His father, an army officer, was a third-generation New Zealander, while his mother was born in England.[3] His great-grandfather Percy Neill left Belfast, Northern Ireland for New Zealand in 1860, settling in Dunedin. He was the son of a wine merchant importing wine from France.[4][5]
At the time of Neill's birth, his father was stationed in Northern Ireland, serving with the Irish Guards.[6] His father's family owned Neill and Co. (later part of the listed hospitality group Wilson Neill[7][8]), the largest liquor retailers in New Zealand at the time.[when?] Neill holds British and Irish citizenship through his place of birth, but identifies primarily as a New Zealander.[9][better source needed]
In 1954, Neill moved with his family to New Zealand, where he attended the Anglican boys' boarding school Christ's College, Christchurch. He went on to study English literature at the University of Canterbury, where he had his first exposure to acting. He moved to Wellington to continue his tertiary education at Victoria University, where he graduated with a BA in English literature.
In 2004, on the Australian talk show Enough Rope, interviewer Andrew Denton briefly touched on the issue of Neill's stuttering. It affected most of his childhood and as a result he was "hoping that people wouldn't talk to " so he would not have to answer back. He also stated, "I kind of outgrew it. I can still ... you can still detect me as a stammerer."[10]
He first took to calling himself "Sam" at school because there were several other students named Nigel, and because he felt the name Nigel was "a little effete for ... a New Zealand playground".[10][11][12]
Read more...
Acting career
After working at the New Zealand National Film Unit as a director, Neill was cast for the lead role in the 1977 New Zealand film Sleeping Dogs. Following this, he appeared in Australian romance My Brilliant Career (1979), opposite Judy Davis.
In the late 1970s, his mentor was James Mason. In 1981 he won his first big international role, as Damien Thorn, son of the devil, in Omen III: The Final Conflict;[13] also in that year, he played an outstanding main role in Andrzej Żuławski's cult film, Possession.[13] Later, he was one of the leading candidates to succeed Roger Moore in the role of James Bond, but lost out to Timothy Dalton. Among his many Australian roles is playing Michael Chamberlain in Evil Angels (1988) (released as A Cry in the Dark outside of Australia and New Zealand)[14], a film about the case of Azaria Chamberlain.
Neill has played heroes and occasionally villains in a succession of film and television dramas and comedies. In the UK, he won early fame and was Golden Globe nominated after portraying real-life spy, Sidney Reilly, in the mini-series Reilly, Ace of Spies (1983). An early American starring role was in 1987's Amerika, playing a senior KGB officer leading the occupation and division of a defeated United States. His leading and co-starring roles in films include the thriller Dead Calm (1989),[13], the two-part historical epic La Révolution française (1989) (as Marquis de Lafayette), The Hunt for Red October (1990), Death in Brunswick (1990),[13] Jurassic Park (1993), Sirens (1994), The Jungle Book (1994), John Carpenter's In the Mouth of Madness (1995), Event Horizon (1997), Bicentennial Man (1999), and the comedy The Dish (2000).[13]
Neill at the première of
Daybreakers
during the Toronto International Film Festival, 2009
Neill has occasionally acted in New Zealand films, notably The Piano (1993), Perfect Strangers (2003), Under the Mountain (2009), and Hunt for the Wilderpeople (2016). He returned to directing in 1995 with the documentary Cinema of Unease: A Personal Journey by Sam Neill (1995) which he wrote and directed with Judy Rymer.
In 1993, he co-starred with Anne Archer in Question of Faith, an independent drama based on a true story about one woman's fight to beat cancer and have a baby. In 2000, he provided the voice of Sam Sawnoff in The Magic Pudding. In 2001, he hosted and narrated a documentary series for the BBC entitled Space (Hyperspace in the United States).
He portrayed the eponymous wizard in Merlin (1998), a miniseries based on the legends of King Arthur. He reprised his role in the sequel, Merlin's Apprentice (2006).
Neill starred in the historical drama The Tudors, playing Cardinal Thomas Wolsey. "I have to say I really enjoyed making The Tudors", he said,[15] "It was six months with a character that I found immensely intriguing, with a cast that I liked very much and with a story I found very compelling. It has elements that are hard to beat: revenge and betrayal, lust and treason, all the things that make for good stories."[15]
He acted in the short-lived Fox TV series Alcatraz (2012) as Emerson Hauser. He played the role of Otto Luger in the fantasy adventure movie The Adventurer: The Curse of the Midas Box[16] (2014). He had a role in the BBC series Peaky Blinders, set in post-World War I Birmingham. He played the role of Chief Inspector Chester Campbell, a sadistic corrupt policeman, who came to clean up the town on Churchill's orders. In the 2015 BBC TV miniseries And Then There Were None, based on Agatha Christie's thriller, he played the role of General MacArthur.
In 2016, he starred in the New Zealand-made film, Hunt for the Wilderpeople, directed by Taika Waititi, as well as the ITV miniseries Tutankhamun. In 2017 Neill appeared in a comedic scene in the fantasy sequel Thor: Ragnarok, in which he portrays an actor playing Odin (as depicted by Sir Anthony Hopkins) alongside Luke Hemsworth and Matt Damon playing Thor and Loki respectively.
In 2018, he portrayed Mr. McGregor and also the voice of Tommy Brock in Peter Rabbit.
Personal life
From about 1980 to 1989, Neill was in a relationship with actress Lisa Harrow.[17] They have a son, Tim, born in 1983. Neill subsequently married make-up artist Noriko Watanabe in 1989 and they have one daughter, Elena (born in 1991). Neill separated from Watanabe in 2017,[18][19] and as of early 2018 is dating Australian political journalist Laura Tingle.[20][21][22][23]
He is also stepfather to Maiko Spencer, a daughter from Watanabe's first marriage.[24] In his early 20s he fathered a son, Andrew, who was adopted by someone else. In 2014, Neill said the two "went looking for " and that their reunion was "much more grown-up" than expected.[25]
Neill at the 2008 Toronto International Film Festival
Neill lives in Queenstown and owns a winery called Two Paddocks, consisting of a vineyard at Gibbston and two near Alexandra, all in the Central Otago region of New Zealand's South Island.[26] His avocation is running Two Paddocks. "I'd like the vineyard to support me but I'm afraid it is the other way round. It is not a very economic business", said Neill,[15] "It is a ridiculously time- and money-consuming business. I would not do it if it was not so satisfying and fun, and it gets me pissed once in a while."[15] He enjoys sharing his exploits on the farm through social media.[27] He names his farm animals after film-industry colleagues. His farming exploits can be seen on his Twitter account @TwoPaddocks.[28]
Neill also has homes in Wellington, New Zealand, and Sydney, Australia. He is a supporter of the Australian Speak Easy Association and the British Stammering Association (BSA). He supports the New Zealand Labour Party[29] and the Australian Labor Party.
He was appointed Officer of the Order of the British Empire (OBE) in 1991 for his work as an actor.[30]
Neill has been appointed a Distinguished Companion of the New Zealand Order of Merit (DCNZM). When knighthoods were returned to the New Zealand Honours System in 2009, those with DCNZM or higher honours were given the option of converting them into knighthoods. He chose not to do this, saying the title of Sir was "just far too grand, by far".[31]
He was awarded an honorary Doctor of Letters by the University of Canterbury in 2002.[32]
Filmography
Film
Year
Title
Role
Notes
1975
Landfall
Eric
Ashes
Priest
1977
Sleeping Dogs
Smith
1979
Just Out of Reach
Mike
The Journalist
Rex
My Brilliant Career
Harry Beecham
1981
Omen III: The Final Conflict
Damien Thorn
Possession
Mark
From a Far Country
Marian
1982
Ivanhoe
Brian de Bois-Guilbert
Attack Force Z
Sergeant D. J. (Danny) Costello
Enigma
Dimitri Vasilikov
1984
The Blood of Others
Bergman
The Country Girls
Mr Gentleman
1985
Robbery Under Arms
Captain Starlight
Plenty
Lazar
1986
For Love Alone
James Quick
1987
The Good Wife
Neville Gifford
1988
Evil Angels (A Cry in the Dark)[14]
Michael Chamberlain
Won the AACTA Award for Best Actor in a Leading Role
1989
Dead Calm
John Ingram
La Révolution française
Gilbert du Motier, marquis de Lafayette
1990
The Hunt for Red October
Captain Vasily Borodin
Shadow of China
TV reporter
Credited as John Dermot
1991
Death in Brunswick
Carl 'Cookie' Fitzgerald
Nominated - AACTA Award for Best Actor in a Leading Role
Until the End of the World
Eugene Fitzpatrick
1992
The Rainbow Warrior
Alan Galbraith
Memoirs of an Invisible Man
David Jenkins
Hostage
John Rennie
1993
The Piano
Alisdair Stewart
Nominated - AACTA Award for Best Actor in a Supporting Role
Jurassic Park
Dr. Alan Grant
Sirens
Norman Lindsay
1994
Country Life
Dr. Max Askey
The Jungle Book
Colonel Geofferey Brydon
In the Mouth of Madness
John Trent
1995
Restoration
King Charles II
1996
Children of the Revolution
Nine
Victory
Mr. Jones
1997
Event Horizon
Dr. William Weir
Snow White: A Tale of Terror
Lord Fredric Hoffman
1998
The Horse Whisperer
Robert MacLean
Sweet Revenge
Henry Bell
1999
Molokai
Walter Murray Gibson
Bicentennial Man
'Sir' Richard Martin
2000
My Mother Frank
Professor Mortlock
Nominated - AACTA Award for Best Actor in a Supporting Role
The Dish
Cliff Buxton
The Magic Pudding
Sam Sawnoff
Voice role
2001
Jurassic Park III
Dr. Alan Grant
The Zookeeper
Ludovic
Ft. Lauderdale International Film Festival Award for Best Actor
2002
Dirty Deeds
Ray
Leunig Animated
Narrator
2003
Perfect Strangers
The Man
2004
Yes
Anthony
Wimbledon
Dennis Bradbury
2005
Gallipoli
Narrator
Voice role
Little Fish
The Jockey
2006
Irresistible
Craig
2007
Angel
Théo
2008
Dean Spanley
Dean Spanley
Skin
Abraham Laing
2009
In Her Skin
Mr. Reid
Iron Road
Alfred Nichol
Under the Mountain
Mr. Jones
Daybreakers
Charles Bromley
2010
Legend of the Guardians: The Owls of Ga'Hoole
Allomere
Voice role
2011
The Dragon Pearl
Chris Chase
The Hunter
Jack Mindy
Nominated - AACTA Award for Best Actor in a Supporting Role
2012
The Vow
Bill Thornton
2013
Escape Plan
Dr. Kyrie
The Adventurer: The Curse of the Midas Box
Otto Luger
2014
United Passions
João Havelange
A Long Way Down
Jess's father
2015
Backtrack
Duncan Stewart
The Daughter
Walter Finch
Nominated - AACTA Award for Best Actor in a Supporting Role
2016
Hunt for the Wilderpeople
Uncle Hec
Tommy's Honour
Alexander Boothby
2017
Thor: Ragnarok
Odin actor
Cameo
MindGamers
Kreutz
Sweet Country
Fred Smith
2018
The Commuter
Captain David Hawthorne
Peter Rabbit
Mr. Joe McGregor / Tommy Brock
Voice role (as Tommy Brock)
TBA
Blackbird
Filming
Television
Year
Title
Role
Notes
1980
Lucinda Brayford
Tony Duff
Four-part miniseries
ABC Television, Melbourne Australia
1982
Ivanhoe
Brian de Bois-Guilbert
1983
Reilly, Ace of Spies
Sidney Reilly
12 episodes
Nominated—Golden Globe Award for Best Actor - Miniseries or Television Film
1985
Kane & Abel
William Lowell Kane
1986
Strong Medicine
Vince Lord
1987
Amerika
Colonel Andrei Denisov
1991
One Against the Wind
Sergeant James Liggett
1993
Family Pictures
David Eberlin
1994
The Simpsons
Malloy
Voice role
Episode: "Homer the Vigilante"
1995
Forgotten Silver
Himself
1996
In Cold Blood
Agent Alvin Dewey
1998
Merlin
Merlin
Nominated—Primetime Emmy Award for Outstanding Lead Actor in a Miniseries or a Movie
Nominated—Golden Globe Award for Best Actor - Miniseries or Television Film
The Games
Citytrans CEO
Episode: "Transport"
2000
Sally Hemings: An American Scandal
Thomas Jefferson
2001
Submerged
Lt. Cmdr. Charles B. 'Swede' Momsen
2002
Doctor Zhivago
Victor Komarovsky
Framed
Eddie Meyers
2004
Stiff
Lionel Merricks
Jessica
Richard Runche
Logie Award for Outstanding Actor in a Drama Series
Nominated—AACTA Award for Best Lead Actor in a Television Drama
2005
The Incredible Journey of Mary Bryant
Governor Arthur Phillip
2 episodes
To the Ends of the Earth
Mr. Prettiman
3 episodes
The Triangle
Eric Benerall
3 episodes
Nominated—Saturn Award for Best Supporting Actor on Television
2006
Merlin's Apprentice
Merlin
Two Twisted
Mick
Episode: "Von Stauffenberg's Stamp"
2007
The Tudors
Cardinal Thomas Wolsey
10 episodes
Nominated—Gemini Award for Best Performance by an Actor in a Supporting Role in a Drama Series
Nominated—Monte-Carlo Television Festival Award for Outstanding Actor in a Drama Series
2008-2010
Crusoe
Jeremiah Blackthorn
14 episodes
2009
Happy Town
Merritt Grieves
8 episodes
bro'Town
Himself
Voice role
Episode: "To Sam with Love"
2010
Rake
Dr Bruce Chandler
Episode: "R v Chandler"
2011
Ice
Anthony Kavanagh
2012
Alcatraz
Emerson Hauser
13 episodes
2013
Harry
Jim "Stocks" Stockton
2013-2014
Peaky Blinders
C. I. Campbell
12 episodes
2014
Old School
Ted Macabe
2014
House of Hancock
Lang Hancock
2015
And Then There Were None
General John Gordon Macarthur
2016
Why Anzac with Sam Neill
Himself
Documentary, wrote and produced
New Zealand: Earth's Mythical Islands
Narrator
Documentary series, 3 episodes
Tutankhamun
Lord Carnavon
Country Calendar
Himself
Episode: "Film Noir"
[ Source: Wikipedia ]