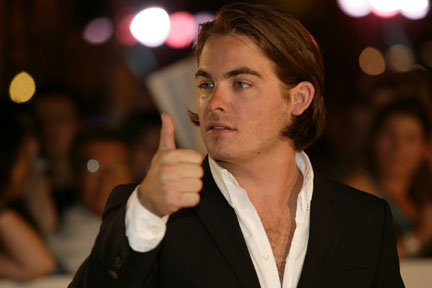 Kevin Zegers
Birth name:
Kevin Joseph Zegers
Born:
September 19, 1984
Age:
39
Birthplace:
Woodstock, Ontario, Canada
Popularity:

Please login to contact Kevin Zegers...
Biography
Kevin Joseph Zegers (born September 19, 1984) is a Canadian actor and model. He is known for his roles as Alec Lightwood in The Mortal Instruments: City of Bones, Josh Framm in the Air Bud film series, and Damien Dalgaard in the CW teen drama Gossip Girl. He also starred in the films Dawn of the Dead (2004), Transamerica (2005), It's a Boy Girl Thing (2006), The Jane Austen Book Club (2007), Fifty Dead Men Walking (2008), and Frozen (2010).
Zegers was born in Woodstock, Ontario,[1] the son of Mary-Ellen (Veldman), a teacher, and Jim Zegers, a quarry worker.[2][3][4] He has two sisters, Krista and Katie.[5] He is of Dutch descent; all four of his grandparents were born in The Netherlands.[6] He attended St Mary's Catholic High School in Woodstock.[7] In August 2013, Zegers married Jaime Feld, an agent.[8] The couple had twin girls in August 2015: Zoë Madison and Blake Everleigh.[9]
Read more...
Career
Zegers began his performing career at the age of 6, appearing in about 30 TV commercials.[5] His first film appearance was at the age of 7, in a small role in the Michael J. Fox comedy Life with Mikey (1993).[1] Subsequently, he appeared in many supporting roles, including a guest appearance on the television series The X-Files, playing a stigmatic child. He had the starring role in Air Bud (1997), a film about a sports-playing dog. In the years following, Zegers appeared in three sequels, as well as a similar genre film, MVP: Most Valuable Primate (2000), which featured a hockey-playing chimp.
Zegers at the 2012 Toronto International Film Festival
Between 1997 and 2004, Zegers had starring or costarring roles in many low-budget Canadian and horror films, including Nico the Unicorn (1998), Komodo (1999), and Wrong Turn (2003). He also appeared in the short-lived American television series Titans (2000), for which he was chosen by producer Aaron Spelling. Zegers had previously worked with co-star Yasmine Bleeth in the 1999 film It Came from the Sky.
After appearing in the remake of Dawn of the Dead, he had a major role in the Academy Award-nominated independent film Transamerica (2005), co-starring Felicity Huffman. Zegers' performance as the street-hustling bisexual son of a male-to-female transsexual was praised by several critics, and he won the Trophée Chopard for Male Revelation at the 2006 Cannes Film Festival.[10] Also in 2005 he appeared in Felicity: An American Girl Adventure based on the American Girl book series, as Benjamin "Ben" Davidson in Williamsburg Virginia 1775. Zegers starred in the 2006 romantic comedy It's a Boy Girl Thing. In 2009, Zegers signed to play the role of Clyde Barrow in the remake of The Story of Bonnie and Clyde, with Hilary Duff. The two roles were later recast due to scheduling conflicts for both actors.[11] He also guest-starred as Damien Dalgaard in Gossip Girl from 2009 until 2010, and returning again in late 2010 for multiple episodes throughout season 4. He appeared in Rock Mafia's 2010 music video "The Big Bang", and in 2012, played the male protagonist in the television series Titanic: Blood and Steel.
He portrayed Alec Lightwood in The Mortal Instruments: City of Bones (2013). He joined the cast of Fear the Walking Dead for the series' fourth season.[12]
Filmography
Film
| Year | Title | Role | Notes |
| --- | --- | --- | --- |
| 1993 | Life with Mikey | Little Mikey Chapman | |
| 1994 | In the Mouth of Madness | Kid | |
| 1996 | Specimen | Bart | |
| 1997 | Air Bud | Josh Framm | |
| 1998 | Shadow Builder | Chris Hatcher | |
| 1998 | Air Bud: Golden Receiver | Josh Framm | |
| 1998 | Nico the Unicorn | Billy Hastings | |
| 1999 | Treasure Island | Jim Hawkins | |
| 1999 | Four Days | Simon | |
| 1999 | Komodo | Patrick Connally | |
| 2000 | The Acting Class | Lou Carpman | |
| 2000 | Air Bud: World Pup | Josh Framm | |
| 2000 | MVP: Most Valuable Primate | Steven Westover | |
| 2002 | Virginia's Run | Darrow Raines | |
| 2002 | Air Bud: Seventh Inning Fetch | Josh Framm | |
| 2003 | Wrong Turn | Evan | |
| 2003 | Fear of the Dark | Dale Billings | |
| 2003 | The Incredible Mrs. Ritchie | Charlie Proud | |
| 2004 | Dawn of the Dead | Terry | |
| 2004 | The Hollow | Ian Cranston | |
| 2004 | Some Things That Stay | Rusty Murphy | |
| 2005 | Transamerica | Toby Wilkins | |
| 2006 | Zoom | Connor Shepard / Concussion | |
| 2006 | It's a Boy Girl Thing | Woody Deane | |
| 2007 | The Jane Austen Book Club | Trey | |
| 2007 | Normal | Jordie | |
| 2007 | The Stone Angel | John Shipley | |
| 2008 | Gardens of the Night | Frank | |
| 2008 | The Narrows | Mike Manadoro | |
| 2008 | Fifty Dead Men Walking | Sean | |
| 2009 | The Perfect Age of Rock 'n' Roll | Spyder | |
| 2010 | Frozen | Dan Walker | |
| 2011 | Vampire | Simon | |
| 2011 | Girl Walks into a Bar | Billy | |
| 2011 | The Entitled | Paul Dynan | |
| 2013 | The Colony | Sam | |
| 2013 | The Mortal Instruments: City of Bones | Alec Lightwood | |
| 2013 | All the Wrong Reasons | Simon Brunson | |
| 2015 | The Curse of Downers Grove | Chuck | |
| 2017 | Aftermath | John Gullick | |
Television
| Year | Title | Role | Notes |
| --- | --- | --- | --- |
| 1992 | Street Legal | Jeremy Morris | Episode: "It's a Wise Child" |
| 1993 | Tales from the Cryptkeeper | 6X (voice) | Episode: "Grounds for Horror" |
| 1995-1996 | The Magic School Bus | Mikey Ramon | Voice role, 2 episodes |
| 1994 | Free Willy | Einstein (voice) | Episode: "Cry of the Dolphin" |
| 1994 | Tales from the Cryptkeeper | Jeremy (voice) | Episode: "Uncle Harry's Horrible House of Horrors" |
| 1994 | Thicker Than Blood: The Larry McLinden Story | Larry McLinden in 1954 | Television film |
| 1995 | Road to Avonlea | Gordon Bradley | Episode: "A Time to Every Purpose" |
| 1995 | The X-Files | Kevin Kryder | Episode: "Revelations" |
| 1995 | The Silence of Adultery | Steven Harlett | Television film |
| 1996 | Goosebumps | Noah Thompson | Episode: "Let's Get Invisible!" |
| 1996 | The Cold Heart of a Killer | Matthew Arnold | Television film |
| 1996-1997 | Traders | Sean Blake | Recurring role (seasons 2-3), 7 episodes |
| 1997 | Rose Hill | Cole Clayborne at 13 | Television film |
| 1997 | A Call to Remember | Ben Tobias | Television film |
| 1999 | Twice in a Lifetime | Young Flash Jericho | Episode: "Blood Brothers" |
| 1999 | So Weird | Ryan Ollman | Episode: "Second Generation" |
| 1999 | It Came from the Sky | Andy Bridges | Television film |
| 2000 | Time Share | Thomas Weiland | Television film |
| 2000-2001 | Titans | Ethan Benchley | Main role |
| 2001 | Sex, Lies & Obsession | Josh Thomas | Television film |
| 2003 | Smallville | Seth Nelson | Episode: "Magnetic" |
| 2004 | House | Brandon Merrell | Episode: "Occam's Razor" |
| 2005 | Felicity: An American Girl Adventure | Benjamin "Ben" Davidson | Television film |
| 2009-2011 | Gossip Girl | Damien Dalgaard | Recurring role (seasons 3-4), 10 episodes |
| 2012 | Titanic: Blood and Steel | Mark Muir | Main role |
| 2014 | Gracepoint | Owen Burke | Main role |
| 2016 | Notorious | Oscar Keaton | Main role |
| 2018 | Fear the Walking Dead | Melvin | Recurring role (season 4)[12] |
Music video
| Year | Title | Artist |
| --- | --- | --- |
| 2010 | "The Big Bang" | Rock Mafia |
Awards
| | |
| --- | --- |
| | This section of a biography of a living person does not include any references or sources. Please help by adding reliable sources. Contentious material about living people that is unsourced or poorly sourced must be removed immediately. |
| Year | Award | Category | Work | Result |
| --- | --- | --- | --- | --- |
| 1998 | Young Artist Award | Best Performance in a Feature Film: Leading Young Actor | Air Bud | Won |
| 1998 | Young Artist Award | Best Performance in a TV Movie/Pilot/Mini-Series: Supporting Young Actor | A Call to Remember | Nominated |
| 1998 | Young Artist Award | Best Performance in a TV Movie or Feature Film: Young Ensemble | Rose Hill | Nominated |
| 1998 | YoungStar Award | Best Young Actor in a Comedy Film | Air Bud | Nominated |
| 1999 | Young Artist Award | Best Performance in a Feature Film: Leading Young Actor | Air Bud: Golden Receiver | Nominated |
| 2001 | Young Artist Award | Best Performance in a Feature Film: Leading Young Actor | MVP: Most Valuable Primate | Nominated |
| 2006 | Cannes Film Festival | Trophée Chopard - Male Revelation | Transamerica | Won |
[ Source: Wikipedia ]