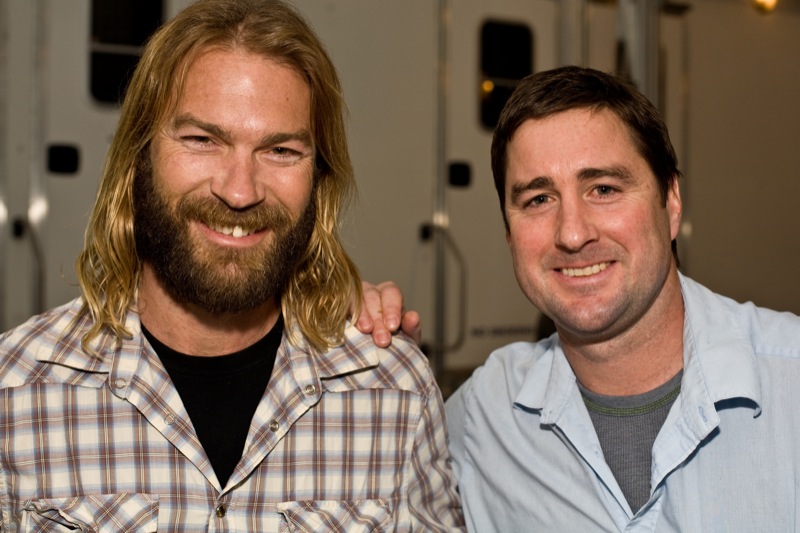 Luke Wilson
Birth name:
Luke Cunningham Wilson
Born:
September 21, 1971
Age:
52
Birthplace:
Dallas, Texas, U.S.
Popularity:

Please login to contact Luke Wilson...
Biography
Luke Cunningham Wilson (born September 21, 1971) is an American actor known for his roles in films such as Idiocracy, Old School, Bottle Rocket, The Royal Tenenbaums, Blue Streak, Bongwater, and Legally Blonde. He was a member of the cast of the HBO television series Enlightened (2011-13). He is the younger brother of actors Andrew Wilson and Owen Wilson.
Wilson was born in Dallas, Texas, the youngest of three sons of Laura Wilson (née Cunningham; born 1939), a photographer, and Robert Andrew Wilson (1941-2017), an advertising executive and previously an executive at KERA,[1] a public television station. His family, originally from Massachusetts, is of Irish Catholic descent.[2] All three Wilson boys attended St. Mark's School of Texas. According to Owen, Luke was voted class president the first year he attended St. Mark's.[3]
Read more...
Career
Wilson in 2003
Wilson's acting career began with the lead role in the short film Bottle Rocket in 1994, which was co-written by his older brother Owen Wilson and director Wes Anderson. It was remade as a feature-length film in 1996.[1] After moving to Hollywood with his two brothers, he was cast opposite Calista Flockhart in Telling Lies in America[1] and made a cameo appearance in the film-within-the-film of Scream 2,[1] both in 1997. Wilson filmed back-to-back romantic films in 1998, opposite Drew Barrymore, Best Men, about a group of friends who pull off a heist on their way to a wedding,[1] and Home Fries, about two brothers interested in the same woman for different reasons.[1] He played the physician beau of a schoolteacher in Rushmore (also 1998), also directed by Anderson and co-written by brother Owen.[1]
In 1999, Blue Streak was released featuring Wilson as detective Carlson. He later starred opposite Reese Witherspoon in the 2001 comedy Legally Blonde,[4] which was followed by Old School and The Royal Tenenbaums.[1] Wilson also had a role on That '70s Show, as Michael Kelso's older brother Casey Kelso, appearing sporadically from 2002 through 2005.[5]
In 2006, Wilson starred in Idiocracy, Mike Judge's first film since 1999's Office Space. He portrayed an ordinary serviceman chosen for a cryogenics project. He awakens after hundreds of years in an America which is significantly less intelligent.[6]
In early 2007, Wilson starred opposite Kate Beckinsale in the thriller Vacancy.[7] In July 2007, he worked on Henry Poole is Here in La Mirada, California, which was released in 2008.[1] He starred in the film Tenure in 2009.[1][8] In 2010, he appeared in films Death at a Funeral and Middle Men.[1] From 2011 to 2013 he starred in the HBO TV series Enlightened.[9]
Wilson and brother Owen have co-written a Wright Brothers biopic, in which they also plan to star.[10]
Filmography
Film
| Year | Title | Role | Notes |
| --- | --- | --- | --- |
| 1996 | Bottle Rocket | Anthony Adams | |
| 1997 | Bongwater | David | |
| 1997 | Telling Lies in America | Henry | |
| 1997 | Best Men | Jesse Reilly | |
| 1997 | Scream 2 | 'Stab' Billy | |
| 1998 | Dog Park | Andy | |
| 1998 | Home Fries | Dorian Montier | |
| 1998 | Rushmore | Dr. Peter Flynn | |
| 1999 | Kill the Man | Stanley Simon | |
| 1999 | Blue Streak | Detective Carlson | |
| 2000 | My Dog Skip | Dink Jenkins | |
| 2000 | Committed | Carl | |
| 2000 | Bad Seed | Preston Tylk | |
| 2000 | Charlie's Angels | Peter Kominsky | |
| 2001 | Legally Blonde | Emmett Richmond | |
| 2001 | Soul Survivors | Jude | |
| 2001 | The Royal Tenenbaums | Richie Tenenbaum | |
| 2002 | The Third Wheel | Stanley | |
| 2003 | Masked and Anonymous | Bobby Cupid | |
| 2003 | Old School | Mitch Martin | |
| 2003 | Stuck on You | Himself | |
| 2003 | Alex and Emma | Alex Sheldon/Adam Shipley | |
| 2003 | Charlie's Angels: Full Throttle | Peter Kominsky | |
| 2003 | Legally Blonde 2: Red, White and Blonde | Emmett Richmond | |
| 2004 | Around the World in 80 Days | Orville Wright | |
| 2004 | Anchorman: The Legend of Ron Burgundy | Frank Vitchard | |
| 2004 | Wake Up, Ron Burgundy: The Lost Movie | Frank Vitchard | |
| 2005 | The Wendell Baker Story | Wendell Baker | Also writer/producer/director |
| 2005 | The Family Stone | Ben Stone | |
| 2006 | Hoot | Officer David Delinko | From The C.C.P.D. Company |
| 2006 | Mini's First Time | John Garson | |
| 2006 | My Super Ex-Girlfriend | Matt Saunders | |
| 2006 | Idiocracy | Corporal Joe Bauers | |
| 2006 | Jackass Number Two | Himself | |
| 2007 | You Kill Me | Tom | |
| 2007 | Vacancy | David Fox | |
| 2007 | 3:10 to Yuma | Zeke | |
| 2007 | Blades of Glory | Sex Class Instructor | |
| 2007 | Battle for Terra | Lt. James Stanton | Voice only |
| 2007 | Blonde Ambition | Ben | |
| 2008 | Henry Poole Is Here | Henry Poole | |
| 2009 | Tenure | Charlie Thurber | |
| 2010 | Death at a Funeral | Derek | |
| 2010 | Middle Men | Jack Harris | |
| 2012 | Meeting Evil | John | |
| 2012 | Straight A's | William | |
| 2013 | Move Me Brightly | The Interviewer | Music documentary film |
| 2014 | The Skeleton Twins | Lance | |
| 2014 | Ride | Ian | |
| 2014 | Dear Eleanor | Bob Potter | |
| 2015 | Playing It Cool | Samson | |
| 2015 | Meadowland | Phil | |
| 2015 | The Ridiculous 6 | Danny | |
| 2015 | Concussion | Roger Goodell | |
| 2016 | Outlaws and Angels | Josiah | |
| 2016 | All We Had | Lee | |
| 2016 | Rock Dog | Bodi | Voice only |
| 2016 | Approaching the Unknown | Louis Skinner | |
| 2017 | Brad's Status | Jason Hatfield | |
| 2018 | Arizona | Scott | |
| 2018 | Measure of a Man | Marty Marks | |
| 2018 | High Voltage | Rick | |
| 2019 | The Goldfinch | Larry Decker | Post-production |
| 2019 | All the Bright Places | | Filming |
Television
| Year | Title | Role | Notes |
| --- | --- | --- | --- |
| 1998 | The X-Files | Sheriff Hartwell | Episode: "Bad Blood" |
| 2002-05 | That '70s Show | Casey Kelso | 6 episodes |
| 2004 | Entourage | Himself | Episode: "Talk Show" |
| 2004 | Saturday Night Live | Host | Episode: "Luke Wilson/U2" |
| 2011-13 | Enlightened | Levi Callow | 15 episodes |
| 2013 | Drunk History | Will Keith Kellogg | Episode: "Detroit" |
| 2016 | Roadies | Bill | Main role; 10 episodes |
[ Source: Wikipedia ]