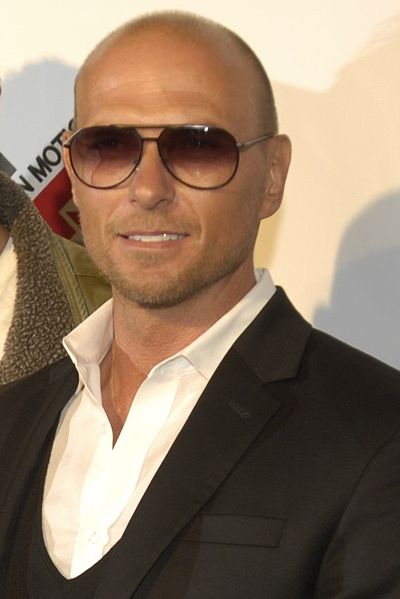 Luke Goss
Birth name:
Luke Damon Goss
Born:
September 29, 1968
Age:
55
Birthplace:
Lewisham, London, England
Popularity:

Please login to contact Luke Goss...
Biography
Luke Damon Goss (born 29 September 1968) is an English actor and former drummer in late 1980s band Bros. He has appeared in numerous films including Blade II (2002) as Jared Nomak, One Night with the King (2006) as King Xerxes, Hellboy II: The Golden Army (2008) as Prince Nuada, Tekken (2009) as Steve Fox and Interview with a Hitman (2012) as Viktor.
Goss, along with twin brother
Matt Goss
, started his career with the 1980s boy band Bros. In total he has charted with thirteen hit singles in the UK.[
citation needed
]
When Bros broke up in the early 1990s, Goss worked with the Band of Thieves. His autobiography, "I Owe You Nothing," was a top 10 best seller book and went on to have three subsequent printings. He also began to appear in stage musicals including Grease and What a Feeling, and has turned to acting in films full-time, with his first most notable role being the villain Jared Nomak in Blade II. He also appeared as The Creature in the Hallmark Channel's Frankenstein. Goss can be seen in the 2004 crime drama, Charlie in which he plays real-life gangster Charlie Richardson. In the 2005 comedy The Man, he starred as another villain, Joey/Kane.
He has since had roles in One Night with the King, as King Xerxes. He appeared in Bone Dry, as Eddie and in the thriller Unearthed, as Kale. Goss received a CAMIE (Character and Morality in Entertainment) Award for his work in One Night with the King on 12 May 2007 at the Beverly Hills Hotel in Los Angeles. Both One Night with the King and Bone Dry were viewed at the 2007 Cannes Film Festival. Bone Dry premiered in Los Angeles on 9 January 2008.
In the autumn of 2008, Goss returned from filming Hellboy II: The Golden Army in Budapest, Hungary, in which he plays Prince Nuada.[1] The sequel was released in North America on 11 July 2008.
In February 2008 he signed to play the role of Steve Fox in Tekken, which was filmed in Shreveport, Louisiana. He was seen in a commercial for the new Cadillac Escalade Hybrid. In January 2010, Goss won the role as Frankenstein in Death Race 2[2] under the direction from Roel Reiné, which began shooting on location in Eastern Europe in February 2010.[3] Goss also played the lead role in Syfy's dark tale television film Witchville.[4] In May 2010, he won the Ultimate Badass Award at the PollyGrind Film Festival for his role in the zombie-vampire film The Dead Undead.
Read more...
Personal life
| | |
| --- | --- |
| | This section needs additional citations for verification. Please help improve this article by adding citations to reliable sources. Unsourced material may be challenged and removed. |
Goss was born in Lewisham, London, the son of Carol (Read) and Alan Goss.[5] Since 1994, he has been married to backing singer Shirley Lewis (who has worked with singers Elton John, George Michael, Luther Vandross, and many others), and has one stepdaughter, Carli. In January 2007, he and wife Shirley moved permanently to Los Angeles, but still maintain a residence in London.
Filmography
Luke Goss pictured in 1993
Year
Film
Role
Notes
2000
The Stretch
Warwick Locke
Two Days, Nine Lives
Saul
2002
Blade II
Jared Nomak
ZigZag
Cadillac Tom
Nine-Tenths
Jon Laker
2004
Frankenstein
The Creature
TV miniseries
Charlie
Charlie Richardson
Silver Hawk
Alexander Wolfe
2005
The Man
Joey/Kane
Private Moments
Lucien
Cold & Dark
John Dark
Direct-to-DVD
2006
One Night with the King
King Xerxes
Something in the Clearing
Randy
Mercenary for Justice
John Dresham
Direct-to-DVD
13 Graves
Anton
2007
Bone Dry
Eddie
Direct-to-DVD
Shanghai Baby
Mark
Unearthed
Kane
2008
Hellboy II: The Golden Army
Prince Nuada
Deep Winter
Stephen Weaks
Direct-to-DVD
2009
Fringe
Lloyd Parr/Shapeshifter
TV series
Annihilation Earth
David
TV movie
Tekken
Tekken
2010
Witchville
Malachy
TV movie
The Dead Undead
Jack
Direct-to-DVD
El Dorado
Col. Sam Grissom
Direct-to-DVD
Death Race 2
Carl "Luke" Lucas / Frankenstein
Direct-to-DVD
2011
Seven Below
Issac
Direct-to-DVD
Pressed
Brian Parker
Direct-to-DVD
Blood Out
Michael Savion
Direct-to-DVD
Inside
Miles Barrett
2012
Interview with a Hitman
Viktor
2013
Death Race 3: Inferno
Carl "Luke" Lucas/Frankenstein
Direct-to-DVD
Red Widow
Luther
TV series
2014
Dead Drop
Michael Shaughnessy
Direct-to-DVD
Lost Time
Carter
Direct-to-DVD
2015
War Pigs
Captain Jack Wosick
Limited release
AWOL72
Conrad Miller
Direct-to-DVD
Cross The Line
Jeremy Miller - Police Officer
Direct-to-DVD
2016
Killing Salazar
DEA Agent Tom Jensen
Direct-to-DVD
2017
Mississippi Murder
Mavredes
Direct-to-DVD
2018
Extracurricular
Alan Gordon
Direct-to-DVD
Traffik
Red
[ Source: Wikipedia ]