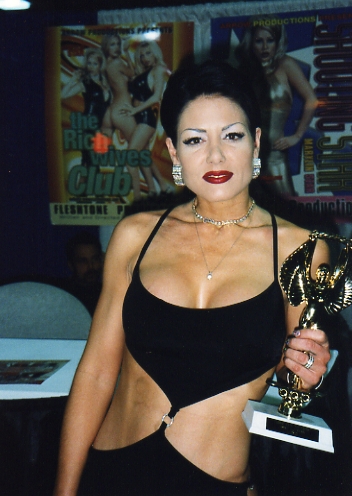 Jeanna Fine
Born:
September 29, 1964
Age:
59
Birthplace:
New York City, New York, USA[1]
Popularity:

Please login to contact Jeanna Fine...
Biography
Jeanna Fine (born September 29, 1964) is an American pornographic actress[1] and erotic dancer.
Adult film actress Barbara Dare remarked how "fine" Jeanna was, which prompted Jeanna to adopt that as her surname.[1] She was romantically involved with fellow pornographic actress Savannah.[2]
Fine began in the adult movie industry as a blonde-haired punk-girl when she was 21 in 1985.[1] She made fifty movies between 1986 and 1989.[citation needed] She re-emerged as a black-haired in 1990.[citation needed] According to Fine's official adult film bio, Fine's adult film career was noted to have several large gaps between performing, such as during the pregnancy and birth of her son.[3]
According to her IAFD page, Fine made her last non-compilation film in 2002.[1]
Fine was inducted in the AVN Hall of Fame in 1997.[4] She is also in the X-Rated Critic's Association's[5] Hall of Fame.
Fine appeared briefly in the film The Boondock Saints, as a dancer working the adult parlor where an attack was made on a mafia character played by fellow adult star Ron Jeremy.[6]
Read more...
Personal life
Fine became involved in a long-term relationship with fellow pornographic actress Savannah, who claimed to have fallen deeply in love with Fine.[7] In a 1999 interview following the airing of the E! True Hollywood Story about Savannah's life and death, Fine commented, "We had an ongoing, on-again, off-again, volatile, loving relationship. At that time I was having a lot of problems myself. Between Sikki Nixx and Savannah pushing and pulling, I pretty much at one point ran away from them both. I couldn't take it any longer. But I feel I left her behind when she needed me most. It's very sad."[8] Their relationship has been described as troubled due to the two women's heroin addiction.[7]
Awards
Year
Ceremony
Award
Work
1991
AVN Award
Best Actress—Film[9]
Hothouse Rose
XRCO Award
Best Actress[10]
Steal Breeze
1992
XRCO Award
Best Actress[10]
Brandy and Alexander
1996
XRCO Award
Best Actress, Single Performance[11]
Skin Hunger
AVN Award
Best Actress, Film[9]
Best Supporting Actress—Video[9]
Dear Diary
1997
F.O.X.E. Award
Female Fan Favorite[12]
N/A
AVN Award
Best Actress, Video[4]
My Surrender
1998
XRCO Award
Best Actress, Single Performance[11]
Best Girl-Girl Sex Scene [11]
Miscreants
AVN Award
Best Supporting Actress, Video[9]
Best All-Girl Sex Scene, Video[9]
Cellar Dwellers 2
1999
AVN Award
Best Actress, Video[9]
Cafe Flesh 2
XRCO Award
Best Actress, Single Performance[11]
[ Source: Wikipedia ]