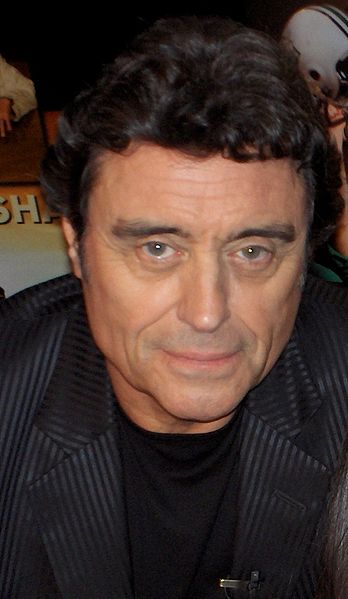 Ian McShane
Birth name:
Ian David McShane
Born:
September 29, 1942
Age:
81
Birthplace:
Blackburn, Lancashire, England
Popularity:

Please login to contact Ian McShane...
Biography
Ian David McShane[1] (born 29 September 1942) is an English actor.[2][3][4] He is known for his television performances, particularly the title role in the BBC series Lovejoy (1986-1994),[5] and as Al Swearengen on the HBO series Deadwood (2004-2006, 2019), for which he won the Golden Globe Award for Best Actor in a Television Series Drama and received a Primetime Emmy Award for Outstanding Lead Actor in a Drama Series nomination. His film roles include Tai Lung in Kung Fu Panda (2008) and Blackbeard in Pirates of the Caribbean: On Stranger Tides. Since 2017, he has starred as Mr. Wednesday in the Starz series American Gods.
McShane was born in Blackburn, Lancashire, to Irene (
née
Cowley; b. 1921) and Scottish footballer Harry McShane (1920-2012).[5][6][7] His father was Scottish, and his mother, who was born in England, was of Irish and English descent.[8] McShane grew up in Davyhulme, Manchester, and attended Stretford Grammar School. He studied at the Royal Academy of Dramatic Art and was still a student there when he appeared in his first film,
The Wild and the Willing
(1962).[5] McShane was a member of the National Youth Theatre.[9]
Read more...
Career
In the United Kingdom, McShane's best known role may be that of antiques dealer Lovejoy in the eponymous series.[5][6] He also enjoyed fame in the United States as British film director Don Lockwood in Dallas and as a British cockfighting aficionado in Roots. Even before Lovejoy, he was a pin-up as a result of appearances in television series, such as Wuthering Heights (1967, as Heathcliff), If It's Tuesday, This Must Be Belgium (1969, as Charlie), Jesus of Nazareth (1977, as Judas Iscariot), and Disraeli (1978)—as well as films like Sky West and Crooked (1965) and Battle of Britain (1969).[10][11]
In the United States, he is perhaps best known for the role of historical figure Al Swearengen in the HBO series Deadwood,[6] for which he won the 2005 Golden Globe Award for Best Actor in a Television Drama.[5] He was also nominated at the 2005 Emmy Award and Screen Actors Guild Awards.
Within the science fiction community, McShane is best known for playing the character Dr. Robert Bryson in Babylon 5: The River of Souls.[12] In a 2004 interview with The Independent, McShane stated that he wished that he had turned down the role of Bryson as he had struggled with the technical dialogue and found looking at Martin Sheen, who was wearing an eye in the middle of his forehead, to be the most embarrassing experience that he had ever had while acting.[13]
In 1985, he appeared as an iconic MC on Grace Jones' Slave to the Rhythm, a concept album which featured his narration interspersed throughout and which sold over a million copies worldwide.[14][15]
Other recent roles include Captain Hook in Shrek the Third, Iofur Raknison (known as Ragnar Sturlusson in the film) in The Golden Compass,[16] Tai Lung in Kung Fu Panda[17] (for which he received an Annie Award nomination), and Mr. Bobinsky in Coraline.[18] In live-action, he has performed in Hot Rod,[19] the action/thriller Death Race,[20] and The Seeker.[21] He has appeared in The West Wing as a Russian diplomat.[22] During 2007-08, he starred as Max in the 40th anniversary Broadway revival of Harold Pinter's The Homecoming, co-starring Eve Best, Raúl Esparza, and Michael McKean, and directed by Daniel Sullivan, at the Cort Theatre (16 December 2007 - 13 April 2008).[23]
In 2009, McShane appeared in Kings, which was based on the biblical story of David. His portrayal of King Silas Benjamin, an analogue of King Saul, was highly praised, with one critic saying, "Whenever Kings seems to falter, McShane appears to put bite marks all over the scenery."[24]
In 2010, McShane starred in The Pillars of the Earth as Bishop Waleran Bigod.[25] The series was an historical drama set in 12th-century England and adapted from Ken Follett's novel of the same name.[26]
Also in 2010, the Walt Disney Company confirmed that McShane would portray Blackbeard in the fourth installment of the Pirates of the Caribbean franchise, On Stranger Tides.[27]
In 2013, McShane played King Brahmwell in Bryan Singer's Jack the Giant Slayer.[28]
Since 2010, McShane has narrated the opening teases for each round of ESPN's coverage of The Open Championship.[29] In 2012, McShane had a guest role for two episodes as Murder Santa, a sadistic serial killer in the 1960s in the second season of American Horror Story.[30] In 2016, he joined the cast of Game of Thrones in Season 6 as Ray.[31][32]
McShane announced on April 20, 2017 that a script for a two-hour Deadwood movie had been submitted by creator David Milch to HBO and that a film is as close as ever to happening. " two-hour movie script has been delivered to HBO. If they don't deliver, blame them," McShane said.[33] The film began production in October 2018.[34]
Personal life
McShane married and divorced actress Suzan Farmer in the 1960s. In 1977, he began a relationship with Sylvia Kristel after meeting her on the set of The Fifth Musketeer.[35] The affair ended his marriage to his second wife, model Ruth Post, with whom he had two children, Kate and Morgan.[5] Through his daughter Kate, McShane has three grandchildren.
On 30 August 1980, McShane married actress Gwen Humble (born 4 December 1953). They live in Venice, California.[5]
Filmography
Film
| Year | Title | Role | Notes |
| --- | --- | --- | --- |
| 1962 | The Wild and the Willing | Harry Brown | |
| 1965 | The Pleasure Girls | Keith Dexter | |
| 1966 | Sky West and Crooked | Roibin | |
| 1967 | Wuthering Heights | Heathcliff | |
| 1969 | If It's Tuesday, This Must Be Belgium | Charlie Cartwright | |
| 1969 | Battle of Britain | Sgt. Pilot Andy | |
| 1970 | Pussycat, Pussycat, I Love You | Fred C. Dobbs | |
| 1970 | Tam-Lin | Tom Lynn | |
| 1971 | Freelance | Mitch | |
| 1971 | Villain | Wolfe Lissner | |
| 1972 | Left Hand of Gemini | Unknown | |
| 1972 | Sitting Target | Birdy Williams | |
| 1973 | The Last of Sheila | Anthony | |
| 1975 | Ransom | Ray Petrie | |
| 1975 | Journey into Fear | Banat | |
| 1977 | Code Name: Diamond Head | Sean Donovan | |
| 1979 | The Great Riviera Bank Robbery | The Brain | |
| 1979 | The Fifth Musketeer | Fouquet | |
| 1979 | Yesterday's Hero | Rod Turner | |
| 1981 | Cheaper to Keep Her | Dr. Alfred Sunshine | |
| 1983 | Exposed | Greg Miller | |
| 1985 | Ordeal by Innocence | Philip Durant | |
| 1985 | Too Scared to Scream | Vincent Hardwick | |
| 1985 | Torchlight | Sidney | |
| 1987 | Grand Larceny | Flanagan | |
| 1999 | Babylon 5: The River of Souls | Robert Bryson, Ph.D. | |
| 2000 | Sexy Beast | Teddy Bass | |
| 2002 | Bollywood Queen | Frank | |
| 2003 | Agent Cody Banks | Dr. Brinkman | |
| 2003 | Nemesis Game | Jeff Novak | |
| 2005 | Nine Lives | Larry | |
| 2006 | Scoop | Joe Strombel | |
| 2006 | We Are Marshall | Paul Griffen | |
| 2007 | Shrek the Third | Captain Hook | Voice |
| 2007 | Hot Rod | Frank Powell | |
| 2007 | The Seeker | Merriman Lyon | |
| 2007 | The Golden Compass | Ragnar Sturlusson | |
| 2008 | Kung Fu Panda | Tai Lung | Voice |
| 2008 | Death Race | Coach | |
| 2009 | Coraline | Mr. Bobinsky | Voice |
| 2009 | Case 39 | Detective Mike Barron | |
| 2009 | 44 Inch Chest | Meredith | Also executive producer |
| 2010 | The Sorcerer's Apprentice | Narrator | Uncredited |
| 2011 | Pirates of the Caribbean: On Stranger Tides | Blackbeard | |
| 2012 | Snow White and the Huntsman | Beith | |
| 2013 | Jack the Giant Slayer | King Brahmwell | |
| 2014 | Cuban Fury | Ron Parfitt | |
| 2014 | Hercules | Amphiaraus | |
| 2014 | John Wick | Winston | |
| 2014 | El Niño | El Inglés | |
| 2015 | Bolden! | Judge Perry | |
| 2015 | Bilal | Umayya | Voice |
| 2016 | Grimsby | MI6 Spy Boss | Uncredited |
| 2016 | The Hollow Point | Leland | |
| 2017 | John Wick: Chapter 2 | Winston | |
| 2017 | Jawbone | Joe Padgett | |
| 2017 | Pottersville | Bart | |
| 2018 | Here Comes the Grump[36] | The Grump | Voice |
| 2019 | Hellboy | Trevor Bruttenholm | Post-production |
| 2019 | John Wick 3: Parabellum | Winston | Filming |
Television
Year
Title
Role
Notes
1964
Spanner in the Grass Works
Frank Barnes
1966
You Can't Win
Joe Lunn
7 episodes
1967
Wuthering Heights
Heathcliff
4 episodes
1972
Whose Life Is It Anyway?
Ken Harrison
Television play
1975
Space: 1999
Anton Zoref
Episode: "Force of Life"
1975
The Lives of Jenny Dolan
Saunders
Television film
1976
The Fantastic Journey
Sir James Camden
Episode: "The Fantastic Journey"
1977
Roots
Sir Eric Russell
Episode: "Part Nine"
1977
Jesus of Nazareth
Judas Iscariot
2 episodes
1978
Will Shakespeare
Christopher Marlowe
Episode: "Dead Shepherd"
1978
Disraeli
Benjamin Disraeli
4 episodes
1978
The Pirate
Rashid
Television film
1980
Armchair Thriller - High Tide
Curtis
4 episodes
1981-1982
Magnum, P.I.
David Norman / Edwin Clutterbuck
2 episodes
1982
Marco Polo
Ali Ben Yussouf
2 episodes
1983
Bare Essence
Niko Theophilus
11 episodes
1983
Grace Kelly
Prince Rainier of Monaco
Television film
1985
Evergreen
Paul Lerner
3 episodes
1985
A.D.
Sejanus
5 episodes
1985
Braker
Alan Roswell
Television film
1986
American Playhouse
Willy Wax
Episode: "Rocket to the Moon"
1986-1994
Lovejoy
Lovejoy
72 episodes
1987
Miami Vice
Esteban Montoya
Episode: "Knock, Knock... Who's There?"
1988
War and Remembrance
Philip Rule
8 episodes
1989
Dallas
Don Lockwood
13 episodes
1989
Minder
Jack Last
Episode: "The Last Video Show"
1989
Miami Vice
Gen. Manuel Borbon
Episode: "Freefall"
1989
Dick Francis Mysteries: Blood Sport
David Cleveland
Television film
1989
Dick Francis Mysteries: In The Frame
David Cleveland
Television film
1989
Dick Francis Mysteries: Twice Shy
David Cleveland
Television film
1990
Perry Mason
Andre Marchand
Television film
1990
Columbo
Leland St. John
Episode: "Rest in Peace, Mrs. Columbo"
1996
Madson
John Madson
6 episodes
1997
The Naked Truth
Leland Banks
2 episodes
2002
The West Wing
Nikolai Ivanovich
Episode: "Enemies Foreign and Domestic"
2002
In Deep
Jamie Lamb
2 episodes
2003
Trust
Alan Cooper-Fozzard
6 episodes
2003
The Twilight Zone
Dr. Chandler
Episode: "Cold Fusion"
2004-2006
Deadwood
Al Swearengen
36 episodes
2008
SpongeBob SquarePants
Gordon
Voice
Episode: "Dear Vikings"
2009
Kings
King Silas Benjamin
12 episodes
2010
The Pillars of the Earth
Waleran Bigod
8 episodes
2010
Kung Fu Panda Holiday Special
Tai Lung
Voice
Television film
2012
American Horror Story: Asylum
Leigh Emerson
2 episodes
2015
Ray Donovan
Andrew Finney[37]
9 episodes
2016
Doctor Thorne
Sir Roger Scatcherd[38]
3 episodes
2016
Game of Thrones
Ray
Episode: "The Broken Man"
2017-present
American Gods
Mr. Wednesday[39]
Main cast
2019
Deadwood
Al Swearengen
Television film; also executive producer
Awards and nominations
Year
Association
Category
Nominated work
Result
2004
Television Critics Association Awards
Individual Achievement in Drama
Deadwood
Won
2005
Golden Globe Awards
Best Actor - Television Series Drama
Won
2005
Gotham Awards
Best Ensemble Cast
Nine Lives
Nominated
2005
Primetime Emmy Awards
Outstanding Lead Actor in a Drama Series
Deadwood
Nominated
2005
Satellite Awards
Best Actor - Television Series Drama
Nominated
2005
Television Critics Association Awards
Individual Achievement in Drama
Nominated
2006
Screen Actors Guild Awards
Outstanding Performance by a Male Actor in a Drama Series
Nominated
2007
Screen Actors Guild Awards
Outstanding Performance by an Ensemble in a Drama Series
Nominated
2009
Annie Awards
Best Voice Acting in an Animated Featured Production
Kung Fu Panda
Nominated
2010
San Diego Film Critics Society Awards
Best Cast
44 Inch Chest
Won
2010
Satellite Awards
Best Actor - Miniseries or Television Film
The Pillars of the Earth
Nominated
2011
Golden Globe Awards
Best Actor - Miniseries or Television Film
Nominated
2011
Golden Nymph Awards
Outstanding Actor in a Miniseries
Nominated
2011
Teen Choice Awards
Choice Movie: Villain
Pirates of the Caribbean: On Stranger Tides
Nominated
2018
Critics' Choice Television Awards
Best Actor in a Drama Series
American Gods
Nominated
[ Source: Wikipedia ]