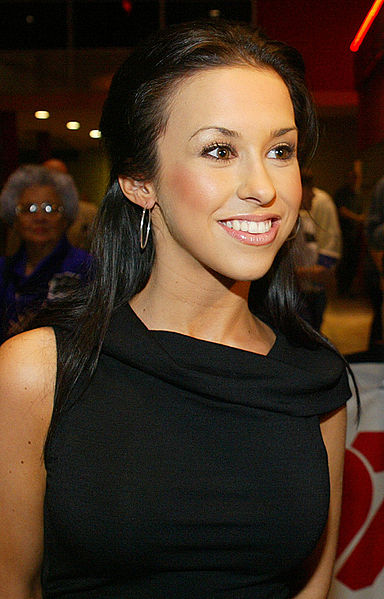 Lacey Chabert
Birth name:
Lacey Nicole Chabert
Born:
September 30, 1982
Age:
40
Birthplace:
Purvis, Mississippi, U.S.
Popularity:

Please login to contact Lacey Chabert...
Biography
Lacey Nicole Chabert (/ʃəˈbɛr/; born September 30, 1982) is an American actress, voice actress, and singer. She first gained prominence as a child actress on television for her role as Claudia Salinger in the television drama Party of Five (1994-2000).[1] She has also provided the voice of Eliza Thornberry in the animated series The Wild Thornberrys (1998-2004) and two feature films, Meg Griffin during the first production season of the animated sitcom Family Guy,[2] and superheroine Zatanna Zatara in various pieces of DC Comics-related media. In film, she has appeared in Lost in Space (1998), Not Another Teen Movie (2001), and Daddy Day Care (2003), and had leading roles as Gretchen Wieners in Mean Girls (2004), Meg Cummings in Dirty Deeds (2005), and Dana Mathis in the horror remake Black Christmas (2006).
Chabert has also appeared in 12 Hallmark Channel movies,[3] saying "I love working for Hallmark. They've been so good to me. I have friends there now. I'm proud of their movies and the message of their movies."[4]
Chabert was born in Purvis, Mississippi, to Julie (née Johnson) and Tony Chabert. Her father is of Cajun, Italian, and English descent; he worked as a maintenance operations representative for an oil company.[5][6] Her mother has English, Scottish, and remote Italian ancestry.[7] Chabert has a younger brother named T.J., and two older sisters, Chrissy and Wendy. She was "World's Baby Petite" in the "World's Our Little Miss Scholarship Competition" in 1985.[8] In 1992 and 1993, she played young Cosette in the Broadway production of
Les Misérables
.
Read more...
Career
Chabert played the role of Cosette in "Les Miserables" on Broadway before taking the role of Claudia Salinger in Party of Five. Chabert made her big screen debut in the late 1990s, starring as Penny Robinson in the space thriller Lost in Space (1998). Since then, she has been the voice of Eliza Thornberry in the animated series The Wild Thornberrys, and has voiced Eliza in two films, The Wild Thornberrys Movie (2002) and Rugrats Go Wild (2003). She then had a supporting role in the parody film Not Another Teen Movie as Amanda Becker. She provided the voice for the title character's daughter Aleu in Balto 2: Wolf Quest (2002) and she provided the voice of Meg Griffin for the first production season of the animated sitcom Family Guy (1999), after which Mila Kunis took over the role.[2][9]
Chabert played the title role in The Brooke Ellison Story, a movie produced and directed by Christopher Reeve, based upon a real-life quadriplegic woman who overcame many obstacles to graduate from Harvard University. She starred in Mean Girls (2004) and the television film Hello Sister, Goodbye Life (2006) on ABC Family. She appeared in a 2006 remake of Black Christmas. She appeared in an episode of Ghost Whisperer opposite former Party of Five costar Jennifer Love Hewitt. She performed the voice of Princess Elise from the game Sonic the Hedgehog for the PlayStation 3 and Xbox 360. She also voiced Gwen Stacy in the animated series The Spectacular Spider-Man.
Chabert, along with Lindsay Lohan, Rachel McAdams, and Amanda Seyfried, won the 2005 MTV Movie Award for Best On-Screen Team for Mean Girls. She won both the 1997 and 1998 The Hollywood Reporter Annual YoungStar Award for Best Performance by a Young Actress in a Drama TV Series for Party of Five, and had been nominated three other times for work from 1999 to 2000.[7] The YoungStar awards honor the best film, TV, and music performances made exclusively by six- to 18-year-olds.
In 2007, Chabert starred in the pilot episode of the Fox comedy "The Hot Years", which revolved around the lives of four female friends who live together. The pilot was not ordered to series by Fox.[10]
Chabert was featured as cover girl of the January 2007 issue of Maxim,[11] and again in November 2013.
From 2013-2014, Chabert had a recurring role on the ABC Family sitcom Baby Daddy as Dr. Amy Shaw.[12] After working in various TV movies during this time, she opened 2018 with an original Hallmark movie that premiered as part of the Valentine's Day Countdown.
Personal life
Chabert married her longtime boyfriend, David Nehdar, on December 22, 2013, in Los Angeles.[13] Chabert gave birth to their daughter, Julia Mimi Bella Nehdar on September 1, 2016.[14]
Chabert has spoken publicly about her faith and said she related to her character in Christian Mingle.[15]
Filmography
Film
Year
Title
Role
Notes
1997
Journey Beneath the Sea
Merla
film debut; Direct-to-Video

voice role

Redux Riding Hood
Little Red
Short film

voice role

Babes in Toyland
Jill
voice role
Anastasia
Young Anastasia
voice role (singing voice only)
1998
Lost in Space
Penny Robinson
The Lion King 2: Simba's Pride
Young Vitani
voice role; Direct-to-Video
An American Tail: The Treasure of Manhattan Island
Tanya
1999
An American Tail: The Mystery of the Night Monster
We Wish You a Merry Christmas
Cindy
2001
Tart
Eloise Logan
Not Another Teen Movie
Amanda Becker
2002
Hometown Legend
Rachel Sawyer
also known as "Evil Twin"
Balto: Wolf Quest
Aleu
voice role; Direct-to-Video

also known as "Balto II"

The Scoundrel's Wife
Florida Picou
The Wild Thornberrys Movie
Eliza Thornberry
voice role
2003
Daddy Day Care
Jenny
Rugrats Go Wild
Eliza Thornberry
voice role
2004
On Tracy Lane: Back to Maybe
Leading Lady
Short film
Mean Girls
Gretchen Wieners
Shadow of Fear
Allison Henderson
2005
Dirty Deeds
Meg Cummings
2006
High Hopes
Cindy
Fatwa
Noa Goldman
A New Wave
Julie
Bratz: Genie Magic
Kaycee
voice role; Direct-to-Video
The Pleasure Drivers
Faruza
Choose Your Own Adventure: The Abominable Snowman
Crista North
voice role; Direct-to-Video
Bratz: Passion 4 Fashion - Diamondz
Kaycee
Black Christmas
Dana
2007
Be My Baby
Tiffany
Being Michael Madsen
Vanessa Rapaport
2008
Sherman's Way
Marcy
Reach for Me
Sarah
2009
Ghosts of Girlfriends Past
Sandra
2010
In My Sleep
Becky
Thirst
Noelle
Direct-to-Video; also Executive Producer
2011
Destruction Party
Ava
Short film
A Holiday Heist
Jennifer
2012
Beverly Hills Chihuahua 3: Viva La Fiesta!
Charlotte
voice role; Direct-to-Video
2013
Sanitarium
Ms. Lorne
segment "Monsters are Real"
Slightly Single in L.A.
Dale Squire
Scooby-Doo! Mecha Mutt Menace
Melanie Staples
Short film; voice role
Anything Is Possible
Maggie
2014
Telling of the Shoes
Abby
Ghost of Goodnight Lane
Dani
Christian Mingle
Gwyneth Hayden
2016
Ginger & Snapper
Ginger
Short film
The Lost Tree
Jenna
2017
All I Want for Christmas Is You
Penelope
voice role; Direct-to-Video
Television
Year
Title
Role
Notes
1991
A Little Piece of Heaven
Princess aka "Hazel"
Television debut

Television Movie

Reading Rainbow
Herself
Episode: "Snowy Day: Stories and Poems"; voice role
1992-1993
All My Children
Bianca Montgomery
2 episodes
1993
Gypsy
Baby June
Television Movie
1994–2000
Party of Five
Claudia Salinger
Series regular; 142 episodes
1996
ABC Afterschool Specials
Carly Gallagher
Episode: "Educating Mom"
Gargoyles: The Goliath Chronicles
Kim/Bobbi Porter
2 episodes; voice role
Aaahh!!! Real Monsters
Girl/Kids
3 episodes; additional voices
1997
The Adventures from the Book of Virtues
The Younger Daughter
Episode: "Respect"; voice role
When Secrets Kill
Jenny Newhall
Television Movie
1997-1998
Hey Arnold!
Ruth P. McDougal
Voice role; 2 episodes
1998
Stories from My Childhood
Jenny
Episode: "The Last Petal"
Hercules
Callista
Episode: "Hercules and the Kids"; voice role
1998–2004
The Wild Thornberrys
Eliza Thornberry
Series regular; 90 episodes

Voice role

1999
Rayman: The Animated Series
Betina
Episode: "High Anxiety"

voice role (English version)

1999–2000, 2012
Family Guy
Meg Griffin/Jan Brady
Series regular; 14 episodes

Voice role

2001
The Wild Thornberrys: The Origin of Donnie
Eliza Thornberry
Voice role; Television Movie
2002
The Proud Family
Additional voices
Episode: "Romeo Must Wed"; voice role
Strong Medicine
Mary
Episode: "Heartbeat"
The Drew Carey Show
Grace
Episode: "Drew's Girl Friday"
2003
Punk'd
Herself
Episode: "#1.4"
2004
The Brooke Ellison Story
Brooke Ellison
Television Movie
2005
American Dragon: Jake Long
Jasmine
Episode: "Dragon Breath"; voice role
Super Robot Monkey Team Hyerforce Go!
Surthanna
Episode: "Girl Trouble"; voice role
2005–2006
Bratz
Kaycee
Series regular; 17 episodes

Voice role

2006
She Said/He Said
Television Movie
Hello Sister, Goodbye Life
Olivia
Ghost Whisperer
Donna Ellis
Episode: "Love Still Won't Die"
2007
Me, Eloise
Episode: "Eloise Goes Hollywood (Part 1)"; voice role
What If God Were the Sun?
Jamie Spagnoletti
Television Movie
2008
Untitled Liz Meriwether Project
Liz Meriwether
2008–2009
The Spectacular Spider-Man
Gwen Stacy
Series regular; 25 episodes

voice role

2009
The Lost
Jane
Television Movie
2009
Glenn Martin DDS
Amish Girls
Episode: "Amish Anguish"; voice role
2010
Elevator Girl
Liberty Taylor
Television Movie
2011
Mike DA Mustang
Angel
Allen Gregory
Beth
Recurring role; 6 episodes

voice role

2011–2012
Generator Rex
Additional voices/Jojo
2 episodes; additional voices
2011–2013
Young Justice
Zatanna Zatara/Isis/Little Girl
Series regular; 11 episodes

voice role

2011–2016
Transformers: Rescue Robots
Dani Burns/Additional voices
Series regular; 104 episodes

voice role

2012
Doc McStuffins
Gabby the Giraffe
Episode: "Arcade Escapade/Starry, Starry Night; voice role
Imaginary Friend
Emma
Television Movie
The Avengers: Earth's Mightiest Heroes
Daisy Johnson/Quake
2 episodes; voice role
Matchmaker Santa
Melanie
Television Movie
2013
Off Season: Lex Morrison Story
Sally Summers
Scarecrow
Kristen
Non-Stop
Amy Nightingale
2013–2014
Baby Daddy
Dr. Amy Shaw
Recurring role; 6 episodes
2013–2015
Robot Chicken
Eliza Thornberry/Carly Shay
2 episodes; voice role
2014
The Color of Rain
Gina Kell
Television Movie
A Royal Christmas
Emily Taylor
The Tree That Saved Christmas
Molly Logan
Living the Dream
Jenna Harris
2015
All of My Heart
Jenny Fintley
Family for Christmas
Hanna Dunbar
A Christmas Melody
Kristin Parson
Family Fortune
Nichole
2016
Teachers
Ginny
Episode: "Jacob"
Still the King
Laura Beth
Recurring role; 4 episodes
2016
Kulipari: An Army of Frogs
Coorah
Series regular; 13 episodes

voice role

2016–2017
Shimmer and Shine
Zeta the Sorceress
Series regular; 20 episodes

Voice role

Justice League Action
Zatanna Zatara
Recurring role; 5 episodes

Voice role

2016–2018
Voltron
Nyma / Romelle / Te-osh
4 episodes; voice role
2016
A Wish for Christmas
Sara Thomas
Television Movie; also Co-Executive Producer
The Lion Guard
Vitani
Episode: "Lions of the Outlands"
2017
Moonlight in Vermont
Fiona
Television Movie
The Sweetest Christmas
Kylie Watson
2018
My Secret Valentine
Chloe Grange
Love on Safari
Kira Slater
All of My Heart: The Wedding
Jenny Fintley
Video games
Year
Title
Role
Notes
2001
Nicktoons Racing
Eliza Thornberry
Voice role from "The Wild Thornberrys"
2003
Rugrats Go Wild!
2005
Bratz Rock Angelz
Kaycee
Voice role
2006
Sonic the Hedgehog
Princess Elise
Voice role (English version)
2011
Star Wars: The Old Republic
Mako
Voice role
2013
Star Wars: The Old Republic - Rise of the Hutt Cartel
Injustice: Gods Among Us
Zatana Zatara
Voice role; uncredited
Young Justice: Legacy
Zatana Zatara/LexCorp Bot/Tourist
Voice role
2014
Star Wars: The Old Republic - Shadow of Revan
Mako
2015
Infinite Crisis
Zatana Zatara
Star Wars: The Old Republic - Knights of the Fallen Empire
Mako
Awards and nominations
Year
Title
Accolade
Results
1993
A Little Piece of Heaven
Young Artist Award, Best Young Actress Under 10 in a Television Movie
Nominated
1995
Party of Five
Young Artist Award, Best Performance by a Youth Actress in a Drama Series
Nominated
1996
Young Artist Award, Best Performance by a Young Actress in a Television Drama Series
Nominated
1997
Online Film & Television Association award, Best Supporting Actress in a Drama Series
Nominated
style="background: #FDD; color: black; vertical-align: middle; text-align: center; " class="no table-no2"|Nominated
style="background: #FDD; color: black; vertical-align: middle; text-align: center; " class="no table-no2"|Nominated
Young Artist Award, Best Performance in a Drama Series - Young Actress
Nominated
YoungStar award, Best Performance by a Young Actress in a Drama Television Series
Won
1998
Lost in Space
The Stinkers Bad Movie award, Worst Supporting Actress
Won
Party of Five
YoungStar award, Best Performance by a Young Actress in a Drama Television Series
Won
1999
Lost in Space
Young Artist Award, Best Performance in a Feature Film - Supporting Young Actress
Nominated
Party of Five
Young Artist Award, Best Performance in a Television Drama or Comedy Series - Leading Young Actress
Won
YoungStar award, Best Performance by a Young Actress in a Drama Television Series
Nominated
2000
Nominated
The Wild Thornberrys
YoungStar award, Best Young Voice Over Talent
Nominated
2005
Mean Girls
MTV Movie + TV award, Best On-Screen Team

Won
2012
Young Justice
Online Film & Television Association award, Best Voice-Over Performance
Nominated
2013
Behind the Voice Actors award, Best Female Vocal Performance in a Television Series in a Supporting Role - Action/Drama
Nominated
Transformers: Rescue Bots
Behind the Voice Actors award, Best Vocal Ensemble in a New Television Series
Nominated
2015
Behind the Voice Actors award, Best Vocal Ensemble in a Television Series - Children/s/Educational
Nominated
2017
Kulipari: An Army of Frogs
Behind the Voice Actors award, Best Female Lead Vocal Performance in a Television Series
Nominated
Behind the Voice Actors award, Best Vocal Ensemble in a New Television Series
Nominated
The Lost Tree
Independent Filmmakers Showcase IFS Film Festival award, Best Supporting Actress
Won
Other media
Les Misérables (1992-1993) Broadway Production ... young Cosette
The Broadway Kids (1995) Audio CD (voice) ... The Broadway Kids Sing Broadway
[ Source: Wikipedia ]