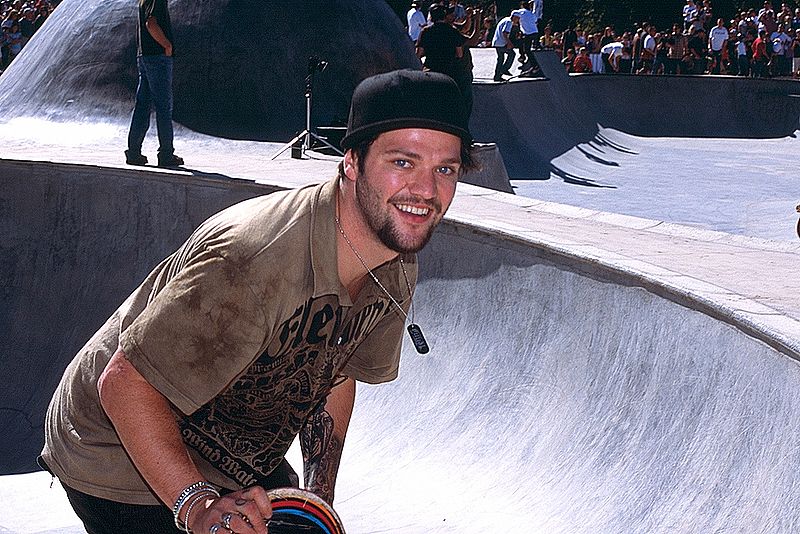 Bam Margera
Born:
September 28, 1979
Age:
44
Birthplace:
West Chester, Pennsylvania, U.S.
Popularity:

Please login to contact Bam Margera...
Biography
Brandon Cole "Bam" Margera[2] (/mɑːrˈdʒɛərə/ mar-JAIR-ə; born September 28, 1979) is an American professional skateboarder, stunt performer, filmmaker, musician[3] and television personality. He came to prominence after appearing as a main cast member in MTV's Jackass. He has since appeared on MTV's Viva La Bam and Bam's Unholy Union, all three Jackass movies, and Haggard: The Movie and Minghags: The Movie, both of which he co-wrote and directed.
Margera was born in West Chester, Pennsylvania, the son of April (née Cole) and
Phil Margera
. He is the younger brother of
Jess Margera
and nephew of
Vincent Margera
. His grandfather nicknamed him "Bam Bam" at the age of three after noticing his habit of purposely running into walls; over time, that nickname was shortened to "Bam" by his schoolmates.[4] He attended West Chester East High School and cites his friendship with
Chris Raab
as his only reason for attending high school. He dropped out after finishing his junior year, citing Raab's expelling as his motive.[5] Margera then received his GED afterwards.
Read more...
Career
Television and film
Margera began shooting videos of himself and his friends skateboarding and doing stunts, which eventually turned into the CKY video series.[6] He independently released CKY. CKY2K, CKY3 and CKY4 have also been released. CKY stands for "Camp Kill Yourself", a name shared with his brother Jess Margera's band, CKY, who themselves named the band as a tribute to the film Sleepaway Camp. These early videos feature many of Margera's friends, including Ryan Dunn, Brandon DiCamillo, Rake Yohn, Chris Raab, Brandon Novak and others who form a loose collective known as the CKY Crew. The history and relationship between the video and band projects is heavily interlinked.
Following the CKY success, former Big Brother editor Jeff Tremaine noticed Margera's videos and drafted him into the team which would eventually become MTV's Jackass. Margera and Ryan Dunn became mainstays of the cast while other CKY crew members played supporting roles to various degrees. Margera went on to appear in Jackass: The Movie, Jackass Number Two, Jackass 3D and Jackass 3.5. Several skits in the first Jackass movie were CKY style pieces filmed in and around West Chester, but similar scenes in the second movie were removed after the arrest of Margera's uncle Vincent Margera on suspicion of inappropriately touching two minors.
In 2003, he played himself in the skateboard based movie "Grind", which portrays four young men following a professional skateboarder from Chicago to California. If they succeeded in getting noticed by him, getting a sponsorship deal, and an automatic spot in major tour events could be the end result. The film contains numerous cameos from Jackass members, as well as many professional skateboarders and other celebrities. Upon release, it was met with generally unfavorable reviews from critics, but was rated much higher by the general public.[7]
After Jackass, Margera was given his own MTV series titled Viva La Bam, which ran for five seasons between 2003-2005. The show followed Margera and his crew as they performed various stunts and missions. The show was primarily filmed in West Chester, Pennsylvania but also visited New Orleans, Las Vegas, Los Angeles, Brazil, Finland, Mexico, Amsterdam and Transylvania. In addition to the regular series, special episodes have included "Viva La Spring Break" and a "lost" episode included on the Viva La Bands CD.
Following the show, in 2007, Margera was engaged and the wedding was filmed for Bam's Unholy Union as a follow-up to Viva la Bam. The show follows Margera, his then fiancée Melissa Rothstein and their friends in the lead-up to their wedding.[8] Also in 2008, Margera had a "prominent, non-sex role in" a pornographic film by Gina Lynn called The Fantasstic Whores 4 with Brandon Novak.[9] In 2009, Margera appeared on Nitro Circus.[10]
In October 2010, Margera appeared in Jackass 3D and the movie broke box office records.[11]
Margera appears with Dunn and pro-skateboarder Tim O'Connor on Bam's World Domination, a half-hour Spike TV program that debuted on October 13, 2010. The first episode showcased Margera and his friends' attempt to conquer an obstacle course race, in the Tough Guy Competition, held in Staffordshire, England.[12]
In March 2016, Bam and his mother April Margera appeared on the VH1 reality television show Family Therapy with Dr. Jenn to address Bam's self-destructive behavior.[13]
Skateboarding career
In the beginning of his career, during 1997 and 1998, Margera was sponsored by Toy Machine Skateboards.[1] From 2001, Margera was a member of Team Element, the demonstration team for Element Skateboards.[14] As of 2016, Margera is no longer on the team.[15] He was also at various times sponsored by Speed Metal Bearings, Adio Footwear, Electric Sunglasses, Volcom,[16] Landspeed Wheels,[17] Destroyer Trucks,[18] Destructo Trucks, and Fairman's Skateshop. As of 2017, Margera is without any major sponsorships and has effectively retired from skateboarding professionally. Margera did return to skating casually however, resulting in a renewed partnership with Element Skateboards to celebrate the brand's twenty-fifth anniversary by re-releasing a series of ten of Bam's most memorable deck designs. The boards were released on a weekly basis between September 6, 2017 and November 8, 2017. Each deck is signed by Margera and limited to fifty units.
Independent films
Margera has written, produced and starred in three independent films. Margera co-wrote, directed and starred in Haggard (2003), an independent film based on real events in the life of his friend Ryan Dunn. Dunn played himself as the main character while Margera played "Valo", a character based on himself and elements of HIM singer and friend Ville Valo.[19]
Margera also directed Minghags, formerly titled Kiss a Good Man's Ass.[20] The film is a loose sequel to Haggard and will feature the "garbage juicer" invention from that film.[21] This film was confirmed on Radio Bam and the front page of FilthyNote Records by Tim Glomb. Filming started April 5, 2007.[22] On an episode of Radio Bam, Margera said that they are trying to make the movie PG-13 rated,[23] but with the amount of swearing and a shot of nudity, an 'R' Rating could not be avoided.[24] They had its first viewing of the rough version of the film on August 7, 2007, at Sikes Hall.[25] The movie was released straight to DVD in December 2008.
Subsequently, Margera released a Christmas-themed movie titled Bam Margera Presents: Where the#$&% Is Santa? in December 2008.[26] The movie is about Bam and his friends going to the Arctic Circle in Finland on a quest to find Santa Claus. The film features Ville Valo from HIM, The Dudesons, Hanoi Rocks, and Mark the Bagger.[26]
Radio Bam and music
Margera began a weekly Sirius Satellite Radio show on Sirius channel 28 Faction on November 24, 2004, called Radio Bam. The show initially featured Margera and his friends from the CKY and Jackass crews. Later shows featured less of the two crews and more of Margera's newer friends.
In 2005, Margera started a music label, Filthy Note Records, and has directed music videos for Clutch, Turbonegro, Viking Skull, Vains of Jenna and several for CKY. He also directed seven music videos, "Buried Alive By Love", "The Sacrament", "And Love Said No", and "Solitary Man", for the Finnish band HIM, and three for The 69 Eyes, "Lost Boys", "Dead Girls are Easy" and "Dead N Gone". He also plays the keyboard in a novelty band called Gnarkill along with Brandon DiCamillo, Jess Margera, Rich Vose and Matt Cole.
Margera's band, Fuckface Unstoppable, was written about in 2013 on the Buddyhead website and the article questions the seriousness of the band ("a joke band(?)"). The band featured Margera, his brother, his girlfriend and Brandon Novak. Chad Ginsburg, from CKY, was the band's guitarist before quitting.[27] The band released their debut album titled FFU on May 27, 2014, through Artery Records. A deluxe edition of the album featuring 5 live performances at Zombie Hut and a bonus track was released on August 28, 2015, through Casual Madness.
The Evesdroppers, a new band featuring Bam, Jess, Nikki, Mike Nappi, and Chad I Ginsburg, released a self-titled album on September 28, 2016 through Casual Madness.
Documentary
In January 2015, Margera announced that he had been working on an autobiographical documentary film which he hoped to premiere in the near future. On April 9, the first trailer for the film, titled I Need Time To Stay Useless, was released to YouTube and other media outlets. The film will deal primarily with Margera's life after the death of his close friend and co-star, Ryan Dunn, who died in a car crash in 2011. According to Margera the film has been three years in the making, and will give viewers a glimpse into his childhood, career and rise to fame, while focusing mainly on his recovery from the death of Dunn.[28] Musician Brent Hinds of the band Mastodon will play Dunn in what has been described as "dramatic fantasy interludes" that ties the film together while also re-enacting what Margera considers his "darkest moments" after Dunn's death.[29] During a Facebook Q&A on December 7, 2015, Margera stated that the name of the film would change from I Need Time To Stay Useless to Earth Rocker and that it would be released February 2016.[30] In the 2017 season premier of Vice's Epicly Later'd, Margera stated that after working on the film for four years straight, sometimes for weeks at a time, he had reached the point where he had had enough of doing so. Margera stated that he had approximately eleven terabytes worth of video footage and that editing it down into a two-hour film was impossible. When asked if the project was on pause for the moment, he responded that it was.
Other projects
Margera has been animated as a character in the Tony Hawk video game franchise, specifically Tony Hawk's Pro Skater 3, Tony Hawk's Pro Skater 4, Tony Hawk's Underground, Tony Hawk's Underground 2, Tony Hawk's American Wasteland, Tony Hawk's Project 8 and Tony Hawk's Proving Ground. He also voiced a character in the video game Scarface: The World Is Yours. He made cameo appearances in the movies Grind and Destroying America.
In late September 2008, Margera opened a bar/theater called "The Note", in his hometown of West Chester, Pennsylvania.[31] Serious restrictions from West Chester Borough Council caused a multitude of issues for Margera and the bar, and The Note closed its doors in January 2014.[32]
In late 2009, Margera released a book containing private writings and pictures titled Serious as Dog Dirt.[33]
Personal life
Relationships
Margera was engaged to Jenn Rivell, a divorced single mother. Rivell played a prominent part in several of his projects and the couple appeared to be cohabiting in various episodes of Viva La Bam. Their seven-year relationship ended in 2005.[34] In November 2006, Margera filed for "Protection From Abuse" from Rivell after she allegedly broke into his house.[34]
In 2006, Margera became engaged to childhood friend Melissa "Missy" Rothstein.[35] The events leading up to their wedding (with about 350 friends and family in attendance) on February 3, 2007, in downtown Philadelphia, were chronicled on the MTV series Bam's Unholy Union. The couple's honeymoon was in Dubai. In 2008, during an appearance on LA Ink, Margera told Kat Von D about $13,000 in damages that occurred during his wedding celebration, explaining, "I was kind of ready for it, though. I was like, 'I'm inviting the Jackass crew. If something doesn't get broken then that's not right.'"[36][37]
In July 2009, Margera was taken to hospital by paramedics and state troopers after Missy called 911 following a four-day alcohol binge.[38] In regard to the drinking binge, Margera said, "I may get a divorce... booze helps."[38] In October 2010, Margera told Howard Stern that he and Missy were living in separate cities, they meet once a week, and that Missy knew that he had girlfriends.[39][40] The couple divorced in November 2012.[41]
On October 5, 2013, Margera married Nicole Boyd in Reykjavík, Iceland.[42] On June 19, 2017, Margera announced that Boyd was pregnant with the couple's first child. On September 7, 2017, it was announced that the child, a boy, would be named Phoenix Wolf.[43] Margera's son was born on December 23, 2017.[44]
Name, residence, and assault
In an October 24, 2007 interview with the Cleveland Free Times, Margera stated that although he had completed paperwork that would legally change his first name to Bam, he was "still debating" filing it after a conversation with his father.[2]
Margera owns two houses in the West Chester, Pennsylvania area, his present residence and his former home, known as Castle Bam. Castle Bam is a large house in Pocopson Township, Pennsylvania that was often featured on Viva La Bam.[45] The house has a gothic theme, a skatepark in the driveway, and is situated on 14 acres (57,000 m2) of land. In January 2007, Margera built a ramp in the backyard which caused trouble with the township.[46] In 2018, April Margera began renovating the home in order for it to be used for short-term rentals via Airbnb. Margera has made it known that the home will not look the way it did on Viva La Bam. Rentals of the home were expected to be made available in 2018.[47]
On June 12, 2010, Margera was allegedly attacked with a baseball bat outside of his bar, The Note.[48] Margera spent the night at Crozer-Chester Medical Center, where he was treated for head injuries. According to the alleged assailant, Elizabeth Ray, it was because Margera allegedly called her a nigger.[48] Ray denies attacking Margera.[48] Margera denies having said the word, claiming "I called her a crazy bitch and an idiot, but I definitely didn't use the n-word".[49]
Filmography
Film
| Year | Title | Role | Notes |
| --- | --- | --- | --- |
| 2002 | Jackass: The Movie | Himself | Writer |
| 2003 | Charlie's Angels: Full Throttle | Irish Dock Worker | Cameo |
| 2003 | Grind | Himself | |
| 2003 | Haggard: The Movie | Valo | Writer, director, executive producer |
| 2006 | Jackass Number Two | Himself | Co-producer |
| 2006 | The Dudesons Movie | Himself | |
| 2007 | Jackass 2.5 | Himself | Co-producer |
| 2008 | Bam Margera Presents: Where the ♯$&% Is Santa? | Himself | Writer, director, producer, executive producer |
| 2008 | The Fantasstic Whores 4 | Himself | Cameo |
| 2009 | Minghags: The Movie | Lenny | Writer, director, executive producer |
| 2010 | Jackass 3D | Himself | Co-producer |
| 2011 | Jackass 3.5 | Himself | Co-producer |
| 2017 | Dumb: The Story of Big Brother Magazine | Himself | Documentary |
Television
Year
Title
Role
Notes
2000-2002
Jackass
Himself
Starred
25 episodes
2003-2006
Viva La Bam
Himself
Co-creator, executive producer
2005-2012
Punk'd
Himself
Host
2 episodes
2006-2009
The Dudesons
Himself
2 episodes
2007
Bam's Unholy Union
Himself
Co-creator, executive producer
2008
Jackassworld.com: 24 Hour Takeover
Himself
TV special
2009
Nitro Circus
Himself
3 episodes
2010
Bam's World Domination
Himself
Co-creator, director, executive producer
2011
A Tribute to Ryan Dunn[50]
Himself
TV special
2012
Loiter Squad
Himself
Guest star
2014
Bam's Bad Ass Game Show
Himself
Co-creator, executive producer
2014
CKY: The Greatest Hits[51]
Himself
TV special
2016
Family Therapy with Dr. Jenn[52]
Himself
2018
King of the Road
Himself
DVDs and videos
| Year | Title | Role |
| --- | --- | --- |
| 1998 | Jump Off A Building | Himself |
| 1999 | Landspeed presents: CKY | Himself |
| 2000 | CKY2K | Himself |
| 2001 | CKY3 | Himself |
| 2001 | CKY Documentary | Himself |
| 2001 | Hook-Ups Presents: Destroying America | Himself |
| 2002 | CKY4: The Latest & Greatest | Himself |
| 2017 | Element: Welcome Back Bam | Himself |
Video games
| Year | Title | Role | Notes |
| --- | --- | --- | --- |
| 2001 | Tony Hawk's Pro Skater 3 | Himself | |
| 2002 | Tony Hawk's Pro Skater 4 | Himself | |
| 2003 | Tony Hawk's Underground | Himself | |
| 2004 | Tony Hawk's Underground 2 | Himself | |
| 2005 | Tony Hawk's American Wasteland | Himself | |
| 2006 | Tony Hawk's Project 8 | Himself | |
| 2006 | Scarface: The World Is Yours | Liquor Store Owner | Voice |
| 2007 | Tony Hawk's Proving Ground | Himself | |
Discography
With CKY
With Gnarkill
Gnarkill (2002)
GnarKill vs. Unkle Matt and the ShitBirdz (2006)
With Fuckface Unstoppable
Fuckface Unstoppable (2014)
With The Evesdroppers
Bibliography
Bam Margera, Serious as Dog Dirt (MTV; November 17, 2009) ISBN 1-4391-4773-6
[ Source: Wikipedia ]