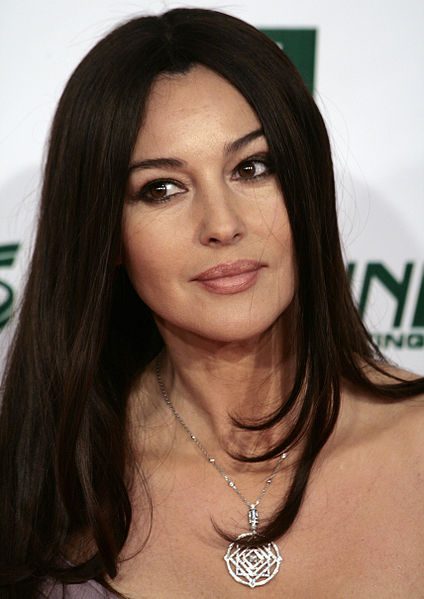 Monica Bellucci
Birth name:
Monica Anna Maria Bellucci
Born:
September 30, 1964
Age:
59
Birthplace:
Città di Castello, Umbria, Italy
Popularity:

Please login to contact Monica Bellucci...
Biography
Monica Anna Maria Bellucci (, born 30 September 1964)[1] is an Italian actress and model. Bellucci began her career as a fashion model, modeling for the likes of Dolce & Gabbana and Dior, before making a transition to Italian films and later Hollywood films. She is often considered among the most beautiful women in the world.[2]
She is perhaps best known to American audiences for her role as Persephone in the 2003 science-fiction films The Matrix Reloaded and The Matrix Revolutions. She also played the Bride of Dracula in Francis Ford Coppola's gothic romance film Bram Stoker's Dracula (1992) and Malèna Scordia in the Italian-language romantic drama Malèna (2000), and was in the controversial Gaspar Noé arthouse horror film Irréversible (2002), and Mel Gibson's biblical drama The Passion of the Christ (2004), in which she portrayed Mary Magdalene. She later played a Bond girl in the 2015 James Bond film Spectre.
Bellucci was born 30 September 1964 in Città di Castello, Umbria, Italy,[3] as the only child of Brunella Briganti and Pasquale Bellucci, and grew up in Lama of San Giustino.[4][5][6] There are claims that her father's last name
Bellucci
may come from
Belushi
, an Albanian last name from Korca in Albania as outlined by her cousin Attilio Bellucci, though Bellucci has neither confirmed nor denied such claims.[7]
Read more...
Career
Modelling
Monica Bellucci began modelling at age 13 by posing for a local photo enthusiast.[8] In 1988, Bellucci moved to one of Europe's fashion centres, Milan, where she signed with Elite Model Management. By 1989, she was becoming prominent as a fashion model in Paris and across the Atlantic, in New York City. She posed for Dolce & Gabbana and French Elle, among others. In that year, Bellucci made the transition to acting and began taking acting classes. The February 2001 Esquire's feature on Desire featured Bellucci on the cover and in an article on the five senses.
Monica Bellucci at the 2002 Cannes Film Festival for the promotion of
Irréversible
In 2003, she was featured in Maxim.[9] Men's Health also named her one of the "100 Hottest Women of All-Time", ranking her at No. 21.[10] AskMen named her the number one most desirable woman in 2002.[11] According to two national newspapers, she is considered an Italian sex symbol.[12][13]
In 2004, while pregnant with her daughter Deva, Bellucci posed nude for the Italian Vanity Fair in protest against an Italian law that restricts the provision of fertility treatment to heterosexual couples and excludes single women or same-sex couples, restricts surrogacy and research using human embryos, forbids sperm and egg donation, and limits the number of embryos created with in-vitro techniques to three.[14] She posed pregnant and semi-nude again for the magazine's April 2010 issue.[15] From 2006 to 2010 Bellucci was the face of a range of Dior products.[16]
In 2012, she became the new face of Dolce & Gabbana.[17] She is managed by Elite+ in New York City. Bellucci is signed to D'management Group in Milan and also to Storm Model Management in London.[18] Bellucci also posed for GQ Italia in February 2016.[19]
Bellucci walked the runway for the Spring 2018 Milan Fashion Week for Dolce and Gabbana.[20] Joining her included Isabella Rossellini, Eva Herzigová, and Helena Christensen, continuing the influx of 90's supermodels returning to the spotlight of fashion.
Acting
Monica Bellucci at the 2009 Women's World Award ceremony
Bellucci's film career began in the early 1990s. She played some minor roles in La Riffa (1991) and Bram Stoker's Dracula (1992). In 1996, she was nominated for a César Award for best supporting actress for her portrayal of Lisa in The Apartment and strengthened her position as an actress.[21] She became known and popular with worldwide audiences, following her roles in Malèna (2000), Brotherhood of the Wolf (2001), and Irréversible (2002).
She has since played in many films from Europe and Hollywood like Tears of the Sun (2003), The Matrix Reloaded (2003), The Passion of the Christ (2004), The Brothers Grimm (2005), Le Deuxième souffle (2007), Shoot 'Em Up (2007), Don't Look Back (2009), and The Sorcerer's Apprentice (2010).[22][23]
She was supposed to be seen portraying Indian politician Sonia Gandhi in the biopic Sonia, originally planned for release in 2007, but it has been shelved.[24] Bellucci dubbed her own voice for the French and Italian releases of the film Shoot 'Em Up (2007).[25] She also voiced Kaileena in the video game Prince of Persia: Warrior Within, and the French voice of Cappy for the French version of the 2005 animated film Robots.
Empire magazine selected her as twenty-first on their list of "The Sexiest 25 Characters in Cinema - The Women" for her role of "Persephone" in the Matrix series.[26] Likewise, Nettavisen declared in 2009 that the role of Persephone qualified Bellucci as one of the 25 sexiest women of all time.[27]
At 50, she became the oldest Bond girl ever in the James Bond film franchise, playing Lucia Sciarra in Spectre (2015).[28] Monica will appear as a Soul Sucking Queen of the Underworld in Australia's movie, Nekrotronic.[29][30]
Personal life
Bellucci married Italian photographer Claudio Carlos Basso in 1990 and they divorced in 1994.[31][32]
Bellucci met French actor Vincent Cassel on the set of their 1996 film The Apartment.[33] They married in 1999,[33] and have two daughters, Deva (born 2004) and Léonie (born 2010).[34][35] Bellucci and Cassel announced their divorce on 26 August 2013.[33]
In the documentary movie The Big Question, about the film The Passion of the Christ, she stated: "I am an agnostic, even though I respect and am interested in all religions. If there's something I believe in, it's a mysterious energy; the one that fills the oceans during tides, the one that unites nature and beings."[36]
Filmography
| Title | Year | Role |
| --- | --- | --- |
| Vita coi figli | 1990 | Elda |
| The Raffle | 1991 | Francesca |
| Bram Stoker's Dracula | 1992 | One of Dracula's brides |
| Ostinato Destino | 1992 | Marina/Angela |
| Briganti - Amore e libertà | 1994 | Costanza |
| I Mitici | 1994 | Deborah |
| Snowball | 1995 | Melina |
| Bits and Pieces | 1995 | |
| Joseph | 1995 | Pharaoh's wife |
| The Apartment | 1996 | Lisa |
| Sorellina e il principe del sogno | 1996 | Princess |
| Stressati | 1997 | |
| Dobermann | 1997 | Nat the Gypsy |
| Mauvais genre | 1997 | Camille |
| Come mi vuoi | 1997 | Nellina |
| Le Plaisir | 1998 | Girl |
| Compromise | 1998 | Monique |
| Kaputt Mundi | 1998 | Giulia Giovannini |
| A los que aman | 1998 | Valeria |
| Comme un poisson hors de l'eau | 1999 | Myrtille |
| Méditerranées | 1999 | Marguerite |
| Under Suspicion | 2000 | Chantal Hearst |
| Franck Spadone | 2000 | Laura |
| Malèna | 2000 | Malèna Scordia |
| Brotherhood of the Wolf | 2001 | Sylvia |
| Astérix & Obélix: Mission Cléopâtre | 2002 | Cleopatra |
| Irréversible | 2002 | Alex |
| Remember Me, My Love | 2003 | Alessia |
| Tears of the Sun | 2003 | Dr. Lena Fiore Kendricks |
| The Matrix Reloaded | 2003 | Persephone |
| Enter the Matrix | 2003 | Persephone |
| The Matrix Revolutions | 2003 | Persephone |
| The Passion of the Christ | 2004 | Mary Magdalene |
| Secret Agents | 2004 | Barbara/Lisa |
| She Hate Me | 2004 | Simona Bonasera |
| The Brothers Grimm | 2005 | The Mirror Queen |
| How Much Do You Love Me? | 2005 | Daniela |
| Sheitan | 2006 | La belle vampiresse |
| Napoleon and Me | 2006 | Baroness Emilia Speziali |
| The Stone Council | 2006 | Laura Siprien |
| Heartango | 2007 | L'inafferrabile |
| Manual of Love 2 | 2007 | Lucia |
| Shoot 'Em Up | 2007 | Donna Quintano |
| Le deuxième souffle | 2007 | Manouche |
| Sanguepazzo | 2008 | Luisa Ferida |
| L'uomo che ama | 2008 | Alba |
| Don't Look Back | 2009 | Jeanne |
| The Private Lives of Pippa Lee | 2009 | Gigi Lee |
| Baarìa - La porta del vento | 2009 | Bricklayer's girlfriend |
| Omaggio a Roma | 2009 | Tosca |
| The Whistleblower | 2010 | Laura Leviani |
| The Sorcerer's Apprentice | 2010 | Veronica |
| Rose, c'est Paris | 2010 | L'esprit de gala |
| Manuale d'amore 3 | 2011 | Viola |
| A Burning Hot Summer | 2011 | Angèle |
| Rhino Season | 2012 | Mina |
| Des gens qui s'embrassent (People who kiss) | 2013 | Giovanna |
| The Wonders | 2014 | Milly Catena |
| Na Quebrada | 2014 | Paola |
| Ville-Marie | 2015 | Sophie |
| Spectre | 2015 | Lucia Sciarra |
| On the Milky Road | 2016 | Nevesta |
| Mozart in the Jungle | 2016 | Alessandra |
| Twin Peaks | 2017 | Herself |
| Nekrotronic | 2018 | Finnegan |
Dubbing
| Year | Film | Role |
| --- | --- | --- |
| 2003 | Sinbad: Legend of the Seven Seas | Marina (French voice-dub) |
| 2005 | Robots | Cappy (French voice-dub) |
Awards and nominations
| Year | Award | Category | Nominated Work | Result |
| --- | --- | --- | --- | --- |
| 2003 | Italian National Syndicate of Film Journalists | Silver Ribbon for Best Supporting Actress | Ricordati di me | Won |
| 2005 | Globo d'oro | European Golden Globe | | Won |
| 1997 | César Awards | Best Promising Actress | The Apartment | Nominated |
| 2001 | European Film Awards | Audience Award for Best Actress | Malèna | Nominated |
| 2003 | Saturn Award | Best Supporting Actress | Brotherhood of the Wolf | Nominated |
| 2003 | Cinescape Genre Face of the Future Award | Best Female | The Matrix Reloaded and The Matrix Revolutions | Nominated |
| 2003 | David di Donatello Awards | Best Supporting Actress | Ricordati di me | Nominated |
| 2003 | Teen Choice Awards | Choice Movie Female Breakout Star | The Matrix Reloaded and Tears of the Sun | Nominated |
| 2004 | MTV Movie Awards | Best Kiss | The Matrix Reloaded | Nominated |
| 2005 | Italian National Syndicate of Film Journalists | Silver Ribbon for Best Supporting Actress | The Passion of the Christ | Nominated |
| 2007 | Italian National Syndicate of Film Journalists | Silver Ribbon for Best Supporting Actress | N | Nominated |
| 2017 | Italian National Syndicate of Film Journalists | European Nastro D'Argento | On the Milky Road | Won |
[ Source: Wikipedia ]