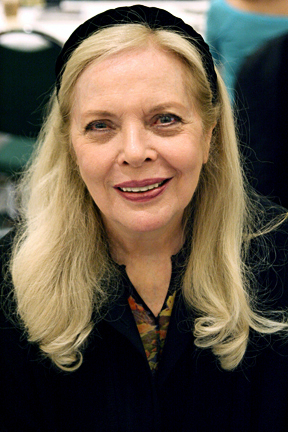 Barbara Bain
Birth name:
Mildred Fogel
Born:
September 13, 1931
Age:
92
Birthplace:
Chicago, Illinois, U.S.
Popularity:

Please login to contact Barbara Bain...
Biography
Barbara Bain (born September 13, 1931) is an American film and television actress. She is most known for co-starring in the original Mission: Impossible television series in the 1960s as Cinnamon Carter, and in the 1970s TV series Space: 1999 as Doctor Helena Russell.
Bain was born
Mildred Fogel
[1][2][3] in Chicago, the daughter of Russian Jewish immigrants.[4][5][6] She graduated from the University of Illinois with a bachelor's degree in sociology. Developing an interest in dance, she moved to New York City, where she studied alongside Martha Graham.[7] Dissatisfied with her career as a dancer, she went into modeling; jobs with
Vogue
,
Harper's
, and other publications followed.
Still uninspired, however, Bain entered the Theater Studio to study acting, first under Curt Conway, then Lonny Chapman. Progressing to the Actors Studio, she was instructed by Lee Strasberg.[8][9]
Bain's first acting role was in Paddy Chayevsky's play Middle of the Night, which embarked on a national tour in October 1957.[8][10] Accompanying Bain was fellow actor and new husband Martin Landau; the final leg of the tour brought the couple to Los Angeles, where they settled permanently.[8] After moving, Bain established herself at the Actors Studio West, where she continued to teach classes and perform scene work.[11]
Read more...
Film and television career
Bain as Cinnamon Carter on
Mission: Impossible
, 1969
Bain's earliest television appearances included CBS's Tightrope, with Mike Connors, and three ABC series: The Law and Mr. Jones with James Whitmore, Adventures in Paradise with Gardner McKay, and Straightaway with Brian Kelly and John Ashley. After a recurring role as David Janssen's romantic interest in Richard Diamond, Private Detective in 1959, she guest-starred as Madelyn Terry in a 1960 episode of Perry Mason, "The Case of the Wary Wildcatter", and in 1964 played the role of Elayna Scott in "The Case of the Nautical Knot".
In 1965, she guest-starred alongside series star Jerry Van Dyke in an episode of My Mother The Car, which also featured Avery Schreiber's recurring role of Captain Bernard Manzini. She also appeared in the 1966 final episode of the series alongside Van Dyke.
Between 1966 and 1969, Bain appeared—alongside her then-husband, Martin Landau—in the major role of Cinnamon Carter in Mission: Impossible. She won three consecutive Emmy Awards for Best Dramatic Actress for her performance in 1967, 1968, and 1969, in addition to a Golden Globe Award nomination in 1968.[12] She also starred as the character in a 1997 episode of Diagnosis: Murder. She guest starred in the October 29,1985 episode of " Moonlighting ",playing the character of Emily Greydon. She starred opposite Landau again in the science-fiction TV series Space: 1999 (1975–77), as Dr. Helena Russell, and the made-for-TV film The Harlem Globetrotters on Gilligan's Island (1981). Bain also appeared in The Dick Van Dyke Show, in the episode "Will You Two Be My Wife?", and My So-Called Life, playing the main character Angela Chase's grandmother in one episode. Other appearances include "Matryoshka", an episode of the 1990s science-fiction series Millennium.
In 1998, Bain appeared in the Walker, Texas Ranger episode "Saving Grace", as the mother superior. In 2006, she had a minor role in one episode of CSI: Crime Scene Investigation ("Living Legends"). In 2008, co-starring with her daughter Juliet Landau, Bain voiced the character of Verdona Tennyson in "What Are Little Girls Made Of?", an episode of Ben 10: Alien Force.
On April 28, 2016, Bain was honored with the 2,579th star on the Hollywood Walk of Fame, located at 6767 Hollywood Boulevard. Lifelong friends Edward Asner and Dick Van Dyke were on hand to speak and assist in the unveiling of the star.
Personal life
Bain married actor Martin Landau in 1957; they divorced in 1993. The couple have two daughters, actress Juliet Landau and film producer Susan Bain Landau Finch (born Susan Meredith Landau).[13] She has contributed to many charitable causes, including literacy. Bain suffers somewhat from claustrophobia, which the writers of Mission: Impossible incorporated into her character on the show in the episode The Exchange.[14][15]
TV and filmography
Year
Title
Role
Notes
1958
Harbormaster
Mary Owens
Episode: "The Captain's Gun"
1959
Mike Hammer
Dora Church
Episode: "Accentuate the Negative"
1959
Philip Marlowe
Donna Raymond
Episode: "Ugly Duckling" (pilot)
1959
State Trooper
Madge Slausen
Episode: "Fiddle Dee Dead"
1959
Richard Diamond, Private Detective
Karen Wells
5 episodes
1959
Mr. Lucky
Prudence
Episode: "The Money Game"
1959
Alcoa Theatre
Judy Coyne
Episode: "Small Bouquet"
1959
Tightrope
Sandra
Episode: "Cold Kill"
1960
The Law and Mr. Jones
D.J.
Episode: "Christmas Is a Legal Holiday"
1960
Perry Mason
Madelyn Terry
Episode: "The Case of Wary Wildcatter"
1960-1961
Adventures in Paradise
Martha Peterson
2 episodes
1962
Straightaway
Melody
Episode: "The Craziest Race in Town"
1963
The Dick Van Dyke Show
Dorothy
Episode: "Will You Two Be My Wife?"
1963
Hawaiian Eye
Anne Munroe
Episode: "Two Million Too Much"
1963
Empire
June Bates
Episode: "Hidden Asset"
1963
The Many Loves of Dobie Gillis
Veronica
Episode: "I Was a Spy for the F.O.B."
1963
The Lieutenant
Cissie Van Osten
Episode: "A Touching of Hands"
1963
77 Sunset Strip
Rachel Dent
Episode: "By His Own Verdict"
1963
Wagon Train
Lucy Garrison
Episode: "The Fenton Canaby Story"
1964
The Greatest Show on Earth
Betty
Episode: "The Night the Monkey Died"
1964
Ben Casey
Tutor
Episode: "A Woods Full of Question Marks"
1964
Perry Mason
Elayna Scott
Episode: "The Case of Nautical Knot"
1964
Valentine's Day
Unknown
Episode: "The Old School Tie"
1965
Get Smart
Alma
Episode: "KAOS in CONTROL"
1965-1966
My Mother The Car
Inge
Frankie
Episode: "I'm Through Being A Nice Guy"
Episode: "Desperate Minutes"
1966-1969
Mission: Impossible
Cinnamon Carter
78 episodes
Primetime Emmy Award for Outstanding Lead Actress in a Drama Series
Nominated—Golden Globe Award for Best Actress - Television Series Drama
1969
The Red Skelton Show
Newspaperwoman
Episode: "Crime Doesn't Pay But It's Tax Free"
1971
Murder Once Removed
Lisa Manning
TV movie
1973
Savage
Gail Abbot
TV movie
1975-1977
Space: 1999
Dr. Helena Russell
48 episodes (the only character to appear in every single episode)
1981
The Harlem Globetrotters on Gilligan's Island
Dr. Olga
TV movie
1984
Mickey Spillane's Mike Hammer
Julia Huntley
Episode: "A Death in the Family"
1985
Moonlighting
Emily Greydon
Episode: "My Fair David"
1987
Scarecrow and Mrs. King
Christina Golitsyn
Episode: "The Khrushchev List"
1987
CBS Summer Playhouse
Julie Barrington
Episode: "Barrington"
1988
Murder, She Wrote
Nora Morgan
Episode: "Coal Miner's Daughter"
1989
Skinheads
Martha
1990
The Spirit of '76
Hipster
1991
Murder, She Wrote
Ellen Lombard
Episode: "Unauthorized Obituary"
1992
Likely Suspects
Buffy Hines-Baldi
Episode: "Pilot"
1994
My So-Called Life
Vivian Wood
Episode: "Other People's Mothers"
1997
The Visitor
Constance MacArthur
Episode: "Reunion"
1997
Diagnosis: Murder
Cinnamon Carter
Episode: "Discards"
1998
Walker, Texas Ranger
Mother Superior
Episode: "Saving Grace"
1999
Millennium
Lilly Unser
Episode: "Matryoshka"
1999
Gideon
Sarah
2000
Panic
Deidre
2002
American Gun
Anne Tillman
2003
Strong Medicine
Mrs. March
Episode: "Orders"
2003
Tracey Ullman in the Trailer Tales
Judy Utemeyer
TV movie
2006
CSI: Crime Scene Investigation
Mrs. Iris Paul
Episode: "Living Legend"
2008
Ben 10: Alien Force
Verdona
Episode: "What Are Little Girls Made Of?"
2009
Forget Me Not
Sister Dolores
2010
Nothing Special
Catherine
2015
Silver Skies
Eve
2016
Code Black
Blanche
Episode: "Exodus"
2018
Reconnected
Gloria
[ Source: Wikipedia ]