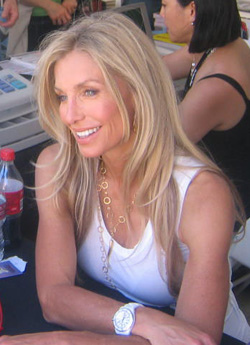 Heather Thomas
Birth name:
Heather Anne Thomas
Born:
September 8, 1957
Age:
66
Birthplace:
Greenwich, Connecticut, United States
Popularity:

Please login to contact Heather Thomas...
Biography
Heather Anne Thomas (born September 8, 1957)[1] is an American actress, author, and political activist, who co-starred as Jody Banks on the TV series The Fall Guy.
Thomas was born in Greenwich, Connecticut, to Gladdy Lou Ryder, a special education teacher in the Santa Monica-Malibu Unified School District. She graduated from Santa Monica High School in 1975 and went on to attend UCLA School of Theater, Film and Television, graduating in 1980. While at UCLA, she was a member of the Chi Omega sorority.
Read more...
Career
Thomas started acting at age 14, when she was one of the hosts of a series on NBC called Talking with a Giant, where she interviewed celebrities.[2] In 1978, she began acting in small television roles; she appeared in the series Co-Ed Fever, of which she later said, "It was cancelled after the third commercial."[3]
After Co-Ed Fever's cancellation, Thomas was chosen for the role of Jody Banks in The Fall Guy, which starred Lee Majors and was produced by Glen Larson, from its 1981 premiere to its 1986 cancellation. Thomas became addicted to cocaine during her run in the program, and entered rehabilitation for that addiction in 1984.[2] She appeared in several movies, the first of which was Zapped! in 1982, but she gave up acting in 1998. Thomas appeared on numerous pin-up posters during the 1980s.
Following her acting career, Thomas wrote a screenplay called School Slut and sold it to Touchstone Pictures for a figure reported as "mid-six-figure."[4] Touchstone did not make the film, however, and Thomas acquired the rights to produce it herself.[2]
In April 2008, Thomas's first novel, Trophies, was published by William Morrow.[5]
Personal life
Thomas married Allan Rosenthal in August 1985; Rosenthal is one of the founders of Cocaine Anonymous;[6] they divorced in September 1986.[7] In September 1986, Thomas was struck by a car while crossing San Vicente Boulevard, and she sustained serious injuries to both of her legs.[8] In October 1992, Thomas married entertainment attorney Skip Brittenham.[9] Their daughter, whom they named India Rose, was born on June 19, 2000.
Activism
Thomas and Brittenham became joint hosts of a monthly fund-raising breakfast gathering at their home in Santa Monica, California, which became known in Washington as the "L.A. Cafe".[10][11] Thomas serves on the advisory boards of the Rape Foundation[12] and Amazon Conservation Team.[13] According to newsmeat.com, Thomas contributed over US$280,000 to political candidates since 1992, mostly to Democratic and special-interest groups, such as Sen. Barbara Boxer (D-CA), Sen. Elizabeth Warren (D-MA), and Sen. Al Franken (D-MN), with $2,400 towards supporting Republican Mary Bono.[citation needed]
Filmography
Film
Year
Film
Role
Notes
1982
Zapped!
Jane Mitchell
1987
Cyclone
Teri Marshall
Kiss of the Cobra
Merryl Davis
Alternative titles: Death Stone
Der Stein des Todes
1990
Red Blooded American Girl
Paula Bukowsky
1993
Hidden Obsession
Ellen Carlyle
1997
Against the Law
Felicity
1998
My Giant
Showgirl
2014
Girltrash: All Night Long
Nadine Robson
Television
Year
Title
Role
Notes
1978
David Cassidy: Man Undercover
Caryl Manning
1 episode
1979
Co-Ed Fever
Sandi
1 episode
California Fever
Joanne
1 episode
1980
B. J. and the Bear
Caroline Capote
1 episode
The Misadventures of Sheriff Lobo
Caroline Capote
1 episode
1981-1986
The Fall Guy
Jody Banks
111 episodes
1983
The Love Boat
Sheila
2 episodes
1984
T. J. Hooker
Sandy
1 episode
Cover Up
Amber
1 episode
1987
The New Mike Hammer
Andrea
1 episode
Ford: The Man and the Machine
Evangeline Cote
Television movie
Nominated: Gemini Award for Best Performance by a Supporting Actress
Hoover vs. The Kennedys: The Second Civil War
Marilyn Monroe
Television movie
1988
The Dirty Dozen: The Fatal Mission
Lt. Carol Campbell
Television movie
1989
Rodney Dangerfield: Opening Night at Rodney's Place
Joan Emery
Television movie
1990
Flair
Tessa Clarke
Miniseries
1991
P.S. I Luv U
Mary Markham
1 episode
1992
Swamp Thing: The Series
Tatania
1 episode
1995
Pointman
Lynn Forbes
1 episode
Charities
Heather Thomas supports the following charitable cause: Rape/Sexual Abuse.
[ Source: Wikipedia ]