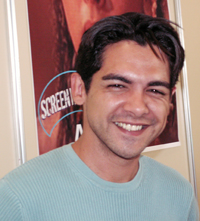 Alexis Cruz
Born:
September 29, 1974
Age:
49
Birthplace:
Los Angeles, California
Popularity:

Please login to contact Alexis Cruz...
Biography
Alexis Cruz (born September 29, 1974) is an American actor, known for his performances as Rafael in Touched by an Angel and as Skaara in Stargate and Stargate SG-1.
Cruz was born in Los Angeles of Puerto Rican descent. His mother, Julia, was a songwriter.[1] He currently resides in Los Angeles. He started his actor´s career when he was 9. However, when he was 13, and was auditioning for a role, the director explained to him that he was a bad actor, so Cruz decided to enter The School of Performing Arts that same year.[2]
Cruz appeared as assistant D.A. Martin Allende in the legal drama Shark, with co-stars James Woods and Jeri Ryan. In the 1998 film Why Do Fools Fall In Love, Cruz played the role of Herman Santiago, one of the original members of the rock and roll group The Teenagers. Along with Erick Avari, he is one of only two actors to appear in both the original Stargate film and the spin-off series Stargate SG-1.
Read more...
Filmography
Film
| Year | Film | Role | Notes |
| --- | --- | --- | --- |
| 1987 | The Pick-up Artist | Charlie | |
| 1989 | Rooftops | Squeak | |
| 1990 | Gryphon | Ricky | |
| 1994 | Stargate | Skaara | |
| 1997 | The Brave | Weyman | |
| 1998 | Why Do Fools Fall in Love | Herman Santiago | |
| 1999 | Learning to Swim | Guillermo | Short film |
| 2000 | That Summer in LA | Smiley | |
| 2002 | Bug | Sung | |
| 2003 | DarkWolf | Miguel | Video |
| 2004 | Spectres | Sean | |
| 2004 | Stand Up for Justice: The Ralph Lazo Story | Ralph Lazo | Short film |
| 2007 | Tortilla Heaven | Marco | |
| 2009 | Drag Me to Hell | Farm Worker | |
| 2014 | Altergeist | Mike | |
Television
| Year | Television Show | Role | Notes |
| --- | --- | --- | --- |
| 1984 | The Cosby Show | Enrique Terron | 1 episode |
| 1990 | The Old Man and the Sea | Manolo | Miniseries |
| 1991 | Sesame Street | Alex | 1 episode |
| 1995 | Streets of Laredo | Joey Garza | Miniseries |
| 1995 | Price of Love | Alberto | TV movie |
| 1996 | Grand Avenue | Raymond | TV movie |
| 1997 | Riot | Carlos | TV movie |
| 1997 | Detention: The Siege at Johnson High | Frankie Rodriguez | TV movie |
| 1997-2003 | Stargate SG-1 | Skaara/Klorel | 6 episodes |
| 1997-2003 | Touched by an Angel | Rafael | 16 episodes |
| 2001 | Almost a Woman | Nestor | TV movie |
| 2004 | CSI: Crime Scene Investigation | Phillip Riley | 1 episode |
| 2006 | Slayer | Alex | TV movie |
| 2006-2007 | Shark | Martin Allende | 11 episodes |
| 2012 | Eagleheart | Scatman's little brother | 1 episode |
| 2013 | Castle | Lyle Gomez | 1 episode |
Other
L.A. Noire (2011) (video game) .... LAPD Patrolman Enrique Gonzales
[ Source: Wikipedia ]