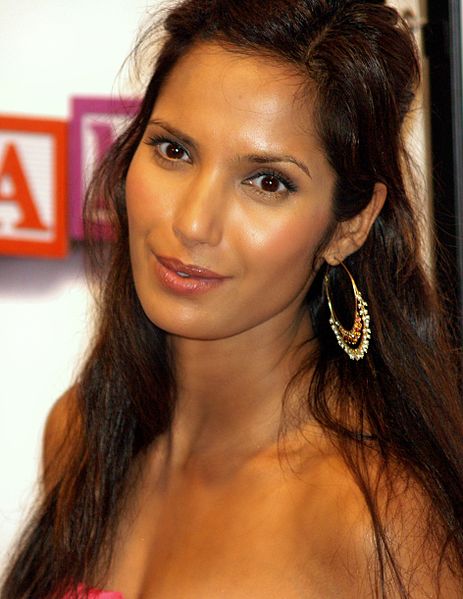 Padma Lakshmi
Birth name:
Padma Parvati Lakshmi Vaidynathan
Born:
September 1, 1970
Age:
52
Birthplace:
Chennai, Tamil Nadu, India
Popularity:

Please login to contact Padma Lakshmi...
Biography
Padma Lakshmi ( Tamil: பத்மா லட்சுமி, ; born Padma Parvati Lakshmi Vaidynathan; September 1, 1970)[1] is an American author, actress, model, television host, and executive producer. Her debut cookbook Easy Exotic won her the "Best First Book" award at the 1999 Gourmand World Cookbook Awards. She has been the host of the US reality television program Top Chef since season two in 2006 (entering season 16 December 2018) for which she received an Emmy nomination in 2009 for the Outstanding Reality Host. Her debut memoir Love, Loss and What We Ate was released on International Women's Day, March 8, 2016.
Padma Parvati Lakshmi Vaidynathan was born in Madras (now Chennai), India.[2][3][4][5][6] Her mother, Vijaya, is a retired oncologist. Her father is a retired executive with the pharmaceutical company Pfizer. She hails from Tamil Brahmin Community.[7]
Lakshmi grew up shuttling between her grandparents in Chennai and her mother in New York.[6][8][9] She was sexually assaulted as a small girl. She wrote in the New York Times, "When I was 7 years old, my stepfather's relative touched me between my legs and put my hand on his erect penis. Shortly after I told my mother and stepfather, they sent me to India for a year to live with my grandparents. The lesson was: If you speak up, you will be cast out."[10]
In 1984, when Lakshmi was 14 years old, she was hospitalized for three weeks, and eventually diagnosed with Stevens-Johnson syndrome, which is caused by hypersensitivity to an infection or certain kinds of medications. Two days after her discharge from the hospital, she was injured in a car accident in Malibu, California, which left her with a fractured right hip and a shattered right upper arm.[11] The arm injury required surgery, which left her with a seven-inch scar between her elbow and shoulder.
As a teenager growing up in Los Angeles, Lakshmi was bullied and endured racial taunts from other minority classmates, which caused her to struggle to overcome "internalized self-loathing."[12]
At the age of sixteen, Lakshmi was raped. She revealed the 1986 sexual assault in 2018. She wrote, "It took me decades to talk about this with intimate partners and a therapist. Now, 32 years after my rape, I am stating publicly what happened. I am speaking now because I want us all to fight so that our daughters never know this fear and shame and our sons know that girls' bodies do not exist for their pleasure and that abuse has grave consequences."[10]
Read more...
Education
Lakshmi graduated from William Workman High School in City of Industry, California, in 1988. She is a 1992 graduate of Clark University, in Worcester, Massachusetts, where she earned a BA with honors in theater arts.[13] During her time in school, she studied abroad in Madrid, where her modeling career began.[citation needed]
Lakshmi speaks English, Italian, Tamil and Hindi.[14]
Career
Lakshmi at the Metropolitan Opera, September 2006
Modeling
Lakshmi's modeling career began at age 21. While studying abroad in Madrid, she was discovered by an agent at a café.[6] She has said, "I was the first Indian model to have a career in Paris, Milan, and New York. I'm the first one to admit that I was a novelty."[15] Lakshmi was able to pay off her college loans by working as a model and actress.
Lakshmi has modeled for designers such as Emanuel Ungaro, Giorgio Armani, Gianni Versace, Ralph Lauren, and Alberta Ferretti, and appeared in ad campaigns for Roberto Cavalli and Versus.[16] She was a favorite model of the photographer Helmut Newton, whose photographs of her often highlighted the large scar on her right arm.[17]
Lakshmi has appeared on the covers of Redbook, Vogue India, FHM, Cosmopolitan, L'Officiel India, Asian Woman, Avenue, Industry Magazine, Marie Claire (India Edition), Harper's Bazaar, Town & Country, and Newsweek.[18] She also posed nude for the May 2009 issue of Allure.[19]
Books
Her first cookbook, Easy Exotic, a compilation of international recipes and short essays, was awarded Best First Book at the 1999 Gourmand World Cookbook Awards at Versailles. She hosted the Food Network series Padma's Passport, which was part of the larger series Melting Pot in 2001, where Lakshmi cooked recipes from around the world. She also hosted two one-hour specials on South India and Spain for the British culinary tourism show Planet Food, broadcast on the Food Network in the U.S. and internationally on the Discovery Channels.[20] Her second cookbook, Tangy, Tart, Hot and Sweet, was released on October 2, 2007.[21] Her first memoir, "Love, Loss and What We Ate," was released on International's Women's Day, March 8, 2016. Lakshmi released the "Encyclopedia of Spices and Herbs" in October 2016.
Film and television
Lakshmi's first film roles were in the Italian pirate movies Il figlio di Sandokan and Caraibi (Pirates: Blood Brothers). She had a comical supporting part as the lip-synching disco singer Sylk in the 2001 American movie Glitter, starring Mariah Carey. Lakshmi starred in the 2003 film Boom as Sheila Bardez, one of a trio of supermodels accused of stealing diamonds. She played the role of Geeta in Paul Mayeda Berges's 2005 film The Mistress of Spices. Lakshmi also made a guest appearance on the NBC series 30 Rock in 2009, and appeared on Whose Line Is It Anyway? in 2014.
Lakshmi served as hostess of Domenica In, Italy's top-rated television show, in 1997.[22] In 2002, she made a guest appearance as alien princess Kaitaama in "Precious Cargo," the 37th episode of the science fiction TV series Star Trek: Enterprise. Lakshmi portrayed Sean Bean's nemesis Madhuvanthi in the 2004-05 TV series Sharpe's Challenge. In 2006, Lakshmi appeared in ABC's TV series The Ten Commandments with Dougray Scott, Naveen Andrews, and Omar Sharif.
She serves as the host and one of the judges on the television show Top Chef, having joined in 2006 during its second season. Top Chef was nominated for the Primetime Emmy Award for Outstanding Reality-Competition Program in 2007. Lakshmi was nominated for the Emmy Award for Outstanding Host for a Reality or Reality-Competition Program in 2009 for Top Chef. The show won the Emmy for Outstanding Reality-Competition Program in 2010. Lakshmi also serves as an executive producer of the show.
Merchandise
In 2009 Lakshmi launched her first line of jewelry, "Padma". She also has two tableware collections. The first, "The Padma Collection," is a line of dinnerware composed of Moroccan ceramics and Turkish glass. The second, Easy Exotic, is a line of more casual kitchenware. Under the Easy Exotic brand, Lakshmi also has a line of specialty spices and teas as well as a line of organic frozen rices.
Editorial writing
Lakshmi had a syndicated column in The New York Times and has written articles on style for the American edition of Vogue, at editor Anna Wintour's request. She also wrote a column on style for Harper's Bazaar (UK and US editions), following a commission from editor Glenda Bailey.
Music video
In 2009, Lakshmi starred in the video for the Eels song "That Look You Give That Guy," playing the love interest of Mark Oliver Everett.[23]
Personal life
On April 17, 2004, after living with him for three years, Lakshmi married novelist Salman Rushdie, who dedicated his novel Fury to her.[24] On July 2, 2007, the couple filed for divorce.[25] Lakshmi conceived a daughter with capitalist Adam Dell while on a break in a relationship with Teddy Forstmann (former chairman and CEO of IMG). Her daughter, Krishna Thea, was born on February 20, 2010.[26][27][28][29] Dell, Krishna's father, has joint custody.[26][27][28][29]
At age 36, Lakshmi was diagnosed with endometriosis,[30] from which she has suffered since early adolescence. "I was told by my mother that this was just our lot in life, because I'm sure that's what she was told by her mother," says. "So I expected the pain, saw my mother go through it in fact, month in and month out." Lakshmi had two ovarian cysts removed when she was 30, but her doctor did not inform her that she had a chronic condition that needed to be monitored. In 2005, she was rushed to the hospital because of severe abdominal cramps. "It turned out that some endometrial tissue had wrapped itself around my small intestine like a tourniquet," she recalls. "The gastroenterological surgeon who called this tissue 'scar tissue' said that he snipped it off and that I should be fine. Again, I was far from fine, and all of the symptoms I had came raging back with my next period."
Philanthropy
Lakshmi is a co-founder of The Endometriosis Foundation of America, a nonprofit organization focused on increasing awareness, education, research, and legislative advocacy against the disease.[31][32] The foundation was instrumental in the opening of the MIT Center for Gynepathology Research, where Lakshmi gave the keynote address.[33] Lakshmi is a global ambassador for Keep a Child Alive, and since 2007 has traveled to sites in India on their behalf. She is also a strong advocate of women's rights.[34]
Selected filmography
Year
Title
Notes
Role
1995
Unzipped
Documentary (High Fashion)
Herself
1997
Domenica In
TV Series (Italy)
Host
1998
Il Figlio di Sandokan
TV Series (Italian, Drama)
1999
Caraibi - Pirates: Blood Brothers
TV Series (Italian, Adventure)
Malinche
2000
Linda e il brigadiere
ep: "Il fratello di Linda"
TV Series (Italian, Comedy)
Indian Lady
Planet Food
Documentary (Cooking)
Host
2001
Glitter
Film (US, Drama)
Sylk
Melting Pot: Padma's Passport
TV Series (US, Cooking)
Host
2002
Star Trek: Enterprise
episode: "Precious Cargo"
TV Series (US, Sci-Fi)
Kaitaama
2003
Boom
Film (Indian, Drama)
Shiela Bardez
2005
The Mistress of Spices
Film (Drama)
Geeta
2006
The Ten Commandments
TV Series (US, Biblical)
Princess Bithia
Sharpe
episode: "Sharpe's Challenge"
TV Series (Action/History/War)
Madhuvanthi
2006-
Top Chef
TV Series (US, Reality/Cooking)
Host / Judge
2009
30 Rock
episode: "The Problem Solvers"
TV Series (US, Comedy)
Herself
2014
Whose Line Is It Anyway?
TV Series (US, Comedy)
Herself
2014
Exclusion
2018
RuPaul's Drag Race
TV Series (US, reality competition show)
Herself, guest judge
[ Source: Wikipedia ]