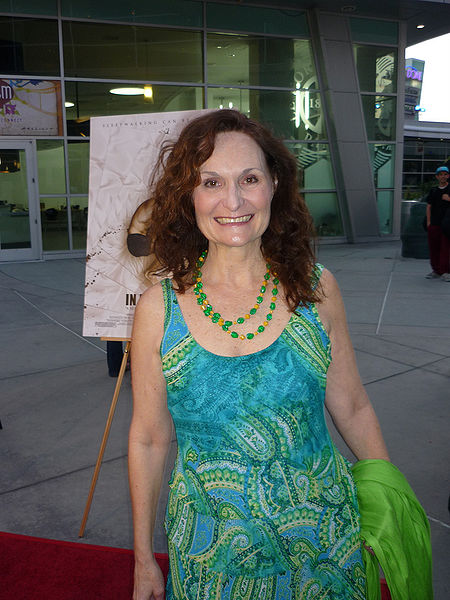 Beth Grant
Born:
September 18, 1949
Age:
74
Birthplace:
Gadsden, Alabama, U.S.
Popularity:

Please login to contact Beth Grant...
Biography
Beth Grant (born September 18, 1949)[1] is an American character actress known for often playing conservatives, religious zealots, or sticklers for rules. Between 2012 and 2017, she was a series regular on the television comedy The Mindy Project portraying the role of Beverly Janoszewski. She is also known for her recurring role Gracie Leigh in the CBS post-apocalyptic drama Jericho, and for playing Marianne Marie Beetle, a recurring character in the Bryan Fuller series Wonderfalls, Pushing Daisies, and Mockingbird Lane.
She has appeared in the films No Country for Old Men, Speed, Donnie Darko, The Artist, Child's Play 2, Rain Man, Flatliners, Little Miss Sunshine, Sordid Lives, Dear Lemon Lima, Bad Words and Jackie.
Grant was born on September 18, 1949 in Gadsden, Alabama.[1] She grew up in Kenansville, North Carolina. Her father was a poultry specialist and salesman.[2] Her mother worked as a manager for the North Carolina Employment Security Commission and was an activist for the Equal Rights Amendment. Grant credits her mother for providing the inspiration to become an actress.[2] She graduated from East Carolina University, Greenville, North Carolina with a Bachelor of Fine Arts in Acting and Directing in 1973 and then travelled to New York to pursue a career in acting.[2][3]
Read more...
Career
She has appeared in dozens of films, including three Oscar Best Picture winners: Rain Man; Speed; To Wong Foo, Thanks for Everything! Julie Newmar; Love Field; Donnie Darko; A Time to Kill; Little Miss Sunshine; Child's Play 2; Daltry Calhoun; City Slickers II: The Legend of Curly's Gold; Don't Tell Her It's Me; Matchstick Men; Factory Girl; The Wizard; Sordid Lives; The Rookie; All About Steve; No Country for Old Men, Extract, Crazy Heart, Rango, Hollywood to Dollywood (as herself), and Dance with Me[4][better source needed].
Grant has also appeared in many TV shows, including Everwood; Delta; The Golden Girls; Malcolm in the Middle; The X-Files; Friends; CSI; Six Feet Under; Wonderfalls; Pushing Daisies; My Name Is Earl; Yes, Dear; King of the Hill; The Office; Angel; Judging Amy; Jericho; Sordid Lives: The Series; Criminal Minds, Sabrina The Teenage Witch; True Blood; How I Met Your Mother; Modern Family; The Mentalist; and The Mindy Project.
Grant played the same character, Marianne Marie Beetle, in the short-lived show Wonderfalls and Pushing Daisies, both created by Bryan Fuller, and portrays the similarly named "Marie" in Mockingbird Lane, Fuller's re-imagining of The Munsters.
Grant guest starred as Gillian, Brady Kelly's mother, in the third season of the acclaimed sitcom Husbands.[5][6]
Inspired by Mindy Kaling, Grant is also in the process of writing a Broadway musical, set in 1969 Greenwich Village.[7]
Personal life
She is married to actor Michael Chieffo and has one daughter, actress Mary Chieffo. Grant lives with her family in the neighborhood of Valley Village, Los Angeles in California.[2]
Filmography
Grant at the premiere of
In My Sleep
in 2010
Film
| Year | Title | Role | Notes |
| --- | --- | --- | --- |
| 1987 | Undercover | Miss Randolph | First film role |
| 1988 | Rain Man | Mother at Farm House | First major film role |
| 1989 | The Wizard | Diner Manager | |
| 1990 | Flatliners | Housewife | |
| 1990 | Don't Tell Her It's Me | Babette | |
| 1990 | Welcome Home, Roxy Carmichael | Lillian Logerfield | |
| 1990 | Child's Play 2 | Miss Kettlewell | |
| 1990 | Eating | Carla | |
| 1992 | White Sands | Roz Kincaid | |
| 1992 | Love Field | Hazel | |
| 1993 | The Dark Half | Shayla Beaumont | |
| 1994 | Speed | Helen | |
| 1994 | City Slickers II: The Legend of Curly's Gold | Lois | |
| 1995 | Safe | Becky - Auditorium Speaker | |
| 1995 | To Wong Foo, Thanks for Everything! Julie Newmar | Loretta | |
| 1995 | Lieberman in Love | Linda Baker | Short film |
| 1996 | A Time to Kill | Cora Mae Cobb | |
| 1996 | Love Always | Stephanie | Lost film |
| 1997 | A Thousand Acres | Roberta | |
| 1997 | Lawn Dogs | Trent's Mother | |
| 1997 | Interruptions | Peggy, the Mistress | |
| 1998 | Doctor Dolittle | Woman | |
| 1998 | Dance with Me | Lovejoy | |
| 1998 | Making Sandwiches | Mrs. Hellman | Short film |
| 1998 | Angelmaker | Mrs. Turcott | Short film |
| 2000 | Sordid Lives | Sissy Hickey | |
| 2001 | Donnie Darko | Kitty Farmer | |
| 2001 | The Rising Place | Melvina Pou | |
| 2001 | Pearl Harbor | Motherly Secretary | |
| 2001 | Rock Star | Mrs. Cole | |
| 2002 | Desert Saints | Lou | |
| 2002 | The Rookie | Olline | |
| 2002 | Birdseye | Ruth Betters | |
| 2003 | Judge Koan | Brenda Lundy | |
| 2003 | Matchstick Men | Laundry Lady | |
| 2003 | Evil Aliens Conquers | Sheila | |
| 2004 | Sweet Union | Mama Iris Bailey | Short film |
| 2004 | A One Time Thing | Mom | |
| 2005 | Our Very Own | Virginia Kendal | |
| 2005 | Homefront | Pam | Short film |
| 2005 | Daltry Calhoun | Dee | |
| 2005 | Hard Pill | Mom | |
| 2006 | Little Miss Sunshine | Pageant Official Jenkins | |
| 2006 | Hard Scrambled | Alice | |
| 2006 | Hot Tamale | Dori Woodriff | |
| 2006 | Southland Tales | Dr. Inga Von Westphalen / Marion Card | |
| 2006 | The House of Usher | Mrs. Thatcher | |
| 2006 | Flags of Our Fathers | Mother Gagnon | |
| 2006 | Factory Girl | Julia Warhol | |
| 2006 | These Days | Maureen | |
| 2006 | Rocker | Mrs. Hill | |
| 2007 | Magnus, Inc. | Magnus' Mom | Short film |
| 2007 | The Ungodly | Emma Lemac | |
| 2007 | No Country for Old Men | Agnes Kracik | |
| 2007 | Welcome to Paradise | Frances Loren | |
| 2008 | Natural Disasters | Beth | |
| 2008 | Henry Poole is Here | Josie | |
| 2008 | Hide | Candy | |
| 2008 | No Place Like Home | Mom | Short film |
| 2008 | Polar Opposites | General Railen | |
| 2008 | Winged Creatures | Carla's Mom | |
| 2009 | Dear Lemon Lima | Principal Applebomb | |
| 2009 | Door Prize | N/A | Short film |
| 2009 | Extract | Mary | |
| 2009 | All About Steve | Mrs. Horowitz | |
| 2009 | Stolen | Older Edvena | |
| 2009 | Abracadabra | Patti | Short film |
| 2009 | Herpes Boy | Mom | |
| 2009 | Crazy Heart | JoAnn | |
| 2010 | In My Sleep | Evelyn | |
| 2010 | Spork | Principal Tulip | |
| 2010 | Operation: Endgame | Susan | |
| 2011 | Rango | Bonnie | Voice role |
| 2011 | Sedona | Deb | |
| 2011 | Life of Lemon | Phyllis | |
| 2011 | Valley of the Sun | Marva | |
| 2011 | The Artist | Peppy's Maid | |
| 2011 | Serenity House | Judith Levine-Bluestone | Short film |
| 2011 | Mister Handsome | Emily's Mom | Short film |
| 2012 | Swerve | Alsa | |
| 2012 | Blues for Willadean | Willadean Winkler | |
| 2013 | Miss Dial | Mrs. Wojiechowski | |
| 2013 | The Violation | Linda Helm | Short film |
| 2013 | As I Lay Dying | Addie Bundren | |
| 2013 | Bad Words | Irene | |
| 2014 | The Midnight Swim | Amelia Brooks | |
| 2014 | Alex of Venice | Teacher | |
| 2014 | Just Before I Go | Mrs. Lawrence | |
| 2014 | Faults | Evelyn | |
| 2015 | Addicted to Fresno | Tilda | |
| 2015 | Band of Robbers | Widow Douglass | |
| 2016 | Jackie | Lady Bird Johnson | |
| 2017 | Heartland | Crystal | |
| 2017 | Lucky | Elaine | |
| 2017 | The Concessionaires Must Die! | Coupon Lady | |
| 2017 | The Long Home | Mrs. Winer | Post-production |
Television
| Year | Title | Role | Notes |
| --- | --- | --- | --- |
| 1979 | B.J. and the Bear | Miss | First onscreen role |
| 1986 | CBS Schoolbreak Special | Waitress | Episode: God, the Universe & Hot Fudge Sundaes |
| 1987 | Deadly Care | Madge | Made-for-TV Movie |
| 1987 | Santa Barbara | Nurse | Episode: 1,748 |
| 1987 | Hooperman | N/A | Episode: The Answer My Friend Is Passing in the Wind |
| 1987 | Mr. Belvedere | Mrs. Meyers | Episode: G.I. George |
| 1989 | I Know My First Name Is Steven | Mrs. Beta | Miniseries |
| 1989-91 | The Golden Girls | Louise/Terry Franco | 2 episodes: Two separate roles for each episode |
| 1989-93 | Coach | Martha/Maid | Recurring role: 7 episodes |
| 1990 | The Image | Martha Packard | Made-for-TV movie |
| 1990 | Empty Nest | Helen | Episode: M.D., P.O.V. |
| 1990 | Fall from Grace | Paulene | Made-for-TV movie |
| 1990 | The Outsiders | Mrs. Jones | Episode: Union Blues |
| 1990 | Dragnet | Mrs. Furber | Episode: Pretty Girl |
| 1990 | Hunter | Dottie Pinder | 2 episodes |
| 1991 | Switched at Birth | Sophie | Made-for-TV movie |
| 1992 | Overkill: The Aileen Wuornos Story | Pat McGinty | Made-for-TV movie |
| 1992-93 | Delta | Thelma Wainwright | First series regular role |
| 1993 | Bakersfield P.D. | Donna Stiles | Recurring role: 2 episodes |
| 1993 | Dream On | Farm Woman | Episode: Silent Night, Holy Cow Part II |
| 1994 | Murder, She Wrote | Meg Thomas | Episode: Roadkill |
| 1994 | Sweet Justice | Mrs. Farragut | Episode: High School Confidential |
| 1994 | Friends | Lizzy | Episode: The One with the Thumb |
| 1995 | Sister Sister | Angie | Episode: Weird Science (Season 3) |
| 1996 | Norma Jean & Marilyn | Grace Goddard | Made-for-TV movie |
| 1996-98 | Something so Right | Nurse Gruber | Recurring role: 2 episodes |
| 1997 | The Pretender | Mrs. Haring | Episode: Bomb Squad |
| 1997 | To Dance with Olivia | N/A | |
| 1997 | Goode Behavior | Pearl | Episode: Goode Behavior |
| 1997 | Desert's Eagle | N/A | TV short |
| 1997-98 | Sabrina, the Teenage Witch | Mrs. Grant / Mrs. Popowski | Recurring role: 3 episode (Two separate roles) |
| 1998 | Profiler | Cook | Episode: Birthright |
| 1998 | Cybill | Waiter's Mother | Episode: Whose Wife Am I, Anyway? |
| 1998 | Maximum Bob | Inez Crowe | Recurring role: 5 episodes |
| 1998 | Maggie Winters | Beatrice | Episode: Suburban Myth |
| 1998 | Five Houses | Arlene | Made-for-TV movie |
| 1998-2010 | King of the Hill | Various voices | 11 episodes |
| 1999 | Two Guys and a Girl | Tufts College Employee | Episode: Two Guys, a Girl and Graduation |
| 1999 | Providence | Lillian Gerrish | Episode: If Memory Serves |
| 1999 | Blue Valley Songbird | Ruby | Made-for-TV movie |
| 1999 | Angel | Maude Pearson | Episode: Rm w/a Vu |
| 2000 | The X-Files | Iris Finster | Episode: "Signs and Wonders" |
| 2000-03 | Malcolm in the Middle | Dorene Hooper | recurring role: 2 episodes |
| 2001 | Diagnosis: Murder | Penelope | Episode: No Good Deed |
| 2001 | Murder, She Wrote: The Last Free Man | Louisa Ashland | Made-for-TV movie |
| 2001 | Any Day Now | Dorothy Johnson | Episode: Everyone Deserves to Be Loved |
| 2001 | Judging Amy | Principal Mott | Episode: Darkness for Light |
| 2001-04 | Yes, Dear | Kitty Hughes | Recurring role: 4 episodes |
| 2002 | CSI: Crime Scene Investigation | Sally Roth | Episode: The Execution of Catherine Willows |
| 2002-03 | Everwood | Miss Violet | Recurring role: 3 episodes |
| 2003 | Boomtown | Landlady | Episode: Lost Child |
| 2004 | Six Feet Under | Dorothy Sheedy | Episode: In Case of Rapture |
| 2004 | A Thief of Time | Ranger Mildred Luna | Made-for-TV movie |
| 2004 | Wonderfalls | Marianne Marie Beetle | Episode: Muffin Buffalo |
| 2004 | JAG | Senator Maria Tsangrides | Episode: Whole New Ball Game |
| 2005 | Mystery Woman: Mystery Weekend | Angela | Made-for-TV movie |
| 2005 | 8 Simple Rules | Mrs. Whitley | Episode: Freaky Friday |
| 2006 | My Name is Earl | Lorraine Mariano | Episode: Van Hickey |
| 2006-07 | Jericho | Gracie Leigh | Recurring role: 10 episodes |
| 2007 | Drive | The Waitress | Episode: Partners |
| 2007 | Bones | Lizbeth Harding | Episode: The Secret in the Soil |
| 2007 | Polly and Marie | Bell | Made-for-TV movie |
| 2008 | According to Jim | Mrs. Whitney | Episode: All Dolled Up |
| 2008 | Sordid Lives: The Series | Sissy Hickey | Series regular |
| 2008 | Pushing Daisies | Marianne Marie Beetle | Episode: Comfort Food |
| 2008, 2013 | The Office | Melvina | 2 episodes: "Dinner Party" & "Junior Salesman" |
| 2010 | Medium | Librarian | Episode: "Dear Dad" |
| 2010 | Criminal Minds | Anita Weld Roycewood | Episode: "Mosley Lane" |
| 2010 | A Drop of True Blood | Joanne Smallwood | Webseries: "Episode - Bill" |
| 2011 | Futurestates | June | Episode: "Spring of Sorrow" |
| 2011 | American Dad! | (voice) | Episode: "Gorillas in the Mist" |
| 2012 | Modern Family | Maxine | Episode: "Tableau Vivant" |
| 2012 | BlackBoxTV | Mom/Donna | Episode: "AEZP: The Hollow" |
| 2012 | Dexter | Donna Randall | Episode: "Buck the System" |
| 2012 | Mockingbird Lane | Marianne Marie Beetle | Made-for-TV movie |
| 2012-17 | The Mindy Project | Beverly | Main cast (season 1-6) |
| 2013 | Justified | Mother Truth | Episode: "Where's Waldo" |
| 2013 | Grey's Anatomy | Sheila Olsen | Episode: "The End Is the Beginning Is the End" |
| 2013 | The Secret Life of the American Teenager | Victoria | Recurring role: 2 episodes |
| 2013 | Husbands | Gillian Kelly | Episode: "I Do Over" |
| 2013 | The Millers | Myra | Episode: "Giving the Bird" |
| 2014 | I Didn't Do It | Judy Tanzer-Dinkins | Episode: "Now Museum, Now You Don't" |
| 2016-17 | One Mississippi | Mellie Saint-Clair | 4 episodes |
| 2016 | Con Man | Susan | Episode: "What Goes Up..." |
| 2017 | American Gods | Jack | 2 episodes |
| 2017 | Animals. | Auntie May (voice) | Episode: "Dog." |
Awards and nominations
Ovation Awards
2010: Won the award for Lead Actress in a Play for the role of Grace in the Colony Theatre Company production of Grace & Glorie[8]
[ Source: Wikipedia ]