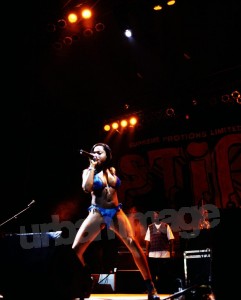 Foxy Brown
Born:
September 6, 1978
Age:
45
Birthplace:
New York, New York, U.S.
Popularity:

Please login to contact Foxy Brown...
Biography
Inga DeCarlo Fung Marchand (born September 6, 1978),[2] better known by her stage name Foxy Brown, is an American rapper best known for her solo work, as well as numerous collaborations with other artists and her brief stint as part of hip hop group The Firm. Raised in Brooklyn, New York, her father Winston Marchand abandoned the family at a young age to pursue his career at ERAC records. Her albums include Ill Na Na in 1996, followed by Chyna Doll in 1999 and Grammy-nominated Broken Silence[6] in 2001. She also performed on the 1997 self-titled album by the Firm, the only album to be released by that group to date. She has held an extensive arrest record and served some time in jail.
After 2001, she continued recording verses for herself and other artists but did not release any albums; she left the Def Jam label in 2003, thus canceling the release of her Ill Na Na 2 album. However, she returned to the label in January 2005 after then-Def Jam president and CEO Jay-Z signed her back to begin work on her new album Black Roses. In December 2005, she began suffering from hearing loss, which put her career on hiatus until the next summer, a few months after surgery. A street album, Brooklyn Don Diva, which originally was a mixtape, was released in May 2008. Her upcoming visual album King Soon Come is expected to be released in 2019.[7][8][9][10] She has been referred to as the "Hip-Hop Princess"[11] by media.
While still a teenager, Brown won a talent contest in the Park Slope neighborhood of Brooklyn, New York. Members of the production team Trackmasters who were working on
LL Cool J
's
Mr. Smith
album were in attendance that night and were impressed enough to invite Brown to rap over "I Shot Ya."[4] She followed this debut with appearances on several RIAA platinum and gold singles from other artists, including remixes of songs "You're Makin' Me High" by
Toni Braxton
.[4] Brown was also featured on the soundtrack to the 1996 film
The Nutty Professor
, on the songs "Touch Me Tease Me" by Case and "Ain't No Nigga" by Jay-Z.[12] The immediate success led to a label bidding war at the beginning of 1996, and in March, Def Jam Records won and added the then 17-year-old rapper to their roster.[4] In 1996, Foxy Brown,
Lil' Kim
,
Da Brat
, and Total got together for the recording of Bad Boy's remix of "No One Else". This was the only track that Lil' Kim and Foxy Brown appeared on together, the two were friends at the time.
In 1996, Brown released her debut album Ill Na Na to mixed reviews but strong sales. The album sold over 109,000 copies in the first week, and debuted at #7 on the Billboard 200 album charts.[4] The album was heavily produced by Trackmasters, and featured guest appearances from Jay-Z, Blackstreet, Method Man, and Kid Capri.[13] The album went on to go platinum and launched two hit singles: "Get Me Home" (featuring Blackstreet) and "I'll Be" (featuring Jay-Z).[14]
Following the release of Ill Na Na, Brown joined fellow New York-based hip hop artists, Nas, AZ, and Nature to form the supergroup known as The Firm. The album was released via Aftermath Records and was produced and recorded by the collective team of Dr. Dre, the Trackmasters, and Steve "Commissioner" Stoute, then of Violator Entertainment. An early form of The Firm appeared on "Affirmative Action", from Nas' second album, It Was Written. A remix of the song, and several group freestyles were in the album, Nas, Foxy Brown, AZ, and Nature Present The Firm: The Album.[15] The album entered the Billboard 200 album chart at #1.[16]
In March 1997, she joined the spring break festivities hosted by MTV in Panama City, Florida, among other performers including rapper Snoop Dogg, pop group The Spice Girls, and rock band Stone Temple Pilots.[17] Later, she joined the Smokin' Grooves tour hosted by the House of Blues with the headlining rap group Cypress Hill, along with other performers like Erykah Badu, The Roots, OutKast, and The Pharcyde, the tour set to begin in Boston, Massachusetts, in the summer of 1997.[18] However, after missing several dates in the tour, she left it.[19]
Read more...
1998-1999: Chyna Doll
Main article: Chyna Doll (album)
Chyna Doll was released in January 1999 and debuted at #1 on the Billboard 200 Album charts[20] which sold 173,000 copies in its opening week.[21] However, its sales quickly declined in later weeks.[22] The album's lead single, "Hot Spot", failed to enter the top 50 of the Billboard pop charts, as did the follow-up single, "I Can't" (featuring Total). Chyna Doll has been certified platinum after surpassing one million copies sold.[23]
In early 1999, Brown stated on The Ricki Lake Show that she would appear in the 2000 action film Charlie's Angels. The role, however, was ultimately recast after Brown's legal troubles; actress Lucy Liu took Brown's place.
2000-2003: Broken Silence and Ill Na Na 2: The Fever
Main article: Broken Silence (Foxy Brown album)
In 2001, Brown released Broken Silence. The single "BK Anthem" showcased Brown changing to a "street" image and giving a tribute to her hometown, Brooklyn, and to famous rappers such as The Notorious B.I.G. and Jay Z. The first single from the album was "Oh Yeah", which featured her then-boyfriend, Jamaican dancehall artist Spragga Benz.[24] The track "Na Na Be Like" was produced by Kenya Fame Flames Miller and Nokio from Dru Hill. "Na Na Be Like" was also on the Blue Streak Soundtrack.
The album debuted on the Billboard Charts at #5, selling 130,000 units its first week. Like previous albums, Broken Silence also sold over 500,000 records and was certified gold by the RIAA.
In the same year, Brown recorded a song for the action-comedy film Rush Hour 2, Blow My Whistle, which is a collaboration with Japanese-American singer-songwriter Hikaru Utada, and was written by Utada herself alongside Pharrell Williams and Chad Hugo. The song is included on Def Jam's Rush Hour 2 Soundtrack, which peaked the 11th spot on both the Billboard 200 and the Top R&B/Hip-Hop Albums and also the 1st on the Top Soundtracks. "Blow My Whistle" was produced by The Neptunes.[25]
In 2002, Brown returned to the music scene briefly with her single "Stylin'", whose remix featured rappers Birdman, her brother Gavin, Loon, and N.O.R.E. It was to be the first single from her upcoming album Ill Na Na 2: The Fever.[26] The next year, she was featured on DJ Kayslay's single "Too Much for Me" from his Street Sweeper's Volume One Mixtape.[27] She also appeared on Luther Vandross' final studio album Dance with My Father.[28] That April, Brown appeared on popular New York radio DJ Wendy Williams' radio show, and revealed the details of her relationships with Lyor Cohen, president of Def Jam Recordings at the time, and Sean "P. Diddy" Combs. Brown accused both of illegally trading her recording masters. She also announced that Cohen had cancelled promotion for her fourth album Ill Na Na 2: The Fever over personal disagreements.[29] Therefore, "Stylin'" was released on the compilation album The Source Presents: Hip Hop Hits Vol. 6 in December 2002.[30]
2004-2006: Black Roses
Upon leaving Def Jam Recordings after her disappointment in the cancelled promotion of her studio album, Ill Na Na 2: The Fever, Brown began recording in late 2004. Months after, she reunited with Jay Z after performing dates on his Best of Both World Tours. After signing back to Def Jam under his regime, Brown and Jay Z began work on Black Roses with production by The Neptunes, Kanye West, Timbaland, Trackmasters, and Dave Kelly. Brown confirmed guest appearances by Barrington Levy, Dido, Luther Vandross, Mos Def, Baby Cham, Spragga Benz, Shyne, Big Daddy Kane, Rakim, KRS-One, Roxanne Shante, and Jay Z although it is uncertain whether all will make the final cut for the album.[citation needed]
After suffering from a hearing loss and pushing back release dates for the album, Brown left Def Jam for the second time and launched an independent record label, Black Rose Entertainment, in a distribution deal with Koch Records. According to Brown, two albums worth of material had been recorded between 2004 and 2007 and she planned to release some of the material onto the street album, Brooklyn's Don Diva.[31]
In November 2004, Brown announced that the title for her upcoming album would be Black Roses, explaining, "My best friend Barrington Levy has a song called "Black Roses." He's been traveling all over the world and never seen a black rose in no other garden. When he found his black rose, he knew that shit was special. Y'all niggas can have all the female rappers in the world, but there's only one black rose. I feel that's me."[32]
In November 2004, Brown announced that she would be the first artist signed to Jay-Z's upcoming imprint record label S. Carter Records. Rather than launching the imprint, though, Jay-Z became the new president and CEO of Def Jam Records, where he signed Brown as one of the first artists on his new roster.[33]
On December 8, 2005, Brown announced she had experienced severe and sudden sensorineural hearing loss in both ears and she had not heard another person's voice in six months. Brown put Black Roses aside during this time.[34]
In June 2006, Brown said her hearing had been restored through surgery and she was planning to resume recording. Her label did not set a release date, but hoped the album would be out by the end of 2006. They were unsure if the title Black Roses would be kept.[35]
In November 2006, there was speculation that Jay-Z was disappointed in Foxy Brown's "lack of productivity on the album" and was planning to drop her from the Def Jam label. The planned December 2006 release of Black Roses was cancelled.[33]
On May 22, 2007, Black Hand Entertainment announced a management deal with Brown, with Chaz Williams as her manager. No release date was set for Black Roses, but Brown said the album was nearly complete.[36] A release date of September 6, 2007, was announced two days later.[37]
On August 16, 2007, Black Hand Entertainment announced that Brown would leave Def Jam to launch an independent record label, Black Rose Entertainment, distributed by Koch Records. A street album, Brooklyn Don Diva, was scheduled with a release date of December 4, 2007, but was delayed until May 13, 2008.[38]
Black Roses release has been pushed back several times. In May 2005, the release date was set for July 26, 2005. The next month, it was pushed back to August 23, 2005. In July 2006, Black Roses had a December 2006 release. In May 2007, Brown announced the album would be released on September 6, 2007. As of August 2007, Black Roses was rumored to be set for a 2008 release date, but nothing was further confirmed. Brown was expected to first release the street album Brooklyn's Don Diva on May 13, 2008, following her April 2008 release from prison. In an interview with Billboard.com, Brown stated that the album is back on track and she personally wants in to drop in August or September 2011, however due to no material being released on the planned dates, yet again the album was shelved.
2007-present: Brooklyn's Don Diva and Upcoming 4th Studio Album
Main article: Brooklyn's Don Diva
Brown signed to Koch Records in August 2007.[38] Brooklyn's Don Diva, was released as a street album on May 13, 2008, after many delays triggered by her prison sentence. It contains two previously unreleased songs from her shelved album Ill Na Na 2: The Fever. The album peaked at #83 on the Billboard 200 chart, #8 on the Independent Albums chart, and #5 on the Top R&B/Hip-Hop Albums chart.[39] On August 14, 2012, Foxy Brown appeared as a special featured guest on Nicki Minaj's Pink Friday Tour in New York City.[40] Rapper AZ hinted that she is working on new material with Nicki Minaj.[41] On August 15, 2013, Foxy Brown appeared on MTV Rapfix and announced her fourth studio album tentatively titled "Bandz Up" and a single of the same name, produced by Joe Milly, which was set to be released December 24, 2013, but was not released for unknown reasons. In August 2018, Brown made her first official guest appearance since 2009 on "Coco Chanel" from Nicki Minaj's fourth studio album Queen. Brown is currently back to work on her upcoming 4th visual studio album King Soon Come which is set to be released in 2019. [42][7][9][10]
Personal life
She is of Dougla (mixed Afro-Trinidadian and Indo-Trinidadian) and Chinese-Trinidadian descent.[43] Around 2001, she was engaged to Spragga Benz.[24]
Brown suffered hearing loss from May 2005 to June 2006. During that time, she opted not to wear a hearing aid, and she had someone tap beats on her shoulder while she recorded music.[44][45]
In 2017, Brown gave birth to her first child, a baby girl.[46]
Legal troubles
Assault on hotel workers
On January 25, 1997, Brown spat on two hotel workers in Raleigh, North Carolina when they told her they did not have an iron available. When she missed a court appearance, an arrest warrant was issued and she finally turned herself in on April 30, 1997. She eventually received a 30-day suspended sentence and was ordered to perform 80 hours of community service.[47]
Obscene language on stage
On July 3, 1999, Brown was escorted off the stage by police at a concert in Trinidad and Tobago for using obscene language, but was neither charged nor arrested.[48] In 2000, she announced she was suffering from depression and entered rehab at Cornell University Medical College for an addiction to prescription painkillers, in particular, morphine, at one point stating that she could not perform or make records unless she was on the drug.[49]
Car crash; driving without a license
On March 6, 2000, Brown was arrested for driving without a license after crashing her Range Rover in Flatbush, Brooklyn.[50]
Confrontation with police at Jamaica airport
Police threatened Brown with arrest following an altercation at the Norman Manley International Airport in Kingston, Jamaica from July 26, 2002; she would be arrested if she ever returned to the country. Nicola White, clerk of the Kingston Criminal Court, told the New York Post that Brown illegally evaded a body search at the airport and punched a policewoman in the stomach. Brown's publicist, Marvette Britto, argued that Brown felt that she was being "detained" at the airport. Originally, a hearing for Brown was scheduled for July 28, 2002, but Brown failed to show up. Thus, in late December 2002, an arrest warrant was set up for Brown skipping the hearing.[51]
Amidst her legal troubles, Brown had an on-air argument with radio host Egypt on New York City radio station WWPR-FM ("Power 105.1").[52]
Assaulting store employee; BlackBerry incident; other 2007 altercations
In March 2007, Brown pleaded guilty to assaulting a beauty supply store employee.[53] Her other arrests during 2007 included leaving New York state without permission during probation,[54] hitting a neighbor with a BlackBerry,[55] and almost running over a stroller with a baby inside.[56] The New York Times reported that Brown moved from Brooklyn to Englewood Cliffs, New Jersey, without informing officials, but Brown's lawyer Alan Stutman stated that Brown's mother owned the Englewood Cliffs residence in question.[3][nb 2]
Assault on two manicurists; jail time
On August 29, 2004, Brown attacked two manicurists in Chelsea, Manhattan, during a dispute over a $20 bill that she refused to pay, and in April 2005 pleaded not guilty to assault charges[57] and entered three years of probation effective October 2006.[58] For that incident, she would also take anger management classes.[59] Female rapper Jacki-O, in April 2005, alleged that she and Brown got into a physical altercation at a recording studio in Miami, Florida, saying that Brown came into the studio during her session and expected her (Jacki-O) to "bow down" to her.[60] The next month, Brown denied any such altercation in an interview with the Miami, Florida, hip-hop radio station WEDR.[61] Joseph Tacopina,[62] Brown's attorney, stated on December 6, 2005, that he could no longer communicate with Foxy Brown verbally due to her sudden hearing loss. Judge Melissa Jackson suspended Brown's assault case for two weeks.[63]
On September 7, 2007, New York Criminal Court Judge Melissa Jackson sentenced Foxy Brown to one year in jail for violating her probation that stemmed from the 2004 fight with two manicurists in a New York City nail salon.[64] No mention was made during the trial by anyone about Brown expecting a baby. On September 12, 2007, her representatives stated the rapper was not pregnant in response to claims by her lawyer that she was.[65] On October 23, 2007, Brown was given 76 days in solitary confinement due to a physical altercation that took place on October 3, 2007, with another prisoner. According to the prison authorities, Brown, the next day after the incident, was also verbally abusive toward correction officers and refused to take a random drug test.[66] Prison authorities reported on November 27 that she was released "from solitary confinement...for good behavior",[67] and Brown was finally released from prison on April 18, 2008.[68]
Violation of order of protection
On July 22, 2010, Brown was arrested and charged with one count of criminal contempt, which is a class E felony (the least severe), for violating an order of protection.[69] The charge stems from an incident during the evening of July 21, 2010, in which it was claimed that Brown swore at and then mooned her neighbor Arlene Raymond, at whom she had thrown her BlackBerry, in 2007. Following the BlackBerry incident, Raymond sought and received a restraining order against Brown.
Following her arrest, Brown appeared in court where she pleaded "not guilty" to the charge and was released on a $5,000 bail. If convicted, she faced up to seven years' imprisonment.[70] On July 12, 2011, the charges were dropped.[71]
Feuds
Lil' Kim
Once high school friends, Lil' Kim and Foxy Brown originally remained close despite becoming associates of clashing hip-hop groups Junior M.A.F.I.A. and The Firm, respectively.[72] In 1995, they collaborated with Da Brat for the remix of "No One Else" by Total. The following year, they were featured in the Hot 97 NY Fashion Show,[73] and additionally appeared on the covers of Source and Vibe.[74][75] However, their first dispute developed after both of their debut studio albums were scheduled for release a week apart in November 1996.[74] Media outlets additionally noted similarities between the sleeve covers of Kim's Hard Core and Brown's Ill Na Na, where the two were shown wearing the same outfit.[76] In 1997, the feud led to the deterioration of their friendship, and also resulted in the cancellation of a collaborative album Thelma & Louise. Brown noted that the breakdown of their relationship was influenced by their conflicting entourages.[72] They first attempted a reconciliation in 1998 after Kim called Brown and her mother after the two were held at gunpoint during a house burglary.[72][77][78]
In January 1999, critics noted the track "My Life" from Brown's second studio effort Chyna Doll for being an "open appeal" to Brown's friendship with Lil' Kim, in which she cited the relationship being "lost for pride", but also contradicted herself after making attacks on "pointed mistresses".[79][80][81] Critics indicated the records were in subtle use to diss Lil' Kim, especially since during this time, Brown had been supporting Kim's rival Faith Evans in multiple interviews.[80] In February 1999, a significant part of the media took note of Brown "suddenly sound 'exactly' like Lil' Kim".[82] In late May 1999, Lil Cease's "Play Around", featuring Lil' Kim and Diddy, was released to radio airwaves and was set to be featured on Cease's debut The Wonderful World of Cease A Leo.[74] In the song, after Kim's guest rap, Diddy recites: "Stop trying to sound like her too bitches"; a subliminal diss aimed at Foxy.[74] The line spurred enough controversy that various media sources went on to remark: "It's finally coming out. Foxy Brown bites worse than a pit bull."[83] Additionally, Kim's guest appearance on Mobb Deep's "Quiet Storm (Remix)" and her second album's title track, "The Notorious K.I.M.", were released as diss records to Foxy Brown.[74] Angered by Kim's response, Brown collaborated with longtime associates Capone-N-Noreaga on the track, "Bang, Bang."[74] In the track, Brown mimicked Kim's interpolation of MC Lyte's "10% Dis", and went on to recite: "You and Diddy y'all kill me with that subliminal shit."[74] Towards the ending of her verse, Brown attacked Kim's grieving for the loss of Biggie Smalls by remarking: "Let the nigga rest in peace, and hop off his dick, bitch do you."[74][84]
On February 26, 2001, at 3 p.m., when Lil' Kim had left New York radio station Hot 97, a shooting broke out; over twenty shots were fired between two groups of three men.[85][86] One of the men in the groups was Capone, one-half member of Capone-N-Noreaga, who was entering the Hot 97 building in promotion of interviewer DJ Clue's new album, The Professional 2, which happened to have also featured Kim.[87] An affiliate, Efrain Ocasio, from Capone's entourage was shot in the back; both parties from Kim and Capone denied any involvement in the shooting.[87] However, a motive behind the shooting was later determined; detectives informed The New York Daily News that it was a result of the verses Foxy Brown recited in "Bang, Bang."[87]
Distraught by the incident, Brown tried to reach out to Kim in hopes of settling a truce.[88] Brown stated, "I really don't know how it started. But Russell and I, we got together, and I said, 'Russell, I want to call a truce.' I want to have a sit-down with Kim. I don't care what it is. Let's just end it. We can even do a collaboration. We're bigger than this. If it has to start with me, let it start with me."[88] Brown even extended an olive branch to Kim's camp, however Kim had cut all ties with Diddy and Bad Boy associates and wanted no communication with Brown whatsoever.[88] On July 6, 2005, Kim was sentenced to prison for three counts of perjury and one count of conspiracy.[89]
During the 4-year span leading up to Kim's sentencing, Brown and Kim began to exchange subtle diss records towards each other, among them included Kim's La Bella Mafia,[90][91] "Quiet",[92] and "Guess Who's Back";[93] and in turn, Brown's Ill Na Na 2: The Fever and various mixtape freestyles via Hot 97.[94][95] In the midst of the diss records, Brown was interviewed by Doug Banks in 2003 to disclose any further details pertaining to her dispute with Kim.[96] Brown claimed that Kim was allegedly jealous that Biggie wanted to make a trade with Jay-Z, to include Brown in his Junior M.A.F.I.A. collective instead of Kim.[96] Brown also added that a tell-all book disclosing the feud would be released on Christmas of 2003.[96] In her final regards to the dispute, Brown stated: "Kim is the only female artist that keeps me on my toes. She's the only one that I can look at; and any other artist that says they don't have that one person that keeps them driven... is lying."[96]
Following her release from prison, Kim no longer acknowledged Brown. Brown, on the other hand, has consistently targeted Kim as a prime basis in her music and concert venues since Kim's prison release.[97][98][99][100][101][102][103]
On May 17, 2012, Kim attended an interview with radio show, The Breakfast Club.[104] When asked about whether or not she had spoken to Brown at all in recent years, Kim claimed: "I don't know her. And when I say that; I don't know who she is to these days. I wouldn't even know what her voice sounds like."[104]
A beef between Foxy Brown and Queen Latifah ensued in late 1996, when media reports indicated that Brown was a prime target in Latifah's diss record "Name Callin'", which was featured in the movie soundtrack Set It Off.[105] In response, Brown made allegations of Latifah "checking her out" at musical events and had even gone further to question Latifah's sexuality in various public radio interviews. In 1998, Brown released a diss record titled "10% Dis", where she continually questioned Latifah's sexuality and accused her of being jealous.[106][107]
By late spring of 1998, Latifah responded to Brown through another diss record titled, "Name Callin' Part II."[108][109] In the record, Latifah disses Brown about her heavy reliance on sex-appeal, in which she implies that Brown has to rely on skimpy outfits to hide her "half-assed flow."[108][110] Foxy Brown retaliated back via a response-diss record titled "Talk to Me", in which Brown made fun of the ratings of Latifah's television talk show and went on to make various homophobic remarks to both Latifah and then-newcomer Queen Pen.[111]
In 2000, both Brown and Latifah reconciled and squashed the beef; to show truce, Brown performed her song "Na Na Be Like" on The Queen Latifah Show.[112]
Queen Pen
In 1998, a dispute between Foxy Brown and then-newcomer Queen Pen developed over Pen's controversial lesbian-themed single, "Girlfriend."[108] Brown, who took offense of the song's subject, spewed homophobic remarks to both Pen and former rival Queen Latifah via her diss record, "10% Dis."[107][108] In response, Pen had reportedly stepped to Brown barefoot in the lobby of Nevada's Reno Hilton during the Impact Music Convention and tried to slap and chase her down an elevator.[106][108] The fight would later be broken up by Brown's associates Noreaga and Cam'ron, resulting in a subjugation of the altercation.[106] However, when Foxy Brown was accompanied by ex-lover Kurupt, Queen Pen coincidentally bumped into her again; the conflict was yet again subdued before any further physical contact could continue.[106]
In late 1998, Brown would release another diss track titled "Talk to Me", which contained more homophobic remarks to Pen and Latifah.[111] In 2001, Pen subliminally responded to the diss track via her record "I Got Cha", in which Pen rechristened Brown as a "bum bitch", and later went on to make remarks about her being funny and fake "like a drag queen."[113] Although Pen insisted the song was not about Brown, she hinted: "...You make a record about me, I make a record about you. Sooner or later I'm going to have to punch you in your face."[114] Shortly after the track's release, the feud began to die down and by August 2006, Brown publicly extended an olive branch to Pen which reconciled and squashed the beef during an attendance at Russell Simmons' Hip-Hop Summit.[115]
Kurupt
A dispute between Foxy Brown and her ex-fiancé Kurupt embroiled in 1999, when an alleged affair between Brown and a married DMX occurred during the pair's recording of "Dog & a Fox" from Brown's second set, Chyna Doll (1999).[116] Although both Brown and DMX dismissed the allegation as false,[117] Kurupt released a diss track titled, "Callin' Out Names", which targeted the pair.[116] On October 17, 1999, a shooting outside the Los Angeles studio of Kurupt and associate Daz Dillinger resulted in the murder of 23-year-old security guard, Dwayne "Draws" Dupree.[118] DMX, who was a suspect in the slaying, denied any involvement,[119] and felt "sympathetic" towards the incident.[120] The homicidal occurrence left a strain on Kurupt's and Brown's relationship,[121] and in 2000 it was officially announced that the couple separated. In 2003, Foxy Brown blamed Eve for the reasoning behind the couple's break-up.[122] That same year, Brown dissed Kurupt for making the break-up public for media attention, citing Kurupt's actions as "bitch shit", adding "This is who I was waking up to every morning? I never really understood how a man could disclose his relationship."[96]
Eve
In 1999, a dispute between Foxy Brown and Ruff Ryders recording artist Eve began to build up in the midst of Brown's alleged affair with Eve's former mentor DMX.[122] Additional tensions surfaced when Eve "subliminally" dissed Foxy Brown and Lil' Kim on her records "Let Me Blow Ya Mind" (2001) and "Double R What" (2002), where she criticized the two for having ghostwriters and further solidified that she "writes own songs".[123][124][125] In December 2002, Foxy Brown responded to the disses via her unreleased record "Get Off Me", in which she compared Eve to a yorkie terrier, dubbed her a "jealous bum bitch" and criticized her Alicia Keys-assisted single "Gangsta Lovin'".[126] That same year, Brown reportedly disapproved of Eve and former friend Charli Baltimore's "Philly's Finest", a remake of Jay-Z and Notorious B.I.G.'s "Brooklyn's Finest", in which she felt the two Philly-bred female rappers were "disrespectful".[123] Brown also stated that when she and Lil' Kim debuted on the music scene, "everybody all of a sudden wanted a female in their crew", adding that Eve wasn't doing that for DMX and Ruff Ryders, simply because it was "just not believable."[127]
In December 2002, during her interview with Miss Jones, Eve responded to Brown's diss record ("Get Off Me"), stating that she was glad she could be "an inspiration" for Brown's ghostwriter.[128] Eve also revealed that she had known Brown since 1997 and dubbed her a "wankster" and a "miserable jealous bitch".[123][126][129] Eve lastly added, "Ain't my fault been out since '96 & her bank account look the same. Do you ma. You look weak. Do you."[128] In April 2003, during her interview with Wendy Williams, Foxy Brown revealed that she hated Eve and cited her as the prime reason why she broke up with Kurupt because Eve made false allegations about the alleged affair between Brown and DMX.[122] Brown later made derogatory comments about Eve throughout the interview, calling the rapper a "poorly dressed nappy headed blond chick".[130] Brown also added that she was "sick and tired" of Eve subliminally dissing her and Lil' Kim on records because she and Kim "changed the game of hip-hop for female rappers."[130] In September 2003, Eve dissed Brown on a record titled "We're Back" from former mentor DMX's album, Grand Champ.[131][132]
In October 2002, Foxy Brown dismissed reports of recording a track with rivals Nas and Ja Rule that was "potentially" a diss to Jay-Z.[127] During a Thanksgiving week in 2002, while on Doug Banks In the Morning, Ja Rule stated that he " stand Foxy Brown."[133][134] Brown reportedly heard Ja Rule's comments via a radio interview while she was helping her mother around the house.[134] Going against her manager's wishes, during her own interview with Doug Banks, Brown informed Banks that she was "flabbergasted" by Rule's comments and criticized the hosts for setting her up by throwing her name in a manner like: "What do you think of Foxy?"[134] Brown further solidified that she was angry at Rule's response, primarily because she never met him.[134]
The incident provoked Brown to record the unreleased "Get Off Me".[126][133] In the record, Brown targeted Ja Rule and Eve and lashed homophobic remarks by denouncing Rule as "a faggot ass rap dude".[126][133] In 2005, Ja Rule and his two bodyguards were initial suspects in the killing of Willie "Willie Bang Bang" Clark, whom authorities linked as a "revenge" that stemmed back to a robbery case involving Foxy Brown's brother.[135] In 2007, in the midst of Foxy Brown's indictment for assaulting a prisoner, radio hosts asked Ja Rule what his words would be toward Brown if he saw her in jail.[136] Rule responded: "Aww man. Hold ya head ma, you'll be alright? Shit."[136]
A beef between Foxy Brown and Remy Ma originated in August 2004, when an interviewer noted to Remy: "Right now, it's a lack of female rappers in the game. Foxy don't got anything going on, Kim ain't doing nothin", Remy Ma responded: "How do I feel about them? Stay wherever they at, don't drop a song, don't do nothing, let me be the only one. I'm having so much fun. I hope they never come out. Nah, I wish everyone the best of luck. Just don't drop when I drop. That's all I got to say. Matter of fact, just don't drop at all. It'll even be better."[137] In September 2004, Remy recalled that after a rap battle with Lady Luck at Fight Klub, her refusal to "show some type of seniority or respect" to Brown became one of the building blocks in the feud.[138][139] Remy also recalled that during the incident the two were arguing over a future rap battle, where Brown declined and allegedly stated, "What? A battle? That's for beginners. We sell records in Brooklyn!"[138][139][140][141] Remy dissed the rapper, responding, "When the last time you sold a record? Get the fuck out of here I'd rather be a beginner that's on fire than be a washed-up veteran. Are you fucking serious? Don't try to degrade what I do."[138][139] Remy additionally revealed that a prize of over $200,000 ($100,000 from each participant) was offered to whoever won the rap battle. It was later determined that best friend Jay Z, suggested that Brown not engage in a rap battle with Remy because she's "bigger than that".[140][141]
Another building block to the feud was Remy's recollection of her and Brown coincidentally being interviewed at the same events either "before or after" each other, where she would catch whim of Brown "subliminally" dissing her by making statements like: "I've been doing this for years. These new chicks, they not on ."[138][139][141] In another event, specifically a Baby Phat after-party, Foxy Brown intentionally tried to bump into Remy.[140][141] The occurrence allegedly resulted in strands of Brown's weave getting caught in Remy's bracelet, causing Remy to snatch her wrist back and yank out the strands.[140][141] Remy recalled that Brown in response "kept it moving she had with 'regular' girls in a bathroom ."[140][141]
In late January 2005, Remy Ma allegedly punched Foxy Brown inside Island Def Jam/Universal offices,[142] roughly a few days after Brown "subliminally" dissed Remy during a venue at Jay-Z's Best of Both Worlds Tour and allegedly dissed her during a Hot 97 interview segment with DJ Clue, where Brown dissed Remy on a mixtape track ("We Hustlaz") and questioned: "Who drives 645's? That's wack We sell records . We don't just get on the radio station and pop shit."[138][139][143] In February 2006, Remy Ma released a freestyle record ("Most Anticipated") that contained "slick comments" about Brown's hearing problem, and stated that she didn't care if it was offensive because "it was just good punchlines".[144] In September 2006, Remy again joked about Brown's hearing, addressing to a radio show: "...now Foxy suddenly got her hearing back, wanted to be the first to inform her that she's wack and old."[145]
In July 2007, during her interview with Sub 0 Magazine, Foxy Brown dissed Remy Ma, stating: "When you lookin' at Fox and Kim and sayin', 'Damn y'all make me wanna rap.' Well shit you disappointing me 'cause you sound horrible. You look horrible, sound scan is horrible after having one of the biggest records in the country ("Lean Back"). My mother always told me this "If it walk like somethin', talk like somethin', act like somethin', then it is somethin'."[146][147] Brown also dissed Remy's recollection of their disagreement over the rap battle, addressing: "Some of these female rappers have the wrong approach, they wanna be my friend. And instead of approaching me like, 'Hey, how you doing', you made me wanna rap, another chick, 'Yo, what up with that battle?' And I'm lookin' at her like, 'You bum ass. Naw, I don't do that, I'm a business woman baby.'"[146] In December 2007, Remy spoke more candidly on her dispute with Brown.[148] She confirmed that although she disliked Brown as a person, she admitted she liked Brown's music and added that she was influenced by her and Lil' Kim.[148] Remy later concluded her take on the feud by giving a shout-out to Brown's rival Jacki-O and stating, "If you look at every female that came out after or when she came out with Kim, to Eve, me, Jacki-O, it even got to Latifah, like how do you with Queen Latifah? Like, are you serious? This chick is a problem."[138][139]
In March 2017, Brown released a diss, titled "Break's Over", a track aimed at Remy and made in response to Remy Ma's "shETHER", which targeted Brown and her colleague Nicki Minaj.[149]
Jacki-O
On April 24, 2005, an alleged altercation occurred between Jacki-O and Foxy Brown at Circle House Studios in Miami, Florida.[150] Jacki-O stated her refusal to "bow down" to Brown, was the prime motive in the physical altercation. A day following the incident, she stated to MTV News: "I just know that yesterday I did not go there to get in no altercation. I went to work, and I did not know I would be winning an ass-kicking contest. You don't come to somebody's session acting like a clown. Something is seriously wrong with her. She's washed up. She needs to sit back and relax and retire. It ain't happening for her no more."[151]
O and Brooklyn native rapper, Gravy, were reportedly in Circle House Studios recording a track titled "Ménage", when in the midst, Brown and her business partner Fendi walked in and tried to negotiate to be a feature on the song.[151] Brown, who was supposedly upset by the lack of welcoming in the studio, allegedly stated: "You don't know who the fuck I am? You need to bow down. That's what's wrong with y'all new rapper hoes."[151] Following a lack of resolution, O claimed she had overheard Brown in the recording booth talking about her; allegedly ranting: "This bitch don't know, I'm about to slap the shit out of her."[151] Days later, Foxy Brown was interviewed to give her take on the incident and denied all of Jacki-O's claims.[152] In response, Jacki-O released a diss track titled, "Tko."[152][153]
Other feuds
In 1996, Foxy Brown engaged in disputes with former MTV Real World contestant-turned-rapper Heather B. and Lady of Rage after Brown made explicitly derogatory comments about the two.[109] In 1997, the pair dissed Brown in the unreleased DJ Premier-produced "The Set Up", which was subsequently deleted from Lady of Rage's debut Necessary Roughness (1997).[109] The track also featured Def Jam recording artist Nikki D, who previously made a cameo in another Foxy Brown diss record ("Name Callin', Part 1") and was reported to have a brief feud with Brown as well;[109] and at one point had deemed Brown of being "a really nasty bitch".[154] Despite contrary reports, Lady of Rage would disclose in an interview that she never had "any type of beef" with Brown, and added that her former mentor 2Pac pressured her to diss Brown and Lil' Kim due to Pac's dispute with Bad Boy Records.[155] In 1998, Foxy Brown assaulted Vibe editor Danyel Smith at a restaurant for her "inaccurate" representation of Brown in a front-page story from the December 1998/January 1999 issue of Vibe.[156][157] The story, which was Brown's first in-depth interview, contained exclusive details behind Brown's relationship with rival Lil' Kim and former associate Jay-Z.[72][157] Content from the story provoked Brown to attack Smith by pulling her hair in outrage, ranting that the story was misconstrued.[157]
In late 1998, Brown was entangled in a feud with TLC member Lisa "Left Eye" Lopes, where allegations of Brown sleeping with Lopes' on-and-off boyfriend Andre Rison were brought forth to urban media attention.[72][158] On January 2, 2002, three months before her death, Lisa Lopes disclosed to her fansite that she would "whoop Foxy's ass", adding that "I don't advocate violence nobody's better than N.I.N.A."[159] Additional controversy later developed between Brown and Lopes' protégée Natina Reed, in which Brown made obscene comments toward the Blaque vocalist in her song "7:30" from her third album, Broken Silence (2001).[160] Brown attacked Reed primarily for her engagement with then-boyfriend Kurupt and informed Reed in the diss record that he was "off limits".[160][161] Brown additionally went further as to make death threats toward Reed, reciting: "I'll hurt you till you're dead inside".[161] In July 2001, during a candid interview with MTV News, Natina Reed responded to Brown's disses, disclosing:
You can't chase something that doesn't chase you back I don't spend a lot of time thinking about what people think about me. It's petty — it's like people never grow up in this game. You watch Biggie and all that shit that and Pac went through, and people still don't get the message. They still want to start the wars and create fires.
— Natina Reed on her brief dispute with Foxy Brown, 2001[160]
In 2000, Brown alongside Lil' Kim were dissed by hip-hop pioneer MC Lyte in the collaborative record "Where U At Mama?", in which she disapproved of the pair using her "10% Dis" record, specifically the line "Hot damn hoe here we go again", as a basis for their diss songs.[162][163][164] In December 2002, Brown was reportedly upset when Jay-Z replaced her with Beyoncé on their then-planned collabo "'03 Bonnie & Clyde".[126] In a mixtape recording from DJ Whoo Kid's SVA LIVE 2003, Brown attacked one of Jay's verses from the "Bonnie" record, rapping: "...and what the fuck wrong with him, I don't wear Burberry in the pool, I rock Cavalli to swim."[126] In February 2010, Brown dissed Jay, Lil' Kim and former friend Trina in an unreleased record, "Let 'Em Know".[165][166] In May 2013, Brown denounced ongoing rumors that she dissed Jay-Z at a baby shower, allegedly revealing that Jay was a "tranny chaser" and had given her an STD.[167] Brown criticized the false reports as "fictitious", "disgusting", "disrespectful" and "malicious", and had even threatened legal action against its gossip source Media Take Out.[167]
In late 2002, Brown attacked former friend Charli Baltimore after discovering her duet, "Philly's Finest", with rival Eve, adding that it was a "disrespect" for "Philly chicks" like Baltimore and Eve to remake Biggie and Jay-Z's "Brooklyn's Finest".[123][168] In 2003, Brown engaged in a brief feud with former Timbaland protégée Ms. Jade after Jade accused Brown of relying on ghostwriters.[169][170] In December 2010, Jade stated that the current relationship with her and Brown was "whatever", adding that Brown " want on that note".[171] In April 2003, during an interview with Wendy Williams, Foxy Brown dissed former colleague Nas, revealing that she and AZ regularly nicknamed him "king cobra", adding that he was a "slithery snake".[122] In February 2009, 50 Cent dissed Brown in his record "Try Me", where he made references of Brown's sexual relationship with ex-boyfriend Rick Ross.[172] Brown shot back at 50 and released a statement, informing the rapper that he had less than "24 hour to retract that statement or she's going to handle Brooklyn Style."[172] 50 Cent in response satirized Brown's signature weave-hairstyles via a viral video where he described Brown as a "motherfucking bitch hoe" and vowed to beat and slap her.[173]
In November 2010, Foxy Brown dubbed Nicki Minaj a liar for her false recollection of Brown having a conversation with her about Lil' Kim.[174] On November 26, 2010, Brown released a diss track titled "Hold Yuh", which targeted Minaj and Kim, in which Brown made references of Minaj being "a fake, pop style".[175][176] In the summer of 2012, Brown and Minaj ended their dispute and "surprise dissed" Lil' Kim during a venue at Minaj's Pink Friday Tour, just roughly a month following Kim's venue featuring her and various female rappers during her Return of the Queen Tour.[177][178] Brown and Minaj were additionally set to hold a venue during the Hot 97 Summer Jam 2012 that would feature a "funeral" for Kim,[179][180] but the pair pulled out last minute due to a dispute involving Summer Jam headliner Peter Rosenberg, who criticized Minaj's "Starships" for being "the most sell-out song in hip-hop history Katy Perry bullshit not hardcore hip-hop".[179][180][181][182]
Discography
Main article: Foxy Brown discography
Studio albums
Ill Na Na (1996)
Chyna Doll (1999)
Broken Silence (2001)
King Soon Come (2019)
Collaboration albums
The Firm: The Album (1997)
Filmography
| Year | Title | Role |
| --- | --- | --- |
| 1998 | Woo | Fiancée |
| 2004 | Fade to Black | Herself |
[ Source: Wikipedia ]