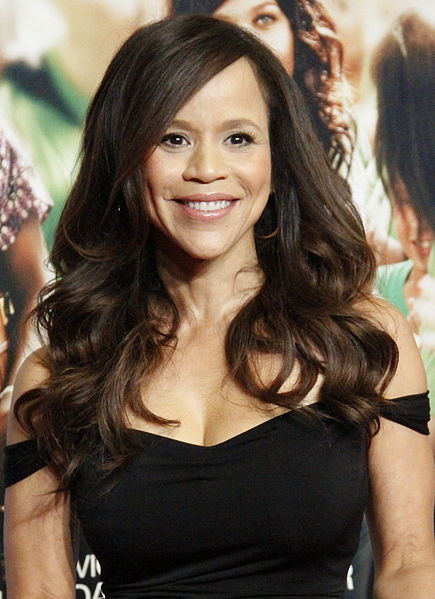 Rosie Perez
Birth name:
Rosa María Perez
Born:
September 6, 1964
Age:
59
Birthplace:
Brooklyn, New York, U.S.[1]
Popularity:

Please login to contact Rosie Perez...
Biography
Rosa María Perez (born September 6, 1964)[3] is an American actress, community activist, talk show host, author, dancer and choreographer. Her film breakthrough was in Spike Lee's Do the Right Thing (1989), which she followed with White Men Can't Jump (1992). Among many honors, she was nominated for the Academy Award for Best Supporting Actress for her performance in Fearless (1993).[4] She was also nominated for three Emmy Awards for her work as a choreographer on In Living Color. In 2007, Perez starred on Broadway as Googie Gomez in a revival of The Ritz, and she was nominated for an Indie Spirit Award for her performance in The Take. Perez was a regular host on The View and in 2015 she returned to Broadway to star in Fish in the Dark, a play written by Larry David.[5][6]
Perez was born in the Bushwick neighborhood of Brooklyn, New York, to mother Lydia Perez and Ismael Serrano, a merchant marine seaman.[7][8] Her parents, who were both from Aguadilla, Puerto Rico,[9] were married to other people when they met.[5][10] She was born at the now-closed Greenpoint Hospital in the Greenpoint neighborhood of Brooklyn.[11] Perez became a ward of the state when her mother took her from an aunt, who had been raising her. She was transferred to a group foster home at age three and lived in foster care in New York and Peekskill until age eight, and was still legally considered a ward of the State of New York until age 12. Her mother and aunt frequently visited, and her father made an unsuccessful custody bid at one point.[5][12] Perez has five brothers and sisters from her mother's first marriage to Ventura Perez but also has additional half-brothers and half-sisters (a total of 10 children).[12] These life problems left Perez with a speech impediment.[3] She eventually moved in with paternal aunt, Ana Dominga Otero Serrano-Roque,[3] and attended Grover Cleveland High School, in the Ridgewood neighborhood of Queens.[13] Her mother died of AIDS-related complications in 1999.[12] Perez is of Puerto Rican descent [14] and had a strict Catholic upbringing, which she has credited to the influence of the nuns during her childhood.[3][11][15] Perez is often identified as a Nuyorican as a result of her upbringing as a New Yorker of Puerto Rican descent.[16]
Read more...
Career
Acting
At 19 years old,[17] Perez started her career in the early 1980s, as a dancer on Soul Train. As a college student in Los Angeles, majoring in bio-chemistry, she said she would relieve stress by going to nightclubs for ladies' night. A talent scout from Soul Train asked Perez to appear on the show. She was not a professional dancer, but loved it so much she dropped out of school.[11] In 1988, when she was 24 years old, Perez was noticed at the dance club Funky Reggae[18] by Spike Lee, who hired her for her first major acting role in Do the Right Thing.[19]
Perez later choreographed music videos by Janet Jackson, Bobby Brown, Diana Ross, LL Cool J and The Boys.[15] She was the choreographer for the dancing group the Fly Girls who were featured on the Fox television comedy program In Living Color and also worked as a segment producer.[20] She made her Broadway debut in Terrence McNally's Frankie and Johnny in the Clair de Lune.[21] Perez had her third major role in the hit comedy White Men Can't Jump co-starring Wesley Snipes and Woody Harrelson.
Perez was nominated for the Oscar for Best Supporting Actress for her role in Peter Weir's 1993 film Fearless. She attended the ceremony with her father.[22] In 1997, she starred in Perdita Durango, a controversial film in which many scenes of excessive violence, sex and nudity were edited out of the version released in the United States but remained intact in the version released throughout Latin America.[23] In 1999, Perez starred in Nancy Savoca's The 24 Hour Woman.[2] She provides the voices of Click, the camera, on Nick Jr.'s Go, Diego, Go! and Chel, a beautiful native woman in the DreamWorks Animation film The Road to El Dorado. She played corrupt police officer Carol Brazier in the Judd Apatow-produced film Pineapple Express, co-starring Seth Rogen and James Franco. Perez appeared on an episode of Law & Order: Special Victims Unit in October 2009 about pedophiles' rights. Executive producer Neal Baer said the writers had Perez in mind when they wrote the role of a young sexual abuse victim's mother.[24] She suffered a serious injury during the filming of the episode.[25] Most recently, Perez is the subject of an album by Felt entitled Felt 3: A Tribute To Rosie Perez. Perez was in a Mike Nichols production of The Play What I Wrote.
Injury
Rosie Perez injured her neck in 2009 while filming an episode of Law & Order: SVU and underwent surgery to heal a herniated disc. One year after the accident, she appeared at the White House in a wheelchair, wearing a neck brace for a meeting with President Obama.[26] In May 2011, Perez filed a lawsuit against the producers of the show,[27] claiming that the injury she incurred was the result of being "recklessly pulled, grabbed, yanked, wrenched and manhandled" during filming.[28]
Boxing
Rosie Perez is a fan of the sport of boxing. In June 2013, she served as the grand marshal for the international Boxing Hall of Fame parade in Canastota, New York.[29]
Author
In February 2014, Rosie Perez published an autobiography titled Handbook for an Unpredictable Life: How I Survived Sister Renata and My Crazy Mother, and Still Came Out Smiling... She is also the reader of the audio CD of this book. Perez said that she didn't initially set out to write an autobiography, but rather a book that analyzes the causes and effects of child abuse.[11] She said it wasn't until about 6 months after the book was published and she heard responses from others that she found the experience cathartic.[11]
The View
On September 3, 2014, ABC announced Perez would join The View as a new co-host alongside moderator Whoopi Goldberg, newcomer Nicolle Wallace, and returning co-host Rosie O'Donnell.[30] The new season began on September 15, 2014.[31][32] Perez said she was initially hesitant about the job because "I didn't want to be on a show where people were just screaming at each other disrespectfully."[11] She decided to join the cast when she learned that Bill Wolff, whom she knew from The Rachel Maddow Show, was going to be the new executive producer.[11][33][34] On July 8, 2015, Perez announced she would be leaving The View.[35]
Activism
Perez is an activist for Puerto Rican rights:
Her film Yo soy Boricua, pa'que tu lo sepas! (I'm Puerto Rican, Just So You Know!) documents her activism.[9][36]
She starred in and directed the Spanish AIDS PSA campaign "Join the Fight" for Cable Positive and Kismet Films. The campaign featured actor Wilmer Valderrama, BET's Julissa Bermudez, Telenovela actor Erick Elías, singer/actress Lorena Rojas, 2006-2007 Miss Universe Zuleyka Rivera and actress Judy Marte. An English-language campaign was also directed by Liev Schreiber.
President Barack Obama appointed her to The Presidential Advisory Council on HIV/AIDS (PACHA). She was sworn in on February 2, 2010.
On January 6, 2000, she was arrested for disorderly conduct in Manhattan following a rally to protest U.S. Navy air weapons training, as well as other forms of payload on the government training range owned at Vieques, an island off the coast of Puerto Rico.
Perez serves as the chair of the artistic board for Urban Arts Partnership,[37] a New York City arts education nonprofit that uses arts integrated education programs to close the achievement gap.
Personal life
Perez suffered abuse during her childhood from both her schizophrenic mother and from the nuns at the group home. As a result, she has suffered from high anxiety, PTSD, and a form of depression called dysthymia, but with hard work in therapy it has been greatly reduced.[5][11][38]
Perez married artist Eric Haze on September 15, 2013 in Las Vegas. They had decided to get married the night before while attending the Floyd Mayweather vs. Saúl Álvarez boxing match.[39] The couple slept over at the MGM Grand hotel-casino and were married in the morning. They live in Clinton Hill, Brooklyn.[12] Perez was previously married to filmmaker and playwright Seth Zvi Rosenfeld but the couple divorced in 2001 after ten years of marriage.[40] She has no children.[40]
Perez stated on the Pineapple Express DVD commentary that she is allergic to dairy products. She was a friend of the late rapper and actor Tupac Shakur.[38]
Filmography
Film
Year
Film
Role
Notes
1989
Do the Right Thing
Tina
1991
Night on Earth
Angela
Nominated—Chicago Film Critics Association Award for Most Promising Actress
1992
White Men Can't Jump
Gloria Clemente
Nominated—Chicago Film Critics Association Award for Best Supporting Actress
Nominated—Chicago Film Critics Association Award for Most Promising Actress
1993
Untamed Heart
Cindy
Nominated—New York Film Critics Circle Award for Best Supporting Actress
Fearless
Carla Rodrigo
Berlin International Film Festival Award for Outstanding Performance
Boston Society of Film Critics Award for Best Supporting Actress
Chicago Film Critics Association Award for Best Supporting Actress
Dallas-Fort Worth Film Critics Association Award for Best Supporting Actress
Los Angeles Film Critics Association Award for Best Supporting Actress
Nominated—Academy Award for Best Actress in a Supporting Role
Nominated—Golden Globe Award for Best Supporting Actress - Motion Picture
Nominated—New York Film Critics Circle Award for Best Supporting Actress
1994
It Could Happen to You
Muriel Lang
Somebody to Love
Mercedes
1997
A Brother's Kiss
Debbie
Perdita Durango
Perdita Durango
Fantafestival Award for Best Actress
1999
The 24 Hour Woman
Grace Santos
Also Producer
Nominated—ALMA Award for Outstanding Actress in a Feature Film
Nominated—Black Reel Award for Best Actress
2000
The Road to El Dorado
Chel
Voice
King of the Jungle
Joanne
2001
Human Nature
Louise
Riding in Cars with Boys
Shirley Perro
2003
From the 104th Floor
Narrator
Voice
2004
Exactly
Angela
Short
2005
All the Invisible Children
Ruthie
Segment "Jesus Children of America"
Yo soy Boricua, pa'que tu lo sepas!
Herself
Director
Documentary
2006
Home
Just Like the Son
Mrs. Ponders
2008
The Take
Marina De La Pena
Nominated—Independent Spirit Award for Best Supporting Female
Pineapple Express
Officer Carol Brazier
2010
The Other Guys
Herself
Pete Smalls Is Dead
Julia
2012
Small Apartments
Ms. Baker
Won't Back Down
Brenna Harper
2013
The Counselor
Ruth
The Being Experience
Herself
Gods Behaving Badly
Persephone
2014
The Hero of Color City
Red
Voice
Fugly!
Zowie
2015
Pitch Perfect 2
The View Host
Puerto Ricans in Paris
Gloria
Five Nights in Maine
Ann
2017
Active Adults
Zoe
TBA
The Last Thing He Wanted
Post-production
2020
Birds of Prey
Renee Montoya
Pre-production
TV Films
Year
Title
Role
Notes
1990
Criminal Justice
Denise Moore
1995
In a New Light: Sex Unplugged
Herself
Host
1997
Subway Stories: Tales from the Underground
Mystery Girl
Also producer
Segment "Love on the A Train"
2004
Copshop
Heaven
Lackawanna Blues
Bertha
Television Movie
Nominated—Black Reel Award for Best Supporting Actress - Television
Nominated—NAACP Image Award for Outstanding Actress in a Television Movie, Mini-Series or Dramatic Special
2006
Lolo's Cafe
Maria
Voice
2009
Exit 19
Lorna
2010
Lies in Plain Sight
Marisol Reyes
Gracie Allen Award for Outstanding Female Lead in a Drama Special
Nominated—NAACP Image Award for Outstanding Actress in a Television Movie, Mini-Series or Dramatic Special
Nominated—Imagen Foundation Award for Best Actress - Television
Television
Year
Title
Role
Notes
1990
21 Jump Street
Rosie Martinez
Episode: "2245"
1990
In Living Color
Herself
Nominated—Primetime Emmy Award for Outstanding Individual Achievement in Choreography
choreographer, seasons 1-4
1990-1991
WIOU
Lucy Hernandez
Episodes: "Without Prejudice"
"Labored Relations"
"Mother Nature's Son"
"They Shoot Sources, Don't They"
1995-1997
Happily Ever After: Fairy Tales for Every Child
Thumbelina / Witch/ Robinita Hood
Episodes: "Thumbelina"
"Hansel and Gretel"
"Robinita Hood"
2002
Widows
Linda Perelli
Episodes: "Hour One"
"Hour Two"
"Hour Three"
"Hour Four"
1995-2004
Frasier
Francesca / Lizbeth
Episodes: "Roz in the Doghouse (1995)"
"Crock Tales (2004)"
2005-2008
Go, Diego, Go!
Click, the camera
Episodes: All Episodes
2008-2009
Lipstick Jungle
Dahlia Morales
Nominated—ALMA Award for Best Actress in Television - Comedy
Episodes: "Pandora's Box"
"Let It Be"
"The F-Word"
"The Lyin', the Bitch and the Wardrobe Dahlia Morales"
"Thanksgiving"
"La Vie En Pose"
2009
Law & Order: Special Victims Unit
Eva Banks
Episode: "Hardwired"
2011-2012
The Cleveland Show
Choni / Aunt Chonie
Episodes: "There Goes El Neighborhood"
"Y Tu Junior Tambien"
Episode #3.11
2012
Nurse Jackie
Jules
Episode: "Slow Growing Monsters"
2014
An American Education
Rita Gomez
Pilot
2014-2015
The View
Co-Host
Nominated—Daytime Emmy Award for Outstanding Entertainment Talk Show Host
2014-2017
Penn Zero: Part-Time Hero
Aunt Rose
Voice, recurring role
2016
Search Party
Lorraine De Cross
Recurring role
2017
Pure
Phoebe O'Reilly
2017
Nightcap
Herself
Episode: "Guest in a Snake"
2017-
Bounty Hunters
Nina Morales
Recurring role
2017-18
Elena of Avalor
Dulce
Episode: "Three Jaquins and a Princess"
"The Scepter of Night"
"The Race for the Realm"
2017
The Untitled Action Bronson Show
Herself
1 episode
2018
Rise
Tracey Wolfe
Main role
Works or publications
Bourke, Alison P, Evan Shapiro, Rosie Perez, Roger M. Sherman, Liz Garbus, Rory Kennedy, Jimmy Smits, Kathryn Taverna, Tom Hurwitz, and Carlos Valdez. ¡yo Soy Boricua, Pa'que Tu Lo Sepas!: I'm Boricua, Just so You Know! Santa Monica, Calif.: Genius Entertainment, 2007. ISBN 978-1-594-44303-9
Perez, Rosie. Handbook for an Unpredictable Life: How I Survived Sister Renata and My Crazy Mother, and Still Came Out Smiling (with Great Hair). New York : Crown Archetype, 2014. ISBN 978-0-307-95239-4
Charities
Rosie Perez supports the following charitable cause: AIDS.
[ Source: Wikipedia ]