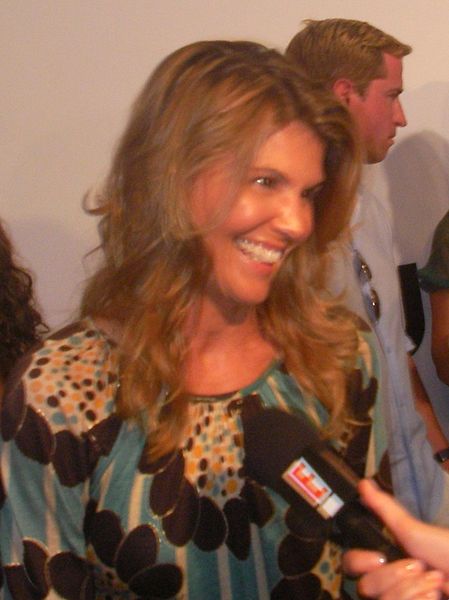 Lori Loughlin
Birth name:
Lori Anne Loughlin
Born:
July 28, 1964
Age:
58
Birthplace:
Queens, New York, U.S.
Popularity:

Please login to contact Lori Loughlin...
Biography
Lori Anne Loughlin (/ˈlɒklɪn/) (born July 28, 1964)[1] is an American actress, model, and producer. She is known for her role as Rebecca Donaldson-Katsopolis on the ABC sitcom Full House (1988-1995) and its Netflix sequel Fuller House (2016-present). Loughlin has also had success playing the roles of Jody Travis in The Edge of Night (1980-1983), Debbie Wilson in The CW series 90210 (2008-2011, 2012), Jennifer Shannon in the television film series Garage Sale Mystery (2013-present), and Abigail Stanton in When Calls the Heart (2014-present). Loughlin was a co-creator, producer and actor through the two seasons of The WB series Summerland (2004-2005).[2]
While different reference sources list her birthplace as either Queens, New York City,[3] or Hauppauge, New York on Long Island,[1][4] Loughlin explained, "I grew up in Hauppauge but I was born in Queens," moving with her family when "I was a year old."[5] She is the daughter of Lorellee Loughlin and Joseph Roy Loughlin,[6] a foreman for the New York Telephone Company.[7] She has one younger brother, Roy.[8]
She attended Oaks School #3 Elementary School in Oceanside, NY. She would go on to graduate from Hauppauge High School.[7] Loughlin is of Irish descent.[9]
Loughlin at a 1986 shoot for the TV movie
Brotherhood of Justice
Career
After becoming interested in acting as a young child,[2] Loughlin began her career at age 11 as a print model,[3] recalling:
My mom had a friend that was going into Manhattan to meet with an agency for modeling. She was taking her teenage daughters in and she asked my mom if I wanted to go along. My mom reluctantly let me go, but I don't think she ever thought anything would come of it. And I went in and they handed me a contract and said, "We'll take you."[2]
At 15, she was cast in the ABC soap opera The Edge of Night, playing the part of Jody Travis, an aspiring dancer,[3] appearing in the series from 1980 to 1983.[1] From 1983 to 1988, Loughlin appeared in a number of feature films and television guest spots.
From 1987 to 1995, Loughlin was cast as Rebecca Donaldson, Danny Tanner's (Bob Saget) co-host and later Jesse Katsopolis' (John Stamos) wife in the ABC sitcom Full House. Initially set for a six-episode arc, she became a regular for the remainder of the series run.[1] Within months after Full House ended, Loughlin co-starred with Tony Danza in the ABC sitcom Hudson Street (1995-96). The series was canceled after one season.[10]
In 1993, she starred in the television adaptation of Sidney Sheldon's novel A Stranger in the Mirror, which is a roman à clef on Groucho Marx and Erin Fleming,[11] with Loughlin playing Fleming's role. In 1997, she starred alongside Bruce Campbell in the film In the Line of Duty: Blaze of Glory. In 2000, Loughlin co-starred opposite Treat Williams in the Fred Olen Ray-directed thriller film Critical Mass. She also guest starred in Suddenly Susan, Spin City, Seinfeld, The Drew Carey Show, and as the superhero Black Canary in the Birds of Prey series in 2002.
From 2004 to 2005, Loughlin co-created, produced and starred in The WB drama series Summerland. She played Ava, the aunt who raises three children after their parents die in a car accident. The series was canceled after two seasons due to low ratings on July 11, 2005. In 2007, Loughlin co-starred in the ABC sitcom In Case of Emergency with David Arquette. She appeared in the film Moondance Alexander (2007), co-starring with her former Summerland castmate Kay Panabaker. Loughlin also was in attendance at Comedy Central's The Roast of Bob Saget which was hosted by John Stamos and premiered on August 17, 2008. At her table were Full House co-stars Dave Coulier and Jodie Sweetin. In 2010, Loughlin starred in the television film Meet My Mom, which premiered on the Hallmark Channel on Mother's Day.[12]
She co-starred in seasons one through three of the Beverly Hills, 90210 spin-off 90210 as Debbie Wilson from 2008 to 2011. She reprised her role in the season five premiere episode in 2012.[13]
Loughlin made a brief appearance as Rebecca Donaldson, alongside John Stamos as Jesse Katsopolis, on a July 2013 episode of Late Night with Jimmy Fallon, following a reunion performance by Jesse and The Rippers.[14]
Read more...
Personal life
Loughlin was married to investment banker Michael R. Burns from 1989 to 1996.[4] On Thanksgiving 1997, Loughlin eloped with fashion designer Mossimo Giannulli, the creator of the Mossimo clothing line, whom she had met in 1995.[3] They have two daughters together, Isabella Rose, and Olivia Jade.[1] Olivia has a YouTube channel of beauty tips.[15] Loughlin also is a stepmother to Gianni, Giannulli's son from a previous relationship.[16]
Filmography
Film
| Year | Title | Role | Notes |
| --- | --- | --- | --- |
| 1983 | Amityville 3-D | Susan Baxter | |
| 1985 | The New Kids | Abby McWilliams | |
| 1985 | Secret Admirer | Toni Williams | |
| 1986 | Rad | Christian Hollings | |
| 1987 | Back to the Beach | Sandi | |
| 1988 | The Night Before | Tara Mitchell | |
| 1997 | Casper: A Spirited Beginning | Sheila Fistergraff | Video |
| 2000 | Critical Mass | Janine | |
| 2001 | Suckers | Donna Deluca | |
| 2006 | Farce of the Penguins | Melvin-Smacking Penguin (voice) | Video |
| 2007 | Moondance Alexander | Gelsey Alexander | |
| 2009 | Old Dogs | Amanda | |
| 2013 | Crawlspace | Susan Gates | |
| 2013 | When Calls the Heart | Abigail Stanton | |
Television
| Year | Title | Role | Notes |
| --- | --- | --- | --- |
| 1971 | Family Affair | Mary Ann | Episode: "Buffy's Fair Lady" |
| 1980-1983 | The Edge of Night | Jody Travis | Regular role |
| 1982 | Matt Houston | Sue Landa | Episode: "Shark Bait" |
| 1983 | The Tom Swift and Linda Craig Mystery Hour | Linda Craig | Television film |
| 1985 | North Beach and Rawhide | Candy Cassidy | Television film |
| 1986 | Brotherhood of Justice | Christie | Television film |
| 1986-1987 | The Equalizer | Jenny Morrow | Episodes: "Prelude", "First Light" |
| 1986, 1988 | CBS Schoolbreak Special | Kelly / Sally | 2 episodes |
| 1987 | A Place to Call Home | Jenny Gavin | Television film |
| 1988 | CBS Summer Playhouse | Tammy | Episode: "Old Money" |
| 1988 | Great Performances | Kay Cork | 2 episodes |
| 1988-1995 | Full House | Rebecca "Becky" Donaldson-Katsopolis | Recurring role (season 2), Regular role (season 3-8) |
| 1992 | Doing Time on Maple Drive | Allison | Television film |
| 1993 | Empty Cradle | Jane Morgan | Television film |
| 1993 | A Stranger in the Mirror | Jill Castle | Television film |
| 1994 | One of Her Own | Toni Stroud | Television film |
| 1995 | Abandoned and Deceived | Gerri Jensen | Television film |
| 1995-1996 | Hudson Street | Melanie Clifford | Main role |
| 1997 | In the Line of Duty: Blaze of Glory | Jill Erickson | Television film |
| 1997 | Tell Me No Secrets | Jess Koster | Television film |
| 1997 | The Larry Sanders Show | Lori Loughlin | Episode: "The Prank" |
| 1997 | Suddenly Susan | Paula | Episode: "With Friends Like These" |
| 1997 | The Price of Heaven | Leslie | Television film |
| 1997 | Seinfeld | Patty | Episode: "The Serenity Now" |
| 1997 | Medusa's Child | Dr. Linda McCoy | Television film |
| 2001 | Cursed | Natalie Keith | Episode: "...And Then They Tried to Make Some Rules" |
| 2001 | Spin City | Michelle | 3 episodes |
| 2002 | Birds of Prey | Caroline Lance / Black Canary | Episode: "Sins of the Mother" |
| 2002 | The Drew Carey Show | Robin | 2 episodes |
| 2002 | Eastwick | Sukie Ridgemont | Television film |
| 2004 | Justice League Unlimited | Dr. Tracy Simmons (voice) | Episode: "The Greatest Story Never Told" |
| 2004-2005 | Summerland | Ava Gregory | Lead role |
| 2005 | Missing | Dr. Joy Gribben | Episode: "Anything for Baby: Parts 1 & 2" |
| 2006 | Jake in Progress | Lindsay | Episode: "The Two Jakes" |
| 2006 | Ghost Whisperer | Christine Greene | Episode: "Demon Child" |
| 2007 | In Case of Emergency | Dr. Joanna Lupone | Regular role |
| 2008-2012 | 90210 | Deborah "Debbie" Wilson | Regular role |
| 2010 | Meet My Mom | Dana Marshall | Television film |
| 2013 | A Mother's Rage | Rebecca Mayer | Television film |
| 2013 | Psych | Dr. Joan Diamond | Episode: "Nip and Suck It" |
| 2013 | Major Crimes | Rebecca Slater | Episode: "The Deep End" |
| 2013 | Addicts Anonymous | Mrs. Goldberg | Episode: "Choices" |
| 2013-present | Garage Sale Mystery | Jennifer Shannon | Television film series |
| 2014 | The Neighbors | Tina Giannulli | Episode: "High School Reunion" |
| 2014-present | When Calls the Heart | Abigail Stanton | Main role |
| 2015 | Northpole: Open for Christmas | Mackenzie Warren | Television film |
| 2016 | Blue Bloods | Grace Edwards | Episode: "The Greater Good" |
| 2016 | Every Christmas Has a Story | Kate Harper | Television film |
| 2016-present | Fuller House | Rebecca "Becky" Donaldson-Katsopolis | Recurring role |
Awards and nominations
| | |
| --- | --- |
| | This section of a biography of a living person needs additional citations for verification. Please help by adding reliable sources. Contentious material about living persons that is unsourced or poorly sourced must be removed immediately, especially if potentially libelous or harmful. |
Year
Association
Category
Nominated work
Result
1982
Young Artist Awards
Best Young Actress in a Daytime Series
The Edge of Night
Won
1987
Michael Landon Award[citation needed]
CBS Schoolbreak Special
Won
1989
Daytime Emmy Awards
Outstanding Performer in a Children's Special
CBS Schoolbreak Special
Nominated
2006
PRISM Awards
Best Performance in a Drama Series Storyline[17]
Summerland
Won
2009
Teen Choice Awards
Choice TV Parental Unit
90210
Nominated
[ Source: Wikipedia ]