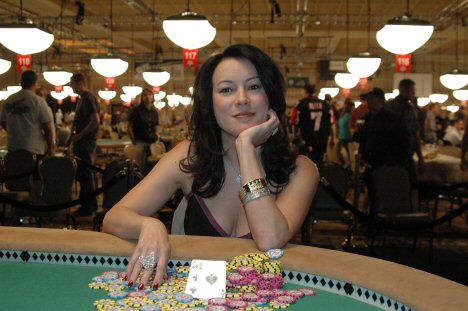 Jennifer Tilly
Birth name:
Jennifer Ellen Chan
Born:
September 16, 1958
Age:
65
Birthplace:
Harbor City, Los Angeles, California, U.S.
Popularity:

Please login to contact Jennifer Tilly...
Biography
Jennifer Tilly (born Jennifer Ellen Chan; September 16, 1958)[3][4] is an American-Canadian actress, voice actress, and poker player. She is a World Series of Poker Ladies' Event bracelet winner. Her first notable acting role was on the sitcom Shaping Up (1984), which she followed with her film debut in No Small Affair the same year. She is known for her distinctive voice and comedic timing.[5][6][7] She is the older sister of actress Meg Tilly.
Tilly came to prominence when she received an Academy Award nomination for her portrayal of Olive Neal in Woody Allen's 1994 film Bullets over Broadway. She earned further acclaim, as well as Saturn Award and MTV Award nominations, for her performance in the Wachowskis' 1996 neo-noir thriller Bound. Her other film appearances include Let It Ride; The Fabulous Baker Boys (1989), Made in America (1993), The Getaway (1994), Edie & Pen; House Arrest (1996), Liar Liar (1997), Music from Another Room (1998), Stuart Little (1999), Dancing at the Blue Iguana (2000), The Cat's Meow; Monsters, Inc. (2001), The Haunted Mansion (2003), Home on the Range (2004), and Terry Gilliam's Tideland (2005). She is recognised as an "icon" in the horror film community for her portrayal of Tiffany Valentine in the Child's Play franchise (1998-2017).[8][9][10] She is also known for providing the voice of Bonnie Swanson on the animated television series Family Guy (1999-present).
Tilly was the recipient of a Theatre World Award in 1993 for her performance in the Off-Broadway play One Shoe Off. Her other stage credits include the Broadway revivals of The Women (2001) and Don't Dress for Dinner (2012).
Tilly was born Jennifer Ellen Chan in Harbor City, Los Angeles. She is the first daughter of Harry Chan, a used car salesman, and Patricia (née Tilly), a Canadian schoolteacher and former stage actress.[11] Her father was of Chinese descent and her mother was of Irish, First Nations and Finnish ancestry.[12][13][14][15] She has an older brother, Steve, and two younger sisters, Meg and Rebecca.[16]
Following her parents' divorce when she was five, Tilly was raised by her mother and stepfather, John Ward, on rural Texada Island, British Columbia. Her mother divorced again when Tilly was 16, and moved to Victoria, where Tilly attended Belmont High School.[17][18]
Tilly holds a Bachelor of Arts degree in Theater from Stephens College in Missouri.[19]
Read more...
Career
Acting
In 1983, Tilly had small roles and had a recurring guest role on Hill Street Blues as Gina Srignoli, a mobster's widow who becomes romantically involved with detective Henry Goldblume. She played Frasier Crane's seductive-but-ditzy date Candi Pearson on an episode of the fourth season of Cheers and appeared as a similar character on the eleventh season of Frasier.
She appeared as Garry's girlfriend on It's Garry Shandling's Show, which aired on Showtime. She was also cast as a high-end prostitute on the short-lived comedy Key West, alongside Fisher Stevens. In 1989, she had a prominent role in the comedy Let It Ride, starring Richard Dreyfuss. Tilly's breakthrough film role was as a singing waitress in The Fabulous Baker Boys in a role that was written specially for her by Steve Kloves. She was nominated for an Academy Award for Best Supporting Actress for her role as a hopelessly bad actress in Woody Allen's Bullets over Broadway but she lost to her co-star Dianne Wiest. In 1994, she also had a small role in The Getaway with Alec Baldwin and Kim Basinger.
Tilly at 2007 World Poker Tour
Tilly starred in Bound (1996), directed by The Wachowskis, which portrays a lesbian relationship her character has with Gina Gershon. She played Samantha Cole in the Jim Carrey comedy Liar Liar (1997). In Dancing at the Blue Iguana (2000), she played a stripper and part-time dominatrix. She portrayed gossip columnist Louella Parsons in the Peter Bogdanovich historical drama The Cat's Meow (2001).
She gained additional popularity in recent years for her portrayal of serial killer Tiffany Valentine in several Child's Play films. The character was first introduced in the fourth installment of the franchise, Bride of Chucky (1998), and subsequently appeared in Seed of Chucky (2004), Curse of Chucky (2013), and the most recent film, Cult of Chucky (2017). In Seed of Chucky, she plays a dual role, providing the voice for Tiffany and also playing an exaggerated version of herself. The performance earned her nominations for the Fangoria Chainsaw Award for Best Actress and the MTV Movie Award for Best Scared-As-Shit Performance.[20]
In 2001, she starred as Crystal Allen in the Broadway revival of The Women. In 2002 she played Fanny Minafer in the made-for-TV remake of Orson Welles' The Magnificent Ambersons.
She is a semi-regular cast member on Family Guy, voicing the Griffin family's neighbor, Bonnie Swanson. She has also done voice-over work for the films Monsters, Inc., Stuart Little and Home on the Range, as well as the children's series Hey Arnold!. In Disney's The Haunted Mansion, she portrays Madame Leota (a head in a crystal ball). She has been active in the theatre, winning a Theater World Award for her performance in the off-Broadway play One Shoe Off.
She had a starring role on the sitcom Out of Practice, which starred Henry Winkler and Stockard Channing. The series was cancelled in May 2006. About this time, Tilly started dividing her time between her film career and professional poker. By the end of 2008, she returned to her film and television career. In 2009, Tilly made her Chinese film debut in the Christina Yao film Empire of Silver playing Mrs. Landdeck.
In 2012, she returned to Broadway in Don't Dress for Dinner, garnering an Audience Choice Award nomination for her portrayal of mistress Suzanne. In 2013, she starred in the Wallace Shawn/Andre Gregory collaboration Grasses of a Thousand Colors which premiered at the Royal Court Theatre in London in 2009 and then moved to the Joseph Papp Theater in 2013. She regularly appeared in the comedy revue Celebrity Autobiography.[21]
As of 2017[update], she has two films in post-production: Eric Balfour's feature film directorial debut Walk to Vegas, and Alan Rudolph's drama film Ray Meets Helen.
Poker
Jennifer Tilly
Tilly after her win at the 2005 World Series of Poker $1,000 Ladies Only Event - No Limit Hold'em.
Nickname(s)
The Unabombshell, J Tilla the Killa
Residence
Los Angeles, California
World Series of Poker
Bracelet(s)
1
Money finish(es)
16 [22]
Highest ITM
Main Event finish
None
World Poker Tour
Title(s)
None
Final table(s)
None
Money finish(es)
5 [23]
Information accurate as of 22 October 2018.
On June 27, 2005, Tilly won a World Series of Poker bracelet (and $158,625) in the Ladies' No-Limit Texas hold 'em event, beating 600 other players.[24] She followed up this accomplishment on September 1, 2005, by winning the third World Poker Tour Ladies Invitational Tournament held at the Bicycle Casino in Bell Gardens, a suburb of Los Angeles. Tilly has appeared in the GSN Poker Royale series.[25] Tilly played in the Celebrity Poker Showdown which aired June 14, 2006, on Bravo. She was knocked out in third place by Bravo's online poker champion Ida Siconolfi.
When playing poker on television, Tilly often wears low-cut tops with push-up bras that expose lots of cleavage to "look cute", but is quick to add that "if people are really playing poker, they don't care. Nothing looks better to them than a pair of aces. They're not looking at your pair. They're looking at their pair."[26] Tilly appears in the World Series of Poker Tournament of Champions 2007 Edition video game (along with boyfriend, Phil Laak) that was released in 2007 by Activision.[27]
In a television interview in 2005, Tilly stated that at that point in her career she was more interested in pursuing poker than acting.[28] By December 2008, Tilly announced her retirement from poker as a career. In her monthly column in Bluff Magazine, she said: "I love poker but greatness in poker is an elusive dream. There are too many variants. Trying to find validation in poker is like trying to find a virgin in a whorehouse. I'm not giving up poker entirely - gambling is an addiction after all. I'm just going to treat it more like a hobby and less like a career."[29]
In January 2010, she resumed her poker career,[30] was nominated for PokerListing's spirit of poker living legend award 2014[31], and as of June 2017[update], Tilly's live tournament winnings exceeded $992,000.[32]
Personal life
Tilly was married to Sam Simon, developer and producer of The Simpsons, from 1984 until 1991.[33] She has been in a relationship with professional poker player Phil Laak since 2004.[2]
Filmography
Film
Year
Title
Role
Notes
1984
No Small Affair
Mona
Film debut
1985
Moving Violations
Amy Hopkins
1986
Inside Out
Amy
1987
He's My Girl
Lisa
1988
Remote Control
Allegra James
Johnny Be Good
Connie Hisler
Rented Lips
Mona Lisa
High Spirits
Miranda
1989
Far from Home
Amy
Let It Ride
Vicki
The Fabulous Baker Boys
Blanche "Monica" Moran
1991
The Doors
Okie Girl
Uncredited
Scorchers
Talbot
1992
Shadow of the Wolf
Igiyook
1993
Made in America
Stacy
1994
The Getaway
Fran Carvey
Double Cross
Melissa
Bullets over Broadway
Olive Neal
Nominated for Academy Award
1995
Embrace of the Vampire
Marika
Bird of Prey
Kily Griffith
Man with a Gun
Rena Rushton / Kathy Payne
The Pompatus of Love
Tarzaan
1996
Edie & Pen
Edie Piper
Bound
Violet
American Strays
Patty Mae
House Arrest
Cindy Figler
1997
Liar Liar
Samantha Cole
The Wrong Guy
Lynn Holden
1998
Music from Another Room
Nina
Relax...It's Just Sex
Tara Ricotto
Hoods
Mary Crippa
Bride of Chucky
Tiffany
1999
The Muse
Herself
Bartok the Magnificent
Piloff (voice)
Direct-to-video
Goosed
Charlene
Do Not Disturb
Cathryn
Stuart Little
Mrs. Camille Stout (voice)
Play It to the Bone
Ringside Fan
2000
Cord
Helen
Bruno
Dolores
The Crew
Ferris "aka Maureen" Lowenstein
Dancing at the Blue Iguana
Jo
2001
Dirt
Hooker
Fast Sofa
Ginger Quail
The Cat's Meow
Louella Parsons
Ball in the House
Dot
Monsters, Inc.
Celia Mae (voice)
2003
Hollywood North
Gillian Stevens
Jericho Mansions
Donna Cherry
The Haunted Mansion
Madame Leota
Happy End
Edna
2004
Second Best
Carole
Perfect Opposites
Elyse Steinberg
Home on the Range
Grace (voice)
El Padrino
Sebeva
Saint Ralph
Nurse Alice
Love on the Side
Alma Kerns
Seed of Chucky
Tiffany / Herself
2005
Lil' Pimp
Miss De La Croix (voice)
The Civilization of Maxwell Bright
Dr. O'Shannon
Bailey's Billion$
Dolores Pennington
Tideland
Queen Gunhilda
2006
The Poker Movie
Herself
2007
Intervention
Jane
2008
Deal
Karen "Razor" Jones
The Caretaker
Miss Perry
Bart Got a Room
Melinda
Inconceivable
Salome "Sally" Marsh
2009
An American Girl: Chrissa Stands Strong
Mrs. Rundell
Imps*
Joni
Archive footage
Segment: "Sale on Professional Men"
Empire of Silver
Mrs. Landdeck
Made in Romania
Herself
2010
The Making of Plus One
Amber
2012
30 Beats
Erika
2013
Amelia's 25th
Miss Celie
Curse of Chucky
Tiffany
Cameo, Direct-to-video
Return to Babylon
Clara Bow
The Secret Lives of Dorks
Ms. Stewart
2015
Unity
Narrator
Documentary
2016
A Cinderella Story: If the Shoe Fits
Divine
Direct-to-video
2017
Cult of Chucky
Tiffany Valentine
Direct-to-video
Ray Meets Helen
Ginger
2018
Walk to Vegas
Jennifer
Post-production
TBD
Renaissance Girl
Martha
Pre-production
Television
| Year | Title | Role | Notes |
| --- | --- | --- | --- |
| 1983 | Oh Madeline | Laurie | Episode: "Madeline Acts Forward at the Retreat" |
| 1983 | Boone | Sonia | Episode: "Words and Music" |
| 1984 | Shaping Up | Shannon Winters | 4 episodes |
| 1984-1985 | Hill Street Blues | Gina Srignoli | 6 episodes |
| 1985 | Remington Steele | Eva Wilson / Blitzen | Episode: "Dancer, Prancer, Donner and Steele" |
| 1986 | Stir Crazy | Karen | Episode: "Basic Straining" |
| 1986 | Cheers | Candi Pearson | Episode: "Second Time Around" |
| 1987 | It's Garry Shandling's Show | Angelica | Episodes: "It's Garry and Angelica's Show: Part 1 & 2" |
| 1989 | Moonlighting | Nurse Saundra | Episode: "Plastic Fantastic Lovers" |
| 1992 | Dream On | Ryan | Episode: "What Women Want" |
| 1993 | At Home with the Webbers | Miranda Webber | Television film |
| 1993 | Key West | Savannah Sumner | 13 episodes |
| 1994 | Heads | Tina Abbot | Television film |
| 1997 | Gun | Phyllis | Episode: "All the President's Women" |
| 1997 | Bella Mafia | Moyra Luciano | Television film |
| 1999-present | Family Guy | Bonnie Swanson (voice) | 61 episodes |
| 2000 | Hey Arnold! | Lola (voice) | Episode: "Suspended/Ernie in Love" |
| 2001 | Sister Mary Explains It All | Philomena Rostovich | Television film |
| 2001 | The Kid | Waitress (voice) | Television film |
| 2002 | The Magnificent Ambersons | Fanny Minafer | Television film |
| 2002 | Stage on Screen: The Women | Crystal Allen | Television film |
| 2004 | Frasier | Kim | Episode: "Miss Right Now" |
| 2005-2006 | Out of Practice | Crystal | 14 episodes |
| 2006 | The Initiation of Sarah | Dr. Eugenia Hunter | Television film |
| 2009 | The Cleveland Show | Bonnie Swanson (voice) | Pilot episode |
| 2010 | CSI: Crime Scene Investigation | Terpsie Pratt | Episode: "Take My Life, Please!" |
| 2011 | Drop Dead Diva | Ginny | Episode: "Dream Big" |
| 2011-2014 | Modern Family | Darlene | 2 episodes |
| 2012 | RuPaul's Drag Race | Herself - Guest Judge | Episode: "Frenemies" |
| 2012 | The Simpsons | Herself (voice) | Episode: "Gone Abie Gone" |
| 2013-2014 | Randy Cunningham: 9th Grade Ninja | Amanda Levay / The Sorcereress (voice) | 2 episodes |
| 2015 | Spun Out | Maggie Felgate | Episode: "The Secret of My Ex-Wife's Success" |
Awards and nominations
| | |
| --- | --- |
| | This section of a biography of a living person does not include any references or sources. Please help by adding reliable sources. Contentious material about living people that is unsourced or poorly sourced must be removed immediately. |
Acting awards
Year
Awards
Category
Nominated work
Result
1989
CableACE Award
Best Actress in a Comedy Series
It's Garry Shandling's Show
Nominated
1994
Academy Award
Best Supporting Actress
Bullets over Broadway
Nominated
American Comedy Award
Funniest Supporting Actress in a Motion Picture
Nominated
Awards Circuit Community Award
Best Cast Ensemble (shared with the cast)
Nominated
1995
Gemini Award
Best Performance by an Actress in a Leading Role in a Dramatic Program or Mini-series
Heads
Nominated
1996
Saturn Award
Best Supporting Actress
Bound
Nominated
Fantasporto Film Festival
Best Actress
Won
MTV Movie & TV Award
Best Kiss (shared with Gina Gershon)
Nominated
1997
Blockbuster Entertainment Award
Favorite Supporting Actress - Comedy
Liar Liar
Nominated
1998
Saturn Award
Best Actress
Bride of Chucky
Nominated
Fantafestival
Best Actress
Won
2001
DVD Exclusive Award
Best Actress in a DVD Premiere Movie
Ball in the House
Won
2004
Fangoria Chainsaw Award
Best Actress
Seed of Chucky
3rd place
MTV Movie & TV Award
Best Frightened Performance
Nominated
2006
GLAAD Media Award
Golden Gate Award
Herself
Honoured
2007
San Diego Film Festival
Best Actress
Intervention
Won
2010
TheWIFTS Foundation International Visionary Award
Barbara Tipple Award
Intervention and Inconceivable
Won
2015
Behind the Voice Actors Award
Best Female Vocal Performance in a Television Series in a Guest Role - Action/Drama
Randy Cunningham: 9th Grade Ninja
Nominated
Theater World Award for Most Promising Newcomer - One Shoe Off
Dramalogue Award - Vaniti
Florida Film Festival Award for Artistic Achievement
Asheville Film Festival Career Achievement Award (2006)
Poker awards
World Series of Poker Bracelet: In 2005, Tilly won the $1,000 Ladies' No Limit Hold'em; the prize was $158,335.
CardPlayer Best Celebrity Player of the Year
WPT Ladies Night Champion
WPT Bellagio Cup 5K ($124,455)
[ Source: Wikipedia ]