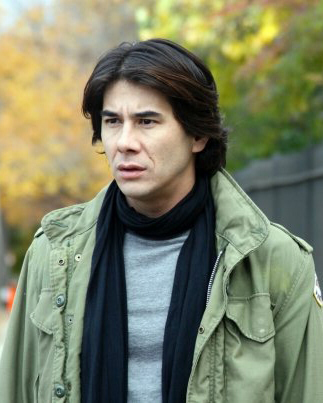 James Duval
Born:
September 10, 1972
Age:
51
Birthplace:
Detroit, Michigan, U.S.
Popularity:

Please login to contact James Duval...
Biography
James Edward Duval (born September 10, 1972) is an American actor, who is known for his roles in the Gregg Araki trilogy—Totally Fucked Up, The Doom Generation, and Nowhere—in addition to Frank in Donnie Darko, Blank in May, Miguel in Independence Day and Singh in Go.
Duval was born in Detroit, Michigan. His family moved to California in 1974, where his sister, Terry, was born. He attended Gladstone High School in Covina (1986-89), as well as Mira Costa High School in Manhattan Beach, and Fair Valley in Covina. Although, as a child, he was trained as a classical pianist, he eventually moved to the guitar. Duval is of mixed ancestry; his mother, a native of Saigon, is of Vietnamese-French descent, and his father is of Irish-Native American-French ancestry. Duval is an avid practitioner of hatha yoga. He also teaches yoga at Earth's Power Yoga studio, Los Angeles, in between films.
Read more...
Career
Duval has starred in numerous independent films,[1] including the 2009 psychological thriller The Black Waters of Echo's Pond[2] and the mystery crime-thriller film Noirland directed by Ramzi Abed.[3]
He plays guitar and piano, and sings in a band named Gene Wilder (after the actor) with friends and fellow actors Brian McGuire and Brett Roberts. He formerly played for Antoneus Maximus & The Nuthouze Band who had been playing gigs at local venues in Los Angeles. Their first album in 2004 included guest appearances by such luminaries as apl.de.ap of The Black Eyed Peas, DJMotiv8, Dante Santiago, and Kid (Christopher Reid) of Kid 'n' Play.
Filmography
Year
Title
Role
Notes
1993
An Ambush of Ghosts
Student #1
1993
Totally Fucked Up
Andy
1995
The Doom Generation
Jordan White
1996
Independence Day
Miguel Casse
1997
A River Made to Drown In
Jaime
1997
Nowhere
Dark Smith
1998
Wild Horses
Jimmy
1998
Stamp and Deliver
1998
The Clown at Midnight
George Reese
1998
Alexandria Hotel
Romero
1998
How to Make the Cruelest Month
Westy
1998
SLC Punk!
John the Mod
Credited as Jimmy Duval
1999
Go
Singh
1999
The Weekend
Robert
2000
This Is How the World Ends
Blue
TV show
2000
Gone in 60 Seconds
Fred
2001
Amerikana
Chris
2001
Donnie Darko
Frank
2001
The Doe Boy
Hunter Kirk
Won "Best Actor" at the American Indian Film Festival[4]
2001
The Tag
Viggs
2001
A Galaxy Far, Far Away
Himself
2002
Comic Book Villains
Baz
2002
May
Blank
2002
Scumrock
Drew
2003
Pledge of Allegiance
Ray
2004
Window Theory
Dave Kordelewski
2004
Frog-g-g!
Freb
2004
Open House
Joel Rodman
2005
Venice Underground
Lucious Jackson
2005
Chasing Ghosts
Dmitri Parramatti
2005
Standing Still
Stoner Steve
2006
The Iron Man
Lawyer 2
2006
Mad Cowgirl
Thierry
2006
Roman
Goth Dude
Deleted scenes
2006
Pancho and Lefty
Lefty
2007
Kush
Cyrus
2007
Numb
Caleb
Short film
2007
The Pacific and Eddy
Noel
2007
Luck of the Draw
Grady
2008
The Art of Travel
Taylor "One Ball"
2008
Pox
Himself
2008
Toxic
Brad
2008
Cornered!
Jimmy
2008
Evilution
Asia Mark
2009
Thirsty
Beverage Announcer
Voice role
2009
2 Dudes & a Dream
Phil
2009
Penance
Guy
2009
The Black Waters of Echo's Pond
Rick
2010
Now Here
Luis Ortiz
2010
Not Another Not Another Movie
Miguel
2010
Everything Will Happen Before You Die
Paynie
2010
Caller ID
Miles
2010
Closing Time
Jimmy
2010
Noirland
Tiberius Malloy
Naked Angel
Andreas
Post-production
2010
Playback
Clark
2010
Kaboom
Messiah
2011
Alyce Kills
Vince
2011
Not Another Not Another Movie
Himself
2012
Delirium
Burell[5]
2012
Touchback
Rodriguez
Spreading Darkness
Mark Minscourri
Post-production
2013
Look At Me
Frank
2013
Blue Dream
Robert Harmon
2014
Hercules Reborn
Horace
2015
Punk's Dead
John The Mod
2015
The Sparrows
Hector Sanchez
2016
American Romance
Stewart Miles
2018
Bojack Horseman
Studio Grip
Episode: "The Dog Days Are Over"
[ Source: Wikipedia ]