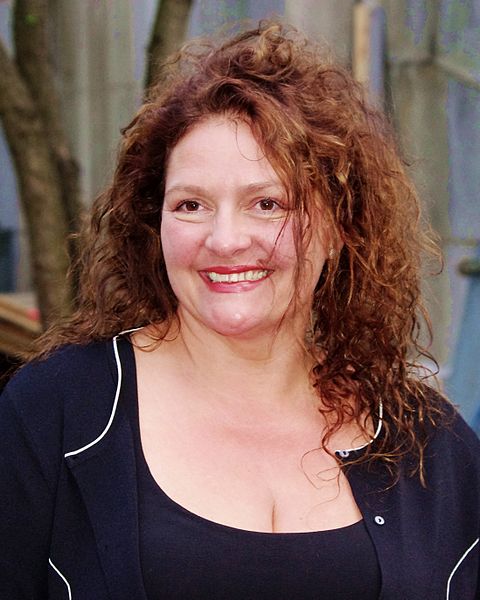 Aida Turturro
Born:
September 25, 1962
Age:
61
Birthplace:
Brooklyn, New York, U.S.
Popularity:

Please login to contact Aida Turturro...
Biography
Aida Turturro (born September 25, 1962) is an American actress best known for playing Janice Soprano, sister of New Jersey mob boss Tony Soprano, on the HBO drama series The Sopranos (1999-2007).
Aida Turturro was born in Brooklyn, New York, daughter of a Sicilian mother, Dorothy, a homemaker, and an Italian-American father, Domenick Turturro, an artist.[1] Actors
John Turturro
,
Nicholas Turturro
, and Natalie Turturro are her cousins.
Turturro has worked to raise public awareness of rheumatoid arthritis.[2]
Read more...
Film career
Turturro appeared in her first film in 1989.
She has also acted in films such as True Love, What About Bob?, Jersey Girl, and Illuminata. Turturro also had small parts in Sleepers and Deep Blue Sea.
She appears also in the 2005 movie Romance & Cigarettes, directed by her cousin John.
Television career
Turturro played Janice Soprano in The Sopranos. She appeared in 49 episodes from 2000-2007, earning two nominations for the Primetime Emmy Award for Outstanding Supporting Actress in a Drama Series in 2001 and 2007.
In 2009, Turturro appeared in "Bite Me," a sixth-season episode of the CBS series Medium, playing the evil Bobbi Catalano.
Turturro appeared in the eighth-season episode "Car Periscope" of Curb Your Enthusiasm.
In 2012, Turturro appeared in "Day of the Iguana," an episode of Nurse Jackie, which reunited her with her Sopranos co-star Edie Falco. She played Laura Vargas, the titular character's lawyer.
In 2013, Turturro appeared in the fourth-season episode "Drawing Dead" of Blue Bloods.
Between 2013 and 2016, she appeared in seven episodes of Law & Order: Special Victims Unit as Judge Felicia Catano.
In 2016, Turturro appeared as Maura Figgis, sister of gangster Jimmy "The Butcher" Figgis on the Fox police procedural sitcom, Brooklyn Nine-Nine.
In 2017, Turturro appeared in "Il Mostro" in the second season of Criminal Minds: Beyond Borders.
Filmography
Film
| Year | Title | Role | Notes |
| --- | --- | --- | --- |
| 1989 | True Love | Grace | |
| 1991 | What About Bob? | Prostitute | |
| 1992 | Jersey Girl | Angie | |
| 1993 | Life with Mikey | Officer Moran | |
| 1994 | Angie | Tina | |
| 1994 | The Search for One-eye Jimmy | Madame Esther | |
| 1994 | Junior | Louise | |
| 1995 | Denise Calls Up | Linda | |
| 1996 | Sleepers | Mrs. Salinas | |
| 1996 | Tales of Erotica | Kim | Segment: "The Dutch Master" |
| 1997 | Made Men | Angie | |
| 1997 | Fool's Paradise | Susan | |
| 1998 | Fallen | Tiffany | |
| 1998 | O.K. Garage | Mary | |
| 1998 | Woo | Tookie | |
| 1998 | Illuminata | Marta | |
| 1998 | Jaded | Helen Norwich | |
| 1998 | Crossfire | Miss Pasquantonio | |
| 1998 | Celebrity | Olga | |
| 1999 | The 24 Hour Woman | Brenda | |
| 1999 | 24 Nights | Marie | |
| 1999 | Deep Blue Sea | Brenda Kerns | |
| 1999 | Freak Weather | Glory | |
| 1999 | Bringing Out the Dead | Nurse Crupp | |
| 2001 | Crocodile Dundee in Los Angeles | Jean Ferraro | |
| 2001 | Sidewalks of New York | Shari | |
| 2004 | 2BPerfectlyHonest | Emily / Gina | |
| 2005 | Romance & Cigarettes | Rosebud | |
| 2010 | A Little Help | Nancy Feldman | |
| 2011 | Mozzarella Stories | Autilia | |
| 2014 | Rob the Mob | Anna | |
| 2017 | Making a Killing | Connie | |
Television
| Year | Title | Role | Notes |
| --- | --- | --- | --- |
| 1990 | Law & Order | Carmen | "Happily Ever After" |
| 1995 | The Wright Verdicts | Lydia | Main role |
| 1995 | New York News | Gina | "A Question of Truth" |
| 1996 | Mr. & Mrs. Smith | Rox | "The Poor Pitiful Put-Upon Singer Episode", "The Big Easy Episode" |
| 2000-2007 | The Sopranos | Janice Soprano | Guest role (season 1), main role (seasons 2-6) |
| 2004 | Wild Card | Maddy | "Premonition Mission" |
| 2008 | ER | Sheryl Hawkins | "...As the Day She Was Born", "Truth Will Out", "Tandem Repeats" |
| 2009 | Medium | Bobbi Catalano | "Bite Me" |
| 2010 | Mercy | Evelyn | "That Crazy Bitch Was Right" |
| 2011 | Curb Your Enthusiasm | Gabby | "Car Periscope" |
| 2012 | Nurse Jackie | Laura Vargas | "Day of the Iguana" |
| 2013 | Blue Bloods | Miss Dominga | "Drawing Dead" |
| 2013-2016 | Law & Order: Special Victims Unit | Judge Felicia Catano | Recurring role |
| 2016 | Brooklyn Nine-Nine | Maura Figgis | "Maximum Security", "Bureau" |
| 2017 | Grey's Anatomy | Lynne Gagliano | "It Only Gets Much Worse" |
| 2017 | Criminal Minds: Beyond Borders | Carmela Tafani | "Il Mostro" |
| 2017-18 | The Blacklist | Heddie Hawkins | Recurring role |
[ Source: Wikipedia ]