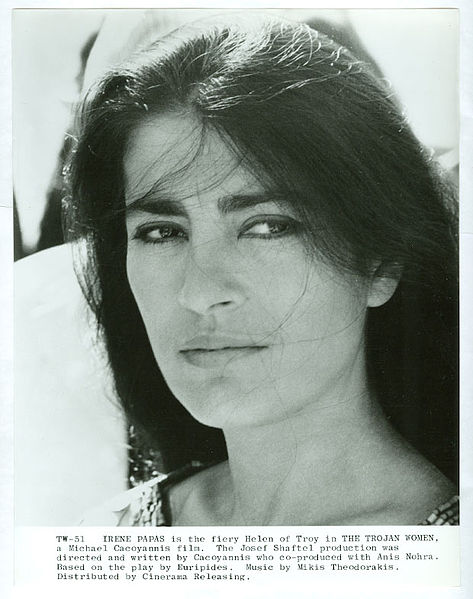 Irene Papas
Born:
September 3, 1929
Age:
94
Birthplace:
Chiliomodi, Corinthia, Peloponnese, Greece
Popularity:

Please login to contact Irene Papas...
Biography
Irene Papas or Irene Pappas (Greek: Ειρήνη Παππά, Eiríni Pappá ; born 3 September 1929)[1][2] is a retired Greek actress and occasional singer, who has starred in over 70 films in a career spanning more than 50 years. She became famous in Greece, and then an international star of feature films such as The Guns of Navarone and Zorba the Greek. She was a powerful presence as a Greek heroine in films including The Trojan Women and Iphigenia. She played the eponymous parts in Antigone (1961) and Electra (1962).
Papas won Best Actress awards in 1961 at the Berlin International Film Festival for Antigone and in 1971 from the National Board of Review for The Trojan Women. She received career awards in 1993, the Golden Arrow Award at Hamptons International Film Festival, and in 2009, the Golden Lion Award at the Venice Biennale.
Papas was born as
Irini Lelekou
(Ειρήνη Λελέκου) in the village of Chiliomodi, outside Corinth, Greece. Her mother, Eleni, was a schoolteacher, and her father, Stavros, taught classical drama.[3] She was educated at the Royal School of Dramatic Art in Athens, taking classes in dance and singing.[4] She stated that her father may have been Albanian.[5] In 1947 she married the film director Alkis Papas; they divorced in 1951.[6] In 1954 she met the actor
Marlon Brando
and they had a long and "secret love affair".[7] She married the film producer Jose Kohn in 1957; that marriage was later annulled.[6]
In 2003 she was serving on the board of directors of the Anna-Marie Foundation.[8] In 2018 it was announced that she had been suffering from Alzheimer's for five years.[9]
Read more...
Film career
Papas in a publicity still for
The Trojan Women
(1971)
Papas debuted in American film with a bit part in the B-movie The Man from Cairo (1953); her next American film was a much larger role as Jocasta Constantine, alongside James Cagney, in the Western Tribute to a Bad Man (1956).[10] She was discovered by Elia Kazan in Greece, where she achieved widespread fame.[4][11] She then starred in internationally renowned films such as The Guns of Navarone (1961) and Zorba the Greek (1964), and critically acclaimed films such as Z (1969), where her political activist's widow has been called "indelible".[12] She was a leading figure in cinematic transcriptions of ancient tragedy, portraying Helen in The Trojan Women (1971) opposite Katharine Hepburn, Clytemnestra in Iphigenia (1977), and the eponymous parts in Antigone (1961) and Electra (1962), where her portrayal of the "doomed heroine" is described as "outstanding".[11][13] She appeared as Catherine of Aragon in Anne of the Thousand Days, opposite Richard Burton and Geneviève Bujold in 1969. In 1976, she starred in Mohammad, Messenger of God about the origin of Islam. In 1982, she appeared in Lion of the Desert, together with Anthony Quinn, Oliver Reed, Rod Steiger, and John Gielgud. One of her last film appearances was in Captain Corelli's Mandolin in 2001.[14][4]
The Treccani Enciclopedia Italiana describes Papas as a typical Mediterranean beauty, with a lovely voice both in singing and acting, greatly talented and with an adventurous spirit.[4]
In the view of film critic Philip Kemp, Papas was an awe-inspiring presence, which paradoxically limited her career. He admired her roles in the films of Michael Cacoyannis, including the defiant Helen of Troy in The Trojan Women; the vengeful, grief-stricken Clytemnestra in Iphigenia; and "memorably"[11] as the cool but sensual widow in Zorba the Greek.[11]
The film critic Roger Ebert observed that there were many "pretty girls" in cinema "but not many women", and called Papas a great actress. Ebert noted her uphill struggle, her height limiting the leading men she could play alongside, her accent limiting the roles she could take, and "her unusual beauty is not the sort that superstar actresses like to compete with."[15] Ordinary actors, he suggested, had trouble sharing the screen with Papas. All the same, her presence in many well-known movies, wrote Ebert, inspired "something of a cult".[15]
Theatre career
Papas began her acting career in variety and traditional theatre, in plays by Ibsen, Shakespeare, and classical Greek tragedy, before moving into film in 1951.[4] Later in her career, she took the eponymous role of Medea in a 1973 production of Euripides's play. Reviewing the production in The New York Times, Clive Barnes described her as a "very fine, controlled Medea", smouldering with a "carefully dampened passion", constantly fierce.[16] Walter Kerr also praised Papas's Medea; both Barnes and Kerr saw in her portrayal what Barnes called "her unrelenting determination and unwavering desire for justice".[17] Albert Bermel considered Papas's rendering of Medea as a sympathetic woman a triumph of acting.[17]
Singing
In 1969, the RCA label released Papas' vinyl LP, Songs of Theodorakis (INTS 1033). This has 11 folk songs sung in Greek, conducted by Harry Lemonopoulos and produced by Andy Wiswell, with sleeve notes in English by Michael Cacoyannis.[18] It was released on CD in 2004 (FM 1680).[19] Papas knew Mikis Theodorakis from working with him on Zorba the Greek[11] as early as 1964.
In 1972, she appeared on the album 666 by the Greek rock group Aphrodite's Child on the track "∞" (infinity). She chants "I was, I am, I am to come" repeatedly and wildly over a percussive backing, causing controversy with her "graphic orgasm".[20][21]
In 1979, Polydor released her solo album of eight Greek folk songs entitled Odes, with electronic music performed (and partly composed) by Vangelis Papathanassiou.[22] The lyrics were co-written by Arianna Stassinopoulos.[23] They collaborated again in 1986 for Rapsodies, an electronic rendition of seven Byzantine liturgy hymns, also on Polydor.[24]
Politics
Papas was a member of the Communist Party of Greece (KKE), and in 1967 called for a "cultural boycott" against the "Fourth Reich", meaning the military government of Greece at that time.[25] Her opposition to the regime sent her, and other artists such as Theodorakis whose songs she sang, into exile when the military junta came to power in Greece in 1967.[26][27]
Awards and honours
1961: 11th Berlin International Film Festival (Best Actress, for the film Antigone)[28]
1971: National Board of Review (Best Actress, for the film The Trojan Women)[29]
1973: Photo shoot with Magnum photographer Ferdinando Scianna[30]
1993: Golden Arrow Award for lifetime achievement, at Hamptons International Film Festival[31]
2009: Leone d'oro alla carriera (Golden Lion career award), Venice Biennale[32]
She has received the honours of Commander of the Order of the Phoenix in Greece, Commandeur des Arts et des Lettres in France, and Commander of the Civil Order of Alfonso X, the Wise in Spain.[33]
In 2017, the National Theatre of Greece's drama school was agreed to be relocated to a new "Irene Papas - Athens School" on Agiou Konstantinou Street in Athens from 2018.[34]
Filmography
Fallen Angels (Greek, "Hamenoi angeloi", 1948) as Liana[35]
Dead City (Greek, "Nekri Politeia", 1951) as Lena[11]
The Unfaithfuls (Italian, "Le Infideli", 1953) as Luisa Azzali[11]
Torna! (1953)
The Man from Cairo (Italian, "Dramma del Casbah",1953) as Yvonne Lebeau[11]
One of Those (1953) as Monica (uncredited)
Vortice (1953) as Clara[11]
Theodora, Slave Empress (Italian, "Teodora, Imperatrice di Bisanzio", 1954) as Faidia[11]
Attila (1954) as Grune[11]
The Missing Scientists (1955) as Gina
Tribute to a Bad Man (1956) as Jocasta Constantine[11]
The Power and the Prize (1956)[11]
Le avventure dei tre moschettieri (1957)
La spada imbattibile (1957)
Climax! (1958, TV Series) as Maxanne York
Psit... koritsia! (1959) as Eleni
I limni ton stenagmon (1959) as Frosyni
Bouboulina (1959) as Laskarina Bouboulina
The Guns of Navarone (1961) as Maria[11]
Antigone (1961) as Antigone[11]
Electra (1962) as Electra[11]
The Moon-Spinners (1964) as Sophia[11]
Zorba the Greek (1964) as the widow[11]
Roger la Honte (1966) as Julia de Noirville[11]
Zeugin aus der Hölle (de) ("Witness out of Hell", 1966) as Lea Weiss[11]
Ta skalopatia (1966)
We Still Kill the Old Way (1967) as Luisa Roscio[11]
The Desperate Ones (1967) as Ajmi[11]
L'Odissea (1968, TV Mini-Series) as Penelope[11]
The Brotherhood (1968) as Ida Ginetta[11]
Ecce Homo - I sopravvissuti (it) (1968) as Anna[36]
Z (1969) as Helene[11]
A Dream of Kings (1969) as Caliope[11]
Anne of the Thousand Days (1969) as Queen Katherine[11]
The Trojan Women (1971) as Helen of Troy[11]
Oasis of Fear (1971) as Barbara Slater
Roma Bene (1971) as Elena Teopoulos[11]
N.P. - Il segreto (it) (1971) as the housewife[37]
Don't Torture a Duckling (Italian, "Non si servizia un paperino", 1972) as Dona Aurelia Avallone[11]
1931: Once Upon a Time in New York (1972) as Donna Mimma[11]
(1973) as the housewife
The Battle of Sutjeska (1973)
I'll Take Her Like a Father (1974)
Moses the Lawgiver (Italian, "Mose", 1974) (TV miniseries) as Zipporah[11]
Mohammad, Messenger of God (1976) as Hind[11]
Blood Wedding (Spanish, "Bodas de Sangre", 1977)
Iphigenia (1977) as Clytemnestra[11]
Christ Stopped at Eboli (1979) as Giulia[11]
Bloodline (1979) as Simonetta Palazza[11]
Ring of Darkness (it) (1979) as Raffaella[38]
Lion of the Desert (1981) as Mabrouka[11]
L'assistente sociale tutto pepe (1981)
Eréndira (1983) as the grandmother[11]
Il disertore (1983) as Mariangela[11]
Melvin, Son of Alvin (1984)
Into the Night (1985) as Shaheen Parvizi[11]
The Assisi Underground (1985)
Sweet Country (1987)
Chronicle of a Death Foretold (1987)
High Season (1987)
A Child Called Jesus (1987) (TV film)
Island (1989)
Nirvana Street Murder (1990)
Jacob (1994) (TV film)
Party (1996) as Irene[11]
The Odyssey (1997) (TV miniseries) as Anticlea[11]
Anxiety ("Inquietude", 1998) as the mother[11]
Yerma (1998)[11]
Captain Corelli's Mandolin (2001) as Drosoula[14]
A Talking Picture (2003) as Helena[39]
[ Source: Wikipedia ]