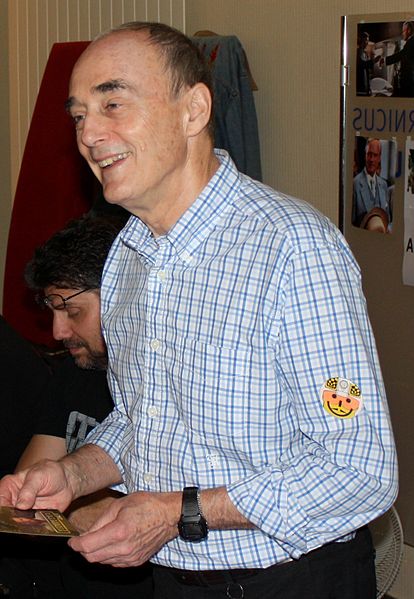 Garrick Hagon
Born:
September 27, 1939
Age:
84
Birthplace:
London, England, UK
Popularity:

Please login to contact Garrick Hagon...
Biography
Garrick Hagon (born 27 September 1939) is a British-born Canadian actor on film, stage, television and radio, best known for his role as Biggs Darklighter in Star Wars: A New Hope. His many films include Batman, Spy Game, Me and Orson Welles and The Message. He was the rebel leader Ky in Doctor Who: The Mutants, and played Simon Gerrard, Debbie Aldridge's husband in the BBC's The Archers.
Hagon was born in London, England, and brought up in Toronto, Ontario, Canada, where he attended UTS and Trinity College (Hon. English, 1963). He acted with
Alec Guinness
in
Richard III
at the Stratford Festival, where he played for seven seasons and won the Tyrone Guthrie Award in 1963. He guest-starred (as Johnnie Nipick) in the episode
The River
in the CBC television series
The Forest Rangers
in 1964. After studying for a spell with the Royal Court Theatre Studio in London, Hagon then acted with Prospect Productions, in many repertory theatres, in the West End in
Arthur Miller
's
All My Sons
(as Chris Kellar) and at the Royal National Theatre in
After The Fall
.
As a voice actor he has been heard in many films and TV series including the UK dub of Star Fleet/X-Bomber (as Capt. Carter), the Manga titles, The Secret of Mamo and Goodbye Lady Liberty and Akira Kurosawa's Ran. His voice is featured in the video game, Divinity II: Ego Draconis and he has recorded over 150 audiobooks for major UK publishers. Garrick has also directed over 100 audiobook recordings, including Michelle Paver's Wolf Brother read by Ian McKellen, and the Audie Award-winning, full-cast, unabridged His Dark Materials by Philip Pullman.
In the original version of Star Wars: A New Hope, Hagon's role as Biggs Darklighter, Red 3, came to an early but heroic end in the attack on the Death Star in the Battle of Yavin. In the 2011 Blu-ray release of the Star Wars films, Biggs's establishing scene at Anchorhead on Tatooine can be seen in full along with the characters of Fixer and Camie, played by Anthony Forrest and Koo Stark. Because of Biggs, Garrick has enjoyed being invited to sci-fi conventions and inducted into Rebel Legions and 501st Garrisons around the world.
Hagon's many films include: Dad in Tim Burton's Batman, the role of Ammar in Mustapha Akkad's The Message, CIA Director Wilson in Tony Scott's Spy Game, Dr. Mewling in Richard Linklater's Me and Orson Welles, Fr. Loughton in Xie Jin's The Opium War, James Halgate III in Philip Stolzl's The Expatriate, Lt. Rafferty in Richard Attenborough's A Bridge Too Far, the British General in Paul Verhoeven's Black Book, Eros in Charlton Heston's Antony and Cleopatra, Jack Ives in Some Kind of Hero, and the American doctor in Olivier Dahan's La Vie en rose. In 2006, he appeared in an episode of The Line of Beauty.
In 2012, Hagon had a role in Doctor Who series 7 episode 3, "A Town Called Mercy". Filming took place in Almeria, Spain, March 2012.[2] He also appeared in the video game Batman: Arkham Knight as Henry Adams.[3]
Read more...
Personal life
Hagon's wife, actress Liza Ross, has appeared alongside him in several productions playing Mom in Batman and Lamia in Star Fleet. Liza and Garrick live in London and are co-directors of their audiobook production company, The Story Circle. They have two children and one grandson.
Filmography
Film
Year
Title
Role
Notes
1972
Antony and Cleopatra
Eros
1976
The Message
Ammar
1977
Twilight's Last Gleaming
Driver Alfie
Star Wars Episode IV: A New Hope
Biggs Darklighter (Red Three)
A Bridge Too Far
Lieutenant Rafferty
The Spy Who Loved Me
USS Wayne Crewman
1979
Winterspelt
Lieutenant Evans
1987
Tomorrow's a Killer
Chambers
Nowhere to Hide
William Devlin
Rolling Vengeance
Vic's Lawyer
Cry Freedom
McElrea
1989
Batman
Tourist Dad
1990
The Rift
Barton
1991
Sebastian Star Bear: First Mission
English voice
1995
Balto
Telegraph Operator
1996
Mission Impossible
CNN Reporter
1997
The Opium War
Missionary
2001
Spy Game
CIA Director Wilson
2004
In My Country
Pilot
2005
The Jacket
Defense Lawyer
Charlie and the Chocolate Factory
Denver Reporter
2009
Into the Storm
Harry Hopkins
2015
Elstree 1976
Himself
Television
Year
Title
Role
Notes
1972
Doctor Who: The Mutants
Ky
6 episodes
1972-73
The Adventurer
Gavin Jones
10 episodes
1973
Moonbase 3
Bruno Ponti
3 episodes, TV miniseries
1975-76
Couples
Gary
9 episodes
1976
Z Cars
Clown
1 episode
1985
Stookie
Keelan
6 episodes, TV mini-series
1990-91
Moomin
Hemulen
77 episodes
2006
The Line of Beauty
Morden Lipscome
1 episode. TV mini-series
The Eagle
Canino
2 episodes
2012
Doctor Who
Abraham
1 episode, A Town Called Mercy
2016
The Crown
John Foster Dulles
1 episode, Scientia Potentia Est
Video game
| Year | Title | Role | Notes |
| --- | --- | --- | --- |
| 2014 | Randal's Monday | Bum | |
[ Source: Wikipedia ]