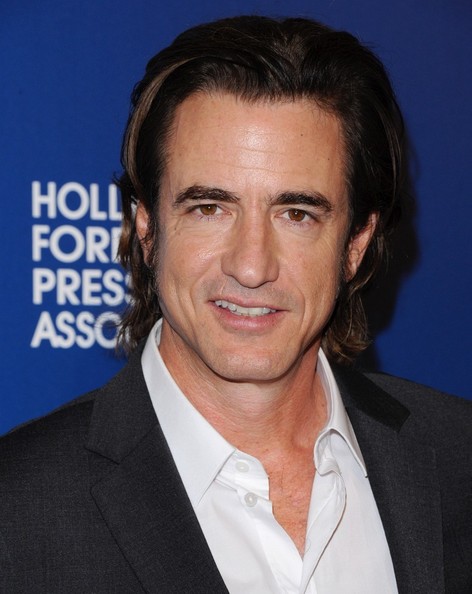 Dermot Mulroney
Born:
October 31, 1963
Age:
60
Birthplace:
Alexandria, Virginia, U.S.
Popularity:

Please login to contact Dermot Mulroney...
Biography
Dermot Mulroney (born October 31, 1963) is an American actor, musician and voice actor. He is best known for his roles in romantic comedy, western and drama films. Appearing on screen since the mid 1980s, he is known for his work in films such as Young Guns (1988), Staying Together (1989), Where the Day Takes You (1992), Point of No Return (1993), My Best Friend's Wedding (1997), About Schmidt (2002), The Wedding Date (2005), August: Osage County (2013), Insidious: Chapter 3 (2015) and the HBO films The Last Outlaw (1993) and Long Gone (1987). Mulroney played the main antagonist Francis Gibson in NBC's Crisis, and played Sean Pierce in Showtimes's Shameless.
Mulroney was born in Alexandria, Virginia. His mother, Ellen, was a homemaker and amateur actress originally from Manchester, Iowa, and his father, Michael Mulroney, was a law professor (and amateur racecar driver) at Villanova University School of Law, originally from Elkader, Iowa.[1][2][3] He has a sister, Moira, and three brothers, Conor, Kieran (who is also an actor), and Sean. Mulroney attended Maury Elementary School and played cello in school and city youth orchestras, as well as acted in children's community theater. Mulroney attended the Interlochen Arts Camp as a cellist. He later attended T. C. Williams High School (grad. 1981) as well as Northwestern University (grad. 1985) in Evanston, Illinois, where he was a member of the fraternity of Phi Gamma Delta.
Read more...
Career
Several of his lead performances have been in romantic comedy films. Mulroney has appeared in many movies, including as the male lead in My Best Friend's Wedding alongside Julia Roberts and Cameron Diaz. He is probably best known for his western roles as either an outlaw or gunman. Mulroney co-starred in the 1988 western Young Guns, for which he is possibly best known, in which he played "Dirty Steve" alongside Emilio Estevez. In 1993 Mulroney played "J.P", the boyfriend of star "Maggie" (played by Bridget Fonda) in Point of No Return. In 1994 he starred with Mickey Rourke in The Last Outlaw, which has since become a cult classic among western genre fans. Mulroney also played the love interest of Madeleine Stowe in the western Bad Girls. He first gained critical acclaim in the film Longtime Companion, portraying a young man with HIV during the early days of the outbreak of the virus, who becomes the first of his group of friends to succumb to the disease. In 2005, he played a male escort alongside Debra Messing in The Wedding Date, and co-starred in the ensemble film The Family Stone, with Sarah Jessica Parker. He was also in the movie Abduction (2011) as Martin Price.
Mulroney played Gavin Mitchell on the TV series, Friends. His character dated Rachel for one episode but they broke up when it became too complicated between them because of Ross. In 1993, he wrote the song "Someone Else's Used Guitar" for Peter Bogdanovich's The Thing Called Love, in which he also starred. Mulroney also had a cameo in the Joaquin Phoenix-directed video "Tired of Being Sorry" for Balthazar Getty's band Ringside. Mulroney also is credited as a song performer on the movie and for four other tunes, as well as acting in the movie. In 2007, Mulroney voiced Green Lantern Hal Jordan in the animated series The Batman in the season 5 episode "Ring Toss". He occasionally reads stories on the WBEZ Chicago Public Radio. In 2012, Mulroney played the love interest of Zooey Deschanel, Russell, in the Fox series New Girl. In 2013, he portrayed the title starring role in the psychotronic horror film The Rambler, which premiered at the 2013 Sundance Film Festival. He also starred alongside Lin Shaye, Angus Sampson, and Stefanie Scott in the 2015 horror sequel Insidious: Chapter 3.[4] He is the narrator of Legends & Lies (2015-2016) executive produced by Bill O'Reilly for Fox News Channel.
Personal life
Mulroney married actress Catherine Keener in 1990 after they met in 1987 when filming Survival Quest. They have a son named Clyde Keener Mulroney (born June 21, 1999) who is a singer. The couple separated in May 2005 and Mulroney filed for divorce June 11, 2007, citing irreconcilable differences. Their divorce became final on December 19, 2007.[5] He later remarried to producer Tharita Cutulle in 2008. They have two daughters; Mabel, born in 2008, and Sally June, born in 2009. The family lives in Los Angeles.
Mulroney is an accomplished cellist and in 2005 appeared alongside Boyd Tinsley for Alanis Morissette's show at the House of Blues in Hollywood. He played the cello in the film Samantha, where he portrayed a college student studying music alongside Martha Plimpton. He played cello in the song "Place Your Hand" from Melissa Etheridge's 1992 album Never Enough, on the EP for Rain Phoenix's band Papercranes, and on the score to Mission: Impossible III (2006), Mission: Impossible - Ghost Protocol (2011), and Star Trek Into Darkness (2013).[6] Most recently, he portrayed a cello soloist in the second and third seasons of Mozart in the Jungle.
Filmography
Film
Year
Title
Role
Notes
1988
Sunset
Michael Alperin
Young Guns
Dirty Steve Stephens
1989
Staying Together
Kit McDermott
Survival Quest
Gray Atkinson
Longtime Companion
John
1990
Bright Angel
George Russell
1991
Career Opportunities
Nestor Pyle
Samantha
Henry
Seattle International Film Festival for Best Actor
1992
Where the Day Takes You
King
1993
Point of No Return
J. P.
The Thing Called Love
Kyle Davidson
1994
Silent Tongue
Reeves McCree
Bad Girls
Josh McCoy
There Goes My Baby
Pirate
Angels in the Outfield
Mr. Bomman
1995
Copycat
Reuben Goetz
How to Make an American Quilt
Sam
Nominated—MTV Movie Award for Best Kiss
Living in Oblivion
Wolf Überman
Also associate producer
1996
The Trigger Effect
Joe
Kansas City
Johnny O'Hara
Box of Moonlight
Wick
Bastard Out of Carolina
Lyle Parsons
1997
My Best Friend's Wedding
Michael O'Neal
1999
Goodbye Lover
Jake Dunmore
2000
Trixie
Dexter "Dex" Lang
Where the Money Is
Wayne MacKay
2001
The Safety of Objects
Jim Train
Investigating Sex
Edgar Faldo
Lovely & Amazing
Kevin McCabe
2002
About Schmidt
Randall Hertzel
2004
Undertow
John Munn
Hair High
Rod
Voice role
2005
The Wedding Date
Nick Mercer
Must Love Dogs
Bob Connor
The Family Stone
Everett Stone
2006
Griffin & Phoenix
Henry Griffin
2007
Dante's Inferno
Dante Alighieri
Voice role
Zodiac
Captain Marty Lee
Georgia Rule
Dr. Simon Ward
Gracie
Bryan Bowen
2008
Jolene
Uncle Phil
Burn After Reading
Star of "Coming Up Daisy"
Flash of Genius
Gil Previck
2010
Inhale
Paul Stanton
2011
Abduction
Martin Price
J. Edgar
Colonel Schwarzkopf
The Family Tree
Jack Burnett
2012
Struck by Lightning
Neal Phillips
The Grey
Jerome Talget
Big Miracle
Colonel Scott Boyer
Trade of Innocents
Alex Becker
2013
Space Warriors
Andy Hawkins
Stoker
Richard Stoker
The Rambler
The Rambler
Jobs
Mike Markkula
August: Osage County
Steve Heidebrecht
Hollywood Film Festival Award for Best Ensemble
Nominated—Phoenix Film Critics Society Award for Best Cast
Nominated—Seattle Film Critics Society Award for Best Ensemble
Nominated—Screen Actors Guild Award for Outstanding Performance by a Cast in a Motion Picture
Nominated—Washington D.C. Area Film Critics Association Award for Best Ensemble
2015
Careful What You Wish For
Elliott Harper
Truth
Lawrence Lanpher
Insidious: Chapter 3
Sean Brenner
Northpole: Open for Christmas
Ian Hanover
The D Train
Himself
2016
Dirty Grandpa
David Kelly
Lavender
Patrick
2017
Sleepless
Stanley Rubino
The Mountain Between Us
Mark
2018
The Gettysburg Address
Andrew Gregg Curtin
Voice role; post-production
2018
I Still See You
August Bittner
Post-production
Television
Year
Title
Role
Notes
1986
Sin of Innocence
Tim McGary
Television film (CBS)
Fame
Max
Episode: "Losin' It"
CBS Schoolbreak Special
Doug Dawson
Episode: "The Drug Knot"
1987
Daddy
Bobby
Television film (ABC)
Long Gone
Jamie Weeks
Television film (HBO)
Nominated—CableACE Award for Best Supporting Actor in a Miniseries or Movie
1989
Unconquered
Richmond Flowers Jr.
Television film (CBS)
1992
The Heart of Justice
Elliot Burgess
Television film (TNT)
1993
Family Pictures
Mack Eberlin
Television film (ABC)
1994
The Last Outlaw
Eustis
Television film (HBO)
1996
Heroine of Hell
Callum
Television film (PBS)
2003
Friends
Gavin Mitchell
3 episodes
2007-2008
The Batman
Green Lantern / Hal Jordan
3 episodes; Voice role
2008
The Memory Keeper's Daughter
Dr. David Henry
Television film (Lifetime)
2011
Silent Witness
Tony Lord
Television film (TNT)
2012-2018
New Girl
Russell Schiller
8 episodes; Seasons 1, 2 and 7
2012
Saturday Night Live
Himself
Episode: "Jamie Foxx / Ne-Yo"
2013
Enlightened
Jeff Flender
6 episodes; Season 2
2014
Crisis
Francis Gibson
13 episodes; Main cast
2015-2017
Shameless
Sean Pierce
23 episodes; Seasons 5, 6 and 8
2015
Mozart in the Jungle
Andrew Walsh
3 episodes; Seasons 2 and 3; Also contributed to soundtrack
Northpole: Open for Christmas
Ian Hanover
Television film (Hallmark)
2016-2017
Pure Genius
Dr. Walter Wallace
13 episodes; Main cast
2016
SoundBreaking
Narrator
8 episodes
2017
American Dad!
Jesse
Episode: "Julia Rogerts"
American Horror Story: Cult
Bob Thompson
3 episodes
The Christmas Train
Tom Langdon
Television film (Hallmark Hall of Fame); Also contributed to soundtrack
2018
LA to Vegas
Captain Steve Jasser
2 episodes;[7]
Kingpin
Narrator
3 episodes
Arrested Development
Rusty
Episode: "A Hard Start"
Rob Riggle's Ski Master Academy
Himself
Episode: "Big Timed"
Into the Dark
Henry Tooms
Episode: "Flesh & Blood"
Homecoming
Anthony
Main cast
Station 19
Greg Tanner
Episode: "Lost and Found"
[ Source: Wikipedia ]