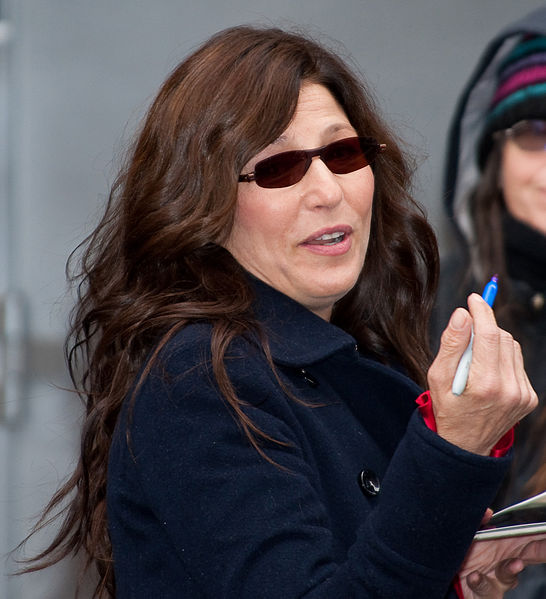 Catherine Keener
Birth name:
Catherine Ann Keener
Born:
March 23, 1959
Age:
64
Birthplace:
Miami, Florida, U.S.
Popularity:

Please login to contact Catherine Keener...
Biography
Catherine Ann Keener (born March 23, 1959)[2] is an American actress. She has been twice nominated for the Academy Award for Best Supporting Actress for her roles as Maxine Lund in Being John Malkovich (1999) and Harper Lee in Capote (2005).
Keener also appeared in the films The 40-Year-Old Virgin (2005), Into the Wild (2007), Synecdoche, New York (2008), and Get Out (2017), which were all well received by critics. Keener is the muse of director Nicole Holofcener, having appeared in each of Holofcener's first five films.[3] She also appeared in each of director Tom DiCillo's first four films, and three films directed by Spike Jonze.
Keener was born on March 23, 1959 in Miami, Florida, the third of five children of Evelyn (née Jamiel) and Jim Keener, a manager of a mattress store in Hialeah, Florida.[4] She is of Irish descent on her father's side and of Lebanese descent on her mother's.[4][5] Keener was raised in Hialeah[6] as a Roman Catholic and attended Catholic schools. She attended Monsignor Edward Pace High School.[7][8]
Keener's sister, Elizabeth Keener, is also an actress and a real estate agent working for Sotheby's in Los Angeles.
Keener attended Wheaton College, in Norton, Massachusetts. Keener majored in American Studies, enrolling in a theater course. Her first theatrical production was the Wendy Wasserstein play Uncommon Women and Others, during her junior year at Wheaton. She graduated with her B.A. from Wheaton College in 1983.
Read more...
Career
Keener had a supporting role as Lt. Cricket Sideris in the television series Ohara about an Asian-American detective. The series ran from January 1987 to May 1988.
Her first film appearance was one line in About Last Night... (1986). Although she struggled professionally over the next few years, one low-quality project had an unexpected dividend: Keener met her future husband, actor Dermot Mulroney in 1987 while working on Survival Quest (1989), after Mulroney became stuck while attempting to scale a cliff.
She also guest-starred as an artist on an episode of Seinfeld called "The Letter". She played Jerry's girlfriend, an artist who painted a famous portrait of Kramer. Keener then earned her first starring role in Johnny Suede with the then unknown Brad Pitt. Her performance gained critical acclaim and earned her first Independent Spirit Award nomination for Best Female Lead. She went on to work with director Tom Dicillo, again, in Living in Oblivion (1995). Two years later, she was once again nominated for an Independent Spirit Award for her performance in Walking and Talking, an independent cult-comedy film directed by Nicole Holofcener.
In 2000, Keener earned her first Oscar nomination for Best Supporting Actress for her role in Being John Malkovich, directed by Spike Jonze.[9] In 2001, she worked with director Nicole Holofcener in Lovely and Amazing garnering her a third Independent Spirit Award nomination. In 2002, she co-starred with Edward Norton in the off-Broadway revival of Burn This and the film Death to Smoochy. She also took part in the film Full Frontal, and Simone alongside Al Pacino.
In 2005, she starred in the political thriller The Interpreter, The Ballad of Jack and Rose with Daniel Day-Lewis, and played the love interest of Steve Carell in Judd Apatow's The 40-Year-Old Virgin. Keener's performance as writer Harper Lee in Capote (also 2005) earned her several awards and nominations, including her second Oscar nomination for Best Supporting Actress.[9] In 2006, she starred in the film Friends with Money, directed by Nicole Holofcener.
In 2007, Keener played Jan Burres in Sean Penn's critically acclaimed film Into the Wild, based on Jon Krakauer's best-selling book of the same name. In 2008, her film An American Crime, the true story of Gertrude Baniszewski, a middle-aged mother who tortured and killed Sylvia Likens in her Indiana home, was aired on Showtime. Keener played Baniszewski and her portrayal earned her an Emmy nomination in the Best Actress in a TV Mini-Series or Movie category. In 2008, Keener portrayed Philip Seymour Hoffman's wife Adele in Charlie Kaufman's directorial debut, Synecdoche, New York. She collaborated with Hoffman as husband and wife again in the 2012 film A Late Quartet. Keener played the title character's mother in the 2010 film Percy Jackson & the Olympians: The Lightning Thief, based on the series of books by Rick Riordan.
Keener starred in the six-episode HBO miniseries Show Me a Hero, based on the 1999 nonfiction book of the same name by Lisa Belkin.[10][11] It aired in August 2015.[12] In 2016, Keener starred in the independent film Unless.[13][14]
In 2017, Keener starred as Missy Armitage in the racially themed horror film Get Out,[15] which was a critical and commercial success.[16][17]
Personal life
Keener married actor Dermot Mulroney in 1990. They have a son, Clyde, born in 1999 who is a singer.[9] Mulroney filed for divorce in June 2007, citing irreconcilable differences[18] and the divorce became final on December 19, 2007.[19][20]
Filmography
Film
Year
Title
Role
Notes
1986
About Last Night...
Cocktail Waitress
1989
Survival Quest
Cheryl
1990
Catchfire
Trucker's girl
1991
Switch
Steve's Secretary
Johnny Suede
Yvonne
Thelma & Louise
Hal's wife
Scenes cut[21]
1992
The Gun in Betty Lou's Handbag
Suzanne
1993
The Cemetery Club
Ester's Daughter
1995
Living in Oblivion
Nicole Springer
1996
Walking and Talking
Amelia
Boys
Jilly
Box of Moonlight
Floatie Dupre
1997
The Real Blonde
Mary
1998
Out of Sight
Adele Delisi
Your Friends & Neighbors
Terri
1999
8mm
Amy Welles
Simpatico
Cecilia
Being John Malkovich
Maxine Lund
2001
Lovely & Amazing
Michelle Marks
2002
Adaptation
Herself
Cameo
Full Frontal
Lee
Death to Smoochy
Nora Wells
Simone
Elaine Christian
2005
The Ballad of Jack and Rose
Kathleen
The Interpreter
Dot
The 40-Year-Old Virgin
Trish Piedmont
Capote
Nelle Harper Lee
2006
Friends with Money
Christine
2007
An American Crime
Gertrude Baniszewski
Into the Wild
Jan Burres
2008
Hamlet 2
Brie Marschz
What Just Happened
Lou Tarnow
Synecdoche, New York
Adele Lack
Genova
Barbara
2009
The Soloist
Mary Weston
Where the Wild Things Are
Connie
Also associate producer
2010
Please Give
Kate
Cyrus
Jamie
Percy Jackson & the Olympians: The Lightning Thief
Sally Jackson
Trust
Lynn Cameron
2011
The Oranges
Paige Walling
Peace, Love & Misunderstanding
Diane
Maladies
Catherine
2012
A Late Quartet
Juliette Gelbart
2013
The Croods
Ugga
Voice
Enough Said
Marianne
Captain Phillips
Andrea Phillips
Jackass Presents: Bad Grandpa
Ellie
2014
War Story
Lee
Also producer
Begin Again
Miriam
Elephant Song
Susan Peterson
2015
Accidental Love
Rep. Pam Hendrickson
2016
Unless
Reta
2017
Get Out
Missy Armitage
Little Pink House
Susette Kelo
We Don't Belong Here
Nancy Green
November Criminals
Fiona
2018
Nostalgia
Donna Beam
Incredibles 2
Evelyn Deavor
Voice
Sicario: Day of the Soldado
Cynthia Foards
Television
Year
Title
Role
Notes
1986
L.A. Law
Waitress
Episode: "The House of the Rising Flan"
1987
Ohara
Lt. Cricket Sideris
11 episodes
1988-1989
Knightwatch
Rebecca
2 episodes
1989
CBS Summer Playhouse
Jan Engle
Episode: "Curse of the Corn People"
1992
Seinfeld
Nina West
Episode: "The Letter"
1996
Heroine of Hell
Magda
Television film
1996
If These Walls Could Talk
Becky Donnelly
Television film
Segment: "1952"
2014
How and Why
Alice
Pilot
2015
Show Me a Hero
Mary Dorman
5 episodes
2018-present
Kidding
Deirdre
10 episodes
2018
Forever
Kase
5 episodes
Podcast
| Year | Title | Role | Notes |
| --- | --- | --- | --- |
| 2016-2017 | Homecoming | Heidi Bergman | |
Awards and nominations
Main article: List of awards and nominations received by Catherine Keener
Year
Title
Award
1991
Johnny Suede
Nominated—Independent Spirit Award for Best Female Lead
1995
Walking and Talking
1999
Being John Malkovich
Florida Film Critics Circle Award for Best Supporting Actress
Kansas City Film Critics Circle Award for Best Supporting Actress
New York Film Critics Circle Award for Best Supporting Actress
Online Film Critics Society Award for Best Supporting Actress
Satellite Award for Best Supporting Actress - Motion Picture
Southeastern Film Critics Association Award for Best Supporting Actress
Nominated—Academy Award for Best Supporting Actress
Nominated—Chicago Film Critics Association Award for Best Supporting Actress
Nominated—Golden Globe Award for Best Supporting Actress - Motion Picture
Nominated—Las Vegas Film Critics Society Award for Best Supporting Actress
Nominated—Saturn Award for Best Actress
Nominated—Screen Actors Guild Award for Outstanding Performance by a Female Actor in a Supporting Role
Nominated—Screen Actors Guild Award for Outstanding Performance by a Cast in a Motion Picture
2001
Lovely and Amazing
Nominated—Independent Spirit Award for Best Female Lead
Nominated—Satellite Award for Best Actress - Motion Picture Musical or Comedy
2005
The Ballad of Jack and Rose
Boston Society of Film Critics Award for Best Supporting Actress
Los Angeles Film Critics Association Award for Best Supporting Actress
The Interpreter
Los Angeles Film Critics Association Award for Best Supporting Actress
The 40-Year-Old Virgin
Boston Society of Film Critics Award for Best Supporting Actress
Los Angeles Film Critics Association Award for Best Supporting Actress
Capote
Boston Society of Film Critics Award for Best Supporting Actress
Dallas-Fort Worth Film Critics Association Award for Best Supporting Actress
Los Angeles Film Critics Association Award for Best Supporting Actress
Toronto Film Critics Association Award for Best Supporting Actress
Nominated—Academy Award for Best Supporting Actress
Nominated—BAFTA Award for Best Actress in a Supporting Role
Nominated—Broadcast Film Critics Association Award for Best Supporting Actress
Nominated—Chicago Film Critics Association Award for Best Supporting Actress
Nominated—Online Film Critics Society Award for Best Supporting Actress
Nominated—Screen Actors Guild Award for Outstanding Performance by a Female Actor in a Supporting Role
Nominated—Screen Actors Guild Award for Outstanding Performance by a Cast in a Motion Picture
Nominated—Washington DC Area Film Critics Association Award for Best Supporting Actress
2007
An American Crime
Nominated—Golden Globe Award for Best Actress - Miniseries or Television Film
Nominated—Primetime Emmy Award for Outstanding Lead Actress in a Miniseries or a Movie
Into the Wild
Nominated—Broadcast Film Critics Association Award for Best Supporting Actress
Nominated—Houston Film Critics Society Award for Best Supporting Actress
Nominated—Screen Actors Guild Award for Outstanding Performance by a Female Actor in a Supporting Role
Nominated—Screen Actors Guild Award for Outstanding Performance by a Cast in a Motion Picture
2008
Synecdoche, New York
Gotham Award for Best Ensemble Cast
Independent Spirit Robert Altman Award
2009
Where the Wild Things Are
Nominated—Saturn Award for Best Actress
2010
Please Give
Nominated—Comedy Film Award for Best Leading Actress
Nominated—Gotham Award for Best Ensemble Cast
Nominated—Satellite Award for Best Actress - Motion Picture Musical or Comedy
2017
Get Out
Nominated—Screen Actors Guild Award for Outstanding Performance by a Cast in a Motion Picture
[ Source: Wikipedia ]