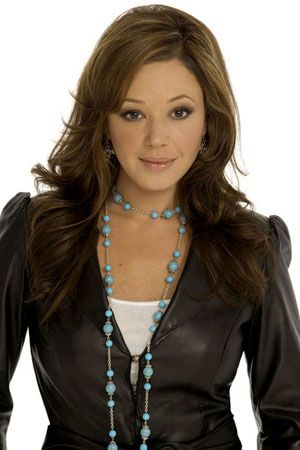 Leah Remini
Birth name:
Leah Marie Remini
Born:
June 15, 1970
Age:
52
Birthplace:
New York City, U.S.
Popularity:

Please login to contact Leah Remini...
Biography
Leah Marie Remini (/ˈrɛmɪni/; born June 15, 1970) is an American actress, author, former Scientologist and anti-Scientology activist. She starred as Carrie Heffernan on the long-running CBS comedy series The King of Queens (1998-2007) and later co-hosted The Talk in 2010-11. Since 2016 she has co-produced and hosted the Emmy Award-winning A&E documentary series Leah Remini: Scientology and the Aftermath.
Raised as a member of the Church of Scientology from childhood, Remini left the organization in 2013 and began public criticism of Scientology. Two years later, she released Troublemaker: Surviving Hollywood and Scientology, her memoir about her experience with Scientology and reasons for leaving it. In 2016, she followed up her memoir with an Emmy Award-winning documentary television series on the A&E network, Leah Remini: Scientology and the Aftermath, to highlight other former Scientologists' experiences.[1] After a successful first season, the series was renewed by A&E, and the second season debuted in late summer 2017. On March 14, 2018, A&E announced that the series would return for a third season.[2] Since May 2017, Remini has also starred in the 2016 television sitcom Kevin Can Wait as Vanessa Cellucci, alongside Kevin James, her former co-star on The King of Queens; this was later cancelled after two seasons.
Remini was born June 15, 1970,[3] in Brooklyn, New York City, to Vicki Marshal, a schoolteacher, and George Remini, who owned an asbestos removal company.[4] Her mother is of Austrian-Jewish descent, while her father has Sicilian ancestry.[5][6][7] Remini has a brother, Michael, an older sister named Nicole and four half-sisters: Christine, Stephanie,—who died of cancer in 2013—[8] Elizabeth, and Shannon.[9]
She was baptized Roman Catholic and raised in the Catholic tradition during her early childhood;[10] when she was nine years old, her mother joined the Church of Scientology, and Remini was thereafter raised as a Scientologist.[11] At thirteen years old, Remini moved to Los Angeles, California, with her mother, where she spent the remainder of her teenage years.[5]
Read more...
Career
Acting
One of Remini's early television roles was on Who's the Boss? as Charlie Briscoe, which led to a spin-off series entitled Living Dolls, in which Remini starred with Halle Berry. The show premiered in late 1989 and ran for 12 episodes before being canceled.[12][13]
In 1991, Remini had a supporting role on the short-lived ABC comedy The Man in the Family. She then had recurring roles on Saved by the Bell, where she played Stacey Carosi, and on Evening Shade as Daisy, the girlfriend of Taylor Newton (Jay R. Ferguson). Remini then appeared in two more short-lived series, First Time Out (1995) and Fired Up (1997-98). In 1993, she appeared on Cheers as Serafina, the daughter of Carla and Nick Tortelli (Rhea Perlman and Dan Hedaya). In 1994, Remini auditioned for the role of Monica Geller on Friends, but the role went to Courteney Cox. Remini later appeared in the 1995 Friends episode "The One with the Birth" in which she played a pregnant woman. In 1998, Remini landed the role of Carrie Heffernan on the CBS sitcom The King of Queens. The series was successful, and ran for nine seasons from September 21, 1998, to May 14, 2007.
During her time on the show, she had a supporting role in the comedy film Old School (2003). Remini also starred in her own reality show, which aired on VH1. Since The King of Queens ended, Remini has starred in nine-episode webisodes of In the Motherhood, along with Chelsea Handler and Jenny McCarthy. She has made two guest appearances on Chelsea Lately. On December 15, 2009, Remini appeared as Carrie Heffernan on Lopez Tonight, with George Lopez as Doug Heffernan in an episode reuniting the cast of the George Lopez sitcom.[14] Remini and Holly Robinson Peete appeared on The Young and the Restless on July 28, 2011.[15]
In October 2011, Remini signed a talent development deal at ABC and ABC Studios that required the network and the studio to develop a comedy project for Remini to star in and produce.[16][17] In March 2012, it was announced that Remini would star in an ABC comedy Family Tools, a remake of the UK comedy series White Van Man.[18] The series premiered on May 1, 2013, and was not renewed owing to low ratings, ending its run on July 10, 2013.[19]
Remini competed on season 17 of Dancing with the Stars, in which she was partnered with professional dancer Tony Dovolani.[20] The couple made it to the 10th week of competition and reached 5th place. Remini later returned in season 19 as a guest co-host on week 6. She returned as guest co-host on season 21 during weeks 6 and 7.
In 2013, Remini joined the cast of the TV Land comedy The Exes, filling a recurring role starting in season three.[21]
Remini and her husband Angelo starred in a reality television series titled Leah Remini: It's All Relative. The show focuses on Remini's family life. It premiered on TLC on July 10, 2014.[22] According to Remini, the purpose of the show is to highlight the fact that she's a normal person just like everyone else and that celebrity doesn't change that.[23]
Remini developed an eight-episode series for A&E focusing on ex-Scientologists speaking candidly about their experiences entitled Leah Remini: Scientology and the Aftermath. The show premiered November 29, 2016.[24] In a statement released by the network Leah said:
For too long, this multi-billion-dollar organization bullied victims and journalists to prevent the truth from being told. It is my hope that we shed light on information that makes the world aware of what is really going on and encourages others to speak up so the abuses can be ended forever.[25]
In early 2017, Remini returned to acting and was announced as one of the leads in NBC's sitcom What About Barb?, a gender-swapped version of the 1991 Frank Oz comedy What About Bob?. She portrayed Suzanne, a renowned psychotherapist and best-selling author.[26] Ultimately, NBC passed on the project and it wasn't picked up to series.[27] In March 2017, it was announced Remini would reunite with Kevin James on the season finale of Kevin Can Wait.[28][29] In June 2017, it was announced Remini was upped to a series regular beginning with season two.[30][31]
The Talk
Remini was a co-host on The Talk, a CBS talk show which premiered October 18, 2010. Julie Chen, Sara Gilbert, Holly Robinson Peete, and Sharon Osbourne were her co-hosts. The show is similar to The View and seeks to address motherhood and contemporary issues.[32] Remini drew criticism within the first week of the show's debut, accused of being too loud, brash, and obtrusive. It was stated on one episode that she had received a significant amount of negative Twitter feedback on this subject. Remini addressed the issue, stating she refused to change who she is and asserting that thousands of fans like her for who she is. Her co-hosts supported her response.[33]
A refusal to disclose why Remini and Peete were fired brought on a great deal of criticism of the show and protests from the stars' fans.[34][35] While there was much speculation that their former Talk co-host, Julie Chen, had involvement in the decision, as she is married to CBS President/CEO Leslie Moonves, it was Sharon Osbourne who stated, regarding their dismissals, in December 2011 on The Howard Stern Show: "Some people don't really know who they are. And you have to know who you are when you're in something like this. You can't pretend to be something you're not. You have to know your brand. You can't be all things to everyone."[36][37] Osbourne replied to criticism about the refusal to inform Remini and Peete why they were let go, rhetorically stating, "Why should we call them to discuss?"[36][37]
In March 2012, a heavily publicized Twitter dispute ignited between Remini and Osbourne when Remini fired back at Osbourne for her comments on The Howard Stern Show. In response to questions from her Twitter followers, Remini tweeted:
Ask Sharon. She had us fired...Sharon thought me and Holly were too 'Ghetto'. (her words) we were not funny, awkward and didn't know ourselves.[38][39] Haters Gon' Hate. True. But, Haters have the balls to say they 'Hate'...not call themselves your friend. She had us fired all the while calling me and Holly her friend. Heartbreaking. Yes. She had us fired she told Howard Stern. Explains why she never called us back.[38]
In response, Osbourne tweeted, "I had absolutely nothing to do with her departure from the show and have no idea why she continues to take to Twitter to spread this false gossip.[38][40] Leah knows that I have never been in the position to hire or fire anyone on the show. That being said, my only wish is that Leah would just stop all this negative, unprofessional and childish behavior.[39] It's been seven months. It's time to move on. Leah is a very talented actress and I only wish her happiness and success.[38][39][41] I know that better things are to come if she can just get beyond this negativity." Remini tweeted a challenge to Osbourne to establish in a court of law what statements she (Remini) had made that were untrue.[38]
While co-hosting The Talk, Remini turned down various parts on situation comedies, stating that any new role would make her feel as if she were cheating on Doug Heffernan, her character's husband on The King of Queens. She added that she needs to spend more time with her child and family.[42]
Personal life
Remini met actor Angelo Pagán[43] at a Cuban restaurant in 1996.[44] He has three sons from previous relationships. They were married on July 19, 2003.[45] Their daughter, Sofia, was born on June 16, 2004, one day after Remini's 34th birthday.[46]
Scientology
Remini was a member of the Church of Scientology from the age of nine.[6][11][47] In December 2005, she helped the Citizens Commission on Human Rights to promote the gala opening of the Psychiatry: An Industry of Death museum on Sunset Boulevard in Hollywood.[48] Responding to criticism of Scientology during an interview on CNN:
If somebody is going to get turned off about something because of what they read or heard, then that person's not smart enough to even enter a church. If you're really against something, then know what you're against.
— Leah Remini, CNN interview[6]
In July 2013, Remini left the Church of Scientology,[49] owing to policies that forbid members from questioning the management of church leader David Miscavige, which she believed was corrupt; the reported abuse of members of its Sea Org religious order; its policy of "disconnection"; and its practice of branding those who have left the church of their own accord as "Suppressive Persons".[50] According to former high-ranking Sea Org member Mike Rinder, Remini's problems with the Church began when she asked about the whereabouts of Miscavige's wife Shelly at the 2006 wedding of Tom Cruise and Katie Holmes, and was told profanely that she lacked the rank to do so. Remini then filed a "knowledge report" that was critical of Miscavige, Cruise, and other senior Scientology members and behavior on the part of members that was inconsistent with Church rules. She was subsequently "subjected to years of 'interrogations' and 'thought modification'" that led to her being blacklisted within the Church, while fellow parishioners with whom she had been friends for decades wrote internal reports about her, resulting in a Church investigation into her family.[50][51][52][53]
During a September 9, 2013, appearance on The Ellen DeGeneres Show, Remini discussed her departure from the Church and the loss of friends who are still in the Church and, according to Remini, are not permitted to have contact with her.[49] Following her departure from the Church, she publicly expressed her appreciation for those who supported her departure.[54][55] Remini's sister, Nicole, who had earlier left the Church herself,[56] revealed that the rest of their family left the Church along with her to avoid being split up by the Church's disconnection policy.[57][58] Writer and director Paul Haggis, who had previously been the most famous person to publicly disavow Scientology, wrote an open letter, published by The Hollywood Reporter, thanking Remini for standing by him after he left the Church and praised her "enormous amount of integrity and compassion".[59]
In August 2013, it was disclosed that Remini had filed a missing person report with the Los Angeles Police Department concerning Shelly Miscavige, the wife of Scientology leader David Miscavige, who had not been seen in public since 2007.[60] After the report was filed, the Los Angeles Police Department looked into the matter, met with and spoke with her before closing the investigation and stating Remini's report was "unfounded". The Church said in a statement that the whole affair was simply harassment and a publicity stunt for Remini.[61][62][63]
In October 2013, it was reported that Remini had been subpoenaed to testify in a Comal County, Texas, lawsuit against the Church of Scientology and its leader David Miscavige, regarding acts of alleged harassment and surveillance against the wife of a former member, Monique Rathbun (who was married to ex-Scientology executive Mark Rathbun). Rathbun's attorney, Ray Jeffery, says he wants Remini, a former Scientologist, to give a deposition in the hopes she could testify that Miscavige has vast influence over the operations of the church and had to have known about the alleged harassment.[47]
Remini released her memoir Troublemaker: Surviving Hollywood and Scientology on November 3, 2015.[64] In a 2015 interview with People magazine, Remini stated that she was embracing Catholicism and found comfort in the religion's practices, contrasting her experiences with Scientology.[65]
Filmography
Film
| Year | Film | Role | Notes |
| --- | --- | --- | --- |
| 1997 | Critics and Other Freaks | Actress at audition | |
| 1998 | Follow Your Heart | Angie | |
| 2003 | Old School | Lara Campbell | |
| 2017 | Mad Families | Cheyenne | |
| 2017 | The Clapper | Producer Louise | |
| 2017 | Handsome: A Netflix Mystery Movie | Esta | |
| 2018 | Second Act | Joan | |
Television
Year
Title
Role
Notes
1988
Head of the Class
Episode: "Let's Rap"
1989
Who's the Boss?
Charlie Briscoe
2 episodes
1989
Living Dolls
Charlie Briscoe
12 episodes
1990
Normal Life
Carol
Episode: "And Baby Makes..."
1991
Paradise
Rose
Episode: "Out of the Ashes"
1991
The Hogan Family
Joanne
Episode: "A Sneaking Suspicion"
1991
The Man in the Family
Tina Bavasso
7 episodes
1991
Saved by the Bell
Stacey Carosi
6 episodes
1991
Beverly Hills 90210
Uncredited, 1 episode
1991-93
Cheers
Serafina Tortelli
2 episodes
1992
Blossom
Ellen
Episode: "You Must Remember This"
1992
Getting Up and Going Home
Stephanie O'Neil
TV film
1993
Evening Shade
Daisy
3 episodes
1993
Harlan & Merleen
Frankie
TV film
1994
The Commish
Gail Ross
Episode: "Sergeant Kelly"
1994
Renegade
Tina
Episode: "The King and I"
1994-96
Phantom 2040
Sagan Cruz (voice)
22 episodes
1995
Diagnosis: Murder
Agnes Benedetto
Episode: "How to Murder Your Lawyer"
1995
Friends
Lydia
Episode: "The One with the Birth"
1995
First Time Out
Dominique Costellano
12 episodes
1995
Star Witness
TV film
1996
Biker Mice from Mars
Carbine (voice)
2 episodes
1996
Home Improvement
Maria Gomez
Episode: "The Bud Bowl"
1996
NYPD Blue
Angela Bohi
Episode: "Closing Time"
1997-98
Fired Up
Terry Reynolds
28 episodes
1998-2007
The King of Queens
Carrie Heffernan
Main role (207 episodes)
2001
Hooves of Fire
Vixen (voice)
TV film; American redub
2002
Legend of the Lost Tribe
Koala (voice)
TV film; American redub
2003
VH1 Inside Out: Leah Remini's Wedding Special
Herself
Documentary
2004
VH1 Inside Out: Leah Remini's Baby Special
Herself
Documentary
2005
Fat Actress
Herself
Episode: "The Koi Effect"
2007-08
In the Motherhood
Kim
8 episodes
2009
Lopez Tonight
Carrie Heffernan
Episode: "December 15, 2009"; cameo appearance
2009
Married Not Dead
Jessica
TV film
2009
It Takes a Village
Karen
TV film
2010-11
The Talk
Herself / Co-host
135 episodes
2011
Toddlers and Tiaras: Where Are They Now?
Juana
Short
2012
The High Fructose Adventures of Annoying Orange
Polly Prune / Butch Ravioli
2 episodes
2013
Family Tools
Terry Baumgardner
Lead role (10 episodes)
2013
Phineas and Ferb
Doreen/Mean Woman
2 episodes
2013
2014
2015
Dancing with the Stars
Herself
Contestant on season 17
Eliminated 8th; 5th place
Guest co-host for season 19 and season 21
2014
RuPaul's Drag Race
Herself / Guest Judge
Episode: "Glamazon by Colorevolution"
2014
Hollywood Game Night
Herself
Episode: "A Hollywood Scandal"
2014-15
The Exes
Nikki Gardner
15 episodes
2014-15
Leah Remini: It's All Relative
Herself
TLC reality show (26 episodes)
2015
Repeat After Me
Herself
Episode: "#1.5"
2016-18
Match Game
Herself / Panelist
4 episodes
2016-present
Leah Remini: Scientology and the Aftermath
Herself
Documentary series
2017
Milo Murphy's Law
Ms. Baxter (voice)
Episode: "The Substitute/Time Out"
2017-18
Kevin Can Wait
Vanessa Cellucci
Guest star (season 1, 2 episodes); series regular (season 2)
Video games
| Year | Title | Voice role | Notes |
| --- | --- | --- | --- |
| 1993 | Gabriel Knight: Sins of the Fathers | Grace Nakimura | |
Bibliography
Remini, Leah (2015). Troublemaker: Surviving Hollywood and Scientology. Ballantine Books. ISBN 978-1101886960.
Charities
Leah Remini supports the following charitable causes: Children, AIDS, ALS (amyrotrophic lateral sclerosis).
[ Source: Wikipedia ]