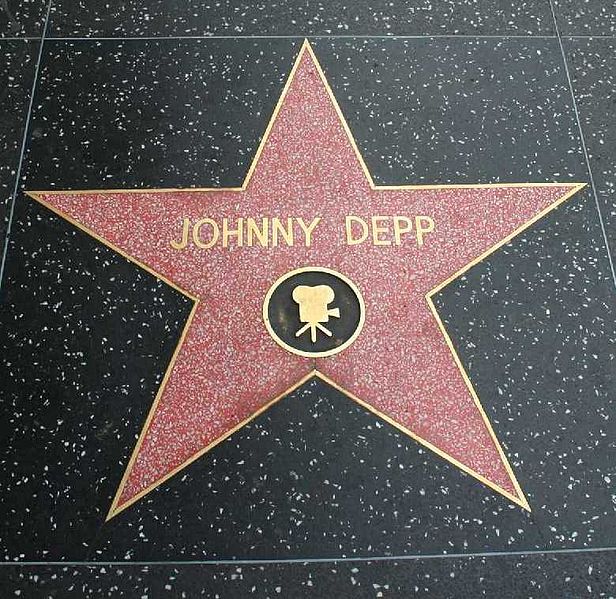 Johnny Depp
Birth name:
John Christopher Depp II
Born:
June 9, 1963
Age:
59
Birthplace:
Owensboro, Kentucky, U.S.
Popularity:

Please login to contact Johnny Depp...
Biography
John Christopher Depp II (born June 9, 1963)[1] is an American actor, producer, and musician. He has been nominated for three Academy Awards and has won the Golden Globe and Screen Actors Guild Awards for Best Actor. Depp rose to prominence on the 1980s television series 21 Jump Street, becoming a teen idol.
Depp has challenged himself by playing larger-than-life roles, including a supporting role in Oliver Stone's 1986 Vietnam War film Platoon and the title character in the 1990 romantic dark fantasy Edward Scissorhands. He later found box office success in the fantasy adventure film Sleepy Hollow (1999), the fantasy swashbuckler film Pirates of the Caribbean: The Curse of the Black Pearl (2003) and its sequels, the fantasy film Charlie and the Chocolate Factory (2005), the fantasy film Alice in Wonderland (2010), and the animated action comedy western Rango (2011) (in which he voiced the title character). Depp has collaborated on nine films with director, producer and friend Tim Burton.
Depp is regarded as one of the world's biggest film stars.[2][3] He has gained praise from reviewers for his portrayals of screenwriter-director Ed Wood in Ed Wood, undercover FBI agent Joseph D. Pistone in Donnie Brasco, author J. M. Barrie in Finding Neverland, and Boston gangster Whitey Bulger in Black Mass. Depp is the third highest-grossing actor worldwide, as films featuring Depp have grossed over US$3.6 billion at the United States box office and almost US$10 billion worldwide.[4] His most commercially successful films are the Pirates of the Caribbean series, which grossed US$4.5 billion, Alice in Wonderland, which grossed US$1 billion, Charlie and the Chocolate Factory, which grossed US$474 million, and The Tourist, which grossed US$278 million.[5][6][7]
Depp has been nominated three times for the Academy Award for Best Actor.[8] Depp won the Golden Globe Award for Best Actor - Motion Picture Musical or Comedy for his performance in the title role in Sweeney Todd: The Demon Barber of Fleet Street, as well as the Screen Actors Guild Award for Outstanding Performance by a Male Actor in a Leading Role for his portrayal of Captain Jack Sparrow in Pirates of the Caribbean: The Curse of the Black Pearl. He has been listed in the 2012 Guinness World Records as the world's highest-paid actor, with earnings of US$75 million.[9] Depp was inducted as a Disney Legend in 2015.[10]
Depp was born in Owensboro, Kentucky,[11][12] the youngest of four children of Betty Sue Palmer (née Wells),[13] a waitress, and John Christopher Depp, a civil engineer.[14][15] Depp is of mostly English ancestry, with some Dutch, Belgian, and French.[16] He is descended from a French Huguenot immigrant (Pierre Dieppe, who settled in Virginia around 1700) and from colonial freedom fighter Elizabeth Key Grinstead (1630-1665), daughter of a British nobleman and an indentured African woman.[16][17][18][19]
Depp moved frequently during his childhood. He and his siblings lived in more than 20 different places, eventually settling in Miramar, Florida in 1970.[20] Depp's parents divorced in 1978 when he was 15.[20][21] His mother married Robert Palmer, whom Depp has called "an inspiration to me."[22]
With the gift of a guitar from his mother when he was 12, Depp began playing in various garage bands.[20] A year after his parents' divorce, he dropped out of Miramar High School to become a rock musician.[20] He attempted to go back to school two weeks later, but the principal told him to follow his dream of being a musician.[20] He played with The Kids, a band that enjoyed modest local success. The Kids set out together for Los Angeles in pursuit of a record deal, changing their name to Six Gun Method, but the group split up before signing a record deal. Depp subsequently collaborated with the band Rock City Angels[23] and co-wrote their song "Mary", which appeared on Rock City Angels' debut Geffen Records album Young Man's Blues.[24]
On December 20, 1983, Depp married Lori Anne Allison,[12] the sister of his band's bass player and singer. During their marriage she worked as a makeup artist while he worked a variety of odd jobs, including a telemarketer for pens. His wife introduced him to actor Nicolas Cage, who advised him to pursue an acting career.[20] Depp and Allison divorced in 1985.[12]
Read more...
Acting career
1984-1989: Early film roles and 21 Jump Street
Depp at the 1992 Cannes Film Festival
Depp's first film role was in the horror film A Nightmare on Elm Street (1984), in which he played the boyfriend of heroine Nancy Thompson (Heather Langenkamp) and one of Freddy Krueger's victims.[20] After a starring role in the comedy Private Resort (1985), Depp was cast in the lead role of the skating drama Thrashin' (1986) by the film's director, but the decision was later overridden by its producer.[25][26] Instead, Depp appeared in a minor supporting role as a Vietnamese-speaking private in Oliver Stone's Vietnam War drama Platoon (1986).
Depp became a popular teen idol during the late 1980s, when he starred as a police officer who goes on an undercover operation in a high school in the Fox television series 21 Jump Street, which premiered in 1987.[20] He accepted this role to work with actor Frederic Forrest, who inspired him. Despite his success, Depp felt that the series "forced into the role of product."[27] He subsequently decided to appear only in films that he felt were right for him.[27]
1990-2002: Serious actor
Depp with director-screenwriter
Jim Jarmusch
at the Cannes Film Festival in 1995
In 1990, Depp played the title character in Tim Burton's film Edward Scissorhands, in which he starred opposite Dianne Wiest and Winona Ryder. The film was a critical and commercial success that established him as a leading Hollywood actor[citation needed] and began his long association with Burton. Producer Scott Rudin has stated that "basically Johnny Depp is playing Tim Burton in all his movies";[28] although Burton disapproved of the comment, Depp agrees with it. In his introduction to Burton on Burton, a book of interviews with the director, Depp called Burton "... a brother, a friend, ... and brave soul".[29] Depp's first film release in 1990 was John Waters' Cry-Baby, a musical comedy set in the 1950s. Although it was not a box office success upon its initial release,[citation needed] over the years it has gained cult classic status.[30]
Depp had no film releases in the following two years, with the exception of a brief cameo in Freddy's Dead: The Final Nightmare (1991), the sixth installment in the A Nightmare of Elm Street franchise. He appeared in three films in 1993. In the romantic comedy Benny and Joon, he played an eccentric and illiterate silent film fan who befriends a mentally ill woman and her brother; it became a sleeper hit. He then starred alongside Leonardo DiCaprio and Juliette Lewis in Lasse Hallström's What's Eating Gilbert Grape, a drama about a dysfunctional family. In his review of the film, Todd McCarthy of Variety said that "Depp manages to command center screen with a greatly affable, appealing characterization."[31] Depp's final 1993 release was Emir Kusturica's surrealist comedy-drama Arizona Dream, which opened to positive reviews.
In 1994, Depp reunited with director Tim Burton, playing the title role in Ed Wood, a biographical film about one of history's most inept film directors. Depp later stated that he was at the time depressed about films and filmmaking, but that "within 10 minutes of hearing about the project, I was committed."[32] He found that the role gave him a "chance to stretch out and have some fun" and that working with Martin Landau, who played Bela Lugosi, "rejuvenated my love for acting".[32] Ed Wood received critical acclaim, with Janet Maslin of The New York Times writing that Depp had "proved himself as an established, certified great actor" and "captured all the can-do optimism that kept Ed Wood going, thanks to an extremely funny ability to look at the silver lining of any cloud."[33] Depp was nominated for Golden Globe Award for Best Actor - Motion Picture Musical or Comedy for his performance.
The following year, Depp starred in three films. He played opposite Marlon Brando in the box-office hit Don Juan DeMarco, as a man who believes he is Don Juan, the world's greatest lover. He then starred in Jim Jarmusch's Dead Man, a Western shot entirely in black-and-white; it was not a commercial success and had mixed critical reviews. Depp's final film of the year was in the financial and critical failure Nick of Time, a thriller in which he played an accountant who is told to kill a politician to save his kidnapped daughter.
In 1997, Depp starred alongside Al Pacino in the crime drama Donnie Brasco, directed by Mike Newell. He portrayed Joseph D. Pistone, an undercover FBI Agent who assumes the name 'Donnie Brasco' in order to infiltrate the mafia in New York City. To prepare for the role, Depp spent time with the real-life Joe Pistone, on whose memoirs the film was based. Donnie Brasco was a commercial and critical success, and is considered to contain one of Depp's finest performances.[citation needed] In 1997, Depp also debuted as a director and screenwriter with The Brave. He starred in it as a poor Native American man, who accepts a proposal from a wealthy man, played by Marlon Brando, to appear in a snuff film in exchange for money for his family.
Depp was a fan and friend of writer Hunter S. Thompson, and played his alter ego Raoul Duke in Fear and Loathing in Las Vegas (1998), Terry Gilliam's film adaptation of Thompson's pseudobiographical novel of the same name.[a]
Depp's next venture with Burton was the period film Sleepy Hollow (1999), in which he played Ichabod Crane opposite Christina Ricci and Christopher Walken. For his performance, Depp took inspiration from Angela Lansbury, Roddy McDowall and Basil Rathbone.[28] He stated that he "always thought of Ichabod as a very delicate, fragile person who was maybe a little too in touch with his feminine side, like a frightened little girl."[36]
2003-2011: Pirates of the Caribbean and continued success
Depp has generally chosen roles which he found interesting, rather than those he thought would succeed at the box office.[37] Critics[who?] have often described Depp's characters as "iconic loners".[37] Depp has referred to some of his less-successful films as "studio-defined failures" and "box office poison",[38] and said that he thought the studios neither understood the films nor did a good job of marketing them.[37]
Depp wearing a mustache and goatee similar to the style used in
Pirates of the Caribbean: The Curse of the Black Pearl
In 2003, Depp starred in the Walt Disney Pictures adventure film Pirates of the Caribbean: The Curse of the Black Pearl, which was a major box office success.[37] He earned widespread acclaim for his comic performance as pirate Captain Jack Sparrow, and received a nomination for the Academy Award for Best Actor. Depp has said that Sparrow is "definitely a big part of me",[39] and that he modeled the character after The Rolling Stones guitarist Keith Richards[40] and cartoon skunk Pepé Le Pew.[41] Studio executives had at first been ambivalent about Depp's portrayal,[42] but the character became popular with audiences.[37] According to a survey taken by Fandango, Depp was a major draw for audiences.[43]
Depp was again nominated for the Best Actor Academy Award for his performance as Scottish author J. M. Barrie in the film Finding Neverland (2004). The following year he starred as Willy Wonka in Charlie and the Chocolate Factory, which reunited him with director Tim Burton, with whom he had not collaborated since Sleepy Hollow. The film was a box office success and had a positive critical reception,[44][45] with Depp being nominated for the Golden Globe Award for Best Actor - Motion Picture Musical or Comedy.[40][46] Chocolate Factory was followed by another Burton project, stop-motion animation Corpse Bride (2005), in which Depp voiced the character Victor Van Dort.[47]
Depp reprised the role of Jack Sparrow in the Pirates sequels Dead Man's Chest (2006) and At World's End (2007), both of which were major box office successes.[48] He also voiced the character in the video game Pirates of the Caribbean: The Legend of Jack Sparrow.[49] In 2007, Depp also collaborated with Burton for their sixth film together, this time playing murderous barber Sweeney Todd in the musical Sweeney Todd: The Demon Barber of Fleet Street (2007). Burton had first given him an original cast recording of the 1979 stage musical in 2000, and although not a fan of the musical genre, Depp had grown to like the tale's treatment. He cited Peter Lorre in Mad Love (1935) as his main influence for the role.[50] Although he had performed in musical groups, Depp was initially unsure that he would be able to perform the role, which required him to sing. He recorded demos and worked with Bruce Witkin to shape his vocals without a qualified voice coach. In the DVD Reviews section, Entertainment Weekly's Chris Nashawaty gave the film an A minus, stating, "Depp's soaring voice makes you wonder what other tricks he's been hiding ... Watching Depp's barber wield his razors ... it's hard not to be reminded of Edward Scissorhands frantically shaping hedges into animal topiaries 18 years ago ... and all of the twisted beauty we would've missed out on had never met."[51] Depp won the Golden Globe Award for Best Actor - Motion Picture Musical or Comedy for the role, and was nominated for the third time for the Academy Award for Best Actor.
Depp at the Paris premiere of
Public Enemies
in July 2009
In director Terry Gilliam's 2009 film The Imaginarium of Doctor Parnassus, Depp, Jude Law, and Colin Farrell each played the character initially portrayed by their friend Heath Ledger, who died before the film was completed. All three actors gave their salaries to Ledger's daughter Matilda.[52] Depp next starred in Michael Mann's 2009 crime film Public Enemies, in which he portrayed real-life gangster John Dillinger.[53] The next Depp-Burton collaboration was Alice in Wonderland (2010), in which he played the Mad Hatter alongside Helena Bonham Carter, Anne Hathaway and Alan Rickman. The following year saw the release of the fourth installment in the Pirates series, On Stranger Tides (2011), which was again a box office success.[48] Depp also voiced the title character, a lizard, in the animated film Rango (2011).[54] Depp returned to Hunter S. Thompson's work with a film adaptation of the novel The Rum Diary, which also became the first project undertaken by his production company, Infinitum Nihil.[55]
2012-present
Depp next starred in the Burton-directed Dark Shadows (2012) alongside fellow Tim Burton regular Helena Bonham Carter, Michelle Pfeiffer, and Eva Green.[56] The film was based on a Gothic soap opera of the same name, which had aired in 1966-1971 and had been one of his favorites as a child. Depp and Graham King produced the film with David Kennedy.[57] The film's poor reception in the United States brought Depp's star appeal into question.[58] In 2012, Depp and his 21 Jump Street co-stars Peter DeLuise and Holly Robinson briefly reprised their roles in cameo appearances in the series' 2012 feature film adaptation, which featured a much more comedic tone than the TV series.[59]
Depp at
Jerry Bruckheimer
's ceremony to receive a star on the Hollywood Walk of Fame in June 2013
Depp starred as Tonto in The Lone Ranger (2013), opposite Armie Hammer as the title character.[60] Depp's casting as a Native American in that film brought about whitewashing controversy, and the film was a box office bomb that caused Walt Disney Studios to take a US$190 million loss.[61][62][63] The next year, Depp appeared in a minor supporting role as The Wolf in film adaptation of the musical Into the Woods in 2014.[64][65][66] Depp played convicted Boston crime boss Whitey Bulger in director Scott Cooper's Black Mass (2015), which earned him his third nomination for the Screen Actors Guild Award for Outstanding Performance by a Male Actor in a Leading Role.[67] Depp also filmed a cameo appearance in the film production London Fields, which remains unreleased.[68]
In 2016, Depp played businessman and United States presidential candidate Donald Trump in a Funny or Die satire film entitled Donald Trump's The Art of the Deal: The Movie. He earned praise for the role, with a headline from The A.V. Club declaring "Who knew Donald Trump was the comeback role Johnny Depp needed?"[69] The same year, Depp reprised the role of the Mad Hatter in Alice Through the Looking Glass, the sequel to Alice in Wonderland.[70][71] Depp was secretly cast to play Gellert Grindelwald in a cameo appearance in the 2016 film Fantastic Beasts and Where to Find Them, and was expected to continue playing the role in future sequels to the film. The character is a dangerous dark wizard who was once a close friend to Albus Dumbledore, a major character in the Harry Potter film series.[72][73] Depp in November 2016 teamed with David Lynch, JK Simmons, Laura Dern, Penelope Ann Miller, Chad Coleman, Richard Chamberlain, Catherine Hardwicke, Theodore Melfi, Sam Raimi, Peter Farrelly, and the non-profit Make A Film Foundation for a volunteer project entitled The Black Ghiandola, a short film written by Anthony Conti. The movie is "a story about a young man risking his life to save a young girl he has grown to love, after his family has been killed in the Apocalyptic world of Zombies."[74][75] The film was released in April 2017.[76]
Depp reprised his role as Captain Jack Sparrow in the 2017 sequel Pirates of the Caribbean: Dead Men Tell No Tales,[77] the fifth film in the series. The film was directed by Joachim Rønning and Espen Sandberg, and co-starred Javier Bardem (as Captain Salazar), Geoffrey Rush, Brenton Thwaites, Kaya Scodelario, and Orlando Bloom (returning as Will Turner). Depp co-starred in the mystery drama Murder on the Orient Express (2017),[78] as Edward Ratchett.[79] Principal photography began in November 2016 in the United Kingdom.[80] Kenneth Branagh directed the film, an adaptation of the classic novel of the same name by Agatha Christie, and also played detective Hercule Poirot.[81][82][83]
Depp voiced the title character Sherlock Gnomes in the animated movie Gnomeo & Juliet: Sherlock Gnomes, the sequel to Gnomeo & Juliet, directed by John Stevenson. The film was released on January 12, 2018.[84][85]
Future roles
Depp in character as Gellert Grindelwald at the 2018 San Diego Comic-Con promoting
Fantastic Beasts: The Crimes of Grindelwald
.
Depp stated in a BBC radio interview on July 29, 2013 that he hoped to be involved with "quieter things" at some point in the near future, implying that he would retire from acting. Depp explained, "I wouldn't say I'm dropping out any second, but I would say it's probably not too far away. When you add up the amount of dialogue that you say per year and you realise that you've said written words more than you've had a chance to say your own words, you start thinking about that as an insane option for a human being."[86]
In February 2016, it was announced that Depp had been cast as Dr. Jack Griffin / The Invisible Man in Universal Studios' upcoming shared film universe entitled the Dark Universe, a rebooted version of their classic Universal Monsters franchise. Depp is slated to portray the character throughout the series' installments, as well as in the as-of-yet untitled Invisible Man film that is intended to be a reboot of the 1933 film The Invisible Man; Ed Solomon, Alex Kurtzman and Chris Morgan are attached to the project as screenwriter and co-producers, respectively.[87]
In December 2016, Depp began filming City of Lies, directed by Brad Furman. The script by Christian Contreras is an adaptation of the journalistic account LAbyrinth: A Detective Investigates the Murders of Tupac Shakur and Notorious B.I.G., the Implication of Death Row Records' Suge Knight, and the Origins of the Los Angeles Police Scandal, written by Randall Sullivan.[88][89] Depp will play Russell Poole, an LAPD detective who—with ally "Jack" Jackson (Forest Whitaker), an investigative journalist—attempts to solve the murders of rappers Tupac Shakur and The Notorious B.I.G.
Depp will return as Gellert Grindelwald in Fantastic Beasts: The Crimes of Grindelwald. The film is a sequel of Fantastic Beasts and Where to Find Them. It is set for release on November 16, 2018.[90]
On March 27, 2017, Depp was cast to portray antivirus software developer John McAfee in a forthcoming film entitled King of the Jungle.[91] Glenn Ficarra and John Requa will direct the film, while Scott Alexander and Larry Karaszewski will write the script.
Other ventures
Production company
In 2004, Depp formed his production company Infinitum Nihil to develop projects where he will serve as actor or producer. Depp is the founder and CEO, while his sister, Christi Dembrowski, serves as president.[92][93] The company's first production came in 2011 with The Rum Diary, adapted from the novel of the same name by Hunter S. Thompson. The film is written and directed by Bruce Robinson. Also in 2011, Hugo, directed by Martin Scorsese, was released.[94] Dark Shadows, directed by Tim Burton, was released in 2012.[95]
Music
Depp performing with Hollywood Vampires at Wembley Arena in June 2018
Depp played slide guitar on the Oasis song "Fade In-Out" (from Be Here Now, 1997), as well as on "Fade Away (Warchild Version)" (B-side of the "Don't Go Away" single). He also played acoustic guitar in the film Chocolat and on the soundtrack to Once Upon a Time in Mexico. "He's playing guitar around the fire," observed Depp's friend and future Hollywood Vampires bandmate Joe Perry of Chocolat. "And that's really him playing the guitar. He was playing Django Reinhardt stuff that I didn't have a clue about… In some ways, he's a better guitar player than I am."[96]
He is a friend of The Pogues' Shane MacGowan, and performed on MacGowan's first solo album. He was also a member of P, a group featuring Butthole Surfers singer Gibby Haynes, Red Hot Chili Peppers bassist Flea and Sex Pistols guitarist Steve Jones.
He has appeared in music videos for Tom Petty & The Heartbreakers' "Into the Great Wide Open", The Lemonheads' "It's a Shame About Ray", Avril Lavigne's "Alice" (as the Mad Hatter) in 2010, and "My Valentine" from Kisses on the Bottom by Paul McCartney released in February 2012, along with Natalie Portman.[97] He played lead guitar and drums on a cover of Carly Simon's "You're So Vain" - a bonus cut on Marilyn Manson's 2012 album Born Villain[98][99] - and performed several songs with Manson at the Revolver Golden Gods Awards in 2012.[100]
Depp traded licks with Aerosmith guitarist Joe Perry on "The Brooklyn Shuffle", a song from Steve Hunter and The Manhattan Blues Project, which was scheduled for release on April 30, 2013.[101] In 2014, Depp played electric guitar on the "Kansas City" track of Lost on the River, the Bob Dylan lyrics collaboration album by The New Basement Tapes. He filled in for Elvis Costello, who could not attend a recording session because of a previously scheduled concert with The Roots in Las Vegas.[102]
In 2015, Depp formed the supergroup Hollywood Vampires with Alice Cooper and Joe Perry. They released their self-titled debut studio album on September 11, 2015, which featured eleven classic rock covers, as well as three original songs (all co-written by Depp).[103] The band made their live debut at The Roxy in Los Angeles on September 16, 2015.[104] Later that same month the group played at the Rock in Rio festival in Brazil.[104] In February 2016, Hollywood Vampires performed at the Grammy Award ceremony as a tribute to Lemmy, who had died at the end of 2015.[105] Later that summer, the band embarked on their first world tour.[106] In 2018, they embarked on another world tour, during which Depp sang David Bowie's "Heroes" as a tribute to the late singer.[107][108]
Winemaker and restaurateur
Depp and Paradis grew grapes and had wine making facilities in their vineyard in Plan-de-la-Tour north of Saint-Tropez.[109] Along with Sean Penn, John Malkovich and Mick Hucknall, Depp co-owned the French restaurant-bar Man Ray, located near the Champs-Élysées in Paris.[110]
Editing
In July 2012, Depp announced he would be co-editor, alongside Douglas Brinkley, of folk singer Woody Guthrie's novel House of Earth,[111] which was published in 2013.[112]
Personal life
Family, relationships and domestic violence allegations
Depp at Penélope Cruz's ceremony to receive a star on the Hollywood Walk of Fame in April 2011
Depp married makeup artist Lori Anne Allison on December 20, 1983; they divorced in 1985.[12] He was later engaged to actresses Jennifer Grey[12] and Sherilyn Fenn[12] in the late 1980s before proposing in 1990 to his Edward Scissorhands co-star Winona Ryder,[12] for whom he tattooed "WINONA FOREVER" on his right arm.[113] From 1994 until 1998, he was in a relationship with English supermodel Kate Moss.
Following his breakup from Moss, Depp began a relationship with French actress and singer Vanessa Paradis, whom he met while filming The Ninth Gate in France in 1998. They have two children, daughter Lily-Rose Melody Depp (born 1999) and son John "Jack" Christopher Depp III (born 2002).[114] Depp stated that having children has given him "real foundation, a real strong place to stand in life, in work, in everything. You cannot plan the kind of deep love that results in children. Fatherhood was not a conscious decision. It was part of the wonderful ride I was on. It was destiny. All the math finally worked."[39] In 2007, Depp's daughter was hospitalized at the Great Ormond Street Hospital in London due to a serious Escherichia coli infection, which resulted in temporary kidney failure.[115] To show his gratitude for her recovery, Depp visited the hospital in November 2007, dressed in his Captain Jack Sparrow outfit, and spent four hours reading stories to the children. He also donated £1 million to the hospital the following year.[116] Depp and Paradis announced their separation in June 2012.[117]
Depp subsequently began dating actress and model Amber Heard, whom he had met on the set of The Rum Diary in 2011.[118][119] They were married in a private civil ceremony at their home in Los Angeles in February 2015.[119] Many of Depp's family were against him marrying Heard or proceeding with the ceremony without a prenuptial agreement, with his sister Christi being especially angered.[120] Heard filed for divorce on May 23, 2016,[121][122] and five days later filed for and obtained a temporary restraining order against Depp, stating in her court declaration that "during the entirety of our relationship, Johnny has been verbally and physically abusive to me".[119][123] She stated that the latest incident of violence had taken place on May 21 and provided statements by two witnesses—mutual friend iO Tillett Wright and neighbor Raquel Pennington—and photographs of her battered face as evidence.[119][124][125] Wright had called the LAPD during the incident,[126] but Heard told them that it was a "verbal dispute only"; Captain Don Graham, who oversees the LAPD's Central Division, said that officers saw "no evidence of a crime at that time".[123][126][127]
In response, Depp's lawyers said that Heard was "attempting to secure a premature financial resolution by alleging abuse".[123][128] On May 31, Heard gave a statement to the LAPD about the May 21 incident; Heard's attorneys said that her initial reluctance to involve law enforcement in the case "stemmed from a wish to protect her own privacy and Depp's career", but added that "Johnny's team has forced Amber to give a statement to the LAPD to set the record straight as to the true facts, as she cannot continue to leave herself open to the vicious false and malicious allegations that have infected the media."[129] The following day, People published images of Heard's injuries from an alleged earlier incident of domestic violence;[123] on June 4, Wright published an essay on Refinery29 stating that she had witnessed evidence of abuse throughout the marriage and criticizing the media for victim-blaming Heard when she decided to go public about it.[126] Later that month, Heard sued Depp's friend, comedian Doug Stanhope, for defamation after he wrote in a column for TheWrap that she was blackmailing Depp; Heard also withdrew her initial request for spousal support.[123][130] In that lawsuit, Heard claimed that Depp was "'an alcoholic and drug addict,'" that he had "'relapsed into a cycle of substance abuse,'" and that his "'drug and alcohol abuse increased dramatically in recent years, as his violent behavior.'"[131]
A settlement was reached in the divorce case on August 16, 2016; the settlement required Heard to receive US$7 million and to dismiss her request for a continued restraining order against Depp.[132][133] She also dropped her lawsuit against Stanhope.[134] Heard and Depp issued a joint statement indicating that their "'relationship was intensely passionate and at times volatile, but always bound by love'", adding that neither party "'made false accusations for financial gain'", and further indicating that there was "'never any intent of physical or emotional harm.'"[133] Heard stated that she would donate the entire proceeds from the divorce to the American Civil Liberties Union and the Children's Hospital Los Angeles.[133] In December 2016, she filed a Request for Order at the Los Angeles Superior Court since Depp had failed to fulfill the requirements of the settlement.[135] Depp's attorney filed papers disputing this.[136] The divorce was finalized on January 13, 2017.[137]
Alcohol and drug use
Depp has struggled with alcoholism and addiction for much of his life. Depp has stated that he began smoking at age 12 and began using alcohol and drugs shortly thereafter.[138] In a 1997 interview, Depp acknowledged past abuse of alcohol during the filming of What's Eating Gilbert Grape?[138] In a 2008 interview, Depp stated that he had "'poisoned'" himself with alcohol "'for years'".[138] In 2013, Depp declared that he had stopped drinking alcohol, adding that he "'pretty much got everything could get out of it'"; Depp also said, "'I investigated wine and spirits thoroughly, and they certainly investigated me as well, and we found out that we got along beautifully, but maybe too well.'"[139] Regarding his breakup with longtime partner Vanessa Paradis, Depp said that he "'definitely wasn't going to rely on the drink to ease things or cushion the blow or cushion the situation... that could have been fatal.'"[139]
In 2016, then-wife Amber Heard claimed that Depp "'plunged into the depths of paranoia and violence after bingeing on drugs and alcohol,'"[140] although a joint statement issued by Heard and Depp in connection with their divorce denied that either party intended "'physical or emotional harm'" to the other.[133] In 2018, reporter Stephen Rodrick of Rolling Stone wrote that Depp had used hashish in his presence and described Depp as "alternately hilarious, sly and incoherent"; Rodrick also quoted Depp as stating that a claim that he had spent US$30,000 per month on wine was "'insulting'" because he had spent "'far more'" than that amount.[141]
Legal problems
Depp was arrested in Vancouver in 1989 for assaulting a security guard after the police were called to end a loud party at his hotel room.[142] He was also arrested in New York City in 1994 after causing significant damage to his room at The Mark Hotel, where he was staying with Kate Moss. The charges were dropped against him after he agreed to pay US$9,767 in damages.[143] Depp was arrested again in 1999 for brawling with paparazzi outside a restaurant while dining in London with Paradis.[144]
In 2012, disabled UC Irvine medical professor Robin Eckert sued Depp and three security firms, claiming to have been attacked by his bodyguards at a concert in Los Angeles in 2011. During the incident, she was allegedly hand-cuffed and dragged 40 feet across the floor, resulting in injuries including a dislocated elbow.[145] She argued in court that, as the security guards' direct manager, Depp failed to intervene, even though he did not actively take part in the battery.[146] In October 2012, it was decided that Eckert could seek compensation and punitive damages from Depp, with a trial date set for August 12, 2013.[145] Depp ultimately settled with Eckert for an undisclosed sum.[147]
In April 2015, Heard and Depp breached Australia's strict biosecurity laws when they failed to declare their two Yorkshire Terriers to the Australian Customs Service when they flew by private jet into Queensland, where he was working on the fifth Pirates installment.[148] Australian quarantine regulations, which are aimed at keeping rabies out of the country, require dogs from outside the country be quarantined a minimum of ten days.[149] Heard was charged with two counts of illegally importing the dogs into the country and one count of producing a false document.[150] Shortly afterward, Agriculture Minister Barnaby Joyce said, "If we start letting movie stars even though they've been the 'sexiest man alive' twice to come into our nation, then why don't we just break the laws for everybody? It's time that Pistol and Boo buggered off back to the United States."[151] In September 2015, when promoting his film Black Mass at a press conference for its world premiere in Venice, Depp joked that he "killed his dogs and ate them ... under direct orders from some kind of sweaty big-gutted man from Australia."[152]
In April 2016, Heard appeared in the Southport Magistrates Court and pleaded guilty to falsifying quarantine documents, stating that she was sleep deprived and made a mistake.[153] The two biosecurity charges were dropped, and she was placed on a one-month good behaviour bond, paying an AU$1,000 fine for producing a false document.[154][155] Heard and Depp also released a video in which they apologized for their behavior and urged people to adhere to the biosecurity laws.[154] The Guardian called the case the "highest profile criminal quarantine case" in Australian history.[154]
In March 2016, Depp cut ties with his management company, the Management Group, and accused them of improperly managing his money.[156] The Management Group later sued Depp for unpaid fees and countersued him for damages alleging that Depp was responsible for his own fiscal mismanagement.[157] Depp filed new papers, including receipts from America's Internal Revenue Service (IRS), to have the countersuit dismissed.[158] On July 16, 2018, Deadline reported that Depp and TMG had agreed to settle their lawsuit, and though details of the settlement were not released, both sides were reportedly happy with the outcome.[159]
In July 2018, Depp was sued for allegedly punching a crew member twice in the ribs during a foul-mouthed tirade. Court documents stated that the actor "reeked of alcohol" and took drugs on set.[160]
Political and religious views
Depp stated to the German magazine Stern in 2003 that "America is dumb, is something like a dumb puppy that has big teeth—that can bite and hurt you, aggressive."[161] Although he later asserted that the magazine misquoted him and his words were taken out of context, Stern stood by its story, as did CNN.com in its coverage of the interview. CNN added his remark that he would like his children "to see America as a toy, a broken toy. Investigate it a little, check it out, get this feeling and then get out."[162] The July 17, 2006 edition of Newsweek reprinted the "dumb puppy" quotation, verbatim, in the context of a Letter to the Magazine. Depp has also disagreed with subsequent media reports that perceived him as a "European wannabe", saying that he liked the anonymity of living in France while in a relationship with Paradis and his simpler life there.[161] Depp became a U.S. resident again in 2011, because France wanted him to become a permanent resident, which he said would require him to pay income tax in both countries.[163]
On the October 16, 2011 episode of Larry King Live, when asked if he had faith, Depp replied, "Yes. I have faith in my kids. And I have—I have faith, you know, that as long as you keep moving forward, just keep walking forward, things will be all right, I suppose, you know. Faith in terms of religion, I don't—religion is not my specialty, you know."[164]
At the Glastonbury Festival in 2017, Depp went on a rant against U.S. President Donald Trump. Depp controversially asked "When was the last time an actor assassinated a President?", before adding "I want to clarify: I'm not an actor. I lie for a living. However, it's been awhile and maybe it's time." He then said that he was "not insinuating anything." The comment seemed to reference John Wilkes Booth, the actor who assassinated Abraham Lincoln. Shawn Holtzclaw of the Secret Service told CNN that they were "aware" of Depp's comment, but said, "For security reasons, we cannot discuss specifically nor in general terms the means and methods of how we perform our protective responsibilities".[165][166] The next day, Depp apologized for making these remarks, saying, "It did not come out as intended, and I intended no malice. I was only trying to amuse, not to harm anyone."[167]
Claims of Native American ancestry
In interviews in 2002 and 2011, Depp claimed to have Native American ancestry, stating "I guess I have some Native American somewhere down the line. My great-grandmother was quite a bit of Native American, she grew up Cherokee or maybe Creek Indian. Makes sense in terms of coming from Kentucky, which is rife with Cherokee and Creek Indian."[168][169][170] In 2013, Depp's genealogy was analyzed by third-party researchers at Ancestry.com, who discovered the ancestors he believed to be Native American were in fact African-American.[16][18] Despite this discovery, Depp continued to claim or imply he was Native American.[171] Depp's claims came under scrutiny when Indian Country Today Media Network stated that Depp had never inquired about his heritage nor was he recognized as a member of the Cherokee Nation.[171] This led to criticism from the Native American community, including of his choice to portray Tonto, a Native American character, in The Lone Ranger.[171][172][173][174][175] Critical response to his claims from the Native community also included satirical portrayals of Depp by Native comedians.[173][174][175]
On 22 May 2012, Depp was adopted as an honorary son by LaDonna Harris, a member of the Comanche Nation, making him an honorary member of her family but not a member of any tribe.[176]
Awards and nominations
Main article: List of awards and nominations received by Johnny Depp
Selected filmography
Main article: Johnny Depp filmography
A Nightmare on Elm Street (1984)
Platoon (1986)
21 Jump Street (1987-1990)
Cry-Baby (1990)
Edward Scissorhands (1990)
Benny & Joon (1993)
What's Eating Gilbert Grape (1993)
Ed Wood (1994)
Dead Man (1995)
Don Juan DeMarco (1995)
Donnie Brasco (1997)
Fear and Loathing in Las Vegas (1998)
The Ninth Gate (1999)
Sleepy Hollow (1999)
Chocolat (2000)
Blow (2001)
From Hell (2001)
Once Upon a Time in Mexico (2003)
Pirates of the Caribbean: The Curse of the Black Pearl (2003)
Secret Window (2004)
Finding Neverland (2004)
Charlie and the Chocolate Factory (2005)
Corpse Bride (2005)
Pirates of the Caribbean: Dead Man's Chest (2006)
Pirates of the Caribbean: At World's End (2007)
Sweeney Todd: The Demon Barber of Fleet Street (2007)
Public Enemies (2009)
The Imaginarium of Doctor Parnassus (2009)
Alice in Wonderland (2010)
The Tourist (2010)
Rango (2011)
Pirates of the Caribbean: On Stranger Tides (2011)
The Rum Diary (2011)
Dark Shadows (2012)
The Lone Ranger (2013)
Transcendence (2014)
Into the Woods (2014)
Mortdecai (2015)
Black Mass (2015)
Alice Through the Looking Glass (2016)
Fantastic Beasts and Where to Find Them (2016)
Pirates of the Caribbean: Dead Men Tell No Tales (2017)
Murder on the Orient Express (2017)
Fantastic Beasts: The Crimes of Grindelwald (2018)
Musical recording discography
Year
Title
Songs
1994
The Snake
by Shane MacGowan & The Popes
"That Woman's Got Me Drinking"
1995
P
by P
Guitar, bass, & background vocals
1997
Be Here Now
by Oasis
"Fade In-Out"
"Fade Away (Warchild Version)" (B-side)
1999
Avenue B
by Iggy Pop
"Hollywood Affair" (B-side)
2000
Bliss
by Vanessa Paradis
"St. Germain" - writing credit,
"Bliss" - writing credit,
"Firmaman" - guitar
Chocolat
"Minor Swing",
"They're Red Hot",
"Caravan"
2003
Once Upon a Time in Mexico
"Sands' Theme" - composer/producer
2007
Sweeney Todd: The Demon Barber of Fleet Street
Various
2008
Pandemonium Ensues
by Glenn Tilbrook & The Fluffers
"Too Close to the Sun"
2010
"I Put a Spell on You" (single)
by Shane MacGowan & Friends
Guitar
Ex-Maniac
by Babybird
"Unloveable"
2011
The Rum Diary - Soundtrack
by Various
"Kemp in the Village" - producer/composer/guitar
"Mermaid Song" - piano
From Gainsbourg to Lulu
by Lulu Gainsbourg
"Ballade de Melody Nelson" - guitars, bass, drums, & duet with Vanessa Paradis
The Pleasures of Self Destruction
by Babybird
"The Jesus Stag Night Club"
2012
Aerosmith: Music from Another Dimension!
by Aerosmith
"Freedom Fighter"
Born Villain
by Marilyn Manson
"You're So Vain"
Collective Bargaining
by Jup & Rob Jackson
"Street Runners"
West of Memphis: Voices of Justice - Soundtrack
Various
"Little Lion Man"
"Damien Echols Death Row Letter Year 16"
2013
Son of Rogues Gallery: Pirate Ballads, Sea Songs & Chanteys
by Various
"The Mermaid" by Patti Smith - guitar[177]
The Manhattan Blues Project
by Steve Hunter
"The Brooklyn Shuffle"
Love Songs
by Vanessa Paradis
"New Year"
The Lone Ranger: Wanted (Music Inspired by the Film)
by Various
"Poor Paddy on the Railway" - guitar
"Sweet Betsy from Pike" - arrangement
2014
Lost on the River: The New Basement Tapes
by The New Basement Tapes
"Kansas City"
Into the Woods - Motion Picture Soundtrack
"Hello, Little Girl"
2015
Hollywood Vampires
by Hollywood Vampires
Guitar, backing vocals, keyboard & sound design
Afraid of Ghosts
by Butch Walker
"21+" - Guitar
Charities
Johnny Depp supports the following charitable cause: Vision.
[ Source: Wikipedia ]