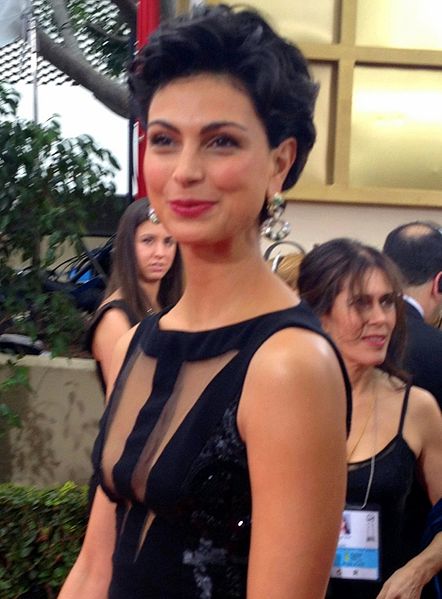 Morena Baccarin
Born:
June 2, 1979
Age:
43
Birthplace:
Rio de Janeiro, Rio de Janeiro, Brazil
Popularity:

Please login to contact Morena Baccarin...
Biography
Morena Baccarin (/məˈreɪnə ˈbækərɪn/;[1] ; born June 2, 1979)[2] is a Brazilian-American actress. She is known for portraying Inara Serra in the series Firefly and the follow-up film Serenity, Adria in the series Stargate SG-1 and the follow-up film Stargate: The Ark of Truth, Anna in the 2009 version of the series V, Vanessa in the superhero comedy film Deadpool and its sequel Deadpool 2, and Jessica Brody in the Showtime series Homeland, for which she received a Primetime Emmy Award nomination for Outstanding Supporting Actress in a Drama Series in 2013. She currently portrays Dr. Leslie Thompkins in the Fox series Gotham.
Baccarin was born in Rio de Janeiro, the daughter of Vera Setta, an actress, and Fernando Baccarin, a journalist.[3][4] She is of Italian descent.[5] Her name, "Morena", means "brunette" in several languages, including Spanish and Portuguese.[6] When she was ten, she moved with her family to Greenwich Village, New York, as her father was transferred to work as an editor at Globo TV's headquarters.[7] Baccarin attended Public School 41 and New York City Lab School for Collaborative Studies, where she and her future
Homeland
co-star
Claire Danes
were classmates.[8][9] She later attended the Fiorello H. LaGuardia High School of Music & Art and Performing Arts before she entered the theater program at the Juilliard School, where she was in the Drama Division's
Group 29
(1996-2000).[10]
Read more...
Career
Baccarin landed her first film role in the improvised fashion-world comedy Perfume (2001). This was followed by a lead role in Way Off Broadway (2001).[11]
Baccarin at the 2010 San Diego Comic-Con International
She served as Natalie Portman's understudy in the Central Park production of The Seagull.[3] The science-fiction drama Firefly (2002) as Inara Serra was Baccarin's first television series,[12] and she reprised her role in the 2005 film Serenity.
In February 2005, Baccarin provided the voice for Black Canary in multiple episodes of the animated series Justice League Unlimited. She also guest starred in three episodes of the television series The O.C. in 2006. Baccarin also appeared in the unaired pilot episode of It's Always Sunny in Philadelphia, playing a transgender woman Carmen.[3] It was announced in April 2006 that Baccarin would be playing the adult version of recurring villain Adria in the tenth season of Stargate SG-1. She first appeared in season 10 episode "Counterstrike" as adult Adria (the younger versions of Adria were previously played by other actresses). Baccarin reprised her role in the movie Stargate: The Ark of Truth.
In May 2009, Baccarin made her Off-Broadway debut in Theresa Rebeck's television satire Our House at Playwrights Horizons in New York City.[13] She landed the lead role of Anna, the leader of the alien Visitors, in ABC's 2009-2011 series V,[14] a remake of the 1984 series.[15] In May 2011, shortly following the airing of the show's second-season finale, it was announced that the show would not return for a third season. That same month, Baccarin joined the cast of the Showtime television drama Homeland,[16] for which she received praise for her role as the conflicted wife of a former prisoner of war.[17] On July 18, 2013, she was nominated for Outstanding Supporting Actress in a Drama Series at the 2013 Primetime Emmy awards for her performance.
Baccarin appeared alongside Melissa McCarthy in the 2015 action-comedy Spy as agent Karen Walker. In 2016, Baccarin appeared alongside Ryan Reynolds in the hit movie Deadpool as Vanessa Carlysle.[18] She reprised her role in the 2018 sequel Deadpool 2.[19]
In 2015, Baccarin began a leading role as Dr. Leslie Thompkins in the hit Fox show Gotham.
Personal life
Baccarin married American film producer and director Austin Chick in November 2011.[20] Their son was born in October 2013.[21] Chick filed for divorce in July 2015, citing irreconcilable differences.[22] On March 18, 2016, Baccarin and Chick's divorce became official.[23]
In September 2015, Baccarin said that after her divorce was finalized, she planned to marry her Gotham co-star, Ben McKenzie, adding that she was pregnant with their child. Morena and McKenzie also both had roles on The O.C. [24] The couple have a daughter, born in March 2016.[25] Baccarin and McKenzie announced their engagement in November 2016.[26] They were married in Brooklyn, New York, on June 2, 2017.[2][27]
Filmography
Film
Baccarin at the 69th Golden Globe Awards on January 15, 2012
Year
Title
Role
Notes
2001
Perfume
Monica
Way Off Broadway
Rebecca
2002
Roger Dodger
Girl in Bar
2005
Serenity
Inara Serra
Reprised from Firefly
2008
Death in Love
Beautiful Woman
Stargate: The Ark of Truth
Adria
2009
Stolen
Rose Montgomery
2014
Back in the Day
Lori
Son of Batman
Talia al Ghul
Voice role
2015
Spy
Karen Walker
2016
Batman: Bad Blood
Talia al Ghul
Voice role
Deadpool
Vanessa Carlysle
2017
Malevolent
Gamemaster
Voice role
2018
Deadpool 2
Vanessa Carlysle
Television
Year
Title
Role
Notes
2002-2003
Firefly
Inara Serra
Main role
2005
It's Always Sunny in Philadelphia
Carmen
Episode: "It's Always Sunny on TV" (unaired pilot)[3]
2005-2006
Justice League Unlimited
Dinah Laurel Lance/Black Canary (voice)
3 episodes
2006
The O.C.
Maya Griffin
3 episodes
How I Met Your Mother
Chloe
Episode: "Swarley"
Justice
Lisa Cruz
Episode: "Christmas Party"
2006-2007
Stargate SG-1
Adria
Recurring role, 5 episodes
2007
Las Vegas
Sara Samari
Episode: "The Burning Bedouin"
Heartland
Nurse Jessica Kivala
Main role
Sands of Oblivion
Alice Carter
Television film
2008
Dirt
Claire Leland
Episode: "And the Winner Is"
Numb3rs
Lynn Potter
Episode: "Blowback"
2009
Medium
Brooke Hoyt
Episode: "All in the Family"
2009-2011
V
Anna
Main role
2010
The Deep End
Beth Bancroft
Episode: "Unaired Pilot"
2011
Batman: The Brave and the Bold
Cheetah (voice)
Episode: "Triumvirate of Terror!"
Look Again
Allison
Television film
2011-2014
The Mentalist
Erica Flynn
3 episodes
2011-2013
Homeland
Jessica Brody
Main role (seasons 1-3)
2012-2013
The Good Wife
Isobel Swift
Episodes: "Long Way Home", "The Wheels of Justice"
2014
Warriors
Tory
Unsold TV pilot
2014-2016, 2018
The Flash
Gideon
Recurring voice role, 12 episodes
2014
The Red Tent
Rachel
Television miniseries
2015-present
Gotham
Dr. Leslie Thompkins
Recurring role (season 1); main role (season 2-present)
Video games
| Year | Title | Role | Notes |
| --- | --- | --- | --- |
| 2017 | Destiny 2 | Sagira | Curse of Osiris DLC |
Awards and nominations
Year
Association
Category
Nominated work
Result
Refs
2001
Wine Country Film Festival
Best Actress
Way Off Broadway
Won
[citation needed]
2010
Saturn Award
Best Supporting Actress on Television
V
Nominated
Scream Awards
Breakout Performance - Female
V
Nominated
NewNowNext Awards
Brink of Fame: Actor
V
Nominated
[28]
2011
Saturn Award
Best Supporting Actress on Television
V
Nominated
2013
Primetime Emmy Award
Outstanding Supporting Actress in a Drama Series
Homeland
Nominated
Screen Actors Guild Award
Outstanding Performance by an Ensemble in a Drama Series
Homeland
Nominated
2016
MTV Movie Awards
Best Female Performance
Deadpool
Nominated
[29]
Best Kiss (with Ryan Reynolds)
Deadpool
Nominated
[29]
Teen Choice Awards
Choice Movie Actress: Action
Deadpool
Nominated
[ Source: Wikipedia ]