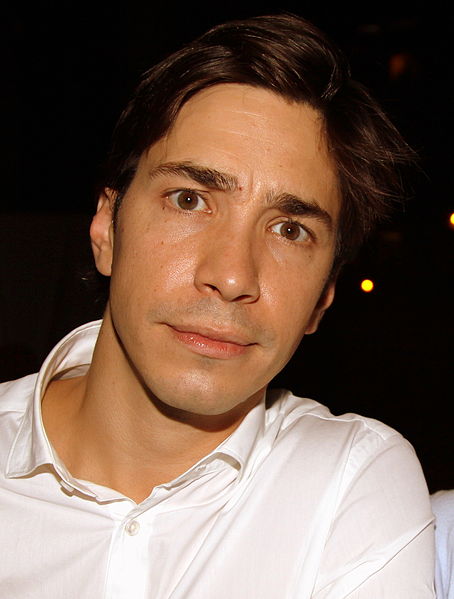 Justin Long
Birth name:
Justin Jacob Long
Born:
June 2, 1978
Age:
44
Birthplace:
Fairfield, Connecticut, U.S.
Popularity:

Please login to contact Justin Long...
Biography
Justin Jacob Long[1] (born June 2, 1978) is an American actor, comedian and humorist known for roles in such films as Jeepers Creepers (2001), Dodgeball (2004), Accepted (2006), Alvin and the Chipmunks (2007), Live Free or Die Hard (2007), Alpha and Omega (2010), Tusk (2014) and Comet (2014). He played Warren P. Cheswick on the NBC TV series Ed and appeared with John Hodgman in TV commercials for Apple's "Get a Mac" advertising campaign.
Long was born the middle son of three boys in Fairfield, Connecticut, to father R. James Long, a philosophy and Latin professor at Fairfield University, and mother Wendy Lesniak,[2] a former actress who has mostly appeared on stage.[3] His paternal grandmother was of Sicilian descent.[4] Long had a "kind of conservative" Roman Catholic upbringing.[5][6] His older brother, Damian, is a local stage actor, teacher, and theatre director at Weston High School.[7] Long attended Fairfield College Preparatory School, a Jesuit school, and Vassar College, where he was a member of the sketch comedy group Laughingstock and starred in several plays, including
Butterflies Are Free
.[7]
Read more...
Career
Long at the 2007 Toronto International Film Festival
Long's film credits include Idiocracy, Waiting..., Jeepers Creepers, DodgeBall: A True Underdog Story, The Break-Up, Crossroads, Galaxy Quest, Dreamland and Live Free or Die Hard. He was also a regular on the NBC TV series Ed (2000-04), playing socially awkward Warren P. Cheswick. He voiced the character of Alvin in Alvin and the Chipmunks, Alvin and the Chipmunks: The Squeakquel, Alvin and the Chipmunks: Chipwrecked, and Alvin and the Chipmunks: The Road Chip.[8] He also played the main character in the comedy film Accepted (2006).
Long made a guest appearance in the documentary, Wild West Comedy Show (2006). In 2007, he co-starred with Bruce Willis as a "white-hat hacker" in Live Free or Die Hard[9] and had a role in the comedy The Sasquatch Gang. Long is known for his depiction of a Mac in Apple's "Get a Mac" campaign. The campaign featured commercials in which Long as a Mac and John Hodgman as a PC engaged in playful banter about "the strengths of the Mac platform and weaknesses of the PC platform."[10]
Long also had a small role in the comedy film Zack and Miri Make a Porno (2008), where he plays Brandon St. Randy, a gay porn star. In 2009, he starred in He's Just Not That into You along with co-star Ginnifer Goodwin and After.Life opposite Liam Neeson and Christina Ricci. He also provided the voice of Humphrey in Alpha and Omega (2010), starring with Hayden Panettiere. Also in 2010, Long starred in the comedy film Going the Distance with Drew Barrymore. He was cast as a one-armed Civil War veteran in Robert Redford's The Conspirator.[11]
Long read the audiobook version of Judy Blume's Then Again, Maybe I Won't and Stephen King's Everything's Eventual. From July 7-18, 2010, he appeared in a production of Samuel J. and K. at the Williamstown Theatre Festival.[12] On August 16, 2010, he co-hosted WWE Raw with Going the Distance co-stars Charlie Day and Jason Sudeikis at the Staples Center in Los Angeles.[13] In 2014 he starred in the independent love drama Comet, which he and his co-star Emmy Rossum also produced.
Personal life
He had a relationship with Drew Barrymore,[14] but they broke up in July 2008.[15] He also dated Amanda Seyfried from mid-2013[16] for two years, breaking up in September 2015.[17] Long has also dated Chvrches frontwoman Lauren Mayberry.[18][19]
Long endorsed Senator Bernie Sanders for President in the 2016 U.S. presidential election.[20]
Filmography
(left-right)
Jonah Hill
, Long, and
Blake Lively
promoting
Accepted
at Comic-Con in 2006
Film
Year
Title
Role
Notes
1999
Galaxy Quest
Brandon
Nominated — Saturn Award for Best Performance by a Younger Actor
2001
Happy Campers
Donald
2001
Jeepers Creepers
Darry Jenner
Nominated — Saturn Award for Best Performance by a Younger Actor
2002
Crossroads
Henry
2003
Jeepers Creepers 2
Darry Jenner
Cameo
2004
Raising Genius
Hal Nestor
2004
Hair High
Dwayne
Voice
2004
DodgeBall: A True Underdog Story
Justin Redman
2004
Wake Up, Ron Burgundy: The Lost Movie
Chris Harken
Direct-to-DVD
2005
Robin's Big Date
Robin
Short film
2005
Herbie: Fully Loaded
Kevin
2005
Waiting...
Dean
2006
The Sasquatch Gang
Zerk Wilder
2006
Dreamland
Mookie
2006
The Break-Up
Christopher Hirons
2006
Accepted
Bartleby "B" Gaines
2006
Idiocracy
Dr. Lexus
2007
Live Free or Die Hard
Matt Farrell
Nominated — Saturn Award for Best Supporting Actor
2007
Battle for Terra
Senn
Voice
2007
Alvin and the Chipmunks
Alvin Seville
Voice
2007
Walk Hard: The Dewey Cox Story
George Harrison
Uncredited[citation needed]
2008
Strange Wilderness
Junior
2008
Just Add Water
Spoonie
2008
Zack and Miri Make a Porno
Brandon St. Randy
2008
Pineapple Express
Justin
Deleted scene[21]
2009
He's Just Not That into You
Alex
2009
Still Waiting...
Dean
Uncredited[citation needed]
2009
Taking Chances
Chase Revere
2009
Serious Moonlight
Todd
2009
Drag Me to Hell
Clay Dalton
2009
Funny People
Re-Do Guy
Cameo
2009
Beyond All Boundaries
Corp. James R. Garrett / Sgt. John H. Morris
Voice
Short film
2009
Planet 51
Lem
Voice
2009
Old Dogs
Troop Leader Adam Devlin
Uncredited[citation needed]
2009
After.Life
Paul
2009
Alvin and the Chipmunks: The Squeakquel
Alvin Seville
Voice
2010
Youth in Revolt
Paul Saunders
2010
Going the Distance
Garrett
2010
Alpha and Omega
Humphrey
Voice
2011
The Conspirator
Nicholas Baker
2011
10 Years
Marty Burn
2011
Free Hugs
Checkout Boy
Short film
2011
Alvin and the Chipmunks: Chipwrecked
Alvin Seville
Voice
2012
For a Good Time, Call...
Jesse
2012
Best Man Down
Scott
2013
Movie 43
Robin
Segment: "Super Hero Speed Dating"
2013
iSteve[22]
Steve Jobs
2013
A Case of You
Sam
Also producer and writer
2013
Walking with Dinosaurs
Patchi
Voice
2014
Ask Me Anything
Dan Gallo
2014
Veronica Mars
Drunken Wingman
Uncredited[citation needed]
2014
Comet
Dell
Also executive producer
2014
Tusk
Wallace Bryton
2014
The Lookalike
Holt Mulligan
Also producer
2015
Alvin and the Chipmunks: The Road Chip
Alvin Seville
Voice
2016
Yoga Hosers
Yogi Bayer
2016
Frank & Lola
Keith Winkleman
2016
Lavender
Liam
2016
Ghost Team
Ross
2016
Trump Baby
Baby
Voice
Short film
2017
And Then I Go
Tim
2017
Literally, Right Before Aaron
Adam
Television
| Year | Title | Role | Notes |
| --- | --- | --- | --- |
| 2000-04 | Ed | Warren P. Cheswick | 71 episodes |
| 2006 | Campus Ladies | Connor | Episode: "Fraternity Row" |
| 2006 | That '70s Show | Andrew Davis | Episode: "Love of My Life" |
| 2006-07 | King of the Hill | Various voices | 3 episodes |
| 2009 | Saturday Night Live | Matthew McConaughey | Episode: Drew Barrymore/Regina Spektor |
| 2011-12, 2015 | New Girl | Paul Genzlinger | 5 episodes |
| 2012 | Unsupervised | Gary (voice) | 13 episodes |
| 2013 | Mom | Adam | 3 episodes |
| 2014 | Sober Companion | | Pilot |
| 2014 | The Michael J. Fox Show | Zack | Episode: "Changes" |
| 2014 | TripTank | Camera Man / Andrew (voices) | 2 episodes |
| 2015-present | F Is for Family | Kevin Murphy (voice) | 16 episodes |
| 2015 | Portlandia | Justin | Episode: "The Fiancée" |
| 2015 | Inside Amy Schumer | Brian | Episode: "Fight Like a Girl" |
| 2015-18 | Drunk History | Arno Penzias / Elmer McCurdy | 2 episodes |
| 2016 | Dream Team | Marty Schumacher | Pilot |
| 2016-present | Skylanders Academy | Spyro (voice) | Main role |
| 2017 | Do You Want To See a Dead Body? | Himself | Episode: "A Body and an Actor" |
| 2018 | The Conners | Neil | Recurring |
[ Source: Wikipedia ]