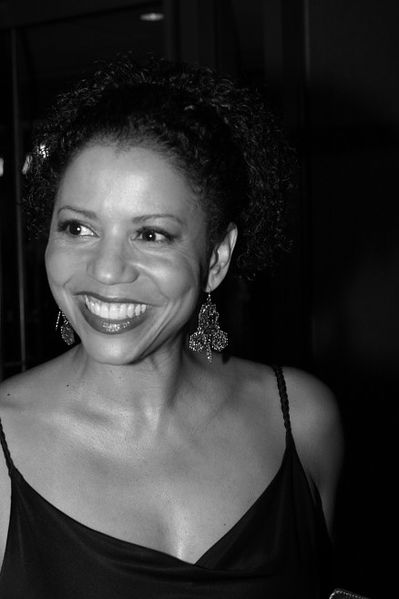 Gloria Reuben
Born:
June 9, 1964
Age:
58
Birthplace:
Toronto, Ontario, Canada
Popularity:

Please login to contact Gloria Reuben...
Biography
Gloria Elizabeth Reuben (born June 9, 1964) is a Canadian producer, singer and actress of film and television, known for her role as Jeanie Boulet on the medical drama ER and Marina Peralta on Falling Skies. In film, she is known for portraying Elizabeth Keckley in Lincoln.
She is currently recurring in the role of Dr. Krista Gordon on Mr. Robot and on the main cast of Saints & Sinners as Mayor Pamela Clayborne.
Reuben was born in Toronto, to Pearl Avis (Mills), a classical singer, and Cyril George Reuben, an engineer.[2] Her parents were both Jamaican-born. Her father was mostly Caucasian (with Ashkenazi and Sephardi Jewish roots), though also had some African ancestry; her mother was of mostly African descent.[1][3] Her father died when she was young.[4][5][6][7]
Reuben is the half-sister of Denis Simpson, an actor and children's television host who died in 2010.[5] She was the subject of a segment of Henry Louis Gates Jr.'s television genealogy series Finding Your Roots. She began learning piano as a child and later studied music technique and theory, ballet and jazz at The Royal Conservatory of Music.[6] Her career as an actress was triggered by a few jobs as a model and appearances in television advertisements.
Reuben is known for her role on the American television series ER as Jeanie Boulet, an HIV-positive physician assistant on the hospital's staff. She was a guest star throughout Season 1 and was elevated to full-time cast member at the beginning of Season 2. She continued that role until early Season 6, when she left the show. In 2008, Reuben returned to ER for one episode during its 14th season. She has stated that this role led to her HIV/AIDS activism.[8]
Reuben again held a major role in a television series when she starred as FBI agent Brooke Haslett in 1-800-Missing (2003-2004). She later starred as Rosalind Whitman in the TNT series Raising the Bar. In 1996 she was chosen by People magazine as one of the 50 Most Beautiful People in the World.[citation needed]
In 2000, she sang backup vocals for Tina Turner on her Twenty Four Seven Tour.[citation needed]
Reuben guest-starred in the season two finale of Drop Dead Diva as Professor Kathy Miller.[9] Reuben guest-starred in season 12 of NBC's Law & Order: Special Victims Unit, reprising her role as U.S. Attorney Christine Danielson.[10] In 2012, she appeared in the CBS TV movie Jesse Stone: Benefit of the Doubt.
In 2012, Reuben played Elizabeth Keckley in Steven Spielberg's historical drama film Lincoln and her portrayal of the character received critical praise.[11] In 2013, she guest starred on the sci-fi drama series Falling Skies.
Read more...
Filmography
Films
Year
Title
Role
Notes
1992
Wild Orchid II: Two Shades of Blue
Celeste
1994
Timecop
Sarah Fielding
1995
Nick of Time
Krista Brooks
1998
Indiscreet
Eve Dodd
1999
Macbeth in Manhattan
Claudia / Lady Macbeth
1999
David and Lola
Gloria
1999
Deep in My Heart
Barbara Ann Williams
2000
Pilgrim
Vicky
2000
Shaft
Sgt. Council
Uncredited
2001
The Feast of All Saints
Cecile Ste. Marie
2002
Happy Here and Now
Hannah
2002
Salem Witch Trials
Tituba Indian
2006
The Sentinel
Mrs. Merriweather
2012
Lincoln
Elizabeth Keckley
Nominated: NAACP Image Award for Outstanding Supporting Actress in a Motion Picture
Broadcast Film Critics Association Award for Best Cast
Detroit Film Critics Society for Best Ensemble
Washington D.C. Area Film Critics Association Award for Best Ensemble
2013
Admission
Corrinne
2014
Reasonable Doubt
Detective Blake Kanon
2015
The Longest Ride
Adrienne Francis
2016
Anesthesia
Meredith
2016
Jean of the Joneses
Janet
2017
Who We Are Now
Rebecca
Television
Year
Title
Role
Notes
1990-1991
The Flash
Sabrina
5 episodes
1995
Homicide: Life on the Street
Det. Theresa Walker
3 episodes
1995-1999, 2008
ER
Jeanie Boulet
Series regular; 102 episodes
Won: Screen Actors Guild Award for Outstanding Performance by an Ensemble in a Drama Series (1996-1999)
Viewers for Quality Television for Best Supporting Actress in a Drama Series (1997-1998)
Nominated: Golden Globe Award for Best Supporting Actress - Series, Miniseries or Television Film (1998)
Primetime Emmy Award for Outstanding Supporting Actress in a Drama Series (1997-1998)
Screen Actors Guild Award for Outstanding Performance by an Ensemble in a Drama Series (2000)
NAACP Image Award for Outstanding Actress in a Drama Series (1996-1999)
2001-2002
The Agency
Lisa Fabrizzi
Regular: episodes 1-13, 21-22
2002, 2007-2011
Law & Order: Special Victims Unit
Christine Danielson (2007-2011) / Violet Tremain (2002)
4 episodes
2002
Little John
Natalie Britain
TV film; Nominated - NAACP Image Award for Outstanding Actress in a Television Film
2003-2004
1-800-Missing
Brooke Haslett
Series regular; season 1: 18 episodes
2005
Numb3rs
Erica Quimby
Episode: "Noisy Edge"
2008-2009
Raising the Bar
Rosalind Whitman
Series regular; 25 episodes
2010
Drop Dead Diva
Professor Kathy Miller
Episode: "Freeze the Day"
2011
Jesse Stone: Innocents Lost
Thelma Gleffey
2012
Jesse Stone: Benefit of the Doubt
Thelma Gleffey
2013
Betty & Coretta
Myrlie Evers-Williams
Television film
2013
Falling Skies
Marina Peralta
10 episodes
2014
Happy Face Killer
FBI Agent Melinda Gand
TV film
2015
The Blacklist
Dr. Selma Orchard
Episode: "Luther Braxton Conclusion"
2015-2017
Mr. Robot
Krista Gordon
Series regular
2015
Jesse Stone: Lost in Paradise
Thelma Gleffey
2016
Saints & Sinners
Mayor Pamela Clayborne
Series regular
2018
Blindspot
Kira Evans
5 Episodes
2018
Cloak & Dagger
Adina Johnson
Series regular
[ Source: Wikipedia ]