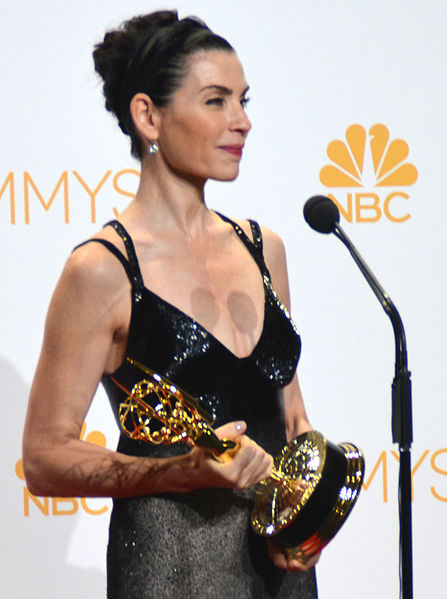 Julianna Margulies
Born:
June 8, 1966
Age:
56
Birthplace:
Spring Valley, New York, U.S.
Popularity:

Please login to contact Julianna Margulies...
Biography
Julianna Luisa Margulies (/ˈmɑːrɡjʊliːs/; born June 8, 1966) is an American actress and producer. After several small television roles, Margulies achieved wide recognition for her role as Carol Hathaway on NBC's long-running medical drama ER, for which she won an Emmy Award. She also voiced Neera in Dinosaur (2000) and appeared in the miniseries The Mists of Avalon (2001). In 2009, she took on the lead role of Alicia Florrick in the American legal drama The Good Wife on CBS. Her performance on that show has garnered acclaim: she won the Primetime Emmy Award for Outstanding Lead Actress in a Drama Series twice, a Golden Globe, and a Television Critics Association Award. In 2018, Margulies had a co-starring role as Kitty Montgomery in the AMC dark comedy series Dietland.
Margulies has won eight Screen Actor Guild Awards, making her the second most awarded woman ever within SAG after Julia Louis-Dreyfus.[2][3] In 2015, TIME featured her as one of the "100 Most Influential People in the World".[4] She was also awarded a star on the Hollywood Walk of Fame.
Margulies is the youngest of three daughters, born in Spring Valley, New York. Her mother Francesca (née Goldberg, later Gardner) was a ballet dancer and eurythmy teacher; her father Paul Margulies was a writer, philosopher, and Madison Avenue advertising executive.[5][6][7] Her parents were both Jewish, descended from Jewish immigrants from Romania, Austria, Hungary, and Russia.[7][8] Her mother converted to Christianity when the children were young, though Margulies still identifies herself as Jewish.[9][10] The Margulies family lived in Israel for a period of time before Julianna's birth, then moved back to the Upper West Side of New York City.[6]
Margulies attended grade school at Green Meadow Waldorf School and high school at High Mowing School.[11] As a child, she lived in New York, France, and England. She obtained a BA from Sarah Lawrence College, where she appeared in several campus plays.[citation needed]
Read more...
Career
Margulies made her feature film debut in Steven Seagal's film Out for Justice (1991), playing a prostitute. In 1994, Margulies was cast in the pilot episode of the NBC medical drama ER as Carol Hathaway, an emergency care nurse who, despondent over her relationship with pediatrician Doug Ross (George Clooney), attempted suicide. Her character was originally intended to die; however, the producers changed the plot and made Carol Hathaway a main cast member. At the same time Margulies had been offered an extended role on NBC's Homicide: Life on the Streets, after a two-episode appearance earlier in the year.[12] Margulies chose ER and remained on the show for six seasons until 2000. She won an Emmy Award for Best Supporting Actress in a Television Drama in 1994, and continued to be nominated for this award every year during her tenure on ER. She was the only series regular cast member to win an Emmy Award.[13]
In March 2012, Margulies broke her silence on her decision to leave ER at the height of her career and a $27 million paycheck. She revealed that although everyone said it would be "career suicide" not to return to the medical drama she had starred in for six years, she was never concerned about the consequences.
"I'm a smart girl," said Margulies. "I had a year's worth of work waiting and a mortgage completely paid at age 32. I was under no illusion that I was going to be some big movie star. My dad said, 'If you got hit by a bus tomorrow, were you living your life truthfully, or were you waiting to get rich?' If I died and my soul started leaving my body, would I be looking down going, 'You idiot. You could have gone to Prague, you could have been on Broadway'? Those are the things I wanted to do."
After leaving the series, Margulies worked on stage and screen. On stage, she appeared in a MCC Theater production of Kate Robin's Intrigue With Faye, a Lincoln Center production of Jon Robin Baitz's Ten Unknowns, and The Vagina Monologues. Her film work after ER included Evelyn with Pierce Brosnan and Ghost Ship (2002) with Gabriel Byrne and Ron Eldard. She starred as the protagonist and narrator (Morgaine) in the TNT miniseries The Mists of Avalon (2001) and participated in the documentary film Searching for Debra Winger (2002).
In 2004, she guest-starred in a two-episode arc in season 4 of the hit TV show Scrubs as Neena Broderick, an unscrupulous lawyer who sues Turk and has a brief sexual relationship with J.D. She starred in another miniseries on TNT, The Grid. In April 2006, she appeared in four episodes of the sixth season of The Sopranos, portraying realtor Julianna Skiff. In August 2006, she appeared in Snakes on a Plane as flight attendant Claire Miller. In December 2006, she played Jennifer Bloom in the Syfy Channel miniseries The Lost Room.
Margulies at the 2009 Tribeca Film Festival
In an August 2006 interview with tvguide.com, Margulies said she was close to accepting an offer to return to ER for a four-episode arc, with Noah Wyle, that filmed in Hawaii during the 2005/06 season. However, she decided against it at the last minute. Margulies was invited to return during ER's final season, but the actress initially turned down the offer, saying she felt like she left Carol Hathaway in the perfect place and could not imagine bettering her departure episode.[14] However, Margulies did return to ER for one episode during its 15th and final season.[15]
She had a minor role in The Darwin Awards (2007). In 2008, Margulies starred in the legal series Canterbury's Law, a Fox mid-season replacement show. She played the title character, Elizabeth Canterbury, a lawyer described as a "tough-minded defense attorney who isn't afraid to push boundaries in order to protect innocent clients." She was also credited as a producer of the show. The series was severely affected by the 2007-2008 Writers Guild of America strike; it was cancelled by the network after only six episodes.
In 2009, Margulies began starring in the CBS legal drama The Good Wife. She played Alicia Florrick, an attorney returning to legal practice after her husband Peter Florrick (played by Chris Noth) resigned as Illinois State's Attorney amid a sex and corruption scandal.[16] Beginning in 2011, starting with the third season, Margulies was credited as a producer of The Good Wife. The series ended in May 2016.
Since 2013, the actress does voiceovers for a Chase credit card commercial.[17] In 2014, Margulies narrated "Women in Business", an episode of season 2 of Makers: Women Who Make America.[18] In 2015, TIME featured Margulies as one of the "100 Most Influential People in the World." It noted her work to get Erin's Law, concerned with child sexual abuse, passed in every US state.[4]
In 2018, Margulies co-starred in the dark comedy series Dietland on AMC as Kitty Montgomery - a nasty, razor-thin fashionista who employs an overweight woman for menial tasks and enjoys torturing her no end (especially about her weight).
Personal life
Margulies and Lieberthal at the Metropolitan Opera in 2008
From 1991[19] to 2003, Margulies dated actor Ron Eldard, whom she met in an acting class.[20][21] On November 10, 2007, Margulies married attorney Keith Lieberthal, the son of academic Kenneth Lieberthal,[22] in Lenox, Massachusetts. On January 17, 2008, she gave birth to their son Kieran Lindsay Lieberthal.[23][24] They reside in Manhattan.[25]
Filmography
Film
| Year | Title | Role | Notes |
| --- | --- | --- | --- |
| 1991 | Out for Justice | Rica | |
| 1997 | Traveller | Jean | |
| 1997 | Paradise Road | Topsy Merritt | |
| 1998 | The Newton Boys | Louise Brown | |
| 1998 | A Price Above Rubies | Rachel | |
| 2000 | What's Cooking? | Carla | |
| 2000 | Dinosaur | Neera | Voice |
| 2002 | The Man from Elysian Fields | Dena | |
| 2002 | Evelyn | Bernadette Beattie | |
| 2002 | Ghost Ship | Maureen Epps | |
| 2005 | Slingshot | Karen | |
| 2006 | The Darwin Awards | Carla | |
| 2006 | The Armenian Genocide | Narrator | |
| 2006 | Snakes on a Plane | Claire Miller | |
| 2006 | Beautiful Ohio | Mrs. Cubano | |
| 2009 | City Island | Joyce Rizzo | |
| 2011 | No Job for a Woman | Narrator[26] | |
| 2012 | Stand Up Guys | Nina Hirsch | |
| 2017 | The Upside | Lily | |
| 2017 | Three Christs | Ruth | |
Television
| Year | Title | Role | Notes |
| --- | --- | --- | --- |
| 1993 | Murder, She Wrote | Rachel Novaro | Episode: "Murder at Discount" |
| 1993 | Law & Order | Lt. Ruth Mendoza | Episode: "Conduct Unbecoming" |
| 1994 | Homicide: Life on the Street | Linda | 2 episodes |
| 1994-2000, 2009 | ER | Nurse Carol Hathaway | Main role, 132 episodes |
| 1995 | The Larry Sanders Show | Herself | Episode: "Larry's on Vacation" |
| 1998 | Ellen | Ellen Screen Test #5 | Episode: "Ellen: A Hollywood Tribute: Part 1" |
| 2001 | The Mists of Avalon | Morgaine | TV miniseries, 8 episodes |
| 2001 | Jenifer | Jenifer's Psychiatrist | TV movie |
| 2003 | Hitler: The Rise of Evil | Helene Hanfstaengl | 2 episodes |
| 2004 | Scrubs | Neena Broderick | 2 episodes |
| 2004 | The Grid | Maren Jackson | Lead role, 2 episodes |
| 2006 | The Lost Room | Jennifer Bloom | TV miniseries, 3 episodes |
| 2006-07 | The Sopranos | Julianna Skiff | 4 episodes |
| 2008 | Canterbury's Law | Elizabeth Canterbury | Lead role, 6 episodes |
| 2009-16 | The Good Wife | Alicia Florrick | Lead role, 156 episodes |
| 2010 | Sesame Street | Dr. Berger | Episode: "Big Bird Sprains His Wing" |
| 2014 | Makers: Women Who Make America | Narrator | Episode: "Women in Business" |
| 2017 | Nightcap | Herself | Episode: "Out of the Box" |
| 2018 | Dietland | Kitty Montgomery | Main role, 10 episodes |
Awards and nominations
Main article: List of awards and nominations received by Julianna Margulies
Charities
Julianna Margulies supports the following charitable cause: ALS (amyrotrophic lateral sclerosis).
[ Source: Wikipedia ]