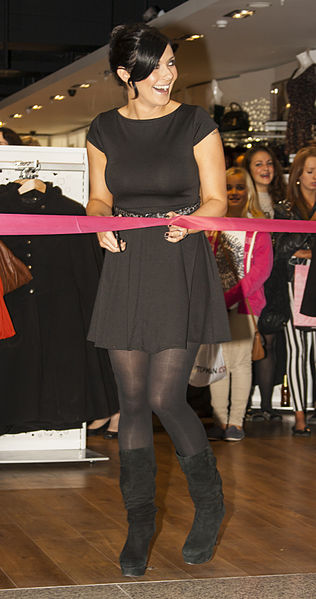 Kym Marsh
Born:
June 13, 1976
Age:
46
Birthplace:
Whiston, Merseyside, England
Popularity:

Please login to contact Kym Marsh...
Biography
Kimberley Gail "Kym" Marsh (formerly Ryder and Lomas;[1] born 13 June 1976) is an English actress and former singer-songwriter, who rose to fame in 2001 after winning a place in the band Hear'Say, as a result of appearing on the reality television series Popstars. Hear'Say enjoyed brief success, achieving two UK number one singles and a UK number one album, but Marsh left the band in 2002 to pursue a solo career. She released an album titled Standing Tall in 2003, which peaked at number nine in the UK and spawned two UK top ten singles.
Since 2006, she has portrayed Michelle Connor on the ITV soap opera Coronation Street. She was named Best Newcomer at the 2007 British Soap Awards and the 2007 National Television Awards, and received the award for Best Female Dramatic Performance at the 2017 British Soap Awards. In 2010, she finished fourth when she competed on Popstar to Operastar, a reality show featuring well-known pop stars being trained to sing opera.
Marsh was born on 13 June 1976 in Whiston, Merseyside to Pauline, a Lebanese immigrant,[2] and David Marsh. She is the youngest of four children, having a sister, Tracey, and two brothers, David and Jon. Marsh was raised in Garswood, in the Metropolitan Borough of St Helens, Merseyside.[3] She attended the Elliot Clarke Stage School in Liverpool for two years, but was unhappy at only singing there one day a week, and so decided to leave when she was fifteen. After leaving school, she had a number of jobs including a receptionist and a shop assistant.[3]
Read more...
Music career
Early singing career and Hear'Say
Main article: Hear'Say
Marsh provided session vocals for artists including Matt Darey, the group Freaky Realistic and the duo Hemstock & Jennings. She sang in Norwegian on the latter's track "Arctic", which caught the attention of Paul van Dyk, and was remixed and re-recorded with additional vocals from Jan Johnston. The track, renamed "Nothing But You", was released in the UK via Positiva and reached number 14 in the UK charts[4][5]
In late 2000, Marsh auditioned for the ITV talent show Popstars. She was one of the five singers chosen for the newly formed band Hear'Say, along with Danny Foster, Myleene Klass, Suzanne Shaw and Noel Sullivan. In March 2001, Hear'Say released their first single "Pure and Simple", a cover of a track by Girl Thing. The song went straight to number 1 on the UK Singles Chart in March 2001, selling just under 550,000 copies. The group then released their second single, "The Way to Your Love," in June 2001. The song became their second consecutive number 1 single. Shortly afterwards the group toured the UK.
In January 2002, Marsh announced that she was leaving Hear'Say. Auditions were held to find a replacement for her, but the group split up in October 2002.
Standing Tall
After a while out of the spotlight Marsh signed a solo record deal with Island Records. Her first single, "Cry", went to number 2 in the UK Singles Chart and her second single, "Come on Over," made it to number 10.[6]
In July 2003, Marsh released her debut solo album, Standing Tall, which peaked at number 9 in the UK.[6] It contained three solo singles and twelve other tracks. However, her make-or-break third single, "Sentimental", stalled at number 35,[6] and that resulted in her being dropped by her record label.
Marsh has said that she would like to return to music one day, but "Right now I'm focusing on Corrie and I am putting all my effort into it."
Eurovision
In early 2006, Marsh entered Making Your Mind Up, a show intended to pick a singer and a song for the UK entry in the Eurovision Song Contest. With a song, called "Whisper to Me", Marsh came fourth in the contest, which was won by Daz Sampson.
Television career
Marsh opening a clothes shop at the Arndale Centre in Manchester in 2012
Marsh made her television acting debut in 2005, in an episode of the BBC One soap opera Doctors, playing a character called Ruth Parry. That same year, she also became a regular panellist on ITV's daytime show Loose Women for its eighth season.
In 2006, she played prostitute Kay Price in one episode of Channel 4's soap opera Hollyoaks: In the City.
On 14 December 2008, she appeared as a presenter on The X Factor final. She presented for Alexandra Burke in North London, Burke's home town. Burke went on to win the show.
Coronation Street
Marsh joined the cast of Coronation Street, playing Michelle Connor from 3 April 2006 onwards.[7] For her role on the show she has subsequently received Newcomer awards at the 2007 British Soap Awards and the 2007 National Television Awards, among others.[8][9] Becoming a regular character, her storylines have included a serious relationship with Steve McDonald (Simon Gregson), discovering that her son had been swapped at birth, the death of her eldest brother Paul (Sean Gallagher) and the murder of her other brother Liam (Rob James-Collier), her failed engagement to Ciaran McCarthy (Keith Duffy), surviving a minibus crash, becoming pregnant with Steve's baby, learning that Steve has also impregnated Leanne Battersby (Jane Danson), delivering a stillborn son Ruairi and being stalked by her ex-boyfriend Will (Leon Ockenden). Other storylines have focused on the relationships with her sisters-in-law, Carla (Alison King) and Maria (Samia Ghadie), as well as her relationship with Robert Preston (Tristan Gemmill) after the collapse of her marriage to Steve.
In 2008, as the character dominated more storylines, some fans began to tire of her as well as her behaviour.[10] The baby-swap storyline, which Michelle was central to, was largely panned by both fans and critics, columnist Grace Dent said of the plot; "...It feels like something ripped from a copy of Pick Me Up magazine and read to me laboriously over 22 weeks".[11] In contrast, the 2017 stillbirth storyline as well as Marsh's performance received rave reviews and were praised by the Stillbirth and Neonatal Death Society (SANDS).[12][13][14] Marsh, whose real-life son Archie was also stillborn, explained that it was important for her to take on the storyline in order to raise awareness of the issue. She also voiced for the change in law which would see stillborn children receive birth certificates.[15][16] The actress also stated it was "the best way to honour" her son.[17] She later won the 2017 British Soap Award for Best Female Dramatic Performance.[18]
Popstar to Operastar
In January 2010, Marsh participated in the first series of Popstar to Operastar. She was voted out in the fifth week, along with Marcella Detroit, after receiving 13.5% of all public votes.
| Week | Air Date | Song | Public vote | Result |
| --- | --- | --- | --- | --- |
| 1. | 15 January 2010 | "Si Un Jour" | 12.1% | Safe |
| 2. | 22 January 2010 | "Libiamo ne'lieti calici" | 19% | Safe |
| 3. | 29 January 2010 | "Habanera" | 13.3% | Safe |
| 4. | 5 February 2010 | "Nella Fantasia" | 24.0% | Safe |
| 5. | 12 February 2010 | "Pie Jesu" | 13.5% | Eliminated |
Personal life
Marsh has a son named David (born 1995) and a daughter named Emilie (born 1997) from a relationship with Dave Cunliffe. The actress married the actor Jack Ryder in St Albans, Hertfordshire, on 10 August 2002. It was announced on 20 March 2008 that the couple had decided to separate and would be seeking a divorce.[19] Marsh and Ryder announced their divorce on 12 August 2009.[20]
Marsh dated the actor Jamie Lomas from July 2008 onwards.[21] They married in Cheshire in September 2012.[22] She and Lomas announced that they were expecting a baby in 2009.[23] Their son, Archie Jay Lomas, was born 18 weeks early on 11 February and died moments after birth. Marsh stated that "Archie is our beautiful angel and we will miss him so much. Thank you all for your support."[24] On 23 March 2011 Marsh gave birth to a daughter, Polly.[25]
Marsh filmed a documentary for ITV about premature births, called Born Too Soon; and in late 2010 she helped to organise, and spoke at, a gala to raise money for the special care baby charity Bliss.
On 3 October 2012, Marsh announced that she would be known, not as Kym Marsh, but as Kym Lomas,[26] but in October 2013, she filed for divorce, citing unreasonable behaviour. The divorce was finalised on 10 January 2014,[27] and she reverted to the name Kym Marsh.[28]
In January 2015, Marsh's daughter, Emilie, was one of the auditionees for the fourth series of The Voice UK. Marsh was also present at the audition as family support. However, her daughter's audition was unsuccessful and she was not selected by any of the coaches.[29][30]
In May 2017, a wax figure of her was added to the gallery of Madame Tussauds Blackpool.[31]
Filmography
Year
Title
Role
Notes
2001
Popstars
Herself
Contestant
2005
Loose Women
Herself
Regular panellist; series 8
Doctors
Ruth Parry
S07E74 "Bad Chemistry"
2006
Holby City
Myrna Morrison
S08E15 "Brother's Keeper"
Making Your Mind Up 2006
Herself
Contestant; UK's national final for the Eurovision Song Contest 2006
Hollyoaks: In the City
Kay Price
Hollyoaks spin-off; 3 episodes
2006-
Coronation Street
Michelle Connor
Regular role 1400+ episodes
2008
The X Factor
Herself
OB presenter; series 5, 2 episodes
2010
Popstar to Operastar
Herself
Contestant; series 1
Discography
Main article: Kym Marsh discography See also: Hear'Say discography
Awards and nominations
Year
Award
Category
Nominated for
Result
Ref.
2007
2007 British Soap Awards
Best Newcomer
Coronation Street
Won
[8]
Best Actress
Nominated
Sexiest Female
Nominated
2007 Inside Soap Awards
Best Actress
Nominated
[32]
Best Couple (shared with Simon Gregson)
Nominated
2007 TV Choice and TV Quick Awards
Best Soap Newcomer
Won
[33]
2007 TV Now Awards
Favourite Newcomer to Irish
Won
[3]
2007 National Television Awards
Most Popular Newcomer
Won
[9]
2008
Daily Star' 2008 Soaper Star Awards
Best Actress
Won
[34]
2008 Digital Spy Soap Awards
Sexiest Female
Nominated
[35]
2008 British Soap Awards
Sexiest Female
Nominated
[36]
Best Actress
Nominated
2008 Inside Soap Awards
Best Dressed Soap Star
Won
[37]
Best Actress
Nominated
[38]
2008 TRIC Awards
TV Soap Personality
Won
[39]
2008 TV Now Awards
Favourite Female Soap Star
Won
[3]
Favourite Soap Couple (shared with Simon Gregson)
Nominated
[40]
2008 Inside Soap Awards
Best Dressed Soap Star
Won
[41]
2008 All About Soap Bubble Awards
Best Celebrity Style
Won
[3]
2009
2009 Inside Soap Awards
Best Actress
Nominated
[42]
Best Dressed Soap Star
Shortlisted
[43]
2010
2010 British Soap Awards
Sexiest Female
Nominated
[44]
2010 TV Now Awards
Ireland's Most Glamorous TV Star
Nominated
[45]
2015
2015 Inside Soap Awards
Sexiest Female
Shortlisted
[46]
2015 TRIC Awards
Soap Personality
Nominated
[47]
2016
2016 Inside Soap Awards
Sexiest Female
Shortlisted
[48]
2017
2017 TRIC Awards
Soap Personality
Won
[49]
2017 British Soap Awards
Best Female Dramatic Performance
Won
[18]
Best Actress
Shortlisted
[50]
2017 TV Choice Awards
Best Soap Actress
Shortlisted
[51]
2017 Inside Soap Awards
Best Actress
Longlisted
[52]
2017 RTS North West Awards
Best Performance in a Continuing Drama
Won
[53]
2017 TVTimes Awards
Favourite Soap Star
Nominated
[54]
Other
Year
Award
Result
Ref.
2008
La Redoute's 2008 Celebrity Mum of the Year Award
Shortlisted
[55]
Tesco Magazine's 2008 Mum of the Year Award
Won
[56]
2009
Bounty's 2009 Celebrity Mum of the Year Award
Won
[57]
2015
2015 Rear of the Year Award
Won
[58]
[ Source: Wikipedia ]