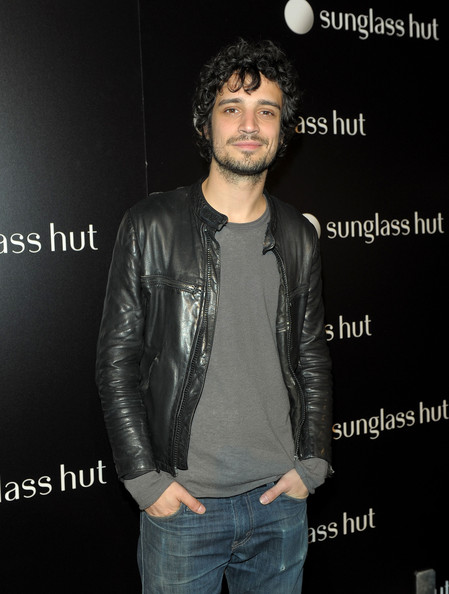 Fabrizio Moretti
Born:
June 2, 1980
Age:
42
Popularity:

Please login to contact Fabrizio Moretti...
Biography
Fabrizio Moretti (born June 2, 1980) is an Italian-Brazilian musician and visual artist best known as the drummer for American indie rock band The Strokes. He is also a member of Brazilian/American rock supergroup Little Joy. Moretti has also worked on various art projects since 2012.
Moretti was born in Rio de Janeiro, Brazil to an Italian father and a Brazilian mother. He and his family moved to New York City when he was three years old,[1] and had plans to stay there only for three years, but in the end they stayed for seventeen. As a teenager, Moretti attended the Anglo American International School,[2] which later merged with the Dwight School, where he met fellow band members
Nick Valensi
and
Julian Casablancas
.[3] Moretti started playing drums by soundproofing a closet at home.[4] Upon graduating high school, Moretti studied sculpture at SUNY New Paltz,[5] before dropping out to focus on his music career with The Strokes.
Read more...
Musical career
The Strokes
Main article: The Strokes
Fabrizio Moretti began playing as a drummer in an informal band with vocalist Casablancas and guitarist Valensi in high school, and continued after the two left Dwight.[6][7] Nikolai Fraiture started playing as the bassist and the band was formed when guitarist Albert Hammond Jr. joined in fall 1998. Their first show as The Strokes was at the Spiral in New York City on September 14, 1999.[8] The band released The Modern Age EP in 2001 under Rough Trade Records[9] and was signed for a five-album record deal by RCA Records.[10] The band released five LPs including Is This It, Room on Fire, First Impressions of Earth, Angles and Comedown Machine, with tours and festival sets in the North America, Europe, South America, East Asia and Australia. Following the completion of their album contract deal with RCA Records in 2013,[11] the band has continued to release new music through Casablancas' Cult Records.[12]
Little Joy
Main article: Little Joy
In 2007, Moretti joined with Los Hermanos guitarist, singer, songwriter Rodrigo Amarante and Binki Shapiro to form the trio Little Joy, a Brazilian/American rock supergroup.[13] Amarante and Moretti had met in 2006, at a festival in Lisbon where both their bands were performing, and the idea came up to start a new musical project unrelated to their respective bands.[14] Little Joy was signed to Rough Trade Records label. Their debut album, produced by Noah Georgeson, was released in 2008.[15]
Collaborations
Moretti was also part of a project, Megapuss, with Devendra Banhart, Gregory Rogove and Noah Georgeson in 2008.[16][17] Moretti has played drums for Neon Neon, on their track "Dream Cars", from Stainless Style. He has also co-written "Prisoner", from Har Mar Superstar's album Bye Bye 17 with Devendra Banhart, Rodrigo Amarante. Moretti also played on Kesha's 2012 song "Only Wanna Dance With You", together with bandmate Julian Casablancas.[18][19]
Personal life
Moretti is an enthusiastic visual artist and enjoys drawing.[20] He has created an art installation for Rag + Bone and showcased his drawings in New York.[21][22] He has also worked on artistic project FUZLAB with French cartoonist Luz in 2012.[23][24]
Despite living in the country from a young age, Moretti is not currently a U.S. Citizen, and is instead a citizen of his father's country of origin, Italy.[25][1] Moretti is fluent in Portuguese, the language of his family, who live in Rio de Janeiro, Brazil. Moretti has a brother four years older, Leo Moretti.[26]
In 2006, the drummer earned a full-page love message in an American newspaper made by his then-girlfriend Drew Barrymore; Moretti dated Barrymore for five years from 2002 to January 2007, the year he went on to date Binki Shapiro and Kirsten Dunst. He also dated actress Kristen Wiig.[27] In an interview, Moretti once stated that he believes, "marriage is not anything that will secure the future of your relationship."[28]
Equipment
Drums
Fabrizio uses Ludwig Red Vistalite limited edition drums, Zildjian cymbals and Ahead sticks.[29][30]
22"x14" Kick, 13"x9" Rack tom, 16"x16" Floor tom, 14x5" Ludwig LM400 Supra-Phonic Snare Drum.
14" A New Beat Hi-Hats, 22" A Custom Ride, 20" A Custom Crash.
Quotes
"It's so easy for people to jump to the wrong conclusions when they've only heard one three song EP. While we are really appreciative of some of the comparisons we have been given, it is not the full picture. Hopefully when the album comes out people will realize it isn't just some New York thing and that it is a lot more universal than that."
"I love music, but it is songs, bands, and albums that excite me rather than a specific drummer's style."
[ Source: Wikipedia ]