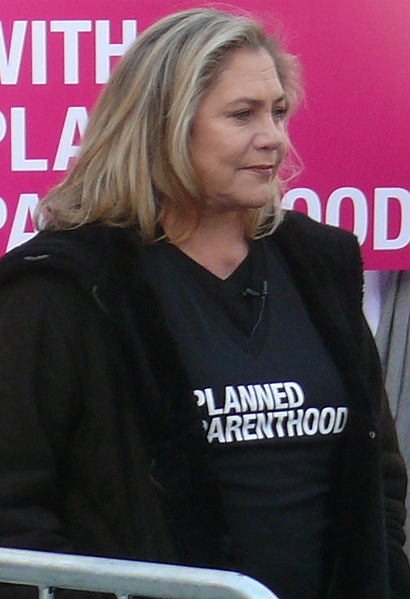 Kathleen Turner
Birth name:
Mary Kathleen Turner
Born:
June 19, 1954
Age:
68
Birthplace:
Springfield, Missouri, U.S.
Popularity:

Please login to contact Kathleen Turner...
Biography
Mary Kathleen Turner (born June 19, 1954), better known as Kathleen Turner, is an American film and stage actress and director. Known for her distinctive husky voice, Turner has won two Golden Globe Awards and has been nominated for an Academy Award.
Turner rose to fame during the 1980s, after roles in Body Heat (1981), The Man with Two Brains (1983), Crimes of Passion (1984), Romancing the Stone (1984), and Prizzi's Honor (1985), the last two earning her a Golden Globe Award for Best Actress - Motion Picture Musical or Comedy. In the later 1980s and early 1990s, Turner had roles in The Accidental Tourist (1988), The War of the Roses (1989), Serial Mom (1994) and Peggy Sue Got Married (1986), for which she was nominated for the Academy Award for Best Actress.
Turner later had roles in The Virgin Suicides (1999), Baby Geniuses (1999), and Beautiful (2000), as well as guest-starring on the NBC sitcom Friends as Chandler Bing's cross-dressing[1] father Charles Bing, and in the third season of Showtime's Californication as Sue Collini, the jaded, sex-crazed owner of a talent agency. Turner has also done considerable work as a voice actress, namely as Jessica Rabbit in Who Framed Roger Rabbit (1988), as well as Monster House (2006), and the television series The Simpsons and King of the Hill.
In addition to film, Turner has worked in the theatre, and has been nominated for the Tony Award twice for her Broadway roles as Maggie in Cat on a Hot Tin Roof and as Martha in Who's Afraid of Virginia Woolf? Turner has also taught acting classes at New York University.[2][3]
Turner was born June 19, 1954, in Springfield, Missouri, the daughter of Patsy (née Magee 1923-2015)[4] and Allen
Richard Turner
, a U.S. Foreign Service officer[5] who grew up in China (where Turner's great-grandfather had been a Methodist missionary). She has a sister, Susan, and two brothers.[6][7][8]
Turner was raised in a strict conservative Christian household, and her interest in performing was discouraged by both of her parents: "My father was of missionary stock," she later explained, "so theater and acting were just one step up from being a streetwalker, you know? So when I was performing in school, he would drive my mom and sit in the car. She'd come out at intermissions and tell him, 'She's doing very well.'"[7][9]
Owing to her father's employment in the Foreign Service, Turner grew up abroad and graduated from The American School in London in 1972.[6] Her father died of a coronary thrombosis that same year, and then the family moved back to the United States. At the age of 19, Turner began volunteering at a local Planned Parenthood office.[2]
She attended Missouri State University in Springfield for two years, then studied theater at the University of Maryland, Baltimore County, where she received a Bachelor of Fine Arts degree in 1977.[10]
During that period, Turner acted in several productions directed by the film and stage director Steve Yeager.[11][12]
Read more...
Career
Body Heat
In 1977, Turner made her television debut in the NBC daytime soap The Doctors as the second Nola Dancy Aldrich. She made her film debut in 1981 as the ruthless Matty Walker in the thriller Body Heat; the role brought her to international prominence. Empire Magazine cited the film in 1995 when it named her one of the 100 Sexiest Stars in Film History.[13] The New York Times wrote in 2005 that, propelled by her "jaw-dropping movie debut Body Heat... she built a career on adventurousness and frank sexuality born of robust physicality."[9] Turner ultimately became one of the top box office draws, and most sought-after actresses of the 1980s and early 1990s.
Turner stated in 2018 that: "Body Heat was a blessing because I went straight to being a leading actor and I didn't have to suffer any of this predatory male behaviour like many young actresses. It doesn't frustrate me that nearly four decades after that film I'm still referred to as a sexual icon. I got over that a long time ago."[14]
The brazen quality of Turner's screen roles was reflected in her public life. With her deep voice, Turner was often compared to a young Lauren Bacall. When the two met, Turner reportedly introduced herself by saying, "Hi, I'm the young you."[15] In the 1980s, she boasted that "on a night when I feel really good about myself, I can walk into a room, and if a man doesn't look at me, he's probably gay."[13]
Theatre work and Broadway debut
Several months after moving to New York City in 1977, Turner took over the female lead in Michael Zetter's play Mister T, which co-starred Jonathan Frakes and played at Soho Repertory Theatre. That production marked her off-Broadway debut. Several months later, Turner made her Broadway debut as Judith Hastings in Gemini by Albert Innaurato, staged at The Little Theatre (now known as the Helen Hayes Theater) and starring Danny Aiello. It opened May 21, 1977, during the time when she was appearing in the soap The Doctors.[16]
Stardom during the 1980s
After Body Heat, Turner steered away from femme fatale roles to "prevent typecasting" and "because femme fatale roles had a shelf-life." Consequently, her first project after this was the 1983 comedy The Man With Two Brains. Turner co-starred in Romancing the Stone with Michael Douglas and Danny DeVito. The film critic Pauline Kael wrote of her performance as writer Joan Wilder, "Turner knows how to use her dimples amusingly and how to dance like a woman who didn't know she could; her star performance is exhilarating."[17] Romancing the Stone was a surprise hit: she won a Golden Globe for her role in the film, and it became one of the top-ten-grossing movies of 1984.[18] Turner teamed with Douglas and DeVito again the following year for its sequel, The Jewel of the Nile. Pre-production for the movie was fraught with conflict, because Turner refused to commit to the "terrible" script she had been delivered. When she said no, 20th Century Fox threatened her with a $25 million breach of contract lawsuit. Eventually Michael Douglas, also the film's producer, agreed to undertake rewrites on the script to make it more acceptable to Turner, which led to much back-and-forth between the two as the script was re-tooled right up to when shooting started in Fez, Morocco.[19]
Several months before Jewel, Turner starred in Prizzi's Honor with Jack Nicholson, winning a second Golden Globe award, and later starred in Peggy Sue Got Married, which co-starred Nicolas Cage. For Peggy Sue, she received the award for Best Actress from the U.S. National Board of Review of Motion Pictures[20] as well as an Academy Award nomination for Best Actress.
In 1988's toon-noir Who Framed Roger Rabbit, she was the speaking voice of cartoon femme fatale Jessica Rabbit, intoning the famous line, "I'm not bad, I'm just drawn that way." Her uncredited, sultry performance was acclaimed as "the kind of sexpot ball-breaker she was made for."[21] (Amy Irving provided Jessica Rabbit's singing voice in the scene in which the character first appears in the movie.) That same year Turner also appeared in Switching Channels, which was a loose remake of the 1940 hit film His Girl Friday; this, in turn, was a loose remake of the Ben Hecht-Charles MacArthur comedy The Front Page.[citation needed]
Turner appeared in the 1986 song "The Kiss of Kathleen Turner" by Austrian techno-pop singer Falco. In 1989, Turner teamed with Douglas and DeVito for a third time, in The War of the Roses, but this time as Douglas's disillusioned wife, with DeVito in the role of a divorce attorney who told their shared story. The New York Times praised the trio, saying that "Mr. Douglas and Ms. Turner have never been more comfortable a team ... each of them is at his or her comic best when being as awful as both are required to be here ... evilly enchanting."[22] In that film, Turner played a former gymnast and, as in other roles, did many of her own stunts. (She broke her nose two years after filming 1991's V.I. Warshawski.)[23][24]
1990s - slowed by disease
Turner remained an A-list film star leading lady until the early 1990s, when rheumatoid arthritis seriously restricted her activities and her movie career went into rapid decline. She turned down lead roles in Ghost and The Bridges of Madison County, both of which became big hits. The arthritis diagnosis was made in 1992 after Turner had suffered "unbearable" pain for about a year. By the time she was diagnosed she "could hardly turn her head or walk, and was told she would end up in a wheelchair."[9]
As the disease worsened and the medication greatly altered her looks, along with excess alcohol consumption that Turner said she used to kill her physical pain, her career as a leading lady went into a steep decline and she was seen in fewer and fewer very successful films - though she also blamed her age, stating, "when I was forty the roles started slowing down, I started getting offers to play mothers and grandmothers ..." She appeared in the low-budget House of Cards, experienced moderate success with John Waters's black comedy Serial Mom, and had supporting roles in A Simple Wish, The Real Blonde, and Sofia Coppola's The Virgin Suicides. She also provided the voice of Malibu Stacy's creator, Stacy Lovell, in the episode "Lisa vs. Malibu Stacy" on The Simpsons.
2000s - remission
Despite drug therapy to help her condition, the disease progressed for about eight years. Then, thanks to newly available treatments, her arthritis went into remission. She was seen increasingly on television, including three episodes of Friends, where she appeared as Chandler Bing's estranged, gay father, who works as a drag queen in Las Vegas.
In 2006, Turner guest starred on FX's Nip/Tuck, playing a phone sex operator in need of laryngeal surgery. She appeared in a small role in 2008's Marley & Me and also played a defense attorney on Law & Order.
In 2009, she played the role of Charlie Runkle's sexually hyperactive boss in season 3 of the television series Californication.
Voice actress
In the same year as her Nip/Tuck cameo role, 2006, Turner provided the voice of Constance in the animated film Monster House. More recently,[when?] she provided radio commercial voice-overs for Lay's potato chips. BBC Radio 4 produced three radio dramas based on the V.I. Warshawski novels by Sara Paretsky. The first two, Deadlock and Killing Orders, featured Turner reprising her 1991 movie role, which had been based on Paretsky's novel Deadlock; however, the third, Bitter Medicine, saw Sharon Gless take over the part. Turner also provided the voice of Jessica Rabbit in the 1988 live action/animated film Who Framed Roger Rabbit, and again in the Disneyland attraction spinoff, Roger Rabbit's Car Toon Spin.
Stage career
After 1990s roles in Broadway productions of Indiscretions and Cat on a Hot Tin Roof (for which she earned a Tony Award nomination for Best Actress), Turner moved to London in 2000 to star in a stage version of The Graduate. The BBC reported that initially mediocre ticket sales for The Graduate "went through the roof when it was announced that Turner, then aged 45, would appear naked on stage." While her performance as the infamous Mrs. Robinson was popular with audiences, with sustained high box office for the duration of Turner's run, she received mixed reviews from critics.[25] The play transferred to Broadway in 2002 to similar critical reaction.
In 2005, Turner beat a score of other contenders (including Jessica Lange, Frances McDormand, and Bette Midler)[9] for the role of Martha in a 2005 Broadway revival of Edward Albee's Who's Afraid of Virginia Woolf? Albee later explained to the New York Times that when Turner read for the part with her eventual co-star Bill Irwin, he heard "an echo of the 'revelation' that he had felt years ago when the parts were read by Hagen and Arthur Hill." He added that Turner had "a look of voluptuousness, a woman of appetites, yes ... but a look of having suffered as well."[citation needed]
Ben Brantley praised Turner at length, writing:
As the man-eating Martha, Ms. Turner, a movie star whose previous theater work has been variable, finally secures her berth as a first-rate, depth-probing stage actress ... t 50, this actress can look ravishing and ravaged, by turns. In the second act, she is as predatorily sexy as she was in the movie Body Heat. But in the third and last act she looks old, bereft, stripped of all erotic flourish. I didn't think I would ever be able to see Virginia Woolf again without thinking of Ms. Hagen . But watching Ms. Turner in that last act, fully clothed but more naked than she ever was in The Graduate, I didn't see the specter of Ms. Hagen. All I saw was Ms. Turner. No, let's be fair. All I saw was Martha.[26]
As Martha, Turner received her second Tony Award nomination for Best Actress in a Play, losing to Cherry Jones. The production was transferred to London's Apollo Theatre in 2006. She starred in Sandra Ryan Heyward's one-woman show, Tallulah, which she toured across the U.S.
In August 2010, Turner portrayed the role of Sister Jamison Connelly in Matthew Lombardo's drama High at Hartford TheaterWorks.[27] The production transferred to Broadway, at the Booth Theater, where it opened in previews on March 25, 2011, officially on April 19, 2011, and an announced quick closing on April 24, 2011.[28] However, in a rare move, the production was revived, still headed by Turner, to undertake a national tour, which began in Boston in December 2012.[29]
From August to October 28, 2012, Turner appeared in Red Hot Patriot: The Kick-Ass Wit of Molly Ivins, a play about the legendary liberal Texas columnist, Molly Ivins, at the Arena Stage, in Washington, D.C.[30] In December 2014 and January 2015, Turner performed the same show at Berkeley Repertory Theatre.[31] She appeared again at the Arena Stage in the title role of Bertolt Brecht's Mother Courage which opened in February 2014,[32] and playing Joan Didion in the one-woman show The Year of Magical Thinking, based on Didion's memoir of the same name, in October and November 2016.[33]
Personal life
Turner married the real estate entrepreneur Jay Weiss of New York City in 1984, and they had one child, their daughter, Rachel Ann Weiss, who was born on October 14, 1987. Turner had been born into a Methodist family, but she has said that she has "taken on a certain amount of Jewish tradition and identity" since marrying her Jewish husband and raising their daughter in Judaism.[8] In 2006, Turner announced that she and Weiss were planning a trial separation.[13] Turner and Weiss carried this forward to a divorce that became official in December 2007, but Turner has said, "'s still my best friend."[34]
By the late 1980s, Turner had acquired a reputation for being difficult: what The New York Times called "a certifiable diva." She admitted that she had developed into "not a very kind person," and the actress Eileen Atkins referred to her as "an amazing nightmare."[9] In 2018, she commented on her reputation, stating that: "The "difficult" thing was pure gender crap. If a man comes on set and says, "Here's how I see this being done," people go, "He's decisive." If a woman does it, they say, "Oh, fuck. There she goes."[19]
Turner has defended herself against Atkins' claim that Turner was "an amazing nightmare", saying that Atkins harbored animosity towards her because she was having trouble memorizing her lines, which Atkins found very unprofessional. Turner would later realize that it was the new medication for her arthritis she was taking which was making her "fuzzy". She added that on days where the arthritis in her wrist was especially bad and she warned the other cast members not to touch it, Atkins would intentionally sit on it during a scene where Turner had to play dead, causing Turner extreme pain.[19] Turner slammed Hollywood over the difference in the quality of roles offered to male actors and female actors as they age, calling the disparity a "terrible double standard."
As a result of her altered looks and weight gain from her rheumatoid arthritis treatment, The New York Times published this statement in 2005, "Rumors began circulating that she was drinking too much. She later said in interviews that she didn't bother correcting the rumors because people in show business hire drunks all the time, but not people who are sick." Turner has had well-publicized problems with alcohol, which she used as an escape from the pain and symptoms of acute rheumatoid arthritis. Turner has admitted she drank to relieve the constant pain that resulted from her illness, and that the drinking made her difficult to be around.[35] A few weeks after leaving the production of the play The Graduate in November 2002, Turner was admitted into the Marworth hospital in Waverly, Pennsylvania, for the treatment of alcoholism. "I have no problem with alcohol when I'm working," she explained. "It's when I'm home alone that I can't control my drinking...I was going toward excess. I mean, really! I think I was losing my control over it. So it pulled me back."[9]
Activism
Turner has worked with Planned Parenthood of America since age 19, and later became a chairperson. She also serves on the board of People for the American Way, and volunteers at Amnesty International and Citymeals-on-Wheels. She was one of John Kerry's first celebrity endorsers. She has been a frequent donor to the Democratic Party. She has also worked to raise awareness of rheumatoid arthritis.[36]
Memoirs and interviews
In the mid-2000s, Turner collaborated with Gloria Feldt on the writing of her memoirs, Send Yourself Roses: Thoughts on My Life, Love, and Leading Roles. The book was published in 2008.[37] In the book, Turner claimed that Nicolas Cage had gotten drunk, and stole a chihuahua that he liked.[38] In turn, Cage filed a lawsuit against Turner and her book publisher in the UK who took an excerpt from the book and posted it on their website (pre-publication).[38] Cage argued defamation and damage to character and won the case, resulting in retractions, legal fees, and a donation to charity.[38] Turner later publicly apologized.[39] During an interview on The View, Turner apologized for any distress she might have caused Cage regarding an incident that took place 20 years earlier.[40][41] On August 7, 2018, Vulture published an in-depth interview with Turner, where she expressed her opinion on a wide range of issues, from Elizabeth Taylor's acting skills to what it was like meeting Donald Trump in the 1980s.[42] Turner's frankness and certain revelations she made caused the article to be widely shared in different media outlets, which led to her name trending on Google.[43]
Filmography
Film
Year
Title
Role
Notes
1981
Body Heat
Matty Walker
Nominated - BAFTA Award for Best Newcomer
Nominated - Golden Globe Award for New Star of the Year - Actress
1983
The Man with Two Brains
Dolores Benedict
1984
Romancing the Stone
Joan Wilder
Golden Globe Award for Best Actress - Motion Picture Musical or Comedy
Los Angeles Film Critics Association Award for Best Actress
National Society of Film Critics Award for Best Actress (2nd place)
A Breed Apart
Stella Clayton
Crimes of Passion
Joanna Crane / China Blue
Los Angeles Film Critics Association Award for Best Actress
Sant Jordi Award for Best Foreign Actress
1985
Prizzi's Honor
Irene Walker
Golden Globe Award for Best Actress - Motion Picture Musical or Comedy
Sant Jordi Award for Best Foreign Actress
The Jewel of the Nile
Joan Wilder
1986
Peggy Sue Got Married
Peggy Sue Bodell
National Board of Review Award for Best Actress
National Society of Film Critics Award for Best Actress (2nd place)
New York Film Critics Circle Award for Best Actress (2nd place)
Nominated - Academy Award for Best Actress
Nominated - Golden Globe Award for Best Actress - Motion Picture Musical or Comedy
Nominated - Saturn Award for Best Actress
Nominated - Sant Jordi Award for Best Foreign Actress
1987
Julia and Julia
Julia
Nominated - Sant Jordi Award for Best Foreign Actress
1988
Switching Channels
Christy Colleran
Who Framed Roger Rabbit
Jessica Rabbit
Voice
The Accidental Tourist
Sarah Leary
1989
Tummy Trouble
Jessica Rabbit
Voice
Short film
The War of the Roses
Barbara Rose
Nominated - David di Donatello Award for Best Foreign Actress
Nominated - Golden Globe Award for Best Actress - Motion Picture Musical or Comedy
1990
Roller Coaster Rabbit
Jessica Rabbit
Voice
Short film
1991
V.I. Warshawski
Victoria 'V.I.' Warshawski
1993
Trail Mix-Up
Jessica Rabbit
Voice
Short film
Naked in New York
Dana Coles
Undercover Blues
Jane Blue
House of Cards
Ruth Matthews
1994
Serial Mom
Beverly R. Sutphin
1995
Moonlight and Valentino
Alberta Trager
1997
Bad Baby
Mom
Voice
A Simple Wish
Claudia
The Real Blonde
Dee Dee Taylor
1999
Love and Action in Chicago
Middleman
The Virgin Suicides
Mrs. Lisbon
Baby Geniuses
Elena Kinder
2000
Beautiful
Verna Chickle
Prince of Central Park
Rebecca Cairn
2006
Monster House
Constance
Voice
2008
Marley & Me
Ms. Kornblut
2011
The Perfect Family
Eileen Cleary
2013
Nurse 3D
Head Nurse Betty Watson
2014
Dumb and Dumber To
Fraida Felcher
2015
Emily & Tim
Narrator
Voice
2017
Someone Else's Wedding
Barbara Haines
.[44]
Television
Year
Title
Role
Notes
1994
The Simpsons
Stacy Lavell
Voice
Episode: "Lisa vs. Malibu Stacy"
1995
Friends at Last
Fanny Connelyn
Television film
1998
Legalese
Brenda Whitlass
Television film
2000
Cinderella
Claudette
Television film
2000
King of the Hill
Miss Liz Strickland
Voice
3 episodes
2001
Friends
Charles Bing/Helena Handbasket
3 episodes
2006
Law & Order
Rebecca Shane
Episode: "Magnet"
2006
Nip/Tuck
Cindy Plumb
Episode: "Cindy Plumb"
2009
Californication
Sue Collini
10 episodes
2016-2017
The Path
Brenda Roberts
2 episodes
2017
Family Guy
Herself
Voice
Episode: "Foxx in the Men House"
[ Source: Wikipedia ]