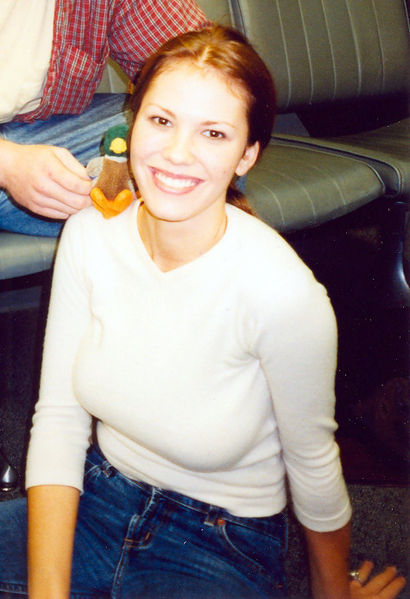 Nikki Cox
Birth name:
Nicole Avery Cox
Born:
June 2, 1978
Age:
44
Birthplace:
Los Angeles, California U.S.
Popularity:

Please login to contact Nikki Cox...
Biography
Nicole Avery Cox (born June 2, 1978)[2] is an American actress and comedy writer[1] known mostly for her roles on the television series Unhappily Ever After, Las Vegas, and Nikki.
Nikki Cox was born in Los Angeles, California. Cox's father is Meredith Avery Cox and her mother is Terry Kay Cox, who was her personal manager.[2] She was a producer on the Jay Mohr Sports radio show hosted by her husband,
Jay Mohr
, and used to also help produce his podcast Mohr Stories.
Read more...
Career
Cox began her career at the age of four, when she appeared as a dancer in several ballet productions and TV specials. She began acting at the age of 10, making appearances in several movies and guest-starring on shows such as Baywatch, Star Trek: The Next Generation, Mama's Family, Eerie, Indiana, and Blossom. She also starred in General Hospital from 1993 to 1995, and had a recurring role on the Saturday morning program California Dreams.
Her appearances on various TV shows led to her first prime-time role as Tiffany Malloy on the sitcom Unhappily Ever After, which ran on the WB 1995-1999. Her brother Matthew guest-starred on a handful of episodes, including one where he wore a "Ghostface" mask (the type of mask featured in Scream).
When Unhappily Ever After was cancelled after taping 100 episodes, Cox went on to portray former prostitute Taylor Clayton on the sitcom The Norm Show and star as Nikki White in Nikki, a sitcom vehicle that lasted less than two seasons (2000-2002). She played Mary Connell on the TV drama Las Vegas from 2003-2007. On May 20 and May 23, 2005, her Las Vegas character crossed over to NBC's soap opera Passions to coincide with the arrival of two new characters introduced on Las Vegas.
In 2006, she became the spokesmodel for the online gaming website, Sportsbook.com. In 2009, she provided the voice of Jenna in Leisure Suit Larry: Box Office Bust. That same year, she also appeared in Lonely Street, a comedy starring Robert Patrick, Jay Mohr, Ernie Hudson, and Lindsay Price. In 2016, Cox was nominated as the sole writer for Mohr's album Happy. And A Lot for the Grammy Award for Best Comedy Album at the 58th Annual Grammy Awards.[3]
Personal life
Cox dated co-star Kevin Connolly for several years. In 1997, she was engaged to Bobcat Goldthwait, 16 years her senior, who voiced the character of Mr. Floppy in the television series Unhappily Ever After in which Cox also starred.[4][5]
On December 29, 2006, she married comedian/actor Jay Mohr in Los Angeles.[6] The two met on the set of Las Vegas.[7] In December 2008, Mohr petitioned a Los Angeles court to allow him to legally add her last name to his, changing his name to Jon Ferguson Cox Mohr.[8] Cox and Mohr's son, Meredith, was born in 2011. On the May 16, 2017 episode of The Adam Carolla Show, Mohr confirmed that he and Cox are "in the middle" of a divorce.[9]
Filmography
Film
Year
Title
Role
Notes
1988
Mac and Me
Dancer
Uncredited
Moonwalker
Dancer
Segment: "Badder"
1991
Terminator 2: Judgment Day
Girl #1
1996
The Glimmer Man
Millie
1997
Sub Down
Holliday's Girlfriend
Direct-to-video release
Alternative title: Sub Down: Take the Dive
2000
Nutty Professor II: The Klumps
Bright girl
Alternative title: The Klumps
2001
Don's Plum
Karen
2002
Run Ronnie Run
Kayla
2009
Lonely Street
Bambi
Television
Year
Title
Role
Notes
1987
Mama's Family
Little Iola Boyland
1 episode
1989
The Ryan White Story
Andrea White
Television film
Star Trek: The Next Generation
Sarjenka
1 episode ('Pen Pals')
1990
A Family for Joe
Carrie Lewis
Television film
Night Court
Toni
1 episode
1991
Murphy Brown
Pretty Girl
1 episode
Eerie, Indiana
Janet
1 episode
1991-1994
Baywatch
Charlene "Charlie" Reed
2 episodes
1992
Davis Rules
Janine
1 episode
Danger Island
Ariel
Television film
Alternative title: The Presence
1993
Bloodlines: Murder in the Family
Student #2
Television film
Blossom
Cynthia
4 episodes
Boy Meets World
Heather
1 episode
The Nanny
Cindy Wentworth
1 episode
1993-1995
General Hospital
Gina Williams #1
Unknown episodes
1994
California Dreams
Allison
2 episodes
Someone Like Me
Samantha "Sam" Stepjak
Unknown episodes
1995-1999
Unhappily Ever After
Tiffany Malloy
100 episodes
1996
Sister, Sister
Nikki
1 episode
She Cried No
Kellie
Television film
Alternative title: Freshman Fall
1996-1997
Pearl
Margaret Woodrow
2 episodes
1998
The Drew Carey Show
Kristen Carey
1 episode
The Steve Harvey Show
Herself
1 episode
1998-1999
Penn & Teller's Sin City Spectacular
Herself
1 episode
1999-2001
The Norm Show
Taylor Clayton
27 episodes
2000
Buzz Lightyear of Star Command
Petra (voice)
1 episode
2000-2002
Nikki
Nikki White
41 episodes
2003-2007
Las Vegas
Mary Connell
87 episodes
2006
The Jake Effect
Liza Wheeler
7 episodes
2007
Fugly
Crystal Stump
Television film
2008
Ghost Whisperer
Nina Haley
1 episode
2009
The Spectacular Spider-Man
Silver Sable (voice)
2 episodes
[ Source: Wikipedia ]