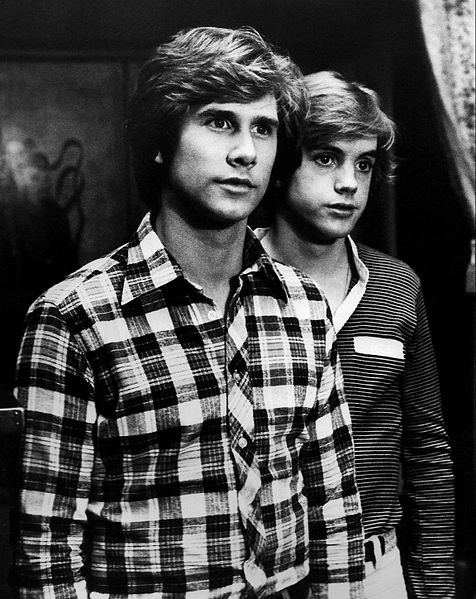 Parker Stevenson
Birth name:
Richard Stevenson Parker Jr.
Born:
June 4, 1952
Age:
70
Birthplace:
Philadelphia, Pennsylvania, U.S.
Popularity:

Please login to contact Parker Stevenson...
Biography
Richard Stevenson Parker Jr. (born June 4, 1952), known as Parker Stevenson, is an American television and film actor.
Stevenson was born in the Main Line of Philadelphia, Pennsylvania, as Richard Stevenson Parker Jr., one of two sons of Richard Stevenson Parker Sr., an investment advisor, and Sarah Meade, an actress who acted on Broadway and in numerous television commercials. His mother took him to a filming session when he was five years of age. This resulted in his making two small television appearances. The elder Parker, who had moved his family to Rye, New York, disapproved of the whole business, and although Richard Jr. himself appeared in a few plays at Brooks Preparatory School, he then had no intention of becoming an actor. His career ambition, instead, was architecture.[
citation needed
]
Read more...
Career
His first notable screen appearance was a starring role in the 1972 movie A Separate Peace and it was then that he was first credited as Parker Stevenson. After graduating from Brooks School and Princeton University, where he studied architecture, he moved to Hollywood and landed a role opposite Sam Elliott in the 1976 film Lifeguard.[1]
Stevenson became well known from starring with teen heartthrob Shaun Cassidy in The Hardy Boys/Nancy Drew Mysteries series, produced by Glen A. Larson's production company through MCA-Universal Television (now NBCUniversal) under license from the Stratemeyer Publication Syndicate, from 1977 to 1979 on ABC.[1] In 1983, he co-starred in the movie Stroker Ace as Burt Reynolds's brash race-car driving nemesis, Aubrey James. The film was a critical and financial failure.
In 1986, Stevenson starred as Billy Hazard in the television miniseries North and South: Book II. He co-starred with his then-wife Kirstie Alley, who portrayed his sister Virgilia Hazard. He starred on the short-lived 1988 TV series Probe in the lead role of Austin James. He was part of the original cast of Baywatch in the 1989 season, returning for the syndicated 1997 and 1998 seasons. He had a recurring role as a computer tycoon on Melrose Place during the second season. He starred in Legion. In 2014 he had a guest role on the Western/Mystery series Longmire.[1]
Stevenson has been a photographer since he was young; his work can be found at his photography website, shadowworks.[1]
Filmography
Film
| Year | Title | Role | Notes |
| --- | --- | --- | --- |
| 1972 | A Separate Peace | Gene | |
| 1974 | Our Time | Michael | Alternate title: Death of Her Innocence |
| 1976 | Lifeguard | Chris | |
| 1983 | Stroker Ace | Aubrey James | |
| 1985 | Stitches | Bobby Stevens | |
| 1995 | Not of This Earth | Jack Sherbourne | |
| 2008 | Loaded | Ben Ryan | |
| 2014 | McTaggart's Fortune | Richard Heywood | |
| 2015 | Perfect Disguise | General William Tecumseh Sherman | |
| 2016 | The War Riders | General Sherman | |
| 2016 | Hidden Truth | Sheriff Underwood | |
| 2018 | Mistrust | Brandon McKellan | |
Television
| Year | Title | Role | Notes |
| --- | --- | --- | --- |
| 1974 | Gunsmoke | Steven | Episode: "To Ride a Yeller Horse" |
| 1976 | The Streets of San Francisco | Andy Horvath | Episode: "The Drop" |
| 1977-79 | The Hardy Boys/Nancy Drew Mysteries | Frank Hardy | 35 episodes |
| 1981 | This House Possessed | Gary Straihorn | Movie |
| 1983 | The Love Boat | Bill Watkins | 2-part episode: "The Dean and the Flunkee" |
| 1983 | Shooting Stars | Bill O'Keefe | Movie |
| 1983 | The Love Boat | Matt Stevens | Episode: "Don't Take My Wife, Please" |
| 1984 | Hotel | Michael | Episode: "Confrontations" |
| 1984-85 | Falcon Crest | Joel McCarthy | 11 episodes |
| 1985 | Rockhopper | Nick Larabee | Movie |
| 1985 | Alfred Hitchcock Presents | Lance Richards | Episode: "Method Actor" |
| 1985 | Murder, She Wrote | Michael Digby | Episode: "Sticks and Stones" |
| 1986 | North and South: Book II | Billy Hazard | Miniseries |
| 1986 | That Secret Sunday | Scott Dennis | Movie |
| 1987 | Matlock | Dr. Philip Eagen | Episode: "The Author" |
| 1987 | The Hitchhiker | Brett | Episode: "Best Shot" |
| 1987 | Shades of Love: The Rose Cafe | Josh | Movie |
| 1988 | Alfred Hitchcock Presents | Clark Taylor | Episode: "Prosecutor" |
| 1988 | Probe | Austin James | 8 episodes |
| 1989 | The Cover Girl and the Cop | Cable Hayward (uncredited) | Movie (a.k.a. Beauty & Denise) |
| 1989 | Mission: Impossible | Champ Foster | Episode: "The Haunting" |
| 1989 | Baytwatch: Panic at Malibu Pier | Craig Pomeroy | Movie |
| 1989-99 | Baywatch | Craig Pomeroy | 28 episodes |
| 1989 | Caddie Woodlawn | Uncle Edmund | Movie |
| 1983 | All the Rivers Run II | Cyrus | Miniseries |
| 1991 | Flesh 'n' Blood | Jeffrey Hazelwood | Episode: "Tall, Dark and Wanted in Four States" |
| 1992 | Blossom | Jim / Scott Alexander | Episode: "Hot for Teacher" |
| 1992 | Are You Lonesome Tonight | Mat Henderson | Movie |
| 1992 | Shadow of a Stranger | Ted Clinton | Movie |
| 1993 | Melrose Place | Steve McMillan | 6 episodes |
| 1993 | Official Denial | Paul Corliss | Movie |
| 1994 | Burke's Law | Ted Cranshaw | Episode: "Who Killed Good Time Charlie?" |
| 1998 | Legion | Captain Aldrich | Movie |
| 1999 | Avalon: Beyond the Abyss | John Alden | Movie |
| 2000 | Batman Beyond | Paxton Powers (voice) | Episode: "King's Ransom" |
| 2001 | Trapped | Oliver Sloan | Movie |
| 2002 | Judging Amy | Mr. Andrew Pickeral | Episode: "Who Shot Dick?" |
| 2002 | The District | Mr. Skols | Episode: "Convictions" |
| 2003 | Terror Peak | Kevin Fraser | Movie |
| 2010 | Legend of the Seeker | The Margrave | Episode: "Princess" |
| 2014 | Longmire | Welles VanBlarcom | Episode: "Reports of My Death" |
| 2015 | Win, Lose or Love | Mike Canton | Movie |
| 2015 | His Secret Family | Detective Sharpson | Movie (a.k.a. A Secret Life) |
| 2015 | A Christmas Reunion | Don Dupree | Movie |
| 2016 | The Perfect Daughter | Bruce Cahill | Movie (a.k.a. The Carpenter's Daughter) |
| 2016 | Bull | Gavin Everton | Episode: "Just Tell the Truth" |
| 2017 | My Christmas Prince | Jim Logan | Movie |
| 2017-18 | Greenhouse Academy | Louis Osmond | 24 episodes |
[ Source: Wikipedia ]