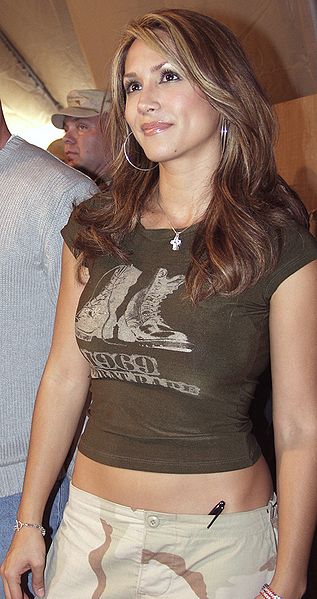 Leeann Tweeden
Birth name:
Leeann Velez Tweeden
Born:
June 13, 1973
Age:
49
Birthplace:
Manassas, Virginia, U.S.
Popularity:

Please login to contact Leeann Tweeden...
Biography
Leeann Velez Tweeden (born June 13, 1973) is an American radio broadcaster, model and sports commentator. Since February 2017, she has been the news anchor for McIntyre in the Morning on Radio 790 KABC in Los Angeles.[1]
Tweeden was born in Manassas, Virginia,[2] to Bill Tweeden, a retired Air Force Chief Mechanic, and her mother, Catherine.[3] She is half Filipina on her mother's side. After graduating from Osbourn Park High School, in 1991, Tweeden moved to Hollywood to pursue a career in modeling.[4]
Read more...
Career
In 1992, while working as a hostess at a Hooters restaurant (she was in their 1994 calendar) in Colorado Springs, Colorado, she won first place in the Venus International Model Search. This break led to national exposure, including a regular role as a fitness model on the TV show Fitness Beach. Tweeden modeled for promotional work for Hooters, Venus International, and Frederick's of Hollywood.[4] In the early 2000s Tweeden hosted many segments of the Fox Sports Net show Bluetorch TV[5][6][7][8]
Tweeden was a correspondent for Fox Sports Networks' The Best Damn Sports Show Period from 2001 to 2007. In 2008, Tweeden became the third hostess of the NBC late night television series Poker After Dark.[9] She has also appeared on the political discussion series Hannity in 2011 and 2012.[2] She was a member of the "Great American Panel" and also occasionally appeared on the panel of Red Eye w/ Greg Gutfeld.[10][11]
Tweeden was seen in pre- and post-game coverage of the Los Angeles Angels of Anaheim on Fox Sports West and on Fox Sports 1's UFC Tonight, with Kenny Florian and Ariel Helwani.[10]
Tweeden is currently on the Los Angeles morning radio show McIntyre in the Morning on KABC, 790 AM from 5 - 10AM as the news anchor. She joined the show on February 7, 2017.[1]
Appearances
In August, 1996, Tweeden appeared on the cover of Playboy magazine, as well as posed non-nude as part of a fitness model pictorial for that issue. Fifteen years later, at 38 years old, she appeared again on the cover of Playboy's December, 2011 issue, this time posing in a nude pictorial. In 2002, she was a guest character in the motocross video game Freekstyle as a motocross rider. The March 2007 Issue of FHM (which was the final printed US issue) featured Tweeden as the cover girl.[12] As part of Hooters' 25th anniversary in 2008, she was named among "The Top Hooters Girls of all time".[13]
Since 2002, Tweeden has gone on at least sixteen tours with the USO including twelve to Afghanistan and Iraq.[2][14]
Franken and Tweeden in Kuwait on their 2006 USO tour
On November 16, 2017, Tweeden gave an interview to 790 KABC, and wrote a post on their website, accusing Al Franken of inappropriate behavior toward her when the two were on USO tour to the Middle East in 2006. Tweeden stated that Franken, who in 2008 was elected to the United States Senate from Minnesota, insisted that they rehearse the kiss that appeared in the script for a skit in the USO show: "I said 'OK' so he would stop badgering me. We did the line leading up to the kiss and then he came at me, put his hand on the back of my head, mashed his lips against mine and aggressively stuck his tongue in my mouth."[15] She said she pushed him away, feeling "disgusted and violated".[15][16][17]
Tweeden wrote that Franken also posed for a photograph with her while she was asleep on the C-17 cargo plane flying home.[15] According to the Washington Post, the photograph "shows Franken looking into a camera, his hands either over or on Tweeden's chest as she slept".[16][17][18] Franken responded, saying: "I certainly don't remember the rehearsal for the skit in the same way, but I send my sincerest apologies to Leeann. ... As to the photo, it was clearly intended to be funny but wasn't. I shouldn't have done it."[19] He issued a longer apology later,[20] which Tweeden accepted.[21]
Personal life
Tweeden met her husband, Chris Dougherty, a retired Air Force pilot for the California Air National Guard, during a USO tour. They married in 2010. They have two children, son Kane and daughter Kaia.[2][22]
She considers herself fiscally conservative and said that she voted twice for President George W. Bush.[2]
In 2009, she became the public face of the website Rethinking Autism, which uses a series of videos to educate the public about autism.[23]
[ Source: Wikipedia ]