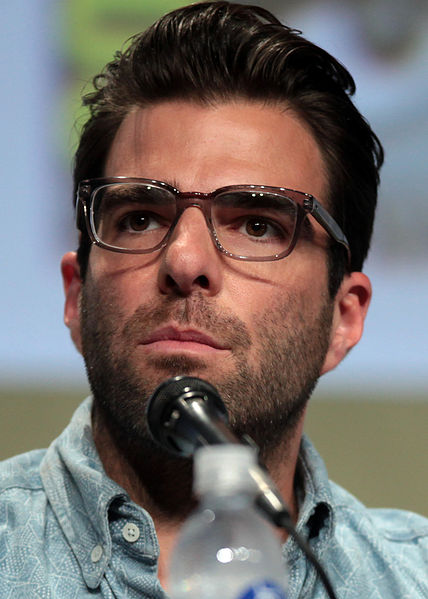 Zachary Quinto
Birth name:
Zachary John Quinto
Born:
June 2, 1977
Age:
45
Birthplace:
Pittsburgh, Pennsylvania, U.S.
Popularity:

Please login to contact Zachary Quinto...
Biography
Zachary John Quinto (/ˈkwɪntoʊ/; born June 2, 1977) is an American actor and film producer. He is best known for his roles as Sylar on the science fiction drama series Heroes (2006-2010), Spock in the reboot Star Trek (2009) and its sequels Star Trek Into Darkness (2013) and Star Trek Beyond (2016), as well as his Emmy nominated performance in American Horror Story: Asylum. His other film roles include Margin Call, What's Your Number?, Hitman: Agent 47, Snowden, and Hotel Artemis. He also appeared in smaller roles on television series such as So NoTORIous, The Slap, and 24.
Quinto was born in Pittsburgh, and grew up in the suburb of Green Tree, Pennsylvania. He attended Saints Simon and Jude Catholic School (closed 2010). His mother, Margaret J. "Margo" (née McArdle), worked at an investment firm and later at a magistrate's office. His father, Joseph John "Joe" Quinto, a barber, died of cancer when Quinto was seven years old.[1][2] Quinto and his brother, Joe, were subsequently raised by their mother.[3][4] He grew up Catholic.[5] His father was of Italian descent, while his mother is of Irish ancestry.[6][7] Quinto graduated from Central Catholic High School in 1995, where he participated in its musicals and won the Gene Kelly Award for Best Supporting Actor, and then attended Carnegie Mellon University's School of Drama, from which he graduated in 1999.[8][9]
Read more...
Career
Quinto first appeared on television in the short-lived television series The Others, and appeared as a guest star on shows including CSI, Touched by an Angel, Charmed, Six Feet Under, Lizzie McGuire, and L.A. Dragnet. In 2003, during the theatrical run of Endgame by Samuel Beckett, directed by Kristina Lloyd[10] at the Odyssey Theatre in Los Angeles playing the role of Clov,[11] he landed a recurring role as computer expert Adam Kaufman on the Fox series 24; Quinto appeared in 23 episodes of the third season.
Quinto at the premiere party of
Heroes
' third season in 2008
In 2006, Quinto played the role of Sasan: the haughty, bisexual Iranian-American best friend of Tori Spelling on her VH1 series So NoTORIous. Later that year, he joined the cast of Heroes as Gabriel Gray, better known as the serial killer Sylar.[12] He worked on the series until its cancellation in 2010 after four seasons.
His casting as a young Spock in the J.J. Abrams-directed reboot of the Star Trek film franchise was officially announced at the 2007 Comic-Con.[13][14] Speaking alongside Leonard Nimoy at a press conference to promote the first new Star Trek film, Quinto revealed that Nimoy had been given casting approval over who would play the role of the young Spock. "For me Leonard's involvement was only liberating, frankly,"[15] says Quinto. "I knew that he had approval over the actor that would play young Spock, so when I got the role I knew from the beginning it was with his blessing."
In a September 2008 interview, Abrams said of Quinto's performance as Spock: "Zachary brought a gravity and an incredible sense of humor, which is a wonderful combination because Spock's character is deceivingly complicated. The revelation for me watching the movie, when I finally got to watch the whole thing after working on sequences, was that he is extraordinary. He was doing things I didn't even realize while we were shooting - these amazing things to track his story."[16] Quinto also made references to Star Trek's historical record for diversity and inclusiveness in its casting and storylines, and said that he hoped the looming election of Barack Obama would build that dynamic towards the film's May 2009 release date.
After Star Trek, he appeared in the comedy short Boutonniere (2009). It "...was a movie written and directed by my former landlady and friend, . She called up and said, 'Would you do me a favor and be in my short film?'"[17]
Karl Urban
, Quinto, J. J. Abrams, and
Chris Pine
at the
Star Trek Into Darkness
Australian movie premiere in Sydney, April 2013
In 2008, Quinto joined with Corey Moosa and Neal Dodson to form Before the Door Pictures.[18] The company produced projects in film, television, new media, and published two graphic novels in a deal with comic book publisher Archaia Entertainment: they published a graphic novel called Mr. Murder is Dead, created by writer Victor Quinaz, closely followed by LUCID: A Matthew Dee Adventure written by writer/actor Michael McMillian.[19]
Quinto also starred in several comedy shorts. He played a strangely lovable kidnapper in "Hostage: A Love Story", written by the comedy duo HoltandSteele, for Before the Door Pictures and www.FunnyOrDie.com. He also played a prospective dog adopter (based on Quinto's own experience) in "Dog Eat Dog", written and directed by Sian Heder, and premiered at the Los Angeles Film Festival in 2012.
Quinto has also kept up his theatre experience, which includes roles in a variety of productions, including classics such as Samuel Beckett's Endgame at the Los Angeles Odyssey Theatres in 2003,[20] Shakespeare's Much Ado About Nothing at the Los Angeles Shakespeare Festival and Intelligent Design of Jenny Chow at the Old Globe Theatre.[21] From October 2010 to February 2011, Quinto played the lead role of Louis Ironson in an Off-Broadway revival of Tony Kushner's Angels in America at the Signature Theatre, New York City.[22][23] For this role, Quinto received the Theatreworld Outstanding Debut Performance award.[24]
Quinto at a Midtown Comics signing in 2011
In 2013, Quinto played the role of Tom Wingfield in the American Repertory Theatre's production of The Glass Menagerie by Tennessee Williams.[25] He was also in the Broadway reprisal of the production, in 2014.[26] In February 2016, Zachary appeared in the New York premiere of MCC Theater's Smokefall.[27]
In 2010, Quinto's company Before the Door Pictures produced Margin Call, an independent film about the financial crisis. Quinto played the role of Peter Sullivan in the film, in a cast that included Jeremy Irons, Kevin Spacey, Stanley Tucci, Penn Badgley and Demi Moore. Margin Call premiered in January 2011 at the Sundance Film Festival.[28] Margin Call received an Oscar nomination for Best Original Screenplay, by J. C. Chandor. Quinto was an executive producer for Chandor's next film All Is Lost (2013) with Robert Redford as the sole actor.
Not leaving television behind, in October 2011, Quinto began a recurring role on the FX series American Horror Story as Chad, former owner of the house. Quinto returned for the second season in one of the lead roles, as Dr. Oliver Thredson.[29] In 2014, Zachary and his Before the Door partners produced a Chris Moore project, The Chair, a documentary series on Starz that shows the process of two directors bringing their first feature to the screen. In 2015, Quinto was a guest on the acclaimed TV series Girls and Hannibal.
Movie-wise, Quinto reprised his role of Spock in Star Trek Into Darkness in 2013 and in Star Trek Beyond, released in 2016. In addition, he played John Smith in Hitman: Agent 47 in 2015. At the other end of the spectrum from the action-oriented Agent 47, Quinto appeared opposite James Franco in the drama I Am Michael (2015), a film that premiered at the Sundance Film Festival. In 2016, he portrayed journalist Glenn Greenwald in the Edward Snowden biopic Snowden,[30] narrated, as space scientist Pascal Lee, in the documentary film Passage to Mars,[31] and appeared as himself in the documentary film For the Love of Spock.[32] In 2018, he starred in the Broadway play The Boys in the Band.[33]
He has modeled for magazines including GQ and August.[34][35]
Personal life
Quinto publicly came out as gay in October 2011.[36] He explained that, after the suicide of gay teenager Jamey Rodemeyer, he realized "that living a gay life without publicly acknowledging it is simply not enough to make any significant contribution to the immense work that lies ahead on the road to complete equality."[37] Prior to his coming out, Quinto had long been an active supporter of gay rights and organizations, including the Trevor Project.[38] In 2009, he appeared in the one-night production Standing on Ceremony: The Gay Marriage Plays, a benefit stage reading in response to the passing of Proposition 8,[39] as well as in the play The Laramie Project: 10 Years Later, about the 1998 murder of Matthew Shepard.[40] In 2010, Quinto contributed a video to the It Gets Better Project, an Internet-based campaign that aims to prevent suicide among LGBT youth.[37] In 2012 Quinto campaigned on behalf of Barack Obama, including appearing in the video Obama Pride: LGBT Americans For Obama.[41]
Quinto began dating model and painter Miles McMillan in the summer of 2013.[42] In early 2015, the couple moved into a NoHo apartment they purchased together.[43][44] In November 2015 Vogue magazine called them "a power couple whose domain extends across the film, fashion, and art scene."[45]
In 2017, Quinto criticized the timing of actor Kevin Spacey's decision to come out as part of his response to allegations of sexual advances towards then-14-year-old actor Anthony Rapp.[46] He called the manner of Spacey's announcement "deeply sad and troubling", feeling he had not stood up "as a point of pride – in the light of all his many awards and accomplishments – thus inspiring tens of thousands of struggling LGBTQ kids around the world", but instead as "a calculated manipulation to deflect attention from the very serious accusation that he attempted to molest one."[47]
Filmography
Film
Year
Title
Role
Notes
2009
Star Trek
Spock
2011
Margin Call
Peter Sullivan
Also producer
Girl Walks into a Bar
Nicolas "Nick"
What's Your Number?
Rick
2013
Star Trek Into Darkness
Spock
2014
We'll Never Have Paris
Jameson
2015
I Am Michael
Bennett
Hitman: Agent 47
John Smith
2016
Tallulah
Andreas
Star Trek Beyond
Spock
Snowden
Glenn Greenwald
Passage to Mars
Pascal Lee
Voice
2017
Aardvark
Josh Norman
Also producer
Who We Are Now
Peter
2018
Hotel Artemis
Crosby
2019
High Flying Bird
Post-production
Television
Year
Title
Role
Notes
2000
The Others
Tony
Episode: "Unnamed"
2001
Touched by an Angel
Mike
Episode: "When Sunny Gets Blue"
2002
CSI: Crime Scene Investigation
Mitchell Sullivan
Episode: "Anatomy of a Lye"
Off Centre
Smudge
Episode: "Diddler on the Roof"
Lizzie McGuire
Director
Episode: "Party Over Here"
Haunted
Paul Kingsley
Episode: "Grievous Angels"
The Agency
Jay Lambert
Episode: "Air Lex"
2003
Six Feet Under
Hip Student
Episode: "The Eye Inside"
Charmed
Warlock
Episode: "Cat House"
Miracles
Messenger
Episode: "Battle at Shadow Ridge"
2003-2004
24
Adam Kaufman
23 episodes
2004
Dragnet
Howard Simms
Episode: "Frame of Mind"
Hawaii
Loomis
Episode: "No Man Is an Island"
Joan of Arcadia
Pretentious Filmmaker God
Episode: "P.O.V."
2005
Blind Justice
Scott Collins
Episode: "In Your Face"
2006
Crossing Jordan
Leo Fulton, Jr.
Episode: "Code of Ethics"
Twins
Jason
Episode: "When I Move, You Move"
So Notorious
Sasan
10 episodes
2006-2010
Heroes
Sylar
60 episodes
2008
Robot Chicken
Archimedes Q. Porter / Sylar (voice)
Episode: "Bionic Cow"
2011
American Horror Story: Murder House
Chad Warwick
4 episodes
2012-2013
American Horror Story: Asylum
Oliver Thredson
12 episodes
2014
The Chair[48]
Himself
10 episodes
2015
The Slap
Harry Apostolou
7 episodes
Girls
Ace
2 episodes
Hannibal
Neal Frank
2 episodes
2018
In Search of...
Himself
2019
NOS4A2
Charlie Manx
Stage
Year
Title
Role
Notes
2010
Angels in America
Louis Ironson
Signature Theatre Company
Off-Broadway
2013
The Glass Menagerie
Tom Wingfield
American Repertory Theater
Boston, MA
2013
The Glass Menagerie
Tom Wingfield
Booth Theatre
Broadway
2016
Smokefall
Footnote / Fetus Two / Samuel
MCC Theater

2018
The Boys in The Band
Harold
Booth Theatre[49]
Video games
| Year | Title | Voice role |
| --- | --- | --- |
| 2000 | Code Blue | Monty Rodriguez |
| 2006 | 24: The Game | Adam Kaufman |
| 2010 | Star Trek Online | Khitomer Emergency Medical Hologram |
| 2013 | Star Trek | Spock |
Awards and nominations
Year
Award
Work
Result
1994
Gene Kelly Award for Best Supporting Actor
The Pirates of Penzance
Won
1995
Gene Kelly Award for Best Lead Actor
1776
Nominated
2007
TV Land Award for Future Classic Award
Heroes
Won
Teen Choice Award for Choice TV Villain
Nominated
2008
Teen Choice Award for Choice TV Villain
Nominated
2009
Teen Choice Award for Choice TV Villain
Nominated
Teen Choice Award for Best Rumble
Star Trek
Nominated
Critics' Choice Award for Best Cast
Nominated
Boston Society of Film Critics Award for Best Cast
Won
Washington D.C. Area Film Critics Association for Best Ensemble
Nominated
2010
People's Choice Award for Favorite Breakout Movie Actor
Nominated
SFX Award for Best Actor
Heroes, Star Trek
Won
2011
Drama Desk Award for Outstanding Featured Actor in a Play
Angels in America
Nominated
Theatre World Award
Won
Tina Award for Best Actor (Play)
Won
Tina Award for Best Ensemble (Play)
Won
Tina Award for Best Stage Duo
Won
Gotham Award for Best Ensemble Performance
Margin Call
Nominated
Phoenix Film Critics Society Award for Best Ensemble Acting
Nominated
2012
Central Ohio Film Critics Association Award for Best Ensemble
Nominated
AACTA International Award for Best Film
Nominated
Independent Spirit Award for Best First Feature
Won
Robert Altman Award
Won
Saturn Award for Best Guest Starring Role on Television
American Horror Story
Nominated
2013
Critics' Choice Television Award for Best Supporting Actor in a Movie/Miniseries
American Horror Story: Asylum
Won
Primetime Emmy Award for Outstanding Supporting Actor in a Miniseries or a Movie
Nominated
PAAFTJ Television Award for Best Supporting Actor in a Miniseries or TV Movie
N/A
PAAFTJ Television Award for Best Cast in a Miniseries or TV Movie
N/A
People's Choice Award Favorite Movie Duo
Star Trek Into Darkness
Nominated
Elliot Norton Award for Outstanding Ensemble
The Glass Menagerie
Won
2014
Drama League Award for Distinguished Performance
Nominated
Broadway.com Audience Choice Award for Favorite Leading Actor in a Play
Nominated
BroadwayWorld.com Award for Best Leading Actor in a Play
Nominated
2017
Saturn Award for Best Supporting Actor in a Film
Star Trek Beyond
Nominated
Charities
Zachary Quinto supports the following charitable causes: Children, Health Education, Poverty, Domestic Violence, Environment, Special Education, Peace, Homeless.
[ Source: Wikipedia ]