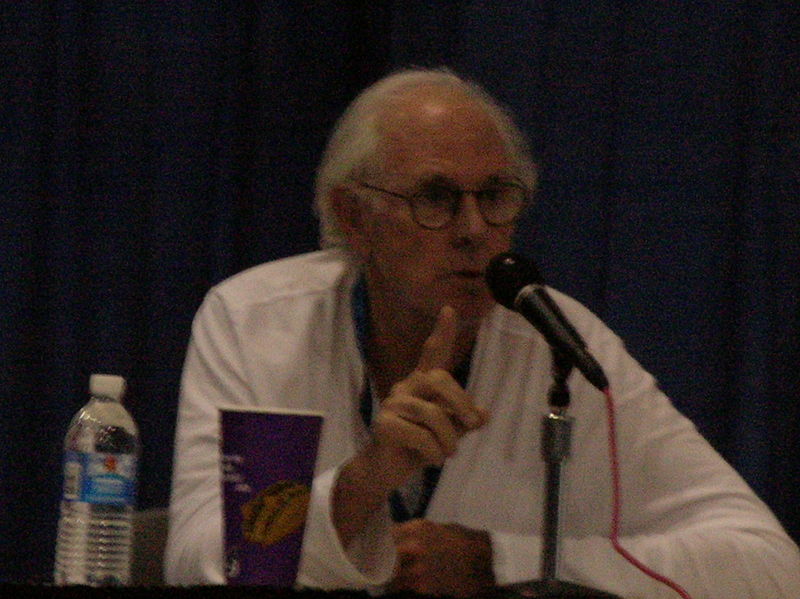 Bruce Dern
Birth name:
Bruce MacLeish Dern
Born:
June 4, 1936
Age:
86
Birthplace:
Chicago, Illinois, U.S.
Popularity:

Please login to contact Bruce Dern...
Biography
Bruce MacLeish Dern (born June 4, 1936) is an American actor, often playing supporting villainous characters of unstable nature. He was nominated for the Academy Award for Best Supporting Actor for Coming Home (1978) and the Academy Award for Best Actor for Nebraska (2013).[1] His other film appearances include The Cowboys (1972), Black Sunday (1977), Monster (2003), and The Hateful Eight (2015).
Dern was born in Chicago, the son of Jean (née MacLeish; 1908-1972) and John Dern (1903-1958), a utility chief and attorney.[2][3] He grew up in Kenilworth, Illinois.[4] His paternal grandfather, George, was a Utah governor and Secretary of War (he was serving in the latter position during the time of Bruce's birth). Dern's maternal grandfather was a chairman of the Carson, Pirie and Scott stores,[5][6] his maternal granduncle was poet Archibald MacLeish, and his maternal great-grandfather was Scottish-born businessman Andrew MacLeish. Dern's godfather was Illinois governor and two-time presidential nominee Adlai Stevenson II.[7][8] His ancestry includes Dutch, English, German and Scottish. He attended The Choate School (now Choate Rosemary Hall) and the University of Pennsylvania. Dern starred in the Philadelphia premiere of
Waiting for Godot
.
Read more...
Career
Dern at the 2013 Cannes Film Festival
Dern appeared in an uncredited role in Wild River as Jack Roper, who is so upset with his friend for hitting a woman that he punches himself. He played the sailor in a few flashbacks with Marnie's mother in Alfred Hitchcock's Marnie. Dern played a murderous rustler in Clint Eastwood's Hang 'Em High and a gunfighter in Support Your Local Sheriff!. He also played cattle-thief Asa Watts, who murders John Wayne's character in The Cowboys (1972). Wayne warned Dern, "America will hate you for this." Dern replied, "Yeah, but they'll love me in Berkeley." Having played a series of villains, that same year he played against type as a sensitive ecologist in the science-fiction film Silent Running.
He played a psychotic Goodyear Blimp pilot who launches a terrorist attack at the Super Bowl in Black Sunday. Dern was nominated for the Academy Award for Best Supporting Actor for Coming Home. In 1983, he won the Silver Bear for Best Actor at the 33rd Berlin International Film Festival for That Championship Season.[9] In 2013, Dern won the Best Actor Award at the 2013 Cannes Film Festival for Alexander Payne's Nebraska, and was nominated for the Academy Award for Best Actor.[10][11]
Personal life
Dern was married to Marie Dawn Pierce from 1957 to 1959. He then married Diane Ladd in 1960. Their first daughter, Diane Elizabeth Dern (born November 29, 1960), died at eighteen months from head injuries after falling into a swimming pool on May 18, 1962. The couple's second daughter, Laura (born February 10, 1967), is also an actor. After his divorce from Ladd in 1969, Dern married Andrea Beckett.
Dern, Ladd, and their daughter Laura received adjoining stars on the Hollywood Walk of Fame on November 1, 2010.
Filmography
Film
Year
Title
Role
Director
Notes
1960
Wild River
Jack Roper
Elia Kazan
Uncredited
1962
The Crimebusters
Joe Krajac
Boris Sagal
1964
Marnie
Sailor
Alfred Hitchcock
Hush...Hush, Sweet Charlotte
John Mayhew
Robert Aldrich
1966
The Wild Angels
Loser
Roger Corman
1967
The War Wagon
Hammond
Burt Kennedy
The St. Valentine's Day Massacre
John May
Roger Corman
The Trip
John
Waterhole No. 3
Deputy Sam Tippen
William A. Graham
Will Penny
Rafe Quint
Tom Gries
1968
Psych-Out
Steve Davis
Richard Rush
Hang 'Em High
Miller
Ted Post
1969
Support Your Local Sheriff!
Joe Danby
Burt Kennedy
Castle Keep
Lt. Billy Byron Bix
Sydney Pollack
Number One
Richie Fowler
Tom Gries
The Cycle Savages
Keeg
Bill Brame
They Shoot Horses, Don't They?
James
Sydney Pollack
1970
Bloody Mama
Dirkman
Roger Corman
The Rebel Rousers
J.J. Weston
Martin B. Cohen
1971
The Incredible 2-Headed Transplant
Roger
Anthony M. Lanza
Drive, He Said
Coach Bullion
Jack Nicholson
1972
The Cowboys
Asa Watts (Long Hair)
Mark Rydell
Silent Running
Freeman Lowell
Douglas Trumbull
Thumb Tripping
Smitty
Quentin Masters
The King of Marvin Gardens
Jason Staebler
Bob Rafelson
1973
Pat Garrett and Billy the Kid
Deputy
Sam Peckinpah
Uncredited
The Laughing Policeman
Leo Larsen
Stuart Rosenberg
1974
The Great Gatsby
Tom Buchanan
Jack Clayton
1975
Posse
Jack Strawhorn
Kirk Douglas
Smile
Big Bob Freelander
Michael Ritchie
1976
Family Plot
George Lumley
Alfred Hitchcock
Won Ton Ton, the Dog Who Saved Hollywood
Grayson Potchuck
Michael Winner
Folies bourgeoises
William Brandels
Claude Chabrol
1977
Black Sunday
Michael Lander
John Frankenheimer
1978
Coming Home
Captain Bob Hyde
Hal Ashby
The Driver
The Detective
Walter Hill
1980
Middle Age Crazy
Bobby Lee Burnett
John Trent
1981
Tattoo
Karl Kinsky
Bob Brooks
1982
That Championship Season
George Sitkowski
Jason Miller
Harry Tracy, Desperado
Harry Tracy
William A. Graham
1986
On the Edge
Wes Holman
Rob Nilsson
1987
The Big Town
Mr. Edwards
Ben Bolt and Harold Becker
World Gone Wild
Ethan
Lee H. Katzin
1988
1969
Cliff
Ernest Thompson
1989
The 'Burbs
Mark Rumsfield
Joe Dante
1990
After Dark, My Sweet
Garrett "Uncle Bud" Stoker
James Foley
1992
Diggstown
John Gillon
Michael Ritchie
1995
Wild Bill
Will Plummer
Walter Hill
1996
Down Periscope
Admiral Yancy Graham
David S. Ward
Mulholland Falls
The Chief
Lee Tamahori
Uncredited
Last Man Standing
Sheriff Ed Galt
Walter Hill
1998
Small Soldiers
Link Static (Voice)
Joe Dante
1999
The Haunting
Mr. Dudley
Jan De Bont
If... Dog... Rabbit...
McGurdy
Matthew Modine
2000
All the Pretty Horses
The Judge
Billy Bob Thornton
2001
The Glass House
Begleiter
Daniel Sackheim
2003
Masked and Anonymous
Editor
Larry Charles
Milwaukee, Minnesota
Sean McNally
Allan Mindel
Monster
Thomas
Patty Jenkins
2005
Madison
Harry Volpi
William Bindley
Down in the Valley
Charlie
David Jacobson
2006
Believe in Me
Ellis Brawley
Robert Collector
Walker Payne
Chester
Matt Williams
The Astronaut Farmer
Hal
Michael Polish
The Hard Easy
Gene
Ari Ryan
2007
The Cake Eaters
Easy Kimbrough
Mary Stuart Masterson
2008
Swamp Devil
Howard Blame
David Winning
The Golden Boys
Captain Perez
Daniel Adams
2009
American Cowslip
Cliff
Mark David
The Hole 3D
Creepy Carl
Joe Dante
The Lightkeepers
Bennie
Daniel Adams
2010
Trim
Dale Banks
Allan Mindel
2011
Choose
Dr. Ronald Pendleton
Marcus Graves
Inside Out
Vic Small
Artie Mandelberg
Twixt
Bobby LaGrange
Francis Ford Coppola
2012
From Up on Poppy Hill
Yoshio Onodera (voice)
Gorō Miyazaki
English dub
Hitting the Cycle
James
Darin Anthony and J. Richey Nash
Django Unchained
Curtis Carrucan
Quentin Tarantino
2013
Coffin Baby
Vance Henrickson
Dean Jones
Northern Borders
Austin Kittredge Sr.
Jay Craven
Nebraska
Woody Grant
Alexander Payne
Fighting for Freedom
Christian Dobbe
Farhad Mann
2014
Cut Bank
Georgie Wits
Matt Shakman
2015
The Hateful Eight
General Sanford Smithers
Quentin Tarantino
2017
American Violence
Richard Morton
Timothy Woodward Jr.
Class Rank
Oswald
Eric Stoltz
The Lears
Davenport Lear
Carl Bessai
Hickok
Doc Rivers O'Roark
Timothy Woodward Jr.
Our Souls at Night
Dorlan
Ritesh Batra
Chappaquiddick
Joseph P. Kennedy Sr.
John Curran
2018
Nostalgia
Ronnie Ashemore
Mark Pellington
White Boy Rick
Ray Wershe
Yann Demange
Warning Shot
Calvin
Dustin Fairbanks
Completed
The Artist's Wife[12]
Richard Smythson
Tom Dolby
Post-production
2019
Mustang
Myles
Laure de Clermont-Tonnerre
Filming
Once Upon a Time in Hollywood
George Spahn
Quentin Tarantino
Post-production
The Peanut Butter Falcon
Carl
Tyler Nilson and Michael Schwartz
Post-production
Television
Year
Title
Role
Notes
1960
Route 66
Albert
Episode: "The Man on the Monkey Board"
1961
Naked City
Hollis / Nicky
Uncredited
2 episodes
1961
Sea Hunt
FBI Agent John Furillo
Episode: "Crime at Sea"
1961
Surfside 6
Johnny Page
Episode: "Daphne, Girl Detective"
1961
Thriller
Johnny Norton
Episode: "The Remarkable Mrs. Hawk"
1961
Ben Casey
Billy Harris
Episode: "A Dark Night for Billy Harris"
1961
The Detectives
Jud Treadwell
Episode: "Act of God"
1961-62
Cain's Hundred
Eddie Light / Joe Krajac
2 episodes
1962-63
Stoney Burke
E.J. Stocker
17 episodes
1962-63
The Dick Powell Show
Deering
2 episodes
1963
Kraft Suspense Theatre
Maynard
Episode: "The Hunt"
1963
The Outer Limits
Ben
Episode: "The Zanti Misfits"
1963-65
Wagon Train
Wilkins / Jud Fisher / Seth Bancroft
3 episodes
1963-66
The Fugitive
Deputy Martin / Charley / Hutch / Hank / Cody
5 episodes
1964-65
The Virginian
Bert Kramer / Lee Darrow / Pell
3 episodes
1964
77 Sunset Strip
Ralph Wheeler
Episode: "Lovers' Lane"
1964
The Greatest Show on Earth
Vernon
Episode: "The Last of the Strongmen"
1964
The Alfred Hitchcock Hour
Jesse / Roy Bullock
2 episodes
1964-65
Twelve O'Clock High
TSgt. Frank Jones / Lieutenant Michaels / Lieutenant Danton
4 episodes (two as Michaels)
1965
Rawhide
Ed Rankin
Episode: "Walk into Terror"
1965
Laredo
Joe Durkee
Episode: "Rendezvous at Arillo"
1965
A Man Called Shenandoah
Bobby Ballantine
Episode: "The Verdict"
1965; 1968
The F.B.I.
Virgil Roy Phipps / PFC Byron Landy
2 episodes
1965-66; 1969
Gunsmoke
Guerin / Lou Stone / Judd Print / Doyle Phleger
4 episodes
1966
Branded
Les
Episode: "The Wolfers"
1966
The Loner
Merrick
Episode: "To Hang a Dead Man"
1966
Disneyland
Turk
Episode: "Gallegher Goes West: Crusading Reporter"
1966-67
Run for Your Life
Alex Ryder
3 episodes
1966-68
The Big Valley
John Weaver / Gabe Skeels / Clovis / Harry Dixon / Jack Follet
5 episodes
1968-69
Lancer
Tom Nevill / Lucas Thatcher
2 episodes
1968; 1970
Bonanza
Bayliss / Cully Maco
2 episodes
1969
Then Came Bronson
Bucky O'Neill
Episode: "Amid Splinters of the Thunderbolt"
1970
Land of the Giants
Thorg
Episode: "Wild Journey"
1970
The High Chaparral
Wade
Episode: "Only the Bad Come to Sonora"
1970
The Immortal
Luther Seacombe
Episode: "To the Gods Alone"
1985
Space
Stanley Mott
Miniseries
1986
Toughlove
Rob Charters
Television film
1987
Roses Are for the Rich
Douglas Osborne
Television film
1987
Uncle Tom's Cabin
Augustine St. Claire
Television film
1989
Trenchcoat in Paradise
John Hollander
Television film
1990
The Court-Martial of Jackie Robinson
Scout Ed Higgins
Television film
1991
Into the Badlands
T.L. Barston
Television film
1991
Carolina Skeletons
Junior Stoker
Television film
1993
It's Nothing Personal
Billy Archer
Television film
1994
Dead Man's Revenge
Payton McCay
Television film
1994
Amelia Earhart: The Final Flight
George Putnam
Television film
1995
A Mother's Prayer
Grandpa
Television film
1995
Mrs. Munck
Patrick Leary
Television film
1999
Hard Time: The Premonition
Winston
Television film
2003
King of the Hill
Randy Strickland (voice)
Episode: "Boxing Luanne"
2003
Hard Ground
Nate Hutchinson
Television film
2006-11
Big Love
Frank Harlow
29 episodes
2007
CSI: NY
Vet
Episode: "Boo"
2013
Pete's Christmas
Grandpa
Television film
Awards and nominations
Year
Title
Award
1972
Drive, He Said
National Society of Film Critics Award for Best Supporting Actor
1973
The Cowboys
Bronze Wrangler for Best Theatrical Motion Picture
1975
The Great Gatsby
Nominated - Golden Globe Award for Best Supporting Actor - Motion Picture
1979
Coming Home
Nominated - Academy Award for Best Supporting Actor
Nominated - Golden Globe Award for Best Supporting Actor - Motion Picture
1983
That Championship Season
Silver Bear for Best Actor
2009
Swamp Devil
Philadelphia Film Festival Jury Prize
2014
Nebraska
AARP Annual Movies for Grownups Award for Best Actor
Boston Society of Film Critics Award for Best Cast
Cannes Film Festival Best Actor Award
Dublin Film Critics Circle Award for Best Actor
Los Angeles Film Critics Association Award for Best Actor
National Board of Review Award for Best Actor
Nominated - Academy Award for Best Actor
Nominated - Alliance of Women Film Journalists Award for Best Actor
Nominated - Alliance of Women Film Journalists Award for Best Ensemble Cast
Nominated - American Comedy Award for Comedy Actor - Film
Nominated - BAFTA Award for Best Actor in a Leading Role
Nominated - Broadcast Film Critics Association Award for Best Actor
Nominated - Broadcast Film Critics Association Award for Best Cast
Nominated - Central Ohio Film Critics Association Award for Best Ensemble
Nominated - Chicago Film Critics Association Award for Best Actor
Nominated - Dallas-Fort Worth Film Critics Association Award for Best Actor
Nominated - Gold Derby Award for Best Actor
Nominated - Golden Globe Award for Best Actor - Motion Picture Musical or Comedy
Nominated - Guardian Film Award for Best Actor
Nominated - Houston Film Critics Society Award for Best Actor
Nominated - Independent Spirit Award for Best Male Lead
Nominated - London Film Critics Circle Award for Actor of the Year
Nominated - San Francisco Film Critics Circle Award for Best Actor
Nominated - Screen Actors Guild Award for Outstanding Performance by a Male Actor in a Leading Role
Nominated - St. Louis Gateway Film Critics Association Award for Best Actor
Nominated - Satellite Award for Best Actor - Motion Picture
[ Source: Wikipedia ]