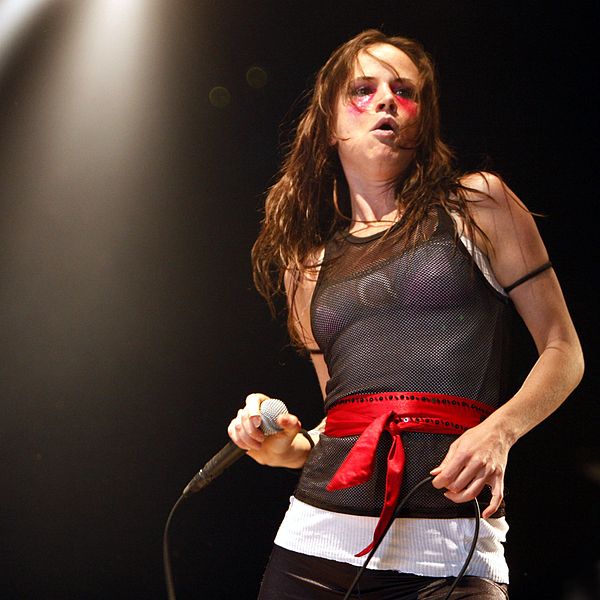 Juliette Lewis
Born:
June 21, 1973
Age:
49
Birthplace:
Los Angeles, California, U.S.
Popularity:

Please login to contact Juliette Lewis...
Biography
Juliette L. Lewis[1] (born June 21, 1973)[1] is an American actress and singer. She is known for her portrayals of offbeat characters, often in films with dark themes.[2] She began her career with small roles in film and on television during the late 1980s. In 1991, she received acclaim for her performance in Cape Fear, which earned Lewis nominations for an Academy Award and a Golden Globe.
She has since appeared in films such as Husbands and Wives (1992), Kalifornia; What's Eating Gilbert Grape (both 1993), Natural Born Killers (1994), The Basketball Diaries; Strange Days (both 1995), From Dusk till Dawn; The Evening Star (both 1996), The Other Sister (1999), The Way of the Gun (2000), Old School (2003), Starsky & Hutch (2004), Whip It (2009), Conviction (2010), and August: Osage County (2013).
Lewis received an Emmy Award nomination for her performance in the HBO film Hysterical Blindness (2002). Subsequent television work has included series' such as The Firm (2012), Wayward Pines (2015), and Secrets and Lies (2015-16).
In 2004, Lewis launched a career as a singer and musician, leading the American rock band Juliette and the Licks. She has since embarked on a solo career.
Lewis was born in Los Angeles, California, to
Geoffrey Lewis
, an actor, and his second wife, Glenis (Duggan) Batley, a graphic designer.[3] She has eight siblings - brothers Lightfield (an actor who starred in
The New WKRP in Cincinnati
), Peter, Miles, and Matthew; and sisters Brandy, Hannah, Dierdre Lewis, and Emily Colombier.[4][5][6]
Read more...
Career
Acting
Lewis appeared in The Wonder Years as Wayne's girlfriend in Episodes 24, 34 and 36.[7] She also played Audrey Griswold in National Lampoon's Christmas Vacation. Lewis first garnered international attention and acclaim in 1991 with her turn as Danielle Bowden in Martin Scorsese's remake of Cape Fear, for which she was nominated for a Golden Globe Award,[8] as well as an Academy Award for Best Supporting Actress.[9] Over the next few years, she appeared in Woody Allen's Husbands and Wives, Peter Medak's Romeo Is Bleeding,[10] and opposite Brad Pitt in Kalifornia. In 1993, she acted alongside Leonardo DiCaprio and Johnny Depp in the drama film What's Eating Gilbert Grape.[11] She played Mallory Knox in Oliver Stone's Natural Born Killers.[12] She played a rock singer in the film Strange Days, doing her own singing on covers of two songs written by PJ Harvey.[13]
She received an Emmy nomination for her performance in Hysterical Blindness in 2003.[14] She also appeared in the HIM music video for "Buried Alive By Love" in 2003.[15]
She appeared in the 2004 film Starsky & Hutch, playing the role of Kitty, as Reese Feldman's girlfriend.
Lewis appeared in Rockstar Games' Grand Theft Auto IV, providing the voice of "Juliette", the host of fictional radio station "Radio Broker" (on which appears the Juliette and the Licks song 'Inside the Cage)'.[16] She appeared in a Gap commercial in which she was dancing with Daft Punk to the tune of the song "Digital Love".[17] She also appeared in the Jan Kounen film Renegade with Vincent Cassel. In 2012 she starred in the short-lived series The Firm, on NBC as Tammy, assistant to lead character Mitch McDeere (Josh Lucas).[18] Secrets & Lies 2015 TV Series
She reprised her role as Audrey Griswold in 2012 in a series of Old Navy holiday commercials featuring the Griswold family. In 2015, she had a small role in the television series Wayward Pines, a psychological thriller by M. Night Shyamalan.
Lewis will appear in the premier season of The Conners as Blue, girlfriend of Darlene Conner's ex-husband David Healy.[19]
Music
Lewis on Terra Incognita tour with the New Romantiques at Parkpop festival 2010, the Hague, the Netherlands
Lewis launched a career as a solo singer and musician, leading American rock band Juliette and the Licks until 2009 when she went solo and released the album entitled Terra Incognita.[20]
Lewis features on the track "Bad Brother" by the band The Infidels, from The Crow: Salvation Soundtrack album, which was released on April 2000. Lewis has also appeared on three tracks by electronic music group The Prodigy's 2004 CD Always Outnumbered, Never Outgunned ("Spitfire", "Get Up Get Off", and "Hot Ride").[21] In 2006, Blender magazine included her in their hottest women of rock music list.[22]
Lewis performing with the Licks at the Eurockéennes 2007
In 2009, Lewis performed at the Przystanek Woodstock in Poland.[23] In 2010, she played at the Rock for People festival in the Czech Republic.[24] In December 2010, Lewis hosted the game television show Never Mind the Buzzcocks and repeated in January 2012.[25]
In 2013, Lewis contributed backing vocals to the track, "Saint of Impossible Causes", on Joseph Arthur's tenth studio album, The Ballad of Boogie Christ. She then appeared in the music video for "City of Angels" by Thirty Seconds to Mars.[26]
In 2015, Lewis contributed vocals to the song "Stickup" by electronic artists Karma Fields & Morten, which was released on Monstercat.[27]
Lewis has supported Little Kids Rock, a US nonprofit organization that works to restore and revitalize music education in disadvantaged U.S. public schools, by painting a Fender Strat guitar and donating it to an auction to raise money for the organization.[28]
Personal life
After dropping out of high school, Lewis got into trouble with the law for driving illegally at age 15, then was arrested for illegally patronizing a nightclub when she was 16. From 1990 to 1993 Lewis dated Brad Pitt. While in her 20s she went into rehabilitation for drug addiction.[29]
Lewis married professional skateboarder Steve Berra in 1999; they divorced in 2003.[30]
Lewis identifies herself as both a Christian and a Scientologist.[31][32][33]
Discography
…Like a Bolt of Lightning (2004)
You're Speaking My Language (2005)
Four on the Floor (2006)
Terra Incognita (2009)
Future Deep (2017)
Filmography
Film
Year
Title
Role
Notes
1987
I Married Dora
Kate Farrell
TV series
Nominated—Young Artist Award for Best Young Actress Starring in a New Television Comedy Series
1988
My Stepmother Is an Alien
Lexie, Jessie's Friend #1
1989
National Lampoon's Christmas Vacation
Audrey Griswold
Meet the Hollowheads
Cindy Hollowhead
The Runnin' Kind
Amy Curtis
1991
Cape Fear
Danielle Bowden
Chicago Film Critics Association Award for Most Promising Actress
Kansas City Film Critics Circle Award for Best Supporting Actress
Nominated—Academy Award for Best Supporting Actress
Nominated—Chicago Film Critics Association Award for Best Supporting Actress
Nominated—Golden Globe Award for Best Supporting Actress - Motion Picture
Nominated—MTV Movie Award for Best Kiss
Nominated—National Society of Film Critics Award for Best Supporting Actress
Nominated—New York Film Critics Circle Award for Best Supporting Actress
Crooked Hearts
Cassie
1992
Husbands and Wives
Rain
That Night
Sheryl O'Connor
1993
What's Eating Gilbert Grape
Becky
Romeo Is Bleeding
Sheri
Kalifornia
Adele Corners
1994
Natural Born Killers
Mallory Knox
Pasinetti Award for Best Actress
Nominated—MTV Movie Award for Best Kiss
Nominated—MTV Movie Award for Best On-Screen Duo
US release delayed until 1994
Mixed Nuts
Gracie Barzini
1995
Strange Days
Faith Justin
The Basketball Diaries
Diane Moody
1996
The Evening Star
Melanie Horton
Blockbuster Entertainment Award for Favorite Supporting Actress - Drama
From Dusk till Dawn
Katerine Fuller
Nominated—Saturn Award for Best Supporting Actress
1998
Some Girl
April
Welcome to Woop Woop
Crazy alleyway extra
1999
The Other Sister
Carla Tate
Nominated—Golden Raspberry Award for Worst Supporting Actress
The 4th Floor
Jane Emelin
2000
Room to Rent
Linda
The Way of the Gun
Robin
2001
Picture Claire
Claire Beaucage
Gaudi Afternoon
April
2002
Enough
Ginny
Armitage: Dual Matrix
Naomi Armitage (voice)
Anime film dub
2003
Cold Creek Manor
Ruby Ferguson
Free for All
Paula
Old School
Heidi
2004
Renegade
Maria Sullivan
aka Blueberry
Starsky & Hutch
Kitty
2005
Daltry Calhoun
Flora Flick
The Darwin Awards
Joleen
Lightfield's Home Videos
Aurora Borealis
Kate
Grilled
Suzanne
2007
Catch and Release
Maureen
2009
Whip It!
Iron Maven
Metropia
Nina (voice)
2010
Sympathy for Delicious
Ariel Lee
The Switch
Debbie Epstein
Conviction
Roseanna Perry
Boston Society of Film Critics Award for Best Supporting Actress
Due Date
Heidi
2011
Hick
Tammy Cutter-McMullen
Foreverland
Vicky
2013
Open Road
Jill
August: Osage County
Karen Weston
Hollywood Film Award for Best Ensemble
Nominated—Screen Actors Guild Award for Outstanding Performance by a Cast in a Motion Picture
2014
Hellion
Pam
Kelly & Cal
Kelly
2015
Jem and the Holograms
Erica Raymond
2016
Nerve
Nancy Delmonico
TBA
Back Roads
Bonnie Altmyer
Post-production
A Million Little Pieces
Post-production
Television
Year
Show
Role
Notes
1987
Home Fires
Maty
TV movie
1987-1988
I Married Dora
Katie Ferrell
13 episodes
1988
The Facts of Life
Terry Rankin
2 episodes
1989-1990
The Wonder Years
Delores
4 episodes
1990
A Family for Joe
Holly Bankston #2
9 episodes
Too Young to Die?
Amanda Sue Bradley
Television film
2001
My Louisiana Sky
Dorie Kay
TV movie
Nominated—Emmy Award for Outstanding Performer in a Children's Special
Dharma & Greg
September
Episode: "Try to Remember This Kind of September"
2002
Hysterical Blindness
Beth
TV movie
Nominated—Primetime Emmy Award for Outstanding Supporting Actress - Miniseries or a Movie
Nominated—Independent Spirit Award for Best Supporting Female
2003
Free for All
Paula Wisconsin (voice)
7 episodes
2004
Chasing Freedom
Libby
TV movie
2006
My Name Is Earl
Jessie
Episode: "The Bounty Hunter"
2010
Memphis Beat
Cleo
Episode: "Baby, Let's Play House"
Never Mind The Buzzcocks
Guest Host
Season 24, episode 9
2012
The Firm
Tamara Inez "Tammy" Hemphill
22 episodes
Nominated—Golden Nymph for Outstanding Actress in a Drama Series
2015-2016
Secrets and Lies
Detective Andrea Cornell
20 episodes
2015
Wayward Pines
Beverly Brown
3 episodes
2017
Graves
Bailey Todd
2 episodes
2018
Camping
Jandice
2018
The Conners
Blue
Video games
| Year | Show | Role | Notes |
| --- | --- | --- | --- |
| 2008 | Grand Theft Auto IV | Herself as a radio DJ | |
[ Source: Wikipedia ]